Cheese & Tomato Mashed Potato Pie: a wartime ration recipe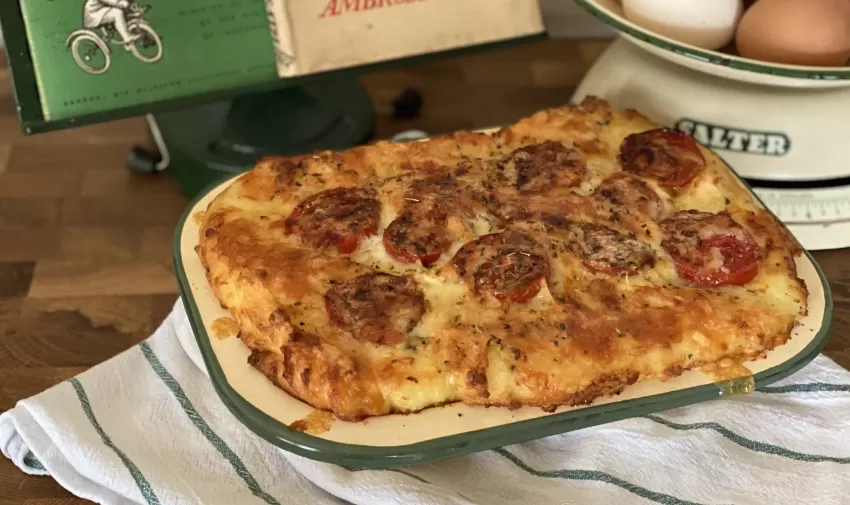 Vintage and wartime recipes really capture my attention for their simplicity, I often think that food choices in these modern times have become a little complicated, and dare I say it, a bit self-important!
It's nice that we have choices, and accessibility of course, and thank goodness food of any sort is no longer rationed and readily available to most of us reading this - but it's also more than a little overwhelming at times. Coming up with new ideas, wondering what's "trending", the pressure to be the best cook, the ever rising cost of imported ingredients…

Don't get me wrong, I love to try (and eat) new and exotic dishes, but those experiences don't always have to take place in my kitchen. Lately, I am leaning more and more towards simple fayre, especially given the focus on food miles, excess packaging, and whatnot.
Great recipes to search online for and to stock up on books are usually labelled Ration Recipes, Great Depression Cooking, and believe it or not, Amish and Mennonite cooking. They all focus on simple, readily available, local, and trusted ingredients.
It's especially lovely to buy local when you can, even buying just one thing regularly from a local producer or farmer warms their heart, and yours! I know it can seem more expensive at first glance, but buying only what you need for simple recipes can actually translate into less food and financial waste. Why buy a big bag of potatoes or carrots, when you only need a handful to see you through the week?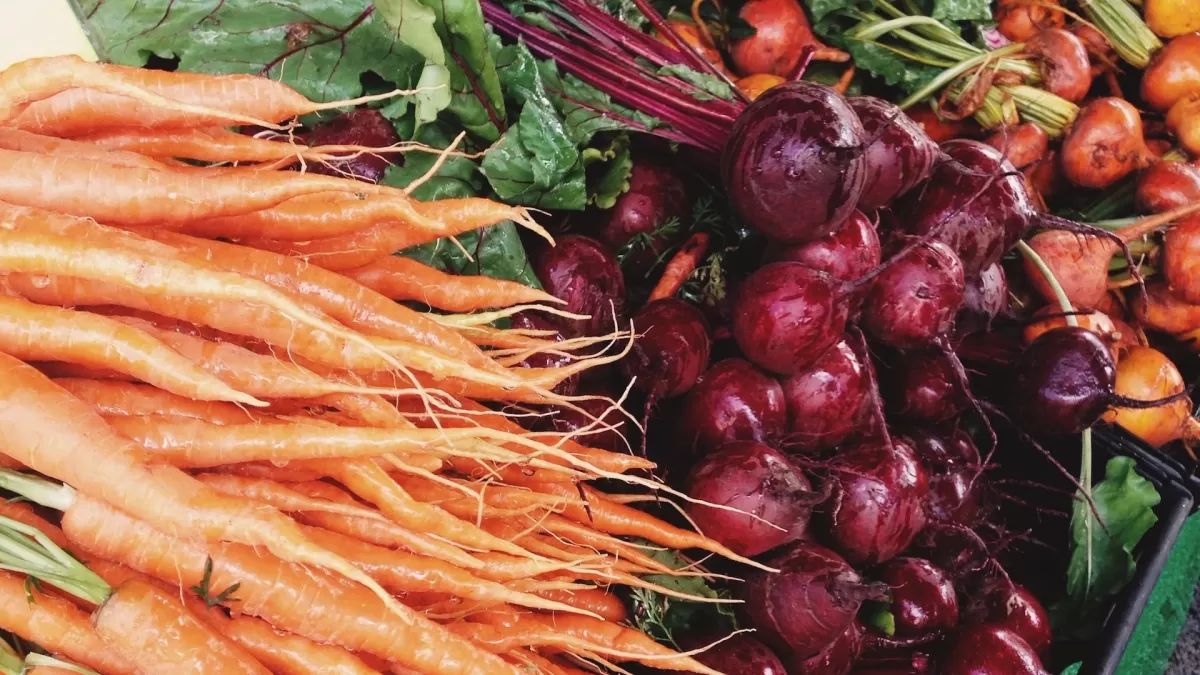 Potato & Cheese Pie, a recipe from the Second World War
In trying to keep my menu simple, I still very much want to keep my boys smiling. I think it's the combination of meal planning around weather that doesn't know what it's doing. I'm drawn to eating warm dishes because it's oddly cool for this time of year at the start of the week - then suddenly it's too hot and nothing appeals. No one wants to slave away in the kitchen when it's potentially hot (nor when your kitchen faces South like mine). I may be a dedicated and devoted housewife, but I'm no martyr, ha!
I had written down the title of this recipe (found in an old wartime recipe booklet) on my weekly menu printable that decorates the fridge and Mr Darling looked at me quizzically wondering what on earth it was. "It's mostly mashed potato darling", I declared. "Sold", he said. He does love his mash!
If you have growing and/or fussy little ones, or a husband who loves his potatoes this is sure to be a winner. Note that this is inspired by the original recipe, see notes below for why, it may shock you.
Yield: 1 medium pie
Serves: 3-4 people
Not suitable for freezing
Cheese & Tomato Mashed Potato Pie Ingredients:

3 or 4 medium Potatoes per person, peeled and quartered
200g extra mature Cheddar Cheese, grated.
6 salad Tomatoes, sliced
2 eggs
Butter to taste (about 50g)
100ml Milk
3tsp English Mustard Powder (I use Coleman's) or 2tbsp Dijon Mustard
Salt & Pepper
How to make a Cheese and Potato ration pie
Preheat your oven to 180*C or 350*F (Gas Mark 4), and put a large pot of water to boil.
Wash your potatoes, then peel and quarter - boil for 15-20 minutes until soft, then drain.
Mash your potatoes (I like to use a ricer), adding the Mustard Powder, Butter, Milk, Eggs, and ¾ of the grated Cheese and mix to create a smooth consistency. Season with Salt & Pepper, mix once more and cool slightly.
Layer half of the Mash & Cheese mix into a greased (Butter is ideal) ovenproof dish, and lay over half of the sliced Tomatoes as you would lasagne sheets.
Top with the remaining Mash & Cheese, add a final layer of Tomatoes as a topping, then sprinkle over the remaining Cheddar Cheese.
Cook in the middle of your oven for 25-30 minutes until the top is golden.
Remove from the oven and allow to cool slightly, then spoon onto plates for individual servings.
Serve with a garden salad.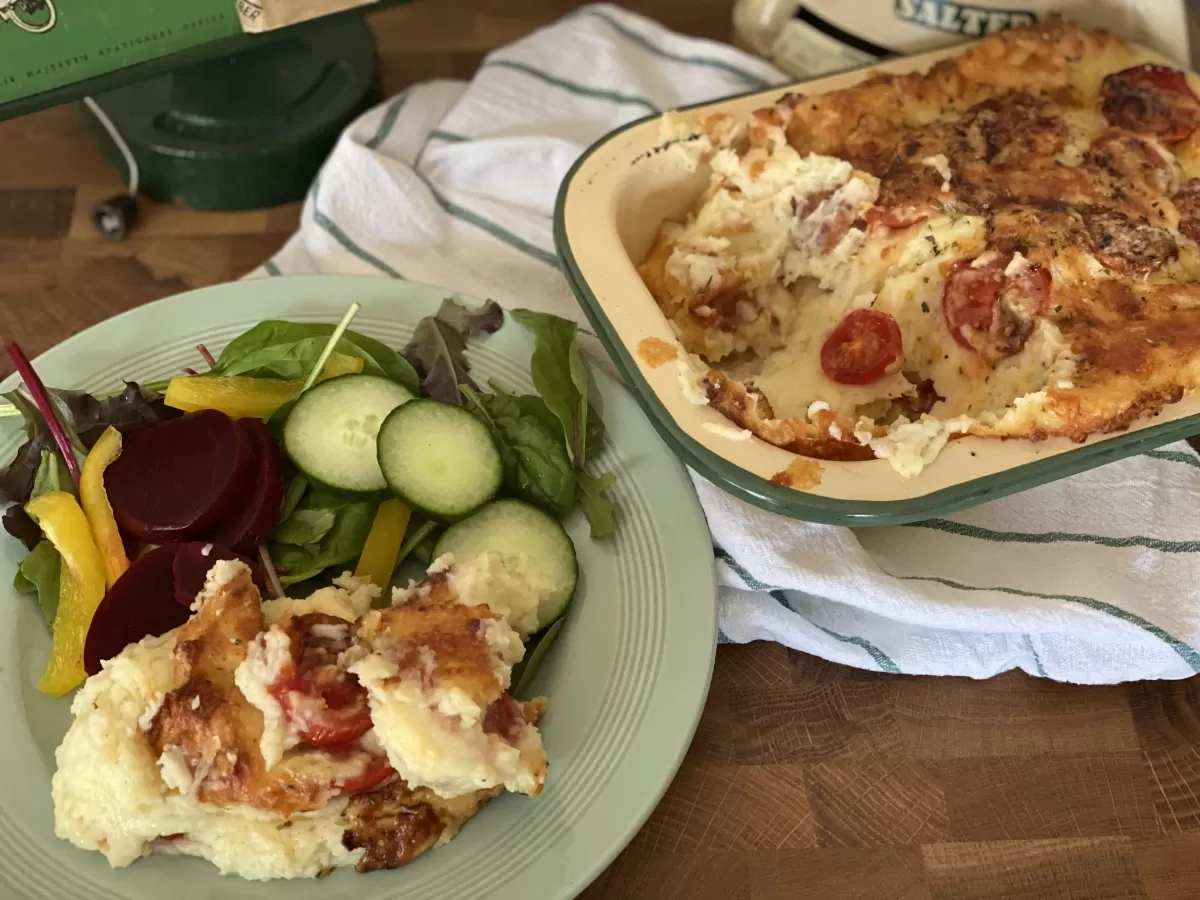 Recipe Notes:
Significantly reduce the Cheese and Milk content to make this "authentic" to rationing. An adult was allowed only 2oz (roughly 55g) per week on ration! This recipe as I have written it up would absorb a family of four's cheese ration in one sitting! I know I can devour 55g of Cheese in one sandwich alone.
Mashed potato that has been cooled slightly is easier to work with, and spread.
If your potatoes are organic, consider leaving the skins on to make this a "rougher" dish, but with added nutrients.
To jazz this up and make it a heartier meal, consider frying bacon lardons and adding into the mixture, or stretch the dish further by using it as a side dish for Pork Chops or Sausages. Go fancy with different cheeses too, I think Gruyere, Mozzarella, or even a Gorgonzola would give this a yummy twist.
You can also "winterise" this dish by adding swede and carrots to the mash - you'll get in more of your five a day too.
I hope you enjoy this easy, frugal, and delicious dish. The family consensus was "yummy thank you mummy, a thumbs up from us".
Only £6.99 (about
$8.50)
Instant Worldwide download
Kitchen Management Manual
Printable PDF housekeeping handbook
Meal Planner
Shopping List
Recipe Card
Pantry & Freezer Guides
Seasonal Food Guides
Conversion Charts
FREE BONUS Laundry Tips!
International payment methods accepted:
For more wartime, from scratch, and ration inspired recipes, may these posts tempt you…
How to make Chicken Stock from scratch, a hearty Homity Pie, or the rather cute sounding Pigs in Clover.
Happy Cooking!

We will not forget their sacrifices
Lest we forget - for their sacrifice, and thank them for the thrift, recipes, and tips on 'ways to manage' that have passed down through the generations. I am forever inspired, and in awe with how they made do with so little, yet gave so much.
If you found this post useful, and like our values here at The Darling Academy, would you kindly consider supporting the blog and buying the author a one-off cup of tea?


All content and images in this article are copyright of The Darling Academy and are not to be shared or reproduced without our express permission. Affiliate links have been used in this post.