Homity Pie a Second World War recipe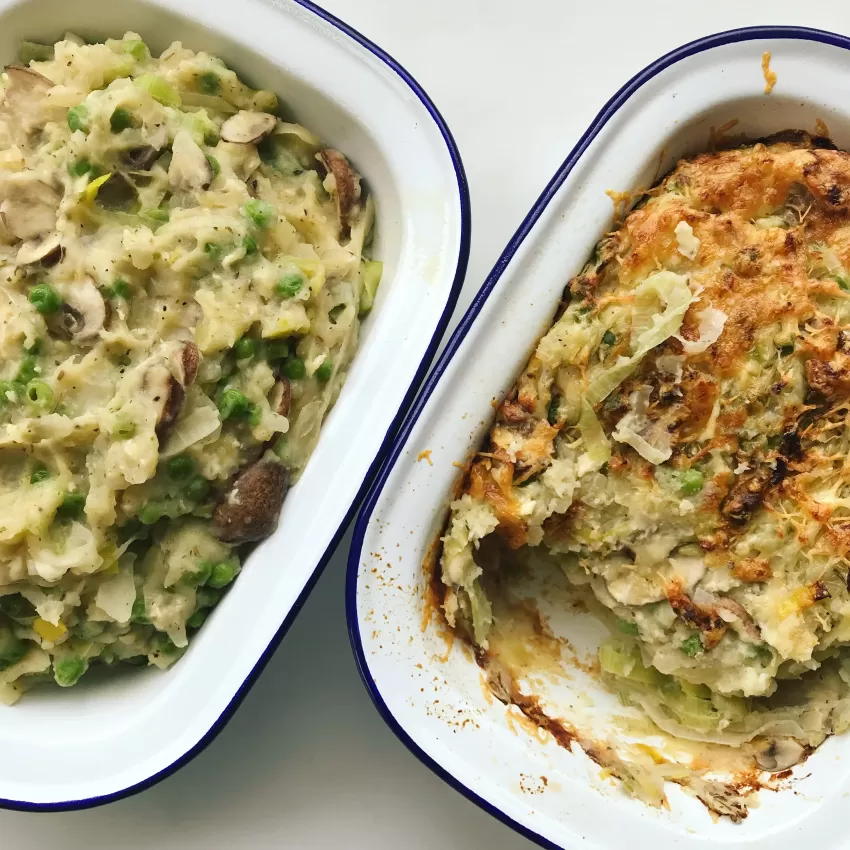 Life in our kitchen here at Darling House has taken a few exciting and uncertain twists and turns these past few months. As a family we have recently chosen to eliminate meat from our diet for a little while, which, though brilliant for our health, the animals, and the environment, this decision has plunged me, the home cook, into somewhat of a catering quandary.
Having grown up in the depths of an English village surrounded by a vibrant farming community I have always been a meat and two veg kind of girl, so this recent decision has had me searching for a whole new batch of recipes to feed my hungry family on something other than salad leaves. It has been akin to learning to cook all over again. Long gone are my fail-safe recipes passed down to me by my parents.
Thankfully a moment of inspiration arrived when watching old episodes of "Land Girls", and it sent me on the hunt for World War 2 recipes. I knew that due to rationing, lots of our old British favourites had to be transformed into vegetarian equivalents, as a shortage of meat, and our newly sprung victory gardens sent vegetables to the forefront of national dinner tables.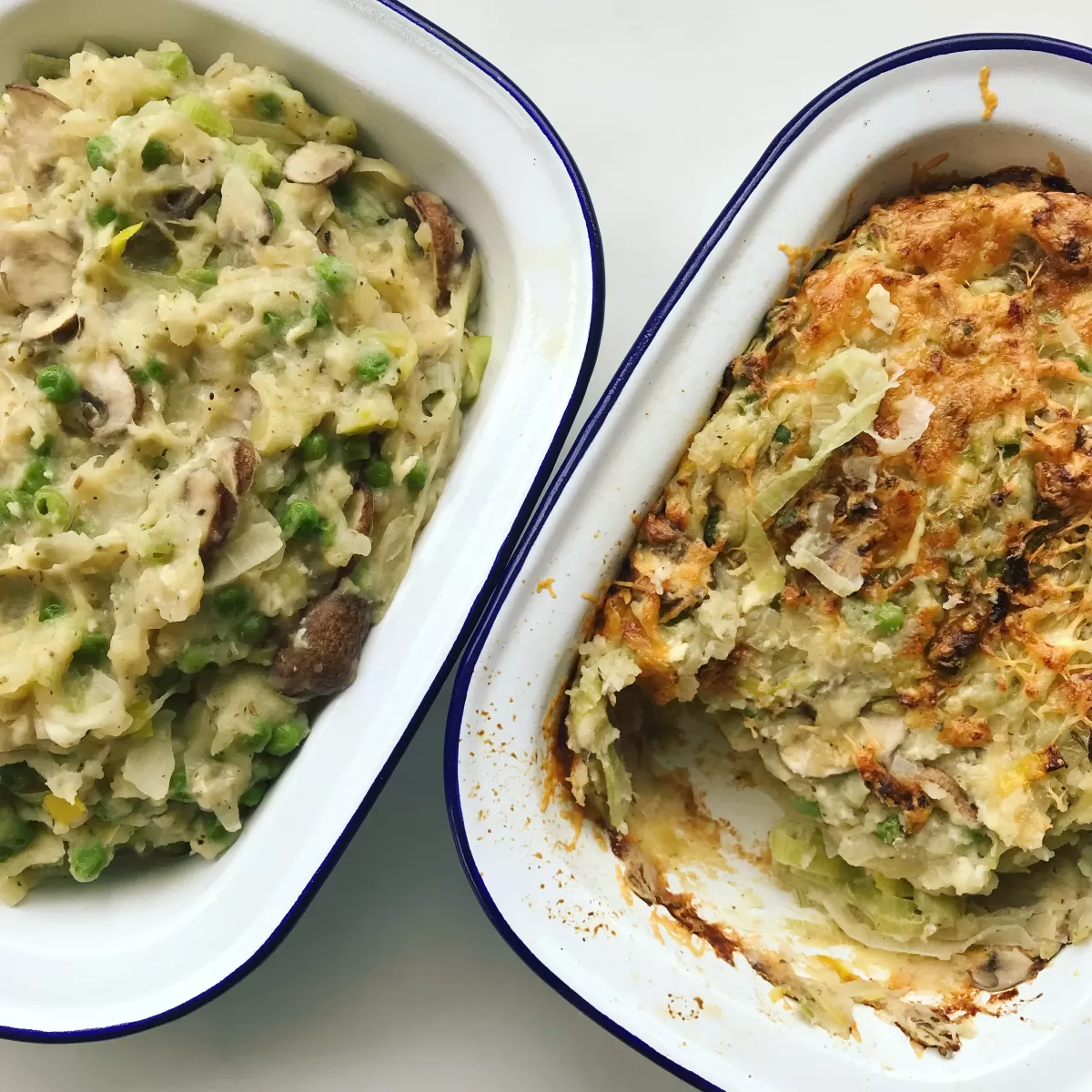 Little is known about the the true history and origin of Homity Pie, some call it Devon Pie, but it is strongly claimed to hark back to land girls of the Second World War - and is most definitely inspired by rationing, given the ingredients when you see them. As a lover of British history and a woman with deep respect for the ladies who kept our fields ploughed and our stomachs full, I had to try it out.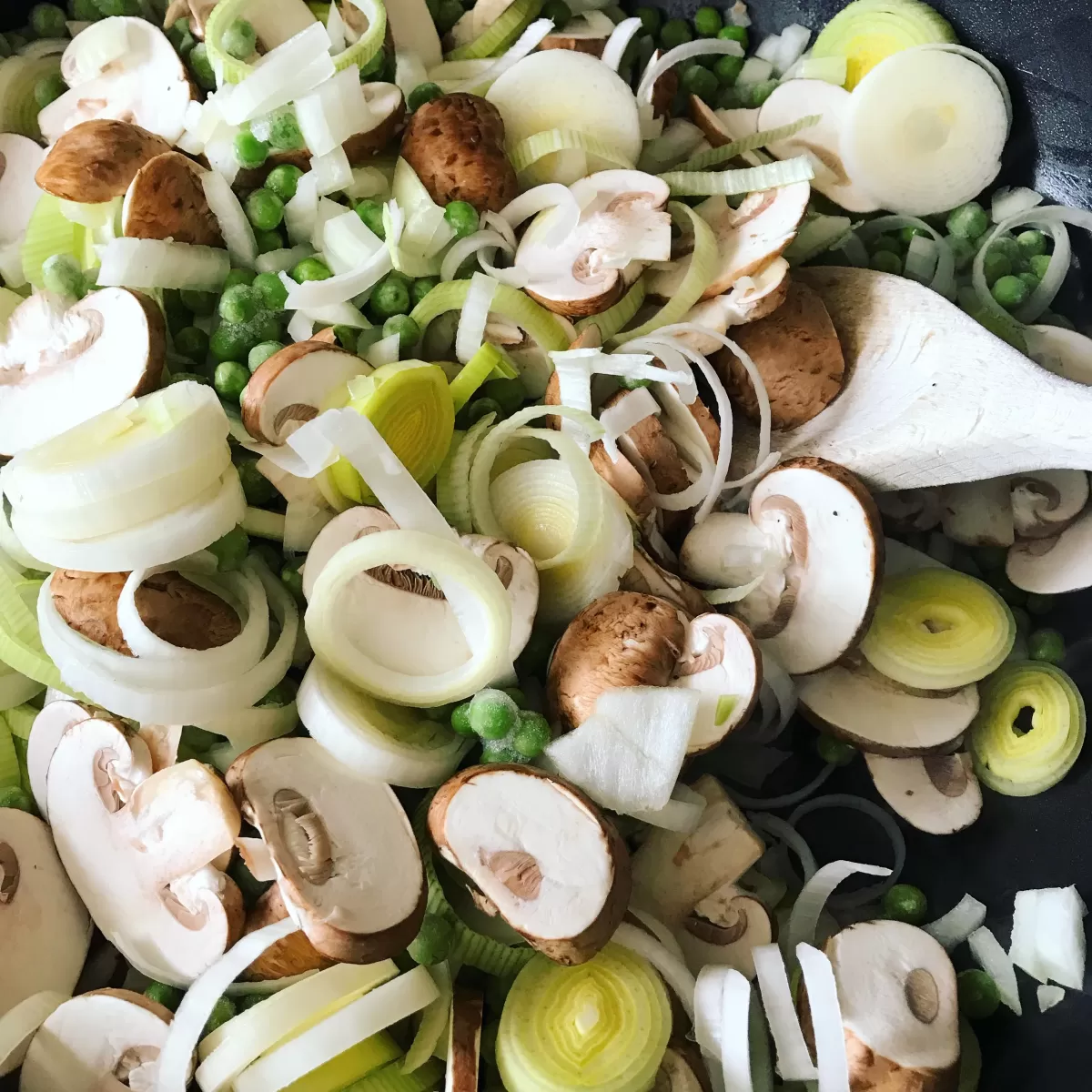 Please note that during and after the war, cheese was strictly rationed so the original finished dish would not have been as rich. My substitutions and additions to the pie (including mushrooms) make this a wartime *inspired* recipe. If you wish to stay true to the original recipe, omit half of the cheese, and the mushrooms.
---
Homity Pie
A delicious cheesy pie, abundant in vegetables. Makes a perfectly comforting and frugal vegetarian main dish.
Yield: 2 small pies, or one large.
Serves: 6
Suitable for freezing.
Homity Pie Ingredients:

1 tbsp Vegetable Oil or low-calorie cooking spray
500g white potatoes, peeled and cubed
2 large onions, diced
3 garlic cloves, minced
3 large leeks, sliced
200g frozen peas
400g chestnut mushrooms, sliced
2 medium eggs, lightly beaten
85ml hot vegetable stock
160g cheddar cheese (I used reduced fat cheese)
Fresh or dried parsley to taste
Fresh or dried thyme to taste
Salt & Pepper
---
How to make Homity Pie
Preheat your oven to 220*C or 410*F (Gas Mark 7).
Lightly coat the bottom and sides of an oven proof pie dish with oil and set aside.
Boil the peeled and cubes potatoes for 15 minutes or until tender, drain and then return to the pot and mash. Set aside until required.
Spray a large non-stick frying pan with cooking spray of lightly coat with vegetable oil on a medium heat.
Fry the onions, leeks, mushrooms and peas for 6-8 minutes or until they have softened, but not browned.
Add the mashed potatoes, garlic, herbs, eggs, stock and half of the cheese. Season and stir to combine.
Spoon the mixture into the prepared pie dish and scatted over the remaining cheese.
Bake in the middle of the oven for 20 minutes or until the cheese is golden.
This pie is wonderful served with steamed carrots and green beans on the side, with gravy.
When we made this recipe for the first time I was surprised at the amount, so I used my trusty Falcon enamel pie dishes (so wonderfully British) and split the recipe in two. I cooked one and popped the other in the freezer, covered with a locally made Beeswax Wrap to keep it spoiling from freezer burn.
We had the remaining pie last weekend. Defrost overnight in the fridge. Scatter over freshly grated cheese and cook for 20 minutes as per the last step of the recipe.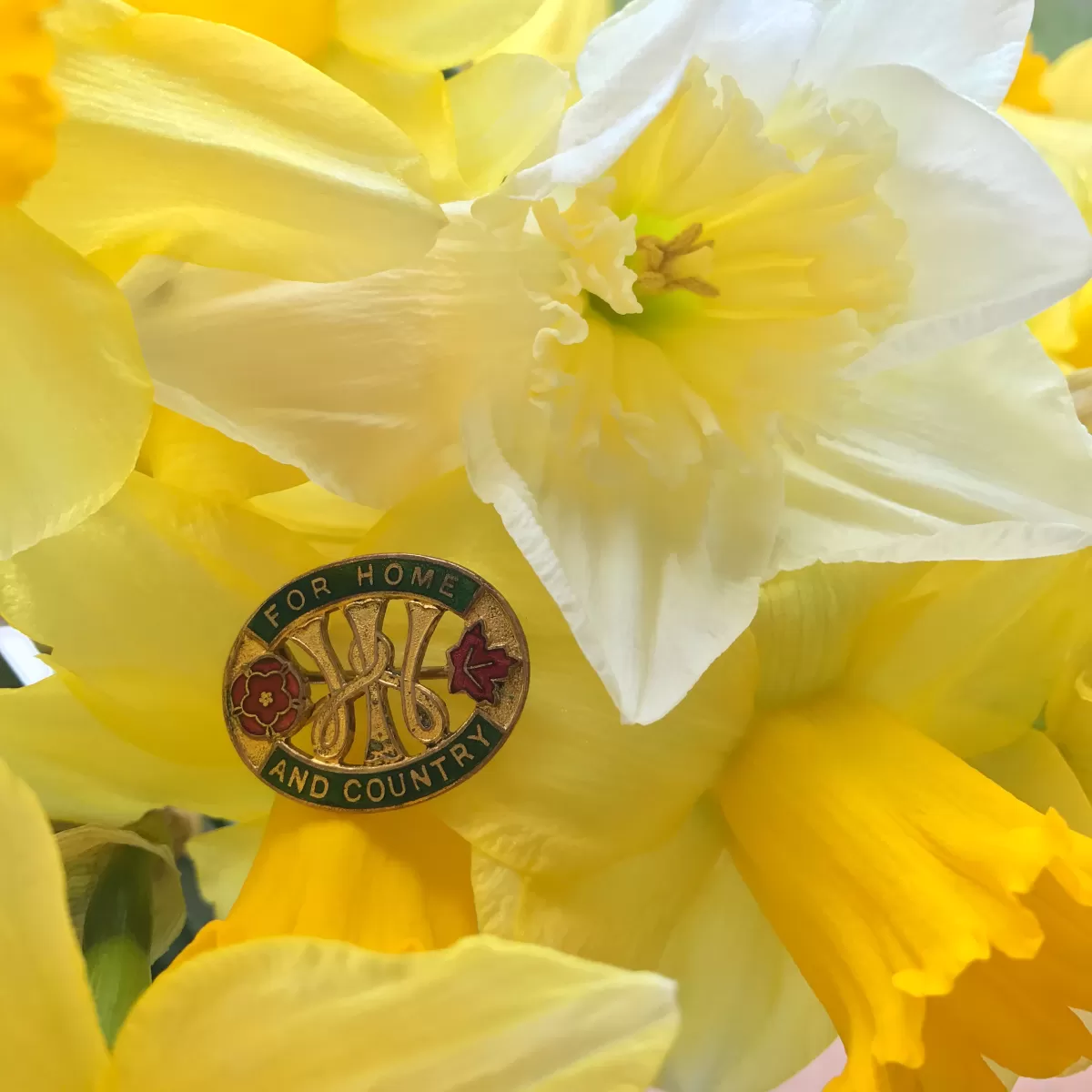 There are many ways we can remember our fallen and those who sacrificed so much to secure our freedom. Keeping our home fires burning and traditions alive in the kitchen is one of them.
I hope you enjoy this recipe as much as our family did!

Only £6.99 (about
$8.50)
Instant Worldwide download
Kitchen Management Manual
Printable PDF housekeeping handbook
Meal Planner
Shopping List
Recipe Card
Pantry & Freezer Guides
Seasonal Food Guides
Conversion Charts
FREE BONUS Laundry Tips!
International payment methods accepted:

All content and images in this article are copyright of The Darling Academy and are not to be shared or reproduced without our express permission.