Pigs in Clover: a wartime ration recipe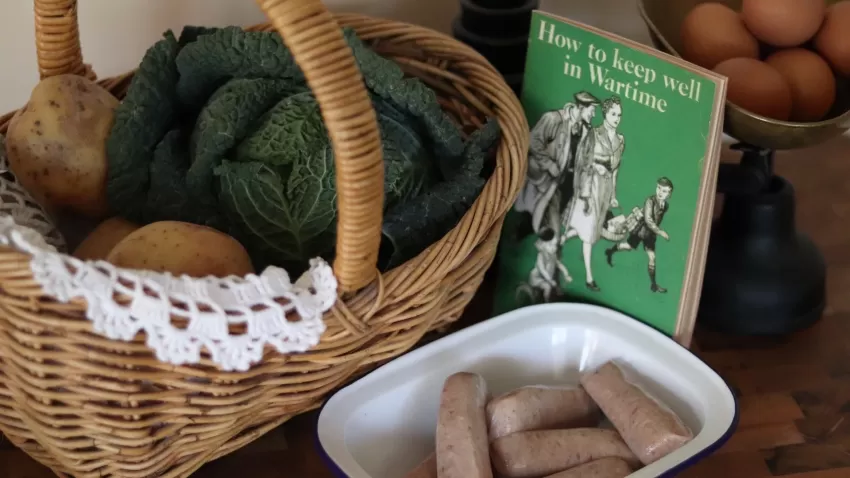 What could be happier than a pig in clover? A sweet little idiom describing a lovely, if simple, moment - and also the name of a wartime recipe selected by Marguerite Patten for The Imperial War Museum, written down almost as a side note in one of my favourite ration recipe books, "We'll Eat Again".
Hilda Elsie Marguerite Patten (1915 - 2015), CBE, was an English home economist, food writer and broadcaster. She was one of the earliest celebrity cooks who became known during World War II thanks to her work for the Ministry of Food and her programme on BBC Radio, where she shared recipes that worked within the limits imposed by rationing.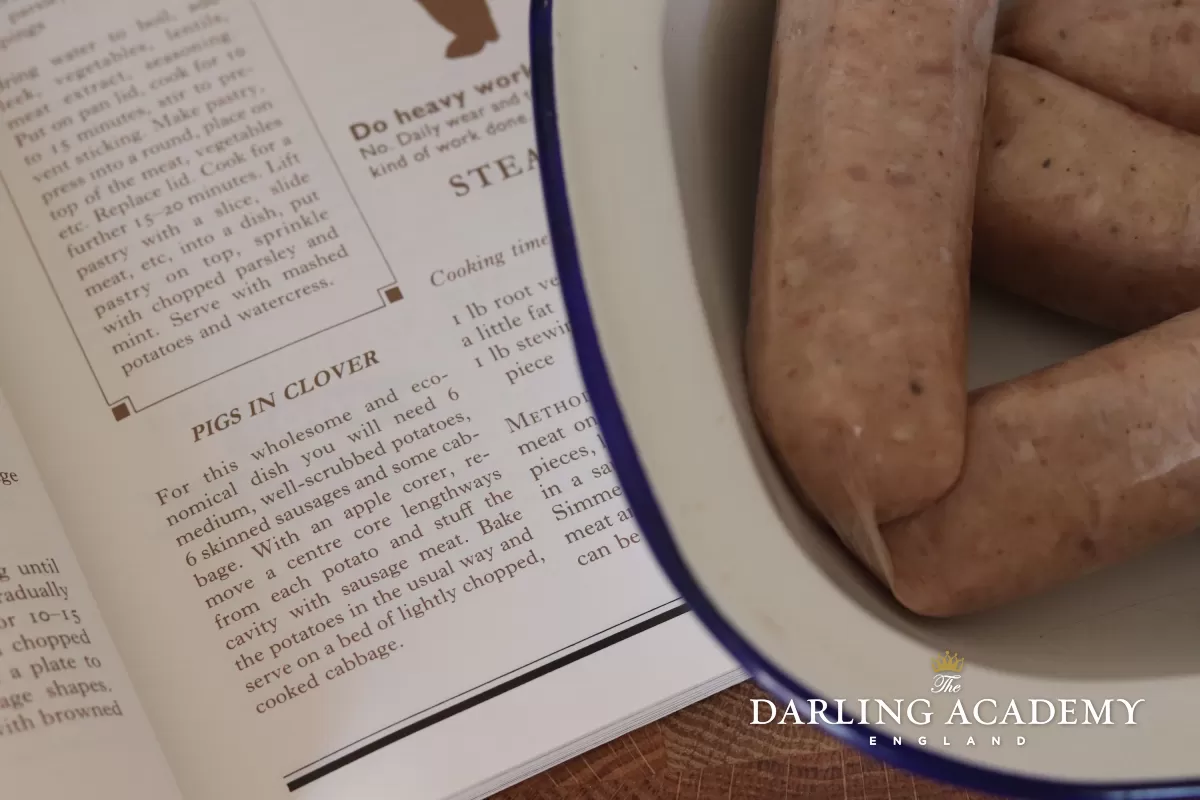 This recipe took my fancy as it requires so few ingredients, and brings together simple British favourites - the potato, sausage meat, and a good head of cabbage. If you were being really frugal you could use as little as two sausages to stretch among the family.
Pigs in Clover, a recipe from the Second World War
I love to collect vintage recipe books and this little 'side note' dish really captured my attention for it's simplicity - and with a whimsical name like that, can you blame me?
I'll admit, it's always fun to follow trends and try eat "what's in".... Avocado on toast, Goji berries, green smoothies etc… all so very healthy and 'good for you', but none of those really stay on the menu for very long at the Darling House, let alone stick to the ribs! With hungry boys to feed, who aren't bothered by what's trending or considered "fancy", I need to keep my menu simple to keep them smiling - which is better for my budget too, actually!
Food that "sticks to your ribs" is hearty, wholesome, nourishing, and keeps you fuller for longer.
Calories never count (because they couldn't be)! English Idiom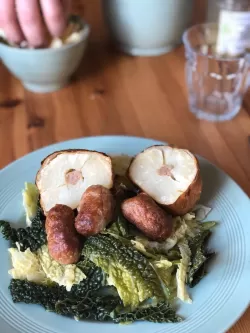 Good British dishes that truly stick to the ribs are what capture my attention, and keep the tastebuds of my family happy. We're simple creatures, not exactly entertaining royalty, and so, simple food is always better. It's half the reason I enjoy being in the kitchen so much, no need to overwhelm or over complicate things darling! Just make nice, easy, wholesome and homely dishes and you'll always have a satisfied bunch 'round t'dinner table.

Yield: Variable.
Serves: Variable.
Not suitable for freezing.
Pigs in Clover Ingredients:

1 or 2 medium Baking Potatoes per person
½ skinned sausage, (or roughly 50g sausage meat) per potato
1 large Savoy Cabbage (other varieties suitable, but Savoy is best)
Drizzle of Olive Oil
1 tbsp Butter
Salt & Pepper
How to make Pigs in Clover
Preheat your oven to 180*C or 350*F (Gas Mark 4).
Wash and dry your potatoes, then, with an apple corer, remove a centre core lengthways from each potato.
Skin your sausages, and then tightly stuff the sausage meat inside the potato cavity. Rubbing the meat over the hole will frustrate you less than trying to stuff it in directly (*I really couldn't think of a better way to write that. Sorry for the innuendo. LOL!). Add the sausage from either end to make it easier than having to push the sausage all the way through. You will need around half a sausage per potato. *Should you have any sausage leftover (piglets, yay), roll the remainder into golf ball size pieces and set aside, covered with cling film, on a plate in the fridge. You'll only need to cook these alongside the potatoes in the oven for the last 30 minutes.
Drizzle your potatoes with a little olive oil, rubbing over the skins to create a light even coat of oil, then season with salt.
Place in a tin, or baking dish, and roast in the middle of your oven for 1 hour and 30 minutes*.
*If you have extra sausage balls, add these alongside the potatoes to cook for the remaining half hour.
Wash, finely slice, and steam your cabbage for 12-15 minutes, drain, and then add the butter allowing it to melt and toss to coat the leaves. Season with freshly cracked black pepper. On each dinner plate, create a "bed of clover" with the cabbage.
Remove the potatoes from the oven, placing them on the bed of cabbage, along with any sausage balls.
Serve!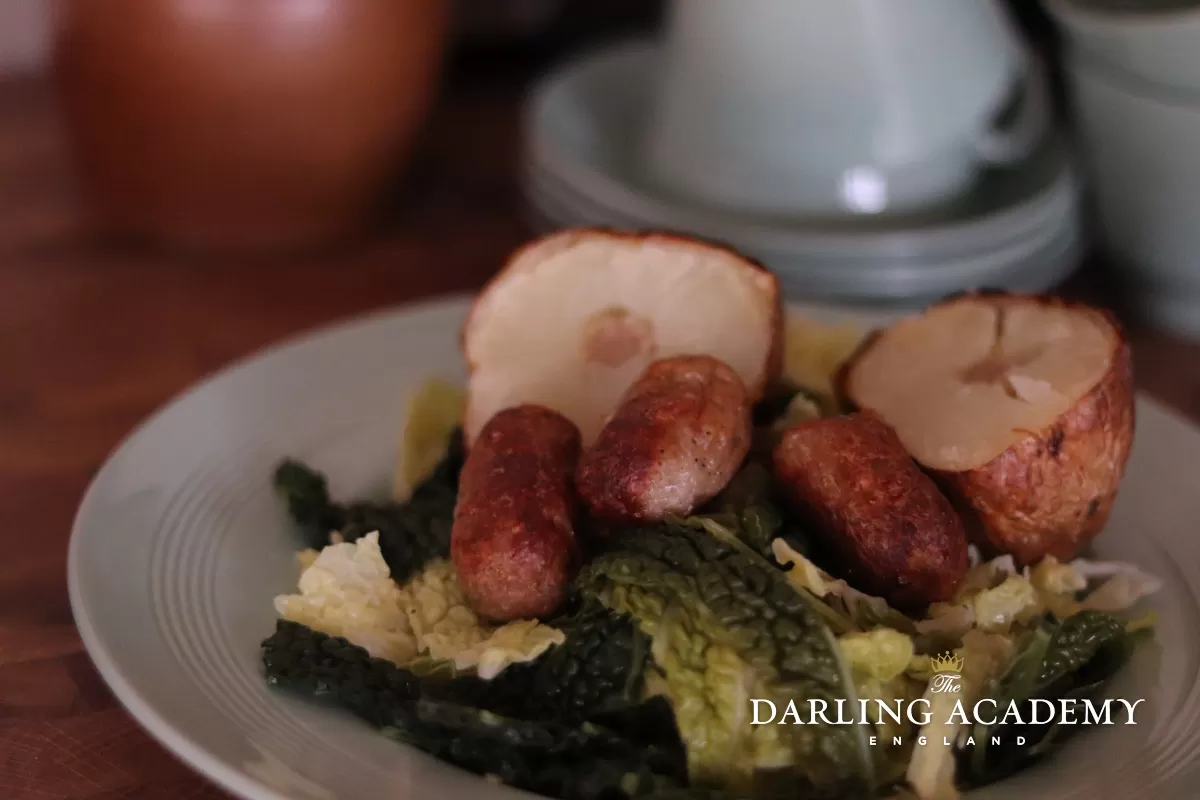 Recipe Notes:
My apple corer is a little small, I would advise you use a larger corer if you can find one. Otherwise expect piglets!
Keep your hands wet to make stuffing the potatoes and rolling the sausage balls less messy/sticky.
To keep this wartime authentic, don't add butter to the cabbage, or olive oil to the potato.
If you don't care for keeping it 100% authentic, then adding a little grated cheddar over the tops of the potatoes takes this dish from good to great. Serve with extra steamed vegetables too if you fancy.
A little apple sauce on the side makes a wonderful addition too.
For a vegetarian alternative - stuff the potatoes with a mixture of grated apple and cheese which has been seasoned with black pepper.
I hope you enjoy this easy, frugal, and delicious dish!
Only £6.99 (about
$8.70)
Instant Worldwide download
Kitchen Management Manual
Printable PDF housekeeping handbook
Meal Planner
Shopping List
Recipe Card
Pantry & Freezer Guides
Seasonal Food Guides
Conversion Charts
FREE BONUS Laundry Tips!
International payment methods accepted:
For more wartime recipes and inspiration...
More Pigs in Clover?
Simon Dawson has written how he "accidentally fell in love with the good life" in 'Pigs in Clover'.
Also known as a puzzle, Pigs in Clover is a nice traditional game.
A final thank you.
Lest we forget - for their sacrifice, and thank them for the thrift, recipes, and tips on 'ways to manage' that have passed down through the generations. We never thought we'd need it, but now more than ever this 'make do' knowledge is becoming useful in hard times.
With best wishes from England,
Alena x
If you found this post useful, would you kindly consider supporting the blog and buying the author a one-off cup of tea?



All content and images in this article are copyright of The Darling Academy and are not to be shared or reproduced without our express permission. Affiliate links have been used in the post. There is no extra cost to you, but The Darling Academy may make a small commission. Recipes belong to the original publications which are fully credited.