Chorizo & Red Pepper Pasta - a store cupboard recipe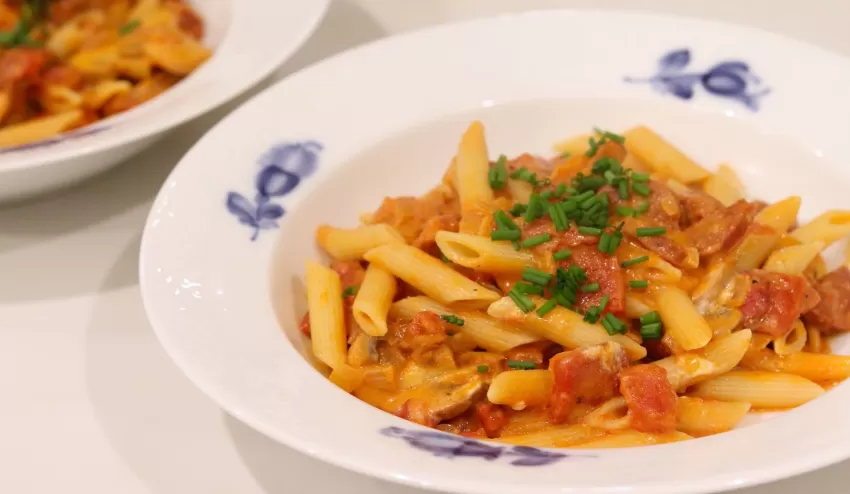 The very real threat of Coronavirus is making a lot of us sit back and think about how we'll cope should we have to self-isolate. For many people, this has inspired them to start building up food supplies.

This is something I have been personally working on for the past couple of years. Not because my spidey-senses knew there would be a global pandemic of flu in 2020, but, because a good wife who is frugal minded and "laughs at the days to come" (Proverbs 31:25), meaning she is prepared - for all eventualities.

I am, perhaps curiously, a very big fan of many "Mormon/LDS Mom's", like Kimmy, on YouTube, who take food storage seriously, and I think they are very smart for doing so! Not only does it safeguard you against situations such having to engage in panic-buying, but closer to home, it means your family can still eat should there be job losses (imperative in a single income household). Doing so also means you can bless people when they are in need, it takes nothing to shop your pantry and put a little food basket together for people in financial need, for those who are unwell, or hooray - when a new baby arrives!
Today I'm sharing one of my very favourite store-cupboard recipes, which is this Chorizo and Red Pepper Pasta. The majority of the ingredients are suitable for long-term storage, and though I buy the Chorizo and Cream Cheese fresh, the shelf-life on them is often around 6 weeks for Cream Cheese, and 6 months for Chorizo if stored correctly.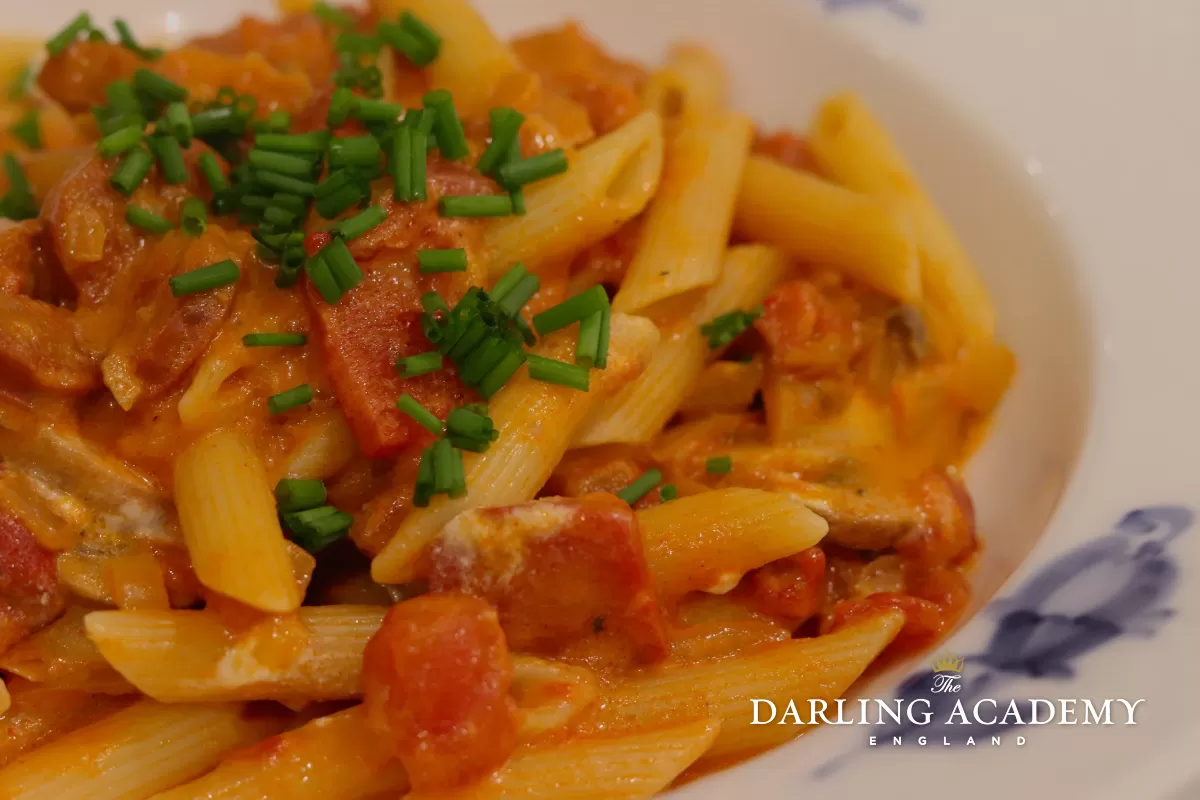 Chorizo & Red Pepper Pasta
The warm and spicy Chorizo, with sweet red pepper and tomatoes, make this both a comforting and creamy but still fresh tasting pasta dish that you can whip up in under half an hour. It's a fantastic recipe to have up your sleeve in an emergency! We like to top ours with any fresh herbs we have on hand, or, if you aren't counting calories, grated Parmesan is delicious! I never say no to a bit of garlic bread on the side either.

Please be aware that I have attempted to convert the measurements as closely as possible, but it may not be 100% accurate.

Serves: 4 people.
Storage: Best eaten fresh, though leftovers are nice re-heated the next day. Not suitable for freezing (though base sauce without dairy can be frozen - see recipe notes below).
Chorizo & Red Pepper Pasta ingredients:
75g (3/4 cup) Penne Pasta per person.
150g (5oz) Spanish Chorizo Ring. Sliced into rounds, then into half moons.
1 tin (400g/14oz) Tinned Tomatoes.
1 large Onion, diced.
2 Cloves of Garlic, minced.
1 large Red Pepper, sliced into inch long pieces, or, equivalent amount of Roasted Red Peppers from a jar.
125g (4oz) Full Fat Cream Cheese.
1 tbsp Olive Oil.
1 heaped tsp of Smoked Paprika.
1 tsp Sugar.
Salt & Pepper
200g (7oz) sliced Chestnut Mushrooms - *Optional
How to make my Chorizo & Red Pepper Pasta:
Put a large, deep pot of salted water on to boil for the pasta.
In a shallow lidded saucepan. (I use my Le Crueset), heat the oil and fry the onion on a medium-high heat for 10 minutes.
Then add your diced Chorizo and fry for a further 5 minutes to release the oils in the sausage.
Add your peppers and cook for another 2 minutes. *If using mushrooms - add at this point and cook until softened slightly.
Add your Paprika and Garlic and fry for another two minutes.
Add in your chopped tomatoes, with the sugar, season with salt and pepper and stir to combine.
Pop the lid on the sauce and leave to simmer on a medium-low heat while the pasta cooks.
Once pasta is done, drain in a colander, and set aside.
Take the Chorizo & Pepper sauce OFF the heat, and add the cream cheese. Stirring continuously until melted and combined.
Then tip in your cooked (drained) pasta and stir to coat.
You can now serve this dish and garnish with fresh herbs or a good grating of Parmesan.
I hope you find it delicious! Don't forget you can swap out the Chorizo for Chicken, Sausage, or Bacon too.
Happy Cooking!

Only £6.99 (about
$8.50)
Instant Worldwide download
Kitchen Management Manual
Printable PDF housekeeping handbook
Meal Planner
Shopping List
Recipe Card
Pantry & Freezer Guides
Seasonal Food Guides
Conversion Charts
FREE BONUS Laundry Tips!
International payment methods accepted:
Top Tips for this dish
Make sure to add a teaspoon of sugar whenever you use a tin of chopped tomatoes. It brings out the flavour and takes away the slight metallic taste. I learned this on a cookery course with Alice.
Omit the extra Paprika and salt if serving to young children. The flavour of the Chorizo is punchy and salty enough and it may overwhelm their palates.
You can use any short Pasta instead of Penne if you don't have it. Fusilli and Conchiglie are great substitutes.
You can freeze the base of this sauce if you cook it, but leave out the cream cheese and add when you are warming it back up. Frozen cream cheese is terrible. Don't try it!
My favourite equipment:
I also recommend:
If you found this post useful, would you kindly consider supporting the blog and buying the author a one-off cup of tea?

All content and images in this article are copyright of The Darling Academy and are not to be shared or reproduced without our express permission. Affiliate links have been used in this post, there is no extra cost to you, however The Darling Academy may make a a small commission from your purchase.