Alice's quick and easy Soda Bread recipe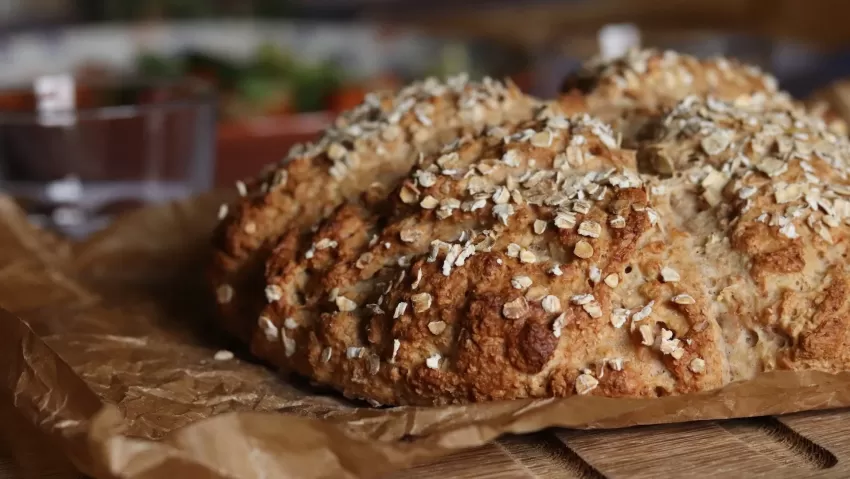 It is a real joy to share this recipe with you, it is one of my absolute favourites as there is nothing quite like home-made bread! I grew up in a little village in the Cotswolds, my Dad is a wonderful gardener and chef and would produce the most magnificent meals from the produce he had lovingly gown. So cooking through the seasons has always been a part of my life.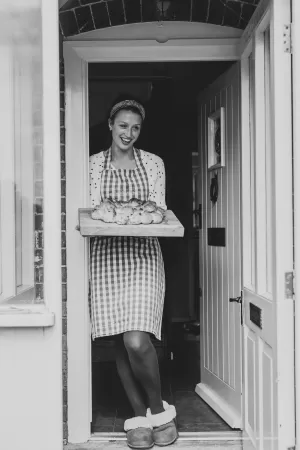 I loved watching my Dad cook and we would often make simple dishes together gathered round our old AGA. This deep love for food and how it can bring people together inspired my career.
After training through Leith's Cookery School and taking a degree in Professional Culinary Arts, I went on to work as a product developer and food buyer. In an office environment I often felt like my creativity was being suppressed as I sat at my desk, so I started writing a recipe blog as a hobby. I posted a recipe every week in accordance with what was in season and so "Alice Through The Year" was born.
Encouraged by the success of my blog, I started teaching workshops from my cottage kitchen on the weekend, and I was getting so busy that I was finally able to leave my job and started running workshops full time. It is a real dream come true to welcome people into my cottage and share my passion for cooking with them. There is nothing more encouraging than sharing recipes and seeing the joy they give to others. Cooking and enjoying food together is so important, it is a time where we can stop and break bread with the ones we love, chat through our day and enjoy delicious home cooked food.

Easy & Quick Soda Bread
This recipe is a quick and easy way to get bread on the table without having to wait for the dough to rise, and is very easy on physical labour as it requires no kneading. The trick to success is - like Alena's scones - do not overwork the dough. As soon as the wet and dry ingredients are incorporated, it is ready to shape and bake. The deep score we cut into the top of the loaf is to maximise air flow and heat to ensure an even and a quick bake. Use this cross to 'tear and share', or slice the loaf lengthways as you wish.

Please do be aware that we have attempted to convert the measurements as closely as possible for our American friends, but you may need a little less (only fractionally) less flour and milk than the conversion calls for.
Yield: 1 medium loaf.
Serves: 6 people.
Storage: Best eaten fresh. Store in an airtight container for up to 24 hours.
Soda Bread ingredients:
170g (1 + 1/2 cups) Self-Raising Flour.
160g (1 + 1/3 cups) Wholemeal Flour.
300ml (1 + 1/4 cups) Buttermilk (or a mix of Plain Yoghurt (200ml) + Milk (100ml).
1 tbsp Oats.
1/2 tsp Salt.
1/2 tsp Bicarbonate of Soda.
Extra milk for glazing
How to make my quick and easy Soda Bread
Preheat your oven to 200°C or 400°F (Gas Mark 6), and line a baking tray with baking paper.
Mix all of the dry ingredients (except for the oats) in a large bowl.
Pour in the buttermilk (or yoghurt/milk substitute) and mix well with a spoon or your hands until combined. Do not over mix.
On a floured surface, tip out the dough and form into a flat ball, don't worry if it feels sticky.
Move the dough onto the baking tray, and with a wet knife, cut a deep cross into the top of the loaf - almost all the way through but not quite.
Using a pastry brush, glaze with milk all over the loaf.
Sprinkle the top with oats for a little texture and crunch.
Bake in the centre of the oven for 25-30 minutes until golden brown

Ta da! Allow to cool slightly, slice and eat plain, or slather with butter.

So there you have it, the easiest soda bread recipe ever!
For those who are new to bread making, or short on time, this is a wonderful way to get bread on the table in a jiffy. I really hope you like this recipe.

Of course, I'd also love to meet you on one of my workshops too!

With love,
Alice

All content and images in this article are copyright of The Darling Academy and are not to be shared or reproduced without our express permission. Content and images courtesy of Alice Robertson.