How to make perfect English scones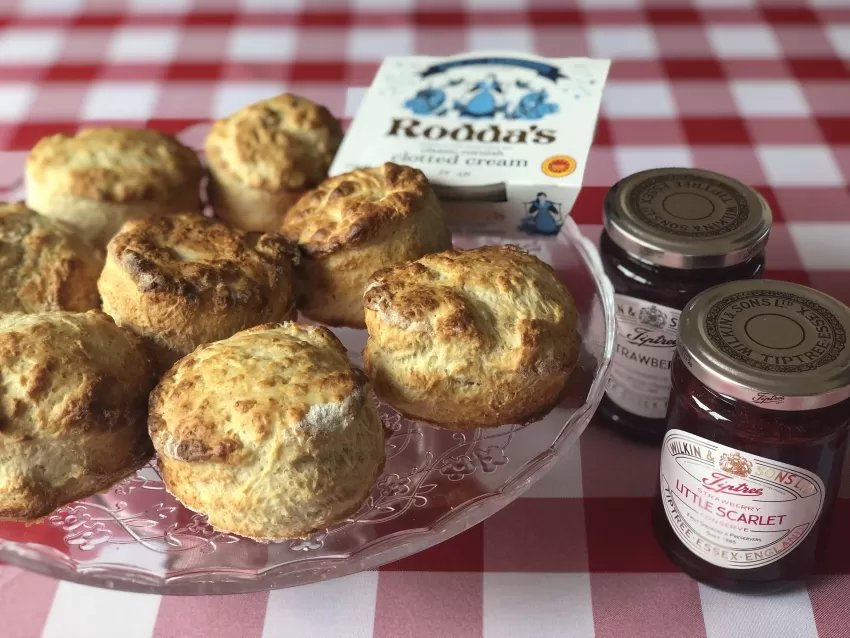 If there is one thing that the English are known for when it comes to culinary delights, it is the glorious cream tea. Scones, (however you pronounce their name) are a British institution, and something best enjoyed whenever you fancy a little sense of occasion.
For many, they are relegated as a 'rare treat' savoured only during visits to the UK, and for resident Brits - on outings to beautiful tea rooms, open gardens, and weekend day trips to historic properties with an adjacent cafe. However, if you knew how easy they were to make at home, you may just be tempted to indulge every weekend!
Scones are a deeply satisfying way to sweeten a gentle afternoon spent at home.
About as intimidating as the soufflé, there is something about scones that can put off even the most confident of cooks from giving them a go. Perhaps because they are so beloved by everyone, the pressure to get it right is tenfold.
Not one to shy away from a challenge, I tested out several different recipes in order to confirm a good one—in the name of science and promoting 'Britishness' of course. Dozens of scones later, and a few tweaks to provide an amalgam of the 'best of the recipes', I present to you a lovely foolproof scone recipe to add to your repertoire.
Aren't I kind, eating all those scones just for you!?
If you want something quintessentially English, easy to make and delicious, whipped up in 30 minutes or less - this is your jam!

English Scones recipe
Scones are not as hard to make as you might think. The two secrets are not to overwork the dough, nor 'twist' the cutter when you press out the rounds.
Yield: 8-10 medium sized scones.
Serves: 8 people, or a few greedy ones.
Storage: Not suitable for freezing. Best eaten fresh. They'll last for a maximum of three days if kept in an airtight container.
English scones ingredients:
300g (2 cups) of plain (all purpose) flour. Plus extra for dusting.
2 tbsp granulated or caster sugar.
75g (6 tbsp) cold salted butter, cut into small cubes. Plus extra for greasing.
4 tsp baking powder.
175ml (3/4 cups) whole milk.
A little extra milk, or a beaten egg for glazing.
Jam of choice. We prefer Wilkin & Sons, our favourite for scones is strawberry.
Clotted Cream. We love Rodda's.*
*I know my American friends find it hard to source clotted cream, I called them up to discuss this issue, and though they are trying, Rodda's aren't yet able to export their product to the USA. Whole Foods do stock an alternative, but I've been told it is no match for Rodda's, nor is it properly Cornish. Perhaps this is something to jot down in your notes to really indulge in the next time you visit the British Isles? If you are really in a bind, heavily over-whipped cream can serve as a makeshift appeasement.
---
How to make British scones
Preheat your oven to 200°C or 400°F (Gas Mark 6).
Lightly grease a flat baking sheet with butter, then dust lightly with flour.
Measure your dry ingredients into a bowl, then with cold hands or a pastry blender, rub in the cubed butter until it resembles fine breadcrumbs.
Gradually add the milk, mixing all the time. The consistency will be quite sticky.
Turn out onto a work surface or large board, well dusted with flour.
Sprinkle the top of the dough with flour and then knead once or twice only. You don't want to overwork the dough!
Gently flatten the dough with your hands until it is 1 inch thick.
Using a round cutter (do not use a fluted edge cutter), press rounds out of the dough. Make sure not to twist the cutter, or cut at an angle as this will hinder the 'rise'.
Gently transfer the scones onto the baking sheet, leaving a good inch between them. You may need to bring together the dough and flatten it out once or twice more in order to cut out the remaining scones.
With a little milk or a beaten egg, brush the tops of the scones to glaze. Note: using an egg will provide more of a 'golden' finish.
Place on the middle shelf of the oven for 12-15 minutes until well risen and golden brown on top.
Once beautifully risen and browned, carefully remove from the oven, and place on a wire cooling rack for 15 minutes.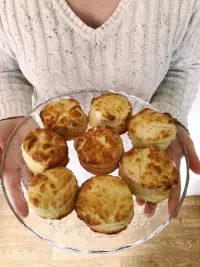 Scones are best eaten while still warm but they will keep for up to three days if stored in an airtight container.
Do bear in mind that you may need to adjust the cooking time by a few minutes either side depending on the size of the pastry cutter you use. I prefer a 1½" cutter. My favourite vintage style set of pastry cutters are from the National Trust gift shop.
---
Afternoon tea scone etiquette
Pop your clotted cream and preserves in dishes with spoons so that you do not 'double dip' into the jam or cream pot with crumb-laden silverware.
Identify the 'natural break' in the middle of the scone. Halve across the horizon-middle with your fingers. Take your time to separate the scone slowly, turning it if you must to ensure an even break. Should you be met with a rock-hard scone (how terrible), then it is perfectly acceptable to cut your scone with your knife.
Take a dollop of jam, and a dollop of cream from the serving dishes and add these to your plate beside the scones. Now use your own knife to spread the jam and cream on your scone halves.
If you are at home, or are a little more 'casual' in your approach to scone etiquette, then it is ok to spread your jam and cream directly from the shared serving dishes.
The traditional way to eat scones is with a good preserve (traditionally strawberry) and clotted cream. Though some are now enjoying Nutella, Banoffee spreads, and Marmalades as alternative toppings!
The order in which you 'top' your halves is up to you, but it is never acceptable to 'burger' your scones. Once you have separated the scone, you have two halves for good reason.
One must ALWAYS serve a good cup of tea alongside her scones, and remember to enjoy the occasion!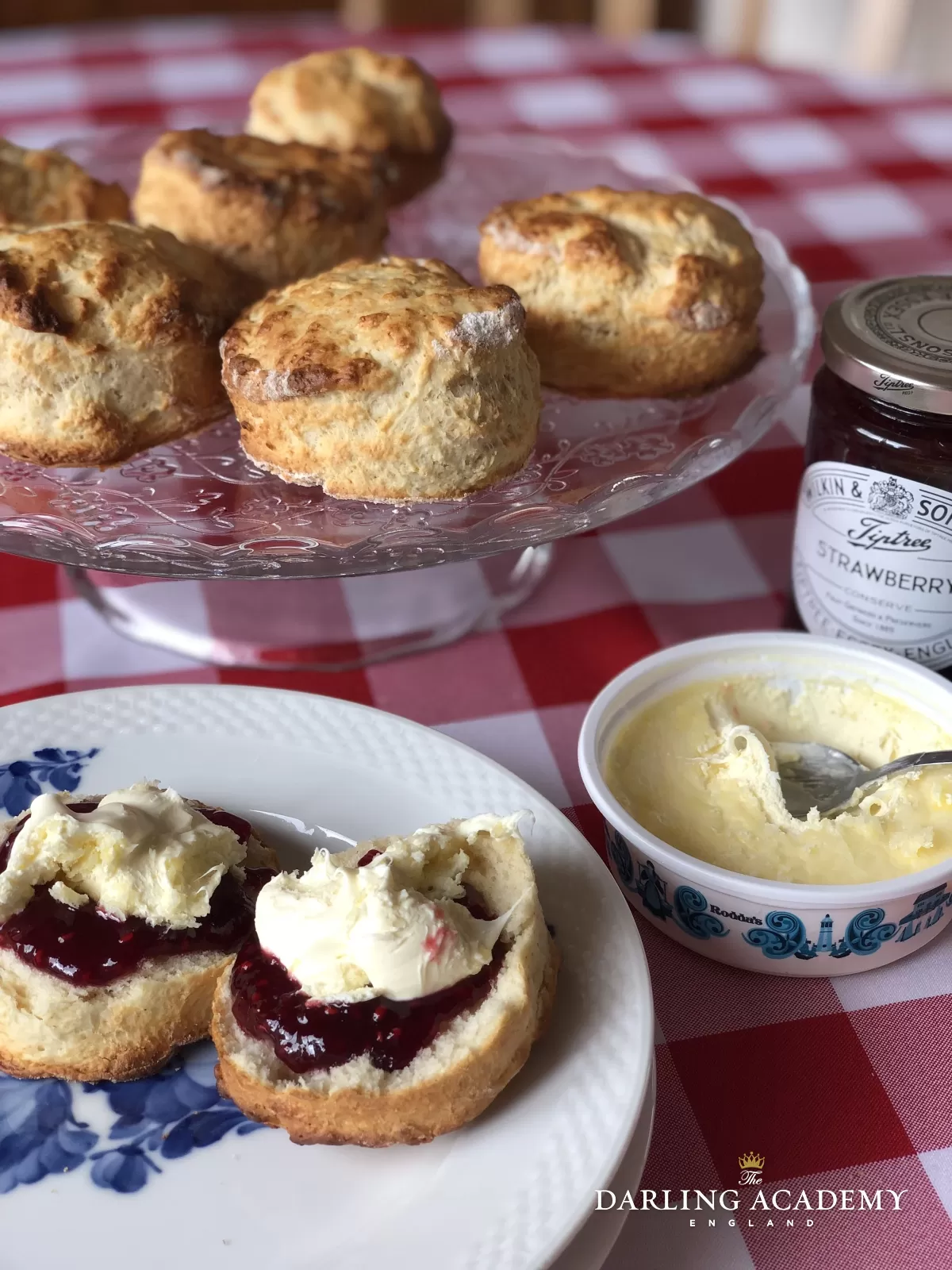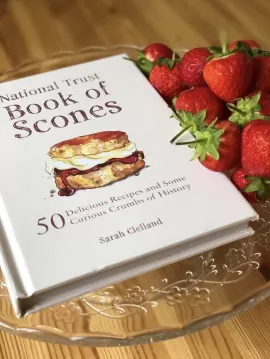 If you are a big fan of scones, I highly recommend 'The National Trust Book of Scones' which can be picked up at the NT Gift Shop, and is also readily available on Amazon. Written by Sarah Clelland, a lady after my own heart, who not only loves scones, but made it her mission to visit as many National Trust properties (and eat scones there) as possible.
This book documents the history and facts of some National Trust properties, plus 50 delicious scone recipes 'inspired by' those places. Chocolate, cheese, even hot-crossed, and spiced Christmas scones - the variety is wonderful!
If you try this recipe, don't forget to share your thoughts and pictures in the comments section on our Facebook page. I love an excuse to drool over jam-laden baked goods!
Happy baking!
Alena x
Only £6.99 (about
$8.50)
Instant Worldwide download
Kitchen Management Manual
Printable PDF housekeeping handbook
Meal Planner
Shopping List
Recipe Card
Pantry & Freezer Guides
Seasonal Food Guides
Conversion Charts
FREE BONUS Laundry Tips!
International payment methods accepted:

All content and images in this article are copyright of The Darling Academy and are not to be shared or reproduced without our express permission.