How to embrace femininity and wear only dresses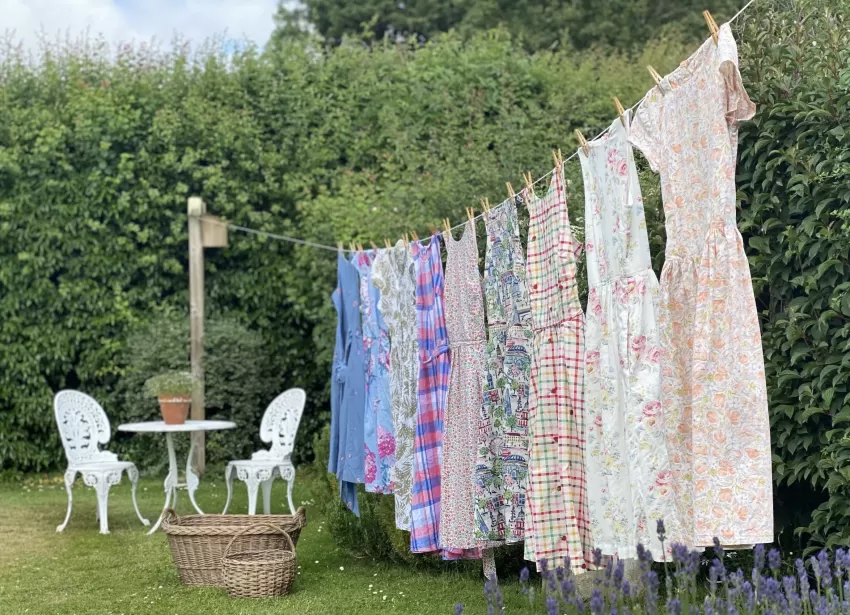 Summer is in full swing, and likely the skirts and dresses ladies are wearing at this time of year are too. It's incredibly easy to wear typically "feminine" clothes in the Spring and Summer, but what if you're the kind of girl who wants to do it forever?
Seasons may come and go, but my feelings on the subject never change. I want to dress like a lady every day of my life! While the weather is balmy, it is of course, much easier to dress to celebrate femininity, but what to do when the weather cools? We'll look at this in the future, but for now I'd like to share with you what I have learned on this journey so far.
However, before we go any further, I wish to clarify two points (mostly because posts of this sort do attract some impassioned responses). Firstly, no-one gets to define what femininity means to you, only you get to do that. For the purposes of this article, please assume that the author defines feminine style for herself, and wearing dresses and skirts exclusively is representative of that.
Secondly, not everything I say here-within may apply to you, these are my opinions and discoveries based on my particular lifestyle, surroundings, relationship, faith, self-esteem, and musings - but I do hope you will find some value in this post. If you'd like to see where this journey began, please read part one of this series "Wearing only dresses: choosing a feminine wardrobe", to better understand the story.

Why I wear only dresses
It has now been three full months since my original post on this subject was published and I stepped into this challenge. I never set myself a 'public' challenge because, well, it's hard to dip your toe in the pool of a lifestyle change with the world watching and potentially scrutinising every moment. Yet secretly I have been leaning toward dresses a lot more, and even challenging myself to wear them when I might otherwise go for the lazier option and slip on a pear of skinnies.
I can proudly say however, that in these last 90 days, I have worn jeans for approximately 4 hours. We went for last minute al fresco family dinner at a local pub , at which I wore skinny jeans because the weather was chilly (in hindsight a blanket would have kept me warm), and secondly for all of 10 minutes before heading out to the park a few weekends ago.
What was most notable on both occasions is that I couldn't wait to rip those torturous things off! They didn't even make it to the park with me, instead I opted for a dress!
Here are a few key lessons and insights that I would like to share with you from what I have observed so far, if you are considering this lifestyle and style choice for yourself…
Dresses and skirts are more comfortable than trousers
There, I said it. I honestly don't believe that trousers are designed well for a womanly body. In fact, they weren't designed for us in the first place! Yes, you can of course purchase styles that claim to flatter, but are they comfortable? I would always opt for a "high rise" so that at least the waistband would sit at the small of my waist where I naturally bend, but the restriction on my thighs, hips, and especially at certain times of the month was akin to wearing a corset some days. I thought we had left those behind in Victorian times, but alas - the restriction only slipped a few inches!
In dresses and skirts I have more freedom of movement, and the fabric doesn't sit tightly against my skin, or cling where it shouldn't. I'm finding my day to day tasks haven't been affected wearing a dress or skirt, and I'm actually more comfortable around the house than I was before. No longer having to pull at waistbands, and bending is a breeze - not to mention (ahem) going to the bathroom.
I have been asking myself why on earth I have been forcing myself (sometimes literally) into jeans over the past few decades and I surmise that it's because "it's what everyone else wears". I'm not unused to leading a different lifestyle and maintaining a home and marriage that swims upstream these days, so why shouldn't my style follow suit?
I am a little nervous that those who criticise my lifestyle will be pleased I am playing into the cliché, but you know - it's my life, I may as well live it according to what makes me feel happy and comfortable as opposed to following "the norm".
Feminine Dress Tip: remember that you are not there to fit the clothes, the clothes are there to fit and flatter you and your lifestyle.
Dresses and skirts are more forgiving on your body
Lockdown pounds, am I right? While I have a stack of jeans that are waiting for my ability to change my body to fit into them again, the dresses I own have been my faithful steadfast wardrobe this whole time - happy to oblige me, whether I'm a little heavier, or not. At the ripe old age of 35, I can also feel my body changing from its once youthful figure into something a little more "comfortable". Acceptance of oneself as you age gracefully is a wonderful thing, and when your wardrobe gives you that same grace right back it feels good!
Where I once had to sift through stacks of trousers to fit my waist, hips, and thighs (typically where I put weight on first, or show a little water retention), I now only need to consider my natural waist and bust! Neither of which change dramatically like the lower half of me does! What a relief.
Feminine Dress Tip: Select a dress shape that feels most comfortable for you. Where you naturally "bend" or are slimmest is a good place to start. Hourglasses may suit fit and flare, ladies with slimmer figures look lovely in empire or sheath dresses, and larger busted and curvier ladies may prefer wrap dresses. There is a style to flatter everyone.
Wearing only dresses as a personal uniform prevents decision fatigue
Uniforms are amazing for productivity - it's one less thing to think about in the morning! Despite loving dresses, I'm actually quite sartorially challenged. I'd never win an award for being "stylish" and knowing what to pair from a myriad of clothing options was more of a headache for me than I'd care to admit.
Now getting dressed in the morning is as simple as Dress + Cardigan (in a matching or complementary colour) + Shoes = Done. The bonus is that it always looks nice, and like I made an effort! I can't say that jeans offered me quite as much reassurance in that department.
Who doesn't want that kind of simplicity when you're juggling a household, home schooling, and daily tasks?
Feminine Dress Tip: Streamlining your wardrobe into a flattering uniform will eliminate decision making, and become your own signature style!

Use your own style icons for dress inspiration
One of the best hacks I have discovered in the past few months is to put my choices through two "filters". I have used this for anything I plan to bring into my wardrobe, and also things I want to eliminate. Think "sparking joy" with a twist of keeping things "on theme".
The first is a decade filter. For my body shape I know that I feel most flattered in 1950s and early 1960s style fit and flare dresses - the decade that emphasised the waist and gave freedom to the hips (and thankfully, thighs)! Think of the outfits and styles in Call the Midwife, Mad Men, and The Help…
My waist is much smaller than my back and hips, and therefore I am choosing clothes that define the smallest part of me rather than making me look like a sack of potatoes (as jeans that cut me off at a wider part of my hips often did). When browsing online for dresses I am less distracted by "trends" and keeping up with the fashionistas, and more inclined to choose a shape that I know I won't regret.
The second filter is asking myself, "would soandso wear this"? Perhaps it's lazy on my part, but I do find it easier to ask myself if my favourite style icons would wear an item… if the answer is no, then I probably won't love it long term either. It helps me to step back from instant "oooh that's pretty", and stay focused on the task at hand - a wardrobe that is consistent.
My ladies of choice are Mariette Larkin (a leading character in an old TV series called "The Darling Buds of May"), daytime Doris Day, a touch of Stepford Wife, and a little bit of wholesome "Miss Honey" kindergarten teacher style. When I think of these characters I think of waistlines, flowing skirts and dresses, modest shapes, Spring, lovely light warm colours, delicate florals, cardigans, and a flourish of simple femininity (nothing too fussy or intricate/Hollywood), and always best suited for day wear!
In fact make like Beyonce and give yourself an alter-ego (the version of you in the future who is already wearing what you aspire to, and ask her). Mine is "Betty Stepford", whenever I am questioning something, or feel uninspired or unmotivated I ask "what would Betty do"? You see, this Betty Stepford, she's the best version of me! The lady I am slowly but surely growing into - change and progression are good, but only at a graceful pace and standard. I've even created a Pinterest board for her where I pin wardrobe inspiration!
Change and progression in a woman's life and style are good, but only at a graceful pace and standard. Alena Kate Pettitt
It helps to pick a character whose lifestyle they either live, or portray, is similar to your own. It's no use me looking to Kate Middleton's dresses for inspiration, as I'm more likely to be baking, dusting, or gardening than performing a public engagement.
Another way I have found inspiration is looking up a trigger word (for some) on Pinterest, and that's "modest style". Where the subject as a whole may be interpreted in many ways by many women, you cannot deny that the styles themselves aren't beautifully feminine and above all - appropriate (something today's mainstream fashion designers need to consider more). I find this dovetails perfectly into my personal convictions and faith too. I don't want to show off the things that only my husband should see - I personally find it less than empowering feeling half naked and exposed in public.
Stores like JanieLanie (use code Darling15 for 15% off) are a great place to begin if you are in North America. I wish we had more shops and boutiques like that in the UK! It really bugs me that the high street seem more intent on designing figure hugging and revealing dresses for women in their early twenties than catering for women who want to cover up but still look beautiful. I guess the fabric itself doesn't come as cheap as third world labour does, huh?
Feminine Dress Tip: ask you alter-ego or style icon if they'd wear an item you are considering. If the answer is no, it won't fit your lifestyle or theme.
Forget fast fashion and choose secondhand dresses
I have been adding to my dress collection a little lately, personal favourites are Seasalt, and Cath Kidston (almost always bought in the sale). However a good chunk of my dress wardrobe has been sourced secondhand.
This is either through thrifting (again, filter the choices via your chosen decade and style icon), or I head to eBay and Etsy.
It pays to release yourself from any pressure for "authenticity" too. I know lots of fellow vintage enthusiasts love to wear "true vintage", but for my budget and lifestyle, that's simply unrealistic. You can find so much "inspired by" clothing out there if you're patient enough and take your time rather than impulse shopping.
Style also isn't found in obvious logos or branded goods either. Opt for plain and simple and you can't go wrong - above all, they're more likely to be considered timeless and repeat wears, rather than "trendy" anyway.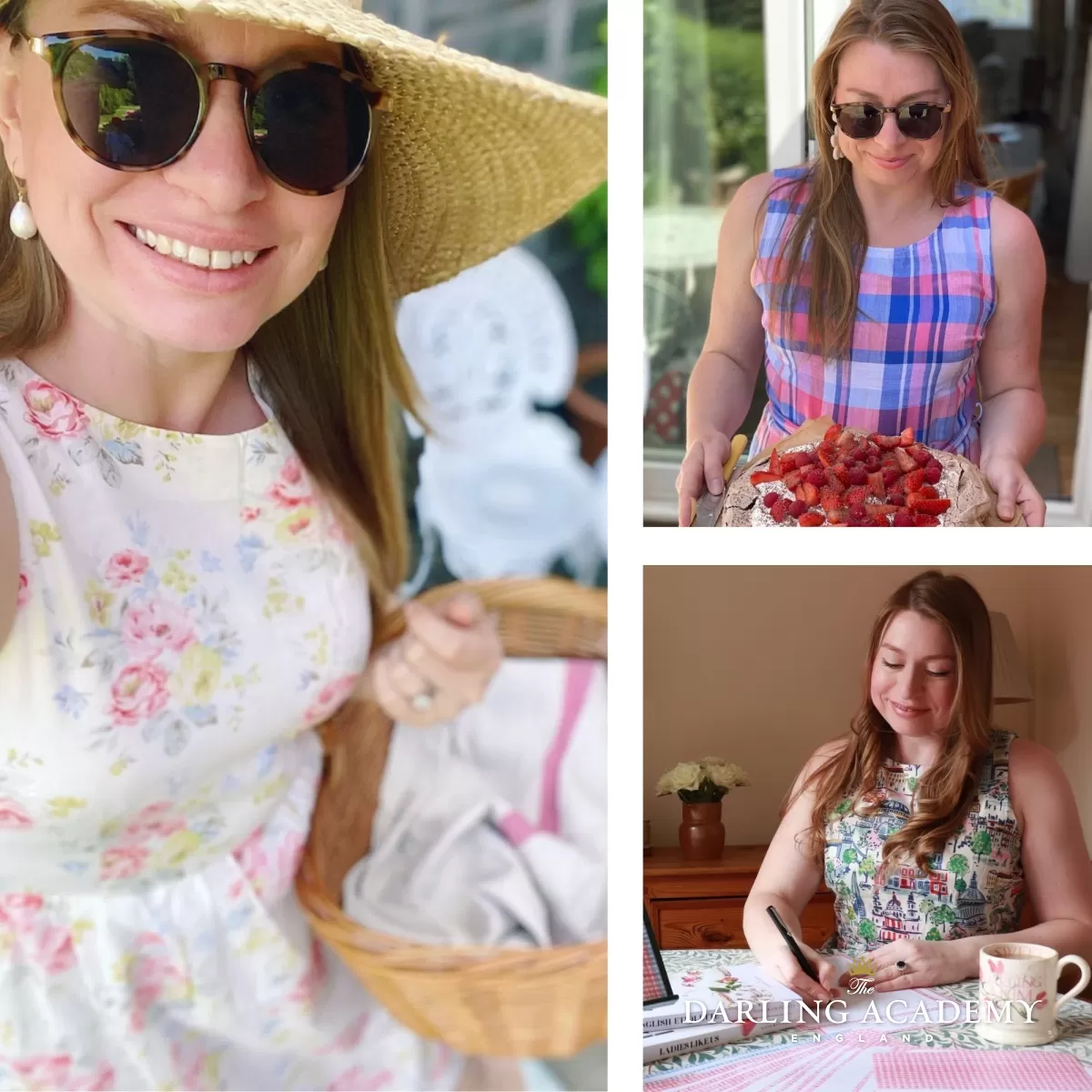 Building a wardrobe to rival any Stepford Wife
In the world of fashion they say that what comes around, goes around - and in the 80's and into the very early 90's they revived a lot of 1950s style dresses! My favourite finds have been from "St Michael" (what M&S used to be known as), and Laura Ashley. While purist may scoff, at least my budget is happy!
Quite often when shopping for a new item, I check to see if they have links via TopCashback - for my latest Cath Kidston sale haul of dresses, I earned £18 in cashback just by visiting the site via their links. It does take a while to payout, but I'll happily accept an extra chunk of money off if I can!
Feminine Dress Tip: it needn't cost the earth to dress like a lady. Secondhand is your friend, just stay "on theme" and you can make even the plainest dress look a million dollars. The higher the spend on the item, the more "classic and timeless" in style it should be.
When I wear dresses I get treated like a lady
This is my favourite discovery of all! I had my suspicions from the occasions I would dress up (in a dress) and make an effort, but people really do treat you differently when you make an effort to dress a little more femininely.
There is a notable difference when I wear jeans or trousers! People don't smile at me as much, and often their manners are less than desirable. Weirdly, I feel invisible - but in a dress, oh in a dress. I know it sounds cliché but everything feels much sunnier and rose-tinted. People notice you for a lovely reason and they treat you accordingly. That's how I want my life to be!
Why do women want to dress like men when they're fortunate enough to be women? Why lose femininity, which is one of our greatest charms? We get more accomplished by being charming than we would be flaunting around in pants and smoking. I'm very fond of men. I think they are wonderful creatures. I love them dearly. But I don't want to look like one. When women gave up their long skirts, they made a grave error" Tasha Tudor
Obviously men appreciate it a lot when we play up to our femininity - and not in a creepy way before you get the wrong idea. I have more doors opened for me, and just general consideration and respect in the street compared to when I wore a basic tee and jeans. I've noticed too that teenagers are a lot more respectful and willing to listen to some adult guidance to remind them of their manners and appropriate behaviour (so often required in parks) too. Moreover I have received some wonderful emails from people all over the world sharing how much they appreciate it when ladies make an effort in their appearance and celebrate their femininity.
Not only this but I find I feel more feminine in myself too. My self-esteem has improved, and I genuinely enjoy my day when I know I look pretty. It's simple really, dress how you want to be addressed - and step into the life you want! The first task is to get dressed for it.
My favourite moment however was a few weekends ago at our first family 1940s event. We had just stepped through the ticketing gates when a lady I didn't know praised my outfit - rather loudly and from a distance! The words that rang out were "so feminine".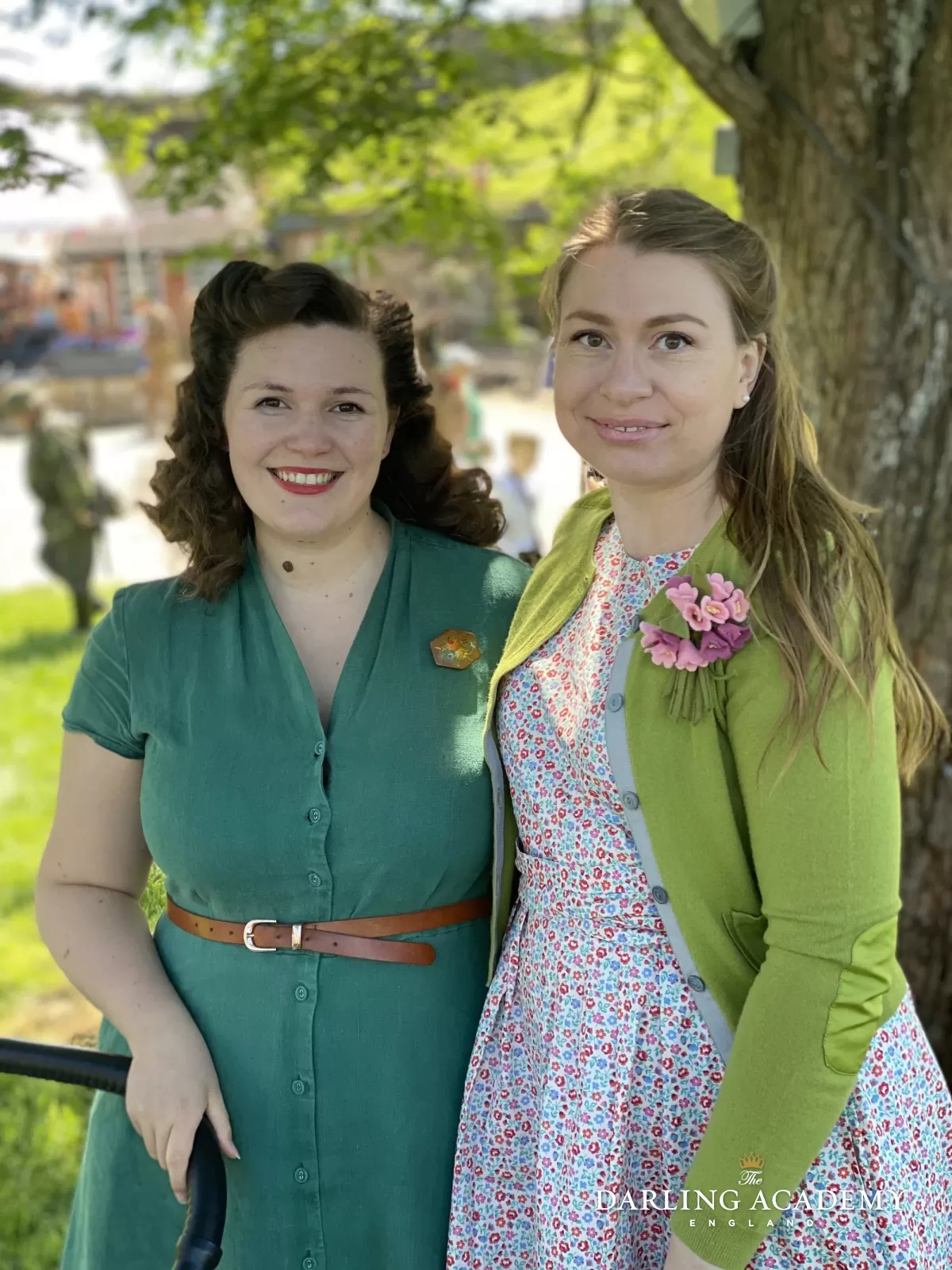 At a 1940s event with my friend Lydia
We were all created unique, and it's a joy to others and ourselves when we delight in what makes us different. As long as it's appropriate, and makes you feel happy. Wear it!

I have, at last, arrived in a place where I feel comfortable and am happy. I am not model thin, I am not trendy, but I am delightfully me, and finally feel like a lady having shed the "uniform" and common trends and styles of today. I thought it would take guts, but actually I feel more authentic now than when I dressed to blend in.
I hope that this encourages you to make the leap to dressing like a lady if you feel it in your heart that it's something you'd enjoy. It's not something that will happen overnight, nor should you throw away those trousers just yet, but consider a little personal challenge to make a little effort and see how it makes you feel. You might just like it!
I'll be back next time to answer some of your frequent questions to do with wearing dresses, until then enjoy the sunshine ladies!
With love,

A lady thanks you
Your consistent support and words of encouragement mean the world to me! I read every single email, and this community is one of the greatest joys in my life. So many likeminded people, I'm only sad that miles and oceans separate us. Be encouraged that although we are the quietest in the "media arena" there are many thousands of ladies and gentlemen who think and feel just like you. Just like us. There are Ladies Like Us, everywhere, and wonderful husbands supporting them.
I do hope you enjoyed this article, if you like our values here at The Darling Academy and found this post useful or inspiring, would you kindly consider supporting the blog.


All content and images in this article are copyright of The Darling Academy and are not to be shared or reproduced without our express permission. Affiliate links have been used in this post.