Wearing only dresses: choosing a feminine wardrobe.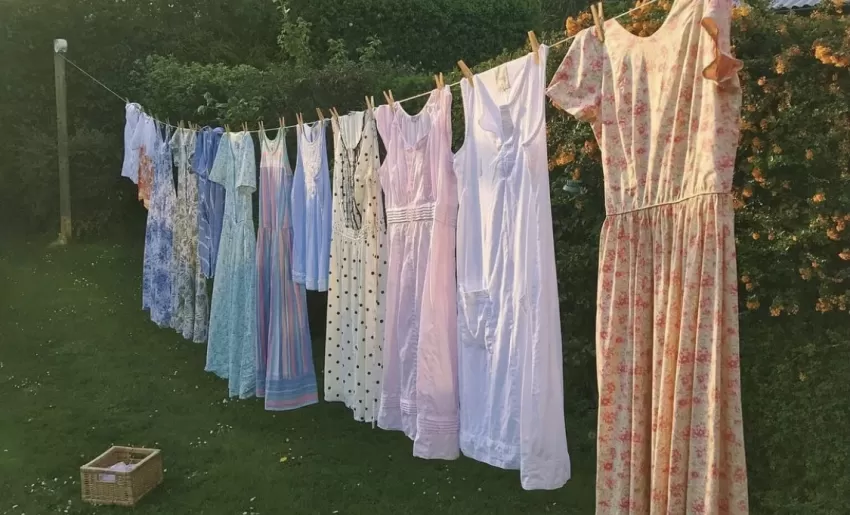 I grew up in the '90's. An era that saw most women working 9-5, smashing glass ceilings, and dressing their daughters in shell suits, leggings and baggy jumpers. It was of course the fashion of the time, but recently I have been considering the impact that it has had, not only on my personal style, but my confidence now as a grown woman.
There were exceptions to the rule in the 1990's, but they weren't exactly inspiring - the Spice Girls themselves donned dresses, but even they are better classified as "long t-shirts" by modern standards. Only Game Show Girls, Disney Princesses and Barbie wore dresses, but we (the masses) were fast moving away from anything strictly "for girls" in that time period, because… "behaving, or looking like a girly-girl = weakness".
Girl Power, you see, was anything but girly.
I have a sneaking suspicion that over time, this subliminal (and not too subtle) messaging has done some of us more harm than good.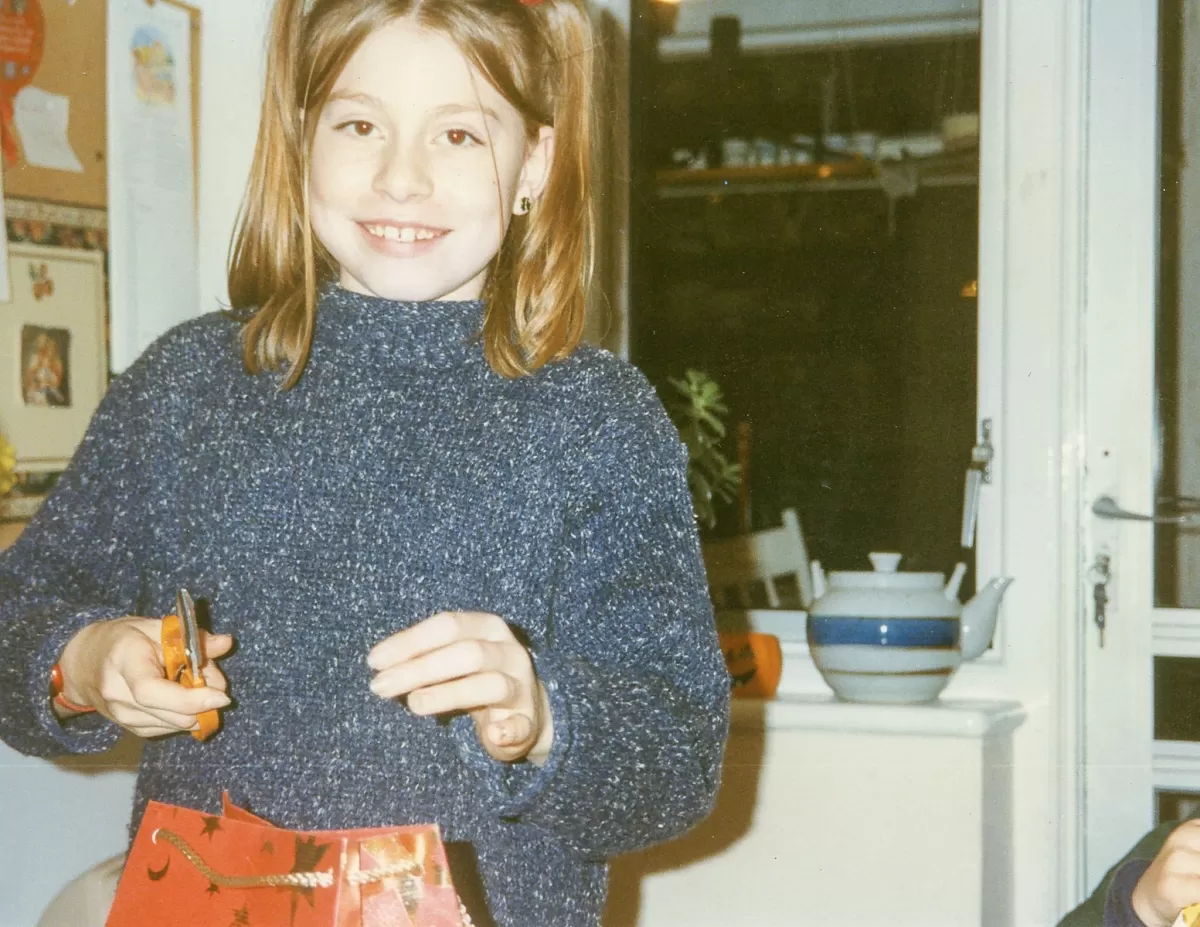 The choices, and the trousers, that shaped me.
I recently had a very good heart to heart with my mother about the way she chose to dress me throughout my childhood, and how it shaped my future, not to mention the trends that were leading the change. This is what she said;
"Dressing you in trousers and leggings was mostly out of practicality reasons, skirts hinder a baby's ability to crawl, and then later, when you were playing outside and riding a bike it was much easier for you in leggings - perhaps I made that decision for modesty reasons too. We didn't have much money, so there was never really a choice to dress you in "pretty things", as items needed to last as long as possible.
I myself worked in an office, where it was a pre-requisite that the ladies wore skirt suits, heels, and power shoulders. It's funny how the style was reminiscent of masculinity with the broadness of shape, yet we were still very much expected to wear a skirt and high heels. Now it looks like it's the opposite in the corporate world - women in the workplace wearing skirts and dresses don't seem to "represent" the ones in power. Trousers are now the norm everywhere you look".
We also went on to discuss a very vivid and deeply impactful childhood memory that I have of being bought a beautiful sailor dress sporting a peter pan collar, puff sleeves and tiered skirt, which came with matching lace gloves. Oh how beautiful it was, and such a treat - but some comments from our immediate family about how impractical it was, not to mention the waste of money it must have been, left me feeling deeply ashamed when I tried it on in front of them. I ached to wear something pretty, but when I put it on, the dress represented humiliation for even daring to dream.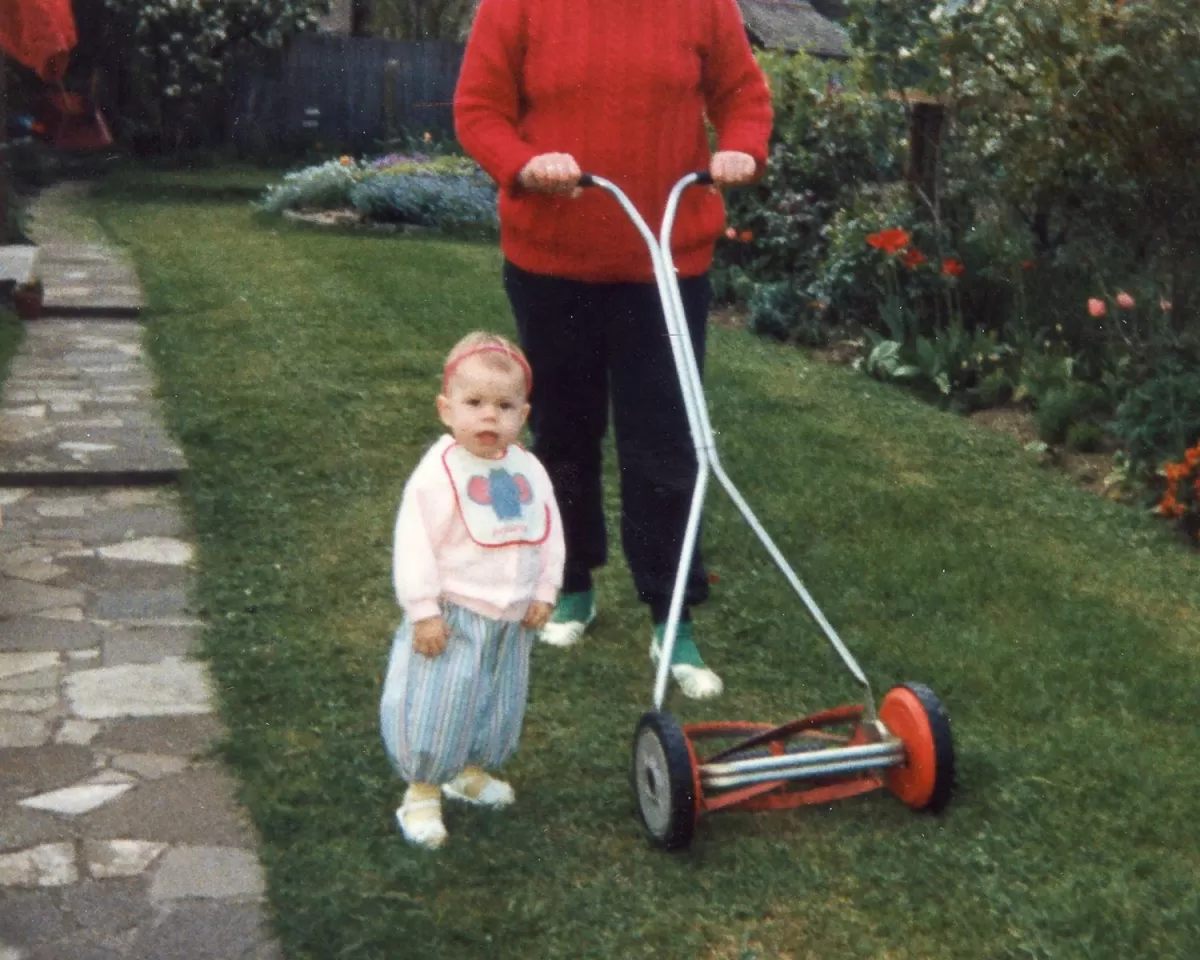 Our childhood "style" imparted upon us by our parents, and comments from family and peers can leave a lasting mark. I think for many of us, we can unwittingly carry these false beliefs into adulthood. Never truly becoming or growing into the women we dream of being. Add to this newer issues such as our weight, postpartum body fluctuations, what our friends might think - ad infinitum. Darling are you dressing as you wish?
Why are we no longer dressing like ladies?
As a young girl I never felt I was deserving of being dressed "pretty" and "girly". I idolised Barbie, but no part of her could be reflected in "me". That was for other girls…
...and so, that pattern stuck with me through my teenage years when anything but frilly was "in" - only "revealing and raunchy" was celebrated (I'm looking at you Britney and X-tina), then fast forward to the "skinny jeans and a nice top" era, and I find myself here. Trying hard to embrace the femininity awarded to me at birth, but through a series of unfortunate events, including social conditioning and generational "timing", I'm left feeling like I still somehow don't deserve to identify as I wish (oh, the irony in this day and age!).
I was, and always will be more of a Cher Horowitz & Elle Woods type of girl. I'm unashamed to admit it now - my love for pink and pretty never left! Even during the Sex & the City years, Charlotte York appealed to me more than the 'fashionistas', Desperate Housewives? It was Bree for me… Did I mention the 'Stepford Wives' movie reboot? Never mind the creepy story, I'm all for the aesthetics.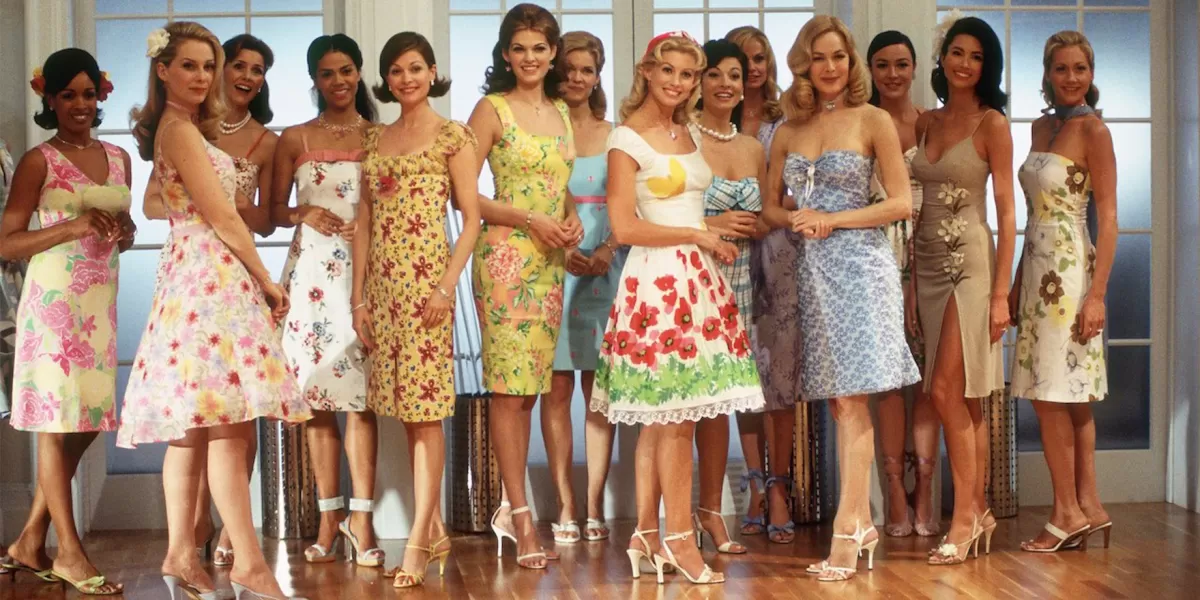 It wasn't all bad as a young girl, I was indulged in "dress up" which was wonderful, and my Grandmother was always obliging in sewing replica Disney dresses for me, but this was as close as I got to feeling girly - it was only ever on make believe time.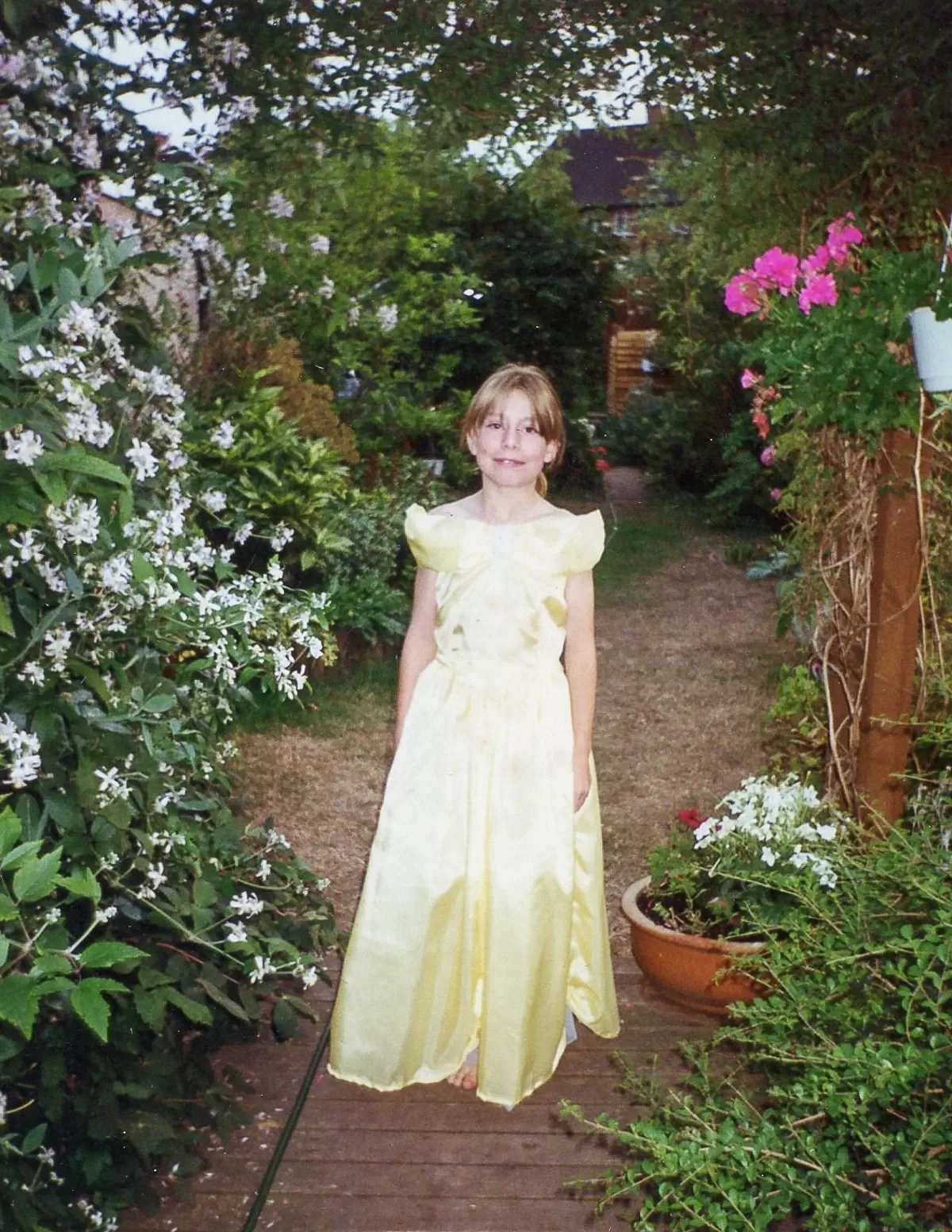 Some days, it still feels like make believe. Especially when the media push this narrative that daily dress wearing (and presenting as overtly feminine) is only for devout religious ladies, or worse, strictly for weak women who are living under their husbands thumb. You can't conquer in a dress, and won't be taken seriously! Man-up to get ahead.
Dresses are of course not the be-all-and-end-all of what defines femininity, but it is a good visual example of how it sets us apart as women. I'm not shy in saying that I think that all this demonisation of cisgender identification for girls (and believing it's damaging to encourage it) is wrong. The fantastic and eye-opening book, 'In Defense of the Princess' by my friend Jerramy lays it out beautifully. She too dreamed of turrets and tiered dresses - also a daughter of less than "frilly" parents.
It's not wrong to be a girl. Skirts, and indeed dresses do not equal weakness… We do not have to behave and look like men in order to get ahead. I know that trouser wearing is a personal choice, but have you ever really thought about whether you're making the 'easier' choice, and denying how you really want to look? I know now that's what I was doing, and having spoken to lots of women about this, there are many who want to dress in a feminine way, but also feel too shy, or like they aren't worthy - for a variety of reasons not too dissimilar to mine.


I just want to wear dresses, and wear them I will!
At 35 years old, I should be able to make the choice of what I dress myself in without all the emotional baggage, not to mention the old (and new) shame that comes with it. I should be able to dress as a woman/girl without question.

I'm sure you've heard it all before when you've "dressed up" slightly too. "Where are you going", or "What's the occasion"? Comments dressed up as polite inquiries barely mask the hint of snark and judgement. You never get this when you wear the modern uniform of skinny jeans. Why is that?
Why exactly does a dress = "dressed up" anyway? It's high time we normalise feminine clothing again, without it being for an occasion, or rendering us less resilient (or intelligent!?) than our trouser wearing counterparts.

It's time to bring back the everyday dress in the way we dress! Alena Kate Pettitt


If you long for swishy skirts, fit-n-flare dresses, and frills, you might just want to join me.
Update: please see part two of the series here "What I have learnt from wearing only dresses for three months".

Dear reader,
I hope this inspires you to have a little think about anything in your past, or how the "trends" and social conditioning in your lifetime has shaped the way you view yourself, and perhaps maybe start to honour how you truly wish to present yourself to the world. I cover this a lot in Ladies Like Us, but it's an ongoing project - one even I still need to work on.
I know not everyone is comfortable in dresses, but for those who long for them like I do, many things can hold us back from embracing them, and we'll look into this next time.
Until then, I'll leave you with a few quotes from the community...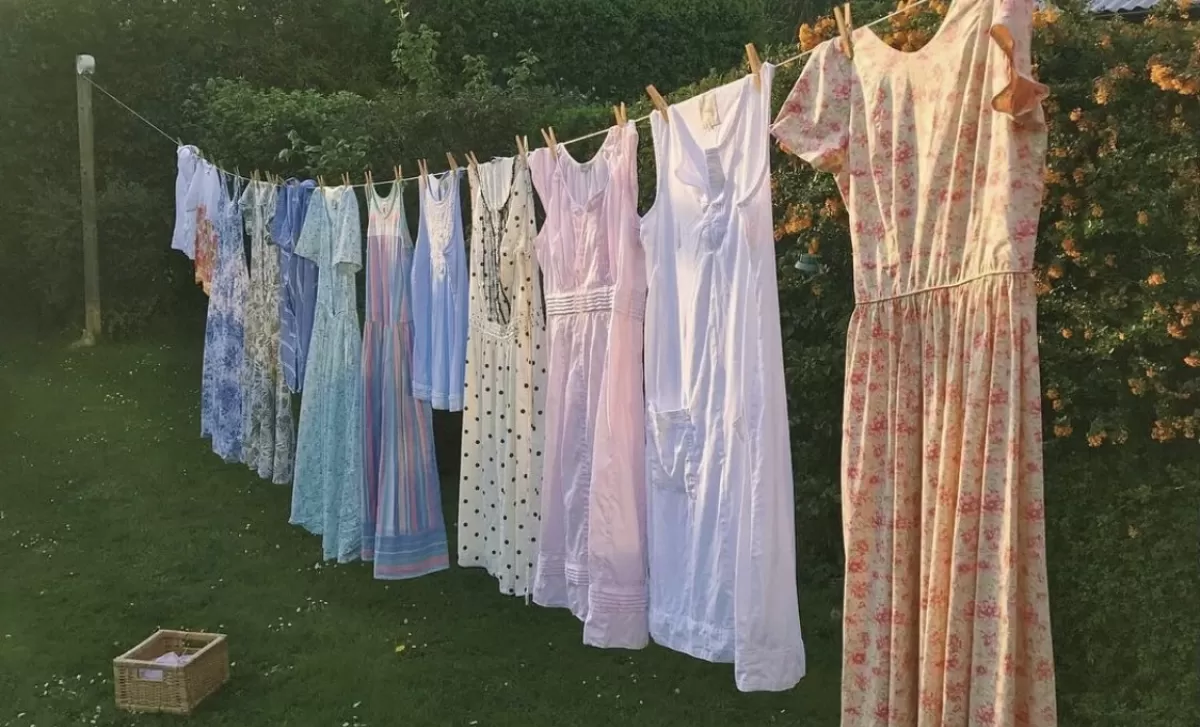 I just recently switched to all dresses and skirts (within the last year). I have always hated wearing dresses and skirts growing up, but I put one on about a year ago and felt so feminine and beautiful. It was a strange moment for me. I also find them so comfortable. I have actually officially decided to purge my pants, save a few for night time wear.
Emily Findley
I started wearing dresses and skirts exclusively in 2008. I love the swish of skirts, how they make me feel and look so very different from a man, and best of all how they make me feel ladylike, even when outside playing with my little one or working in the yard. Jenny Mabrouk

I made the switch to dresses pretty much exclusively (unless working out) shortly after I joined your community actually. When I saw how lovely and feminine other ladies looked I realised I wanted that for myself and really started making an effort to be more feminine. My husband loved the change and it motivated me to keep it up (even in the winter with fleece tights)! I get so many compliments when I am out and about from other ladies - especially working ladies in pantsuits. I rarely see women in dresses and I can tell from the wistful glances I get that there are some women who miss dressing up in a feminine way.
Leanne Lowry

I began because I had surgery which meant I wanted loose clothes over my hips and tummy. The second reason is being more modest with what I choose to wear. As a born again Christian I changed my attitude towards many things including the way I presented myself to the world. (This isn't saying that wearing jeans makes you less of a Christian or that wearing trousers makes you less pretty) this is a very personal thing and I wouldn't force my decisions, convictions or opinions onto another. I'm certainly not the perfect Proverbs 31 woman!! Elizabeth Morecombe

Wearing dresses for me is more feminine and encourages modesty! Lauren Scott
I mainly wear trousers, but when I do wear a dress I feel lovely and feminine especially in spring/summer. I think the thing that holds me back is confidence, stepping out of my comfort zone and daily life with three children I tend to throw on my jeans or leggings and get on with my day! Sinead Pitt

I have one pair of trousers (jeans) that I wear for gardening, but otherwise it's all dresses. I am an atheist so don't wear dresses to align with any religious reason; I just feel more 'myself' in dresses in earthy colours, tights, cardigans or woollen jumpers, and boots. It feels more timeless, which makes me feel more 'at home' in this modern world! Also I find it easier to source dresses from small makers that pay their workers properly (usually have to wait 4-8 weeks for them to be made but it's worth it for a million reasons).
Amelia McBride Baker

I only wear dresses, occasionally skirts. I pretended to be a man for far too long and I think of it as making up for lost time. Zoe Anne

I grew up thinking that my legs are ugly, so I always used to wear trousers to hide them. Once I accepted my body and my femininity, I completely switched skirts and dresses (at work, I still have to wear trousers, though). Trousers, especially jeans feel too constricting on my feminine curves, so if I really need to wear trousers, those would be soft leggings or jeggings. Kat Gehrig
It's nice to know your thoughts...
It's always so wonderful to hear from the community. Though I am not able to reply to everyone, please know that I appreciate every email you send, they truly warm my heart!
I hope you enjoyed this article, if you like our values here at The Darling Academy and found this post useful or inspiring, would you kindly consider supporting the blog.

Alena xxx

All content and images in this article are copyright of The Darling Academy and are not to be shared or reproduced without our express permission. Affiliate links have been used in this post. All images except the Stepford Wife movie still are the copyright of Alena Kate Pettitt.