How to make traditional homemade chicken stock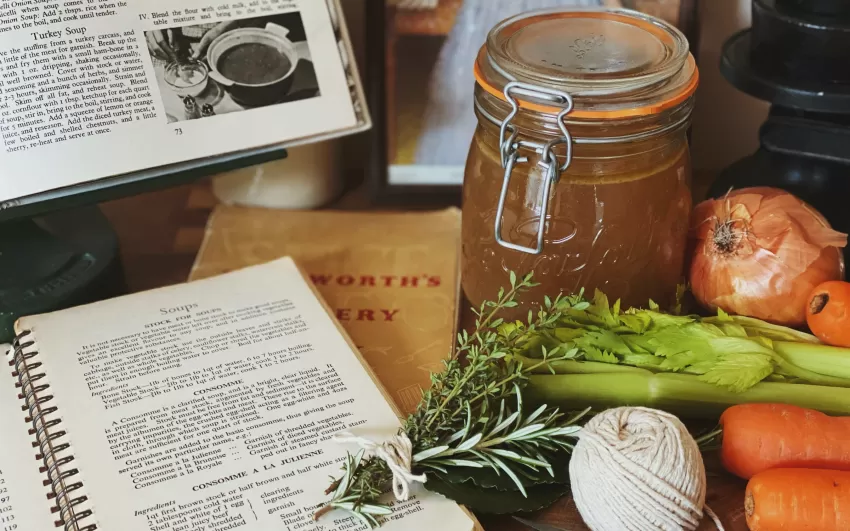 Chicken stock (or bone broth if you prefer) is an absolute staple in our kitchen. It has such a multitude of uses, from homemade soups, casseroles, adding into recipes for savoury pies, and much more. As it is so easy to come by in the supermarkets (usually in foil-wrapped dehydrated form), I never really thought much of making my own, but for the past two years I have been stretching our roast dinners to give so much more than one meal, and I'll never look back.
The taste of homemade stock is far superior to anything shop bought - not to mention the benefits, and the feeling of wholesome do-goodness that it gives me!
You may know by now, dear reader, though I'm certainly not perfect at this new "zero waste" movement, I do believe that in doing as Grandma did, you'll find that you begin to see things in your kitchen and home life in a whole new light. I call this looking through a frugal "make do and mend lens", it's not only better for your body, your family's health, and your home, but the wider environment too!
Sometimes the old ways really are better, and they knew what they were doing. Modern convenience sometimes comes at a cost, whether it's financial, health wise, or weighing heavily on our poor planet.
Traditional recipes are worth their weight in gold
Why throw out a perfectly good chicken carcass after the Sunday Roast, when you can make something else from it? Not only will it save you pennies on your next shopping trip, but perhaps stave off costs incurred at the local pharmacy too. An article by the Huffington Post cites a scientific study as to why chicken soup (made from stock much like my method below), is the perfect antidote to the common cold.
If like me you are interested in heritage cooking, and "the old ways of doing things", I cannot recommend the book Nourishing Traditions highly enough. It throws all "modern diet culture" out the window and gets back to the basic traditions of real food that were created for us to truly nourish our bodies before 'big pharma' and super factories started altering our natural foods. It's a potted "real and whole" nutrition course, and recipe book all in one.
Here is my basic Chicken Stock recipe. I urge you to give it a go next time you roast a chicken, you'll be surprised at just how simple it is.

How to make chicken stock from scratch
I like to use a slow cooker for my bone broth, as it means I can leave it simmering for hours without it taking up space on the hob, but you may use a large stock pot if you do not have one - just make sure to keep an eye on it.
The larger the pot you use and greater the quantities of ingredients will yield more stock, and as such I cannot give you a final quantity. You may use more chicken carcasses or additional bones in order to make a concentrated stock if you wish. The beauty of this recipe is that it is incredibly flexible. My large (8qt) slow cooker will usually yield around 3-4 litres of good stock from one chicken carcass and the vegetable additions below.
A note on timings: I like to get my stock cooking first thing in the morning, and leave to simmer all day. Then I turn off the heat when I go to bed, and allow to cool (completely covered) overnight. I will do the final straining of the stock and processing the next morning.
Some like to leave the slow cooker on overnight, but just on safety grounds I prefer to cook in the day.
A note on bones: You can ask your Butcher for carcasses and bones in order to make stock. Chicken feet are especially good for making stock and bone broth as they have a large amount of collagen. I also add my carcasses to a large ziplock bag in the freezer, and when I have two or three, will use these to make an extra large batch of broth.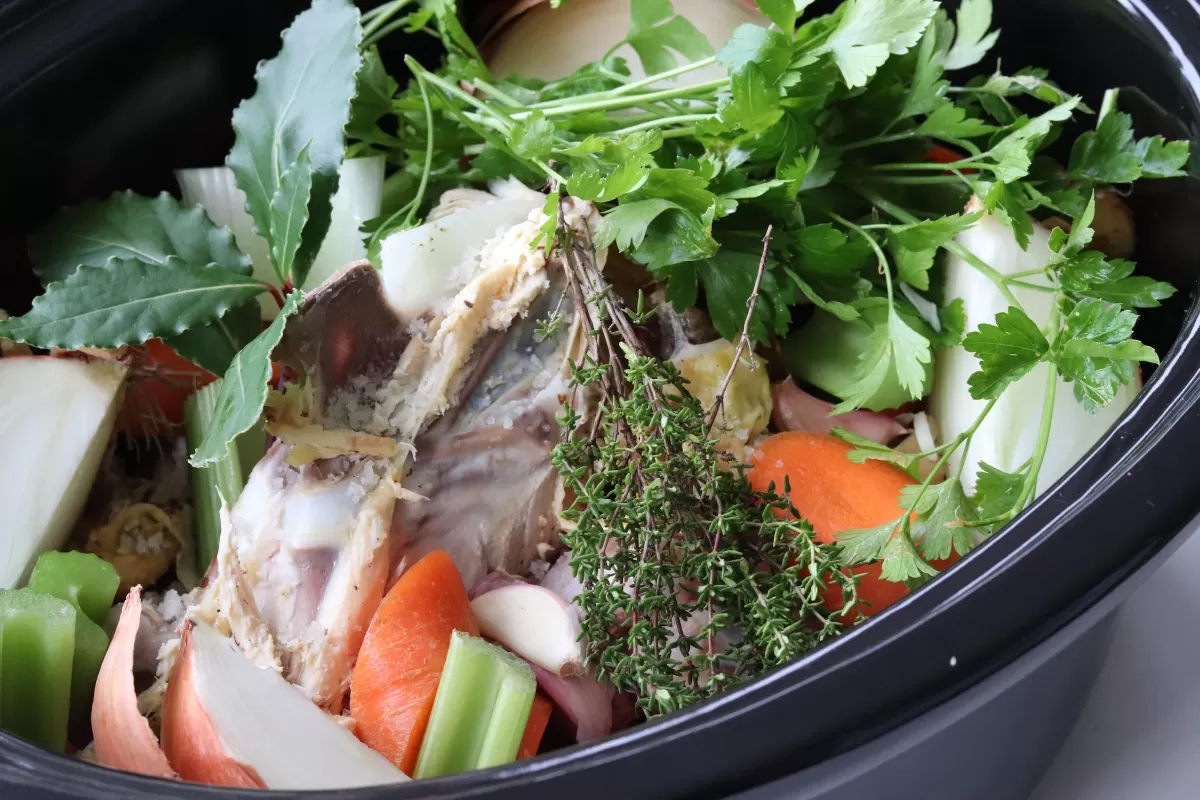 Ingredients for Chicken Stock Bone Broth
Chicken carcass (at least one, but more is better)
1 large White Onion, quartered (skin left on)
A few cloves of Garlic, (skin left on)
3-4 ribs of Celery, cut into large pieces
3-4 Carrots, cut into large pieces (skin left on)
A bouquet of fresh herbs, such as Rosemary, Parley, Thyme & Bay
Handful of whole Black Peppercorns
Large pinch of Sea Salt
Spring, filtered, or boiled water (enough to cover)
Method

Add the chicken carcass to the pot, and all additional dry ingredients.
Cover all ingredients with water and make sure everything is submerged (note: your herbs and spices may float).
Turn the slow cooker on "high", or bring to the boil on the hob and leave to boil for one hour.
After one hour, turn the slow cooker onto "low", or bring the temperature down to a simmer, and leave for a further 12-24 hours.
If you notice any scum rising to the surface, you can skim this off from time to time - but try not to remove the fat (this is beneficial to the overall nutrition of the stock, not to mention flavour).
After the allotted time, turn the heat off, cover the pot tightly and leave to cool completely.
When cool, start to strain your stock though a fine sieve. I like to ladle mine through a sieve into a large mixing bowl - do not tip it as it'll make a mess. Patience is key.

You will now have your stock, beautifully strained and ready to store for future use. If there are a few herbs or bits of pepper in the bottom of the bowl, do not worry. You can either include this, or avoid it when filling your containers (just keep the liquid steady and omit the last spoonful as these little bits will sink to the bottom).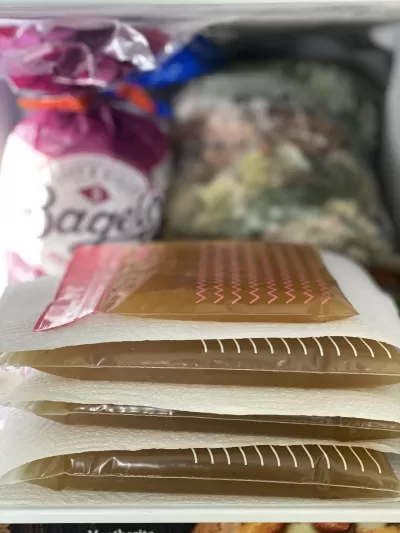 The container you use to freeze your stock in is up to you. You can use tupperware, or liquid/stock bags such as Ziplock. I use IKEA's "ISTAD" bags as they are reusable and allow me to freeze flat, which I then stack sideways.
Just make sure that whatever you use is freezer safe, and if freezing in glass, make sure to leave enough headroom so that your liquid can safely expand.

The stock should last for up to three months in the freezer.
Et voila! You now have beautiful and nutritious homemade stock to use in a multitude of dishes.

Jewish Penicillin, and alternative ideas for making your stock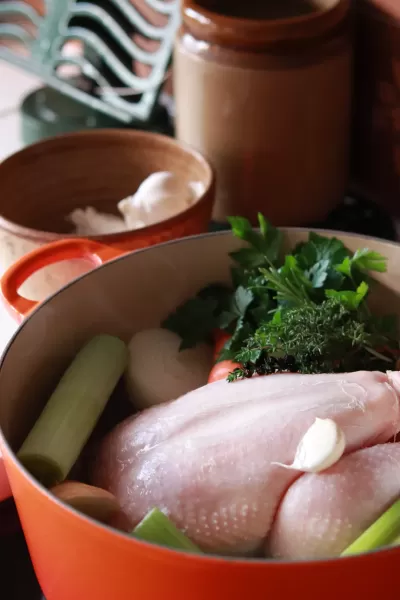 Should you find yourself with a cold, you can also really ramp up this recipe by boiling a whole chicken, along with the prescribed vegetables (and a little optional turmeric). My Rabbi friend Esther gave me the original method and recipe for "Jewish Penicillin" which I have thankfully not yet had to use in order to cure a cold, but it will be first in line before reaching for commercial medicines.
Add a whole chicken to your recipe instead of a carcass. Follow the usual method, but instead reduce the cooking time to two and a half hours. Then cool, remove the chicken, and strain the stock as usual. Make sure to keep the 'Schmaltz', or glossy golden chicken fat you'll see shimmering on the surface, this is the good stuff. Shred the chicken, adding the meat back to the stock, along with fresh onion, celery, and carrots. Add noodles (pasta), and if you fancy making it really authentic, Matzo Balls. Jamie Oliver has a good recipe to follow here.
You can also keep hold of recipe scraps in your freezer to make a vegetable stock. For more freezer ideas and kitchen best practice tips, you can explore our NEW Kitchen Management Manual.
Only £6.99 (about
$8.50)
Instant Worldwide download
Kitchen Management Manual
Printable PDF housekeeping handbook
Meal Planner
Shopping List
Recipe Card
Pantry & Freezer Guides
Seasonal Food Guides
Conversion Charts
FREE BONUS Laundry Tips!
International payment methods accepted:

All content and images in this article are copyright of The Darling Academy and are not to be shared or reproduced without our express permission. Affiliate links have been used in this post. All images are copyright of The Darling Academy, do not use without permission.