Introducing: Pressing Matters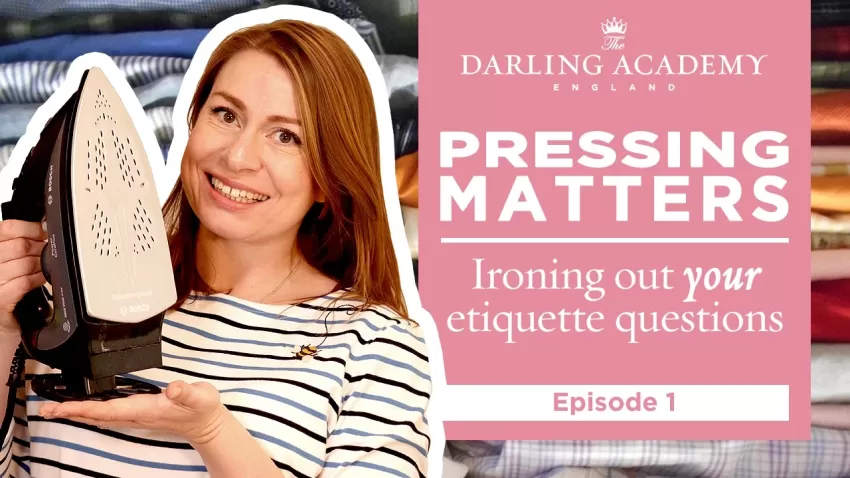 Granted, ironing isn't for everyone… but I happen to love it! Oh yes, the click-clack of the board as I set it up, swathed in its pretty Cath Kidston cover. Piles of soon-to-be-set-straight cotton. The sound of the steaming iron, and warmth of freshly pressed clothes makes me feel so very happy and content.
There's something really 'homemaker' about it. Forcing me to slow down and nest (and make sure I don't burn myself in the process). It's my favourite household chore.
Like most things, I use the time to multi-task. Often I'll prop my iPad up in the kitchen and catch up with my favourite YouTube channels while steaming out the creases, and beating folds into submission. It makes the time go faster - try it sometime - and I never feel like the chore is a chore.
Before I bore you with the merits of a freshly pressed shirt, and the benefits of the headspace or leisure time I seem to find when ironing, I want to invite you to enjoy this ironing time with me – hear me out…
I realised a few weeks ago that I could utilise this time to answer the questions I often get emailed, or sent to my social media inboxes - as if you are right here in my kitchen, having a good chat about it over a cuppa!
So here I am, excited to introduce you to my new series…
Pressing Matters: ironing out your etiquette questions.
I don't know how you feel about it, but for so long I have felt the subject of etiquette can be rather formal. Often out of touch with the warts-and-all life 99% of us live every day. So learning how to peel grapes with all that cutlery just feels slightly irrelevant.
Meanwhile, we are in a quandary as to how to deal with an awkward neighbour, or wondering whether we said the right thing to our boss. Curious as to how we can make our home feel peaceful, and how to boost our self-esteem without stepping too far out of our comfort zones.
The vast majority of the questions that are sent my way are how to 'deal with people', and I'm not surprised. Throw all the dinner party paraphernalia, and letterpress invitations aside and what do you have staring opposite you? People!
If you want to know the true art of etiquette, it is not held in social position, or a table setting. It is the position of your heart. Alena Kate Pettitt
I wholeheartedly believe that the practice of etiquette should be more concerned with making other people feel comfortable in your presence, and feeling a quiet confidence in yourself that you can handle whatever life (or people) might throw at you.
Writing articles and books is very fulfilling, but it can be a little passive, which is why I created this format to answer your questions personally! I sincerely hope you enjoy it.
With love,

Do you have a burning etiquette question?
If you have a question you'd like answered in our next episode, please email it to: rsvp@thedarlingacademy.com
Questions can be asked anonymously if that makes you feel more comfortable.
Remember to subscribe to The Darling Academy YouTube Channel so you never miss a post!


All content and images in this article are copyright of The Darling Academy and are not to be shared or reproduced without our express permission. Affiliate links have been used in this post. There is no extra cost to you, but The Darling Academy receives a small commission for our recommendation.