Royal Recipes: Princess Diana's Watercress Soup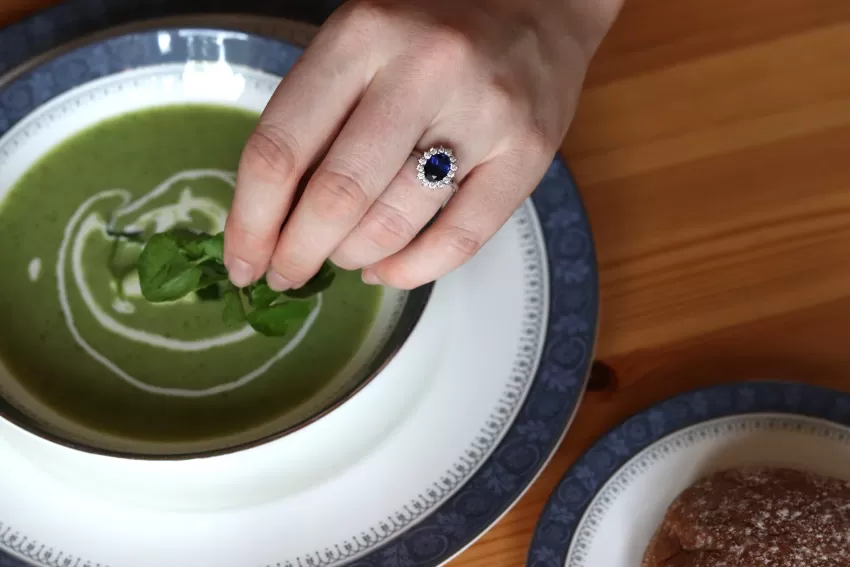 I am so excited to publish this post today. Not only does it signal the launch of our new YouTube channel, but I also get to share with you a project that I have been thinking about for a long time.
As you may already know, there is nothing I love more than cooking delicious, wholesome meals for my family (and also a few sweet treats here and there). I am not really into "fussy" food, just simple, easy to make dishes that are loved by the whole family. I have my own repertoire of recipes that I often like to share with you here on the blog, and also on Instagram from time to time, but this aside, there is nothing I love more than when you share your recipes with me.
To me, there is something rather magic about a good time-honoured recipe passed down from mother to daughter, grandmother to son, neighbour to neighbour, friend to friend. Now, with the power and reach of the internet, the ability to share recipes between likeminded ladies and gentlemen around the world is wonderful!
I reached out to a couple of friends to help kick this project off, and my good friend Deborah, a talented Sculptor came up trumps, not only with a delicious and simple dish, but one that comes directly from the recipe book of a Royal mum!
Click the video below to watch on YouTube. The recipe details are listed below should you like to make it for yourself.

RAF Wives & Princess Diana's recipes.


Dear Alena,
My husband Tim is an ordained minister in the Methodist Church, in early 1985 he became the Air Training Corps Chaplain in Sheffield. A close friend who was an Air Training Corps Officer was visiting the RAF Finningley Airbase in South Yorkshire where he met the Assistant Principal Chaplain and they spoke at length about Tim's work. The Assistant Chaplain then drove all the way to Sheffield to meet with Tim and eventually invited him to become a British Royal Air Force Chaplain.
Tim accepted the job offer and his first station was RAF Wittering where the Harrier Jets were based, we all packed up and moved to live on base. This was where Princess Diana was the Honorary Air Commodore!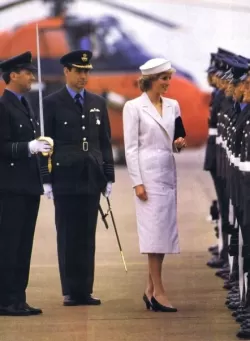 My husband met her on a Royal visit. He said she was down to earth and wanted no fuss even though she had a bad cold.
Later, during our time at Wittering, the officers wives got together to make a recipe book of all their favourite recipes. Diana happily contributed her own favourite recipe for Watercress Soup - which as you can see is highly nutritious.
The book was sold in aid of the Malcolm Sargent Cancer Fund (now CLIC Sargent), and for children of our local Soldiers, Sailors and Airmen's Families Association (the SSAFA), which was based nearby in Peterborough.
I have made this recipe for dinner parties many a time since, and it is lovely. Refreshing. And it can be made in advance - a great starter.

I hope you enjoy making it too.
Yours,
Deborah.

Honorary Royal Air Force Commodore: HRH The Princess of Wales
We are so lucky to live in an age of film and photography, as I have managed to find old footage of a visit from Diana to RAF Wittering on YouTube! Listen closely to how the newsreaders highlight lots of details on Diana's Catherine Walker outfit. Isn't it funny how we were just as obsessed with royal style even then? I wonder if Victoria's generation were the same…
How to make Princess Diana's Watercress Soup
Aprons on, hair up, hand's washed - let's cook!
Watercress Soup ingredients:
1oz (30g or 1/4 cup) butter
1oz (30g or 1/4 cup) plain flour
1 pint (2 cups) hot chicken stock
2 bunches (about 6oz or 170g) fresh watercress
1/2 (1 cup) pint single cream
How to make Watercress Soup
Melt the butter on a low heat in a deep saucepan.
Add the flour, cooking gently for a couple of minutes.
Slowly whisk in hot chicken stock until you have a creamy consistency.
Wash the watercress thoroughly and add to the stock.
Cook slowly until the stalks are soft, stirring occasionally. This will take about 20 minutes.
Remove from the heat and allow to cool a little.
Liquidise the soup and pass through a fine sieve.
Chill and add the cream.
Reserve a little of the cream to garnish the top of each portion.

* A few leaves of watercress, raw or previously blanched, can provide additional garnish if desired.
By kind permission of HRH The Princess of Wales
Honorary Air Commodore, RAF Wittering

Former chef to Charles, Diana, William & Harry - Carolyn Robb's 'The Royal Touch' with its delightful illustrations and delicious recipes might be a nice little addition to your cookbook shelves if you are curious as to what the Wales family enjoyed at home.
The apron I am wearing is official merchandise from The Royal Collection, purchased from Harrods.

Submit your own Royal Recipe, or Darling Dish.
I really hope you enjoyed the recipe and also the YouTube video. As mentioned, if you'd like to submit your own recipe (it can be Royal inspired, or just very special to you), please email me via rsvp@thedarlingacademy.com
Don't forget to include the reason why the recipe is special to you - these are the stories that make sharing food wonderful. Please bear in mind that you need to be happy with me sharing your story with the wider world.
You can include the recipe in the body of the email, or as a document attachment. Fret not over US/UK measurement conversions, I can sort that out.
I really look forward to hearing from you, and sharing a little kitchen inspiration from your home with our community here at The Darling Academy.
Happy cooking,

Only £6.99 (about
$8.50)
Instant Worldwide download
Kitchen Management Manual
Printable PDF housekeeping handbook
Meal Planner
Shopping List
Recipe Card
Pantry & Freezer Guides
Seasonal Food Guides
Conversion Charts
FREE BONUS Laundry Tips!
International payment methods accepted:
Submission rules:
Upon submission of your recipe, you give permission for The Darling Academy to re-print and distribute the information online, and in print.
Not all recipes are guaranteed to be accepted.
You can include pictures of your dish. Or a picture of the person who inspired the recipe (for example, you, or your Great Great Grandma). By including pictures, you agree for them to be used on this website, and in print.

All content and images in this article are copyright of The Darling Academy and are not to be shared or reproduced without our express permission. Affiliate links have been used in this post. There is no additional cost to you, however The Darling Academy does receive a small commission for our suggestions.