Queen Casserole: a base stock recipe for stews and soups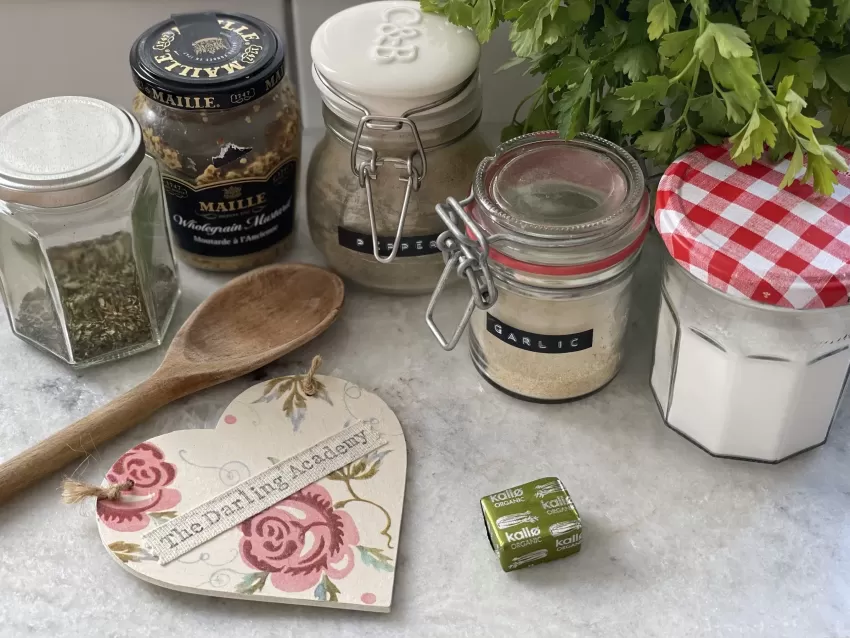 There are two things from my childhood that I vividly recall coming from my Mother's small but cosy galley kitchen in our West London maisonette. The best Cauliflower Cheese on the planet, and casseroles. So many casseroles! Winnie frequently put them on the menu, so much so, that my Dad Clifford, nicknamed her "The Casserole Queen".
Today I'd like to share with you this simple stock recipe for your next easy supper which is inspired by my own family, both past and present. I'd like to acknowledge my lovely Mum, and our late monarch, by naming this a "Queen Casserole", because, why not!?
Plus, aren't we all Queens of our own kitchens?
Now, I must preface this by saying that British casseroles are not to be confused with North American casseroles. A casserole on our menu is not the same as say, a green bean casserole. We would likely call that a "bake" of some sort, as not much liquid is used in those (proof here), whereas British casseroles are like stews (proof here), and usually consist of some form of meat, two or more vegetables, and are cooked slowly in a lidded pot. Usually in the oven. What a funny thing to be lost in translation!
The reason my Mum liked to make casseroles so much, is because she and my Dad both worked full time, so it was a hearty but healthy dish that she could throw together quickly when we got home in the evening, and then leave it to cook while she got on with other chores. Bless that woman, and all who were, and are like her - the work never stops!


We love casseroles in our home, because they're just so comforting, and I really like to double them up so that it gives me time off in the kitchen too. They heat up so well the next day for leftovers. Not only that, but they are incredibly economical.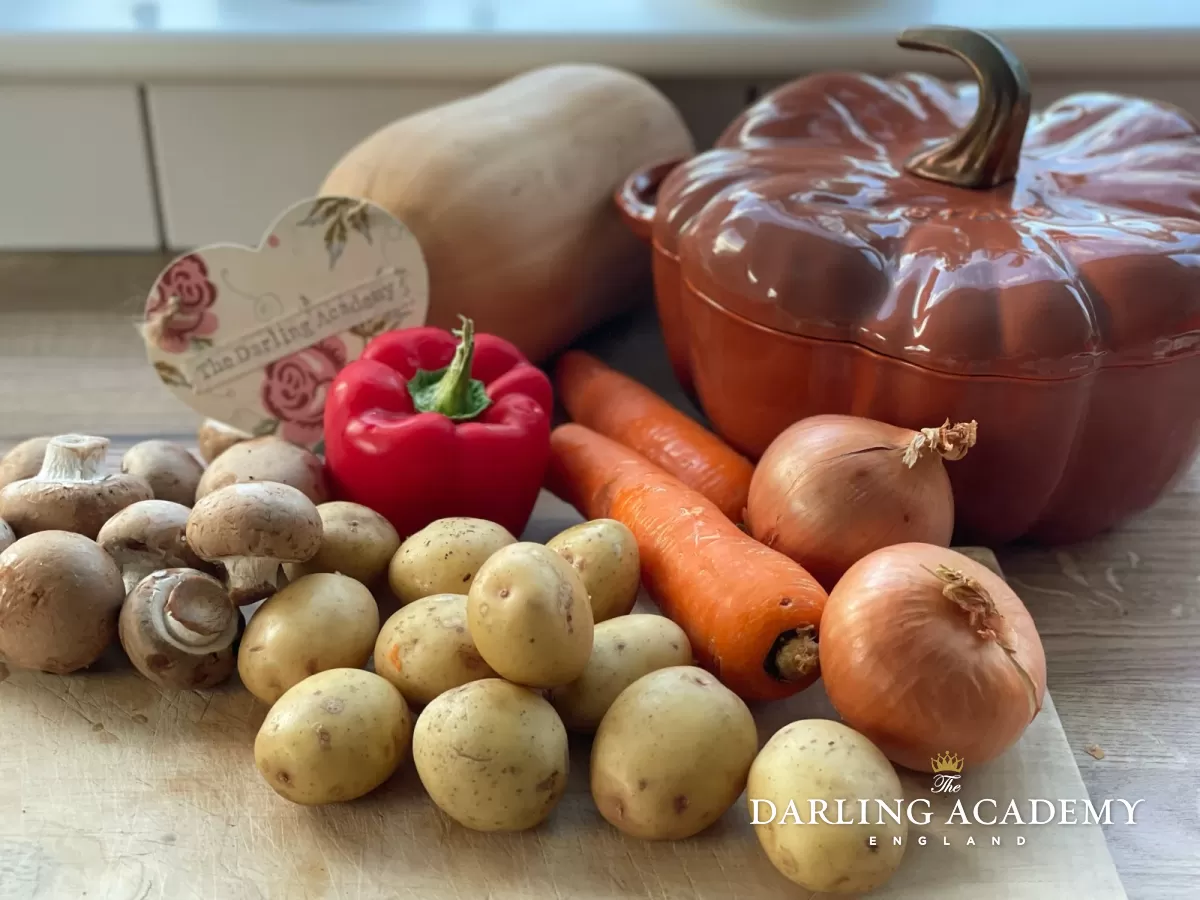 My Staub pumpkin pot is perfect for smaller casseroles
Favourites usually consist of stewing beef, chicken thighs, or sausages (cut up to stretch further), and I always pair with potatoes, onions, carrots - and whatever vegetables are in season, growing in my garden at the time, floating around in the fridge, or on offer at the supermarket.
The base stock of the casserole is really where the flavour comes from, and I have made up my own perfect recipe over the years from things you likely have on hand in the pantry. No need to rely on those pre-made paper envelope mixes from the supermarket!
This base recipe also works incredibly well for soups.
The selections I have made below are based on our tastes here in the Darling household. We like things a little spicy and "warming", and the mustard and paprika really lend themselves to winter dishes, but honestly, it's so versatile you can switch these out for other flavours! If I were using lamb, I'd swap out the wholegrain mustard for mint sauce, and perhaps add more mixed herbs and leave the paprika alone. It's really up to you!
Mrs Darling's Casserole Stock recipe
It's almost a crime calling this a recipe, but here we are. To make a large quantity casserole to feed around 8 people in a large 28cm cast iron casserole pot like mine, or an 8qt slow cooker you will need:
Ingredients for Casserole
2 litres of hot Vegetable or Chicken Stock. I like to use my homemade stock, but from a tube or cube will do too! If you use cubes, make sure to double up on what you think you need! To make up 2 litres I would use 5, or even 6 cubes! Flava flava baby!
3 tbsp Tomato Paste
2 (heaping) tbsp Garlic Granules
2 (heaping) tbsp Dried Mixed Herbs
1 (heaping) tbsp Wholegrain Mustard*
1 (level) tbsp Smoked Paprika*
2 tsbp Bisto Chicken Gravy Granules to thicken (or use a cornflour slurry)
Salt & Pepper (around a teaspoon of each)

Method for using this stock (in an oven)**.
Mix all stock ingredients in a large jug. It'll be a herby runny gravy consistency. You may need to do this in batches, I usually make up the stock in a 1 litre jug, then add an additional 1 litre of hot water.
Brown your onions (if using), and your meat, then place in a lidded casserole pot.
Add your diced raw vegetables of choice to the pot.
Pour over the stock, bring to a simmer, stir so that nothing sticks to the bottom of the pot, then place the lid on and cook in the oven (180*C/160*C Fan/Gas 4.) for an hour to an hour and a half.
Remove from the oven, take the lid off and leave to cool for 10 minutes, then serve with fresh bread (buttered is better), and scatter with chopped fresh herbs like Parsley if you have some on hand.
*Play around with the quantities depending on your preference for warmth and spice!
** To use a slow cooker, first fry the meat and onions until brown and pop in the slow cooker. Add your diced vegetables, pour over hot stock, stir and cover, and cook on low for 8 hours.
For smaller quantities, I like to roughly halve the recipe and crack out the Pumpkin which makes me feel less like my Mum Winnie, and more like Winnie Sanderson in the kitchen. The pumpkin was an anniversary gift one year. Yes, I'm that girl who's happy with appliances and household items for gifts - a 1950s advertising agency's dream!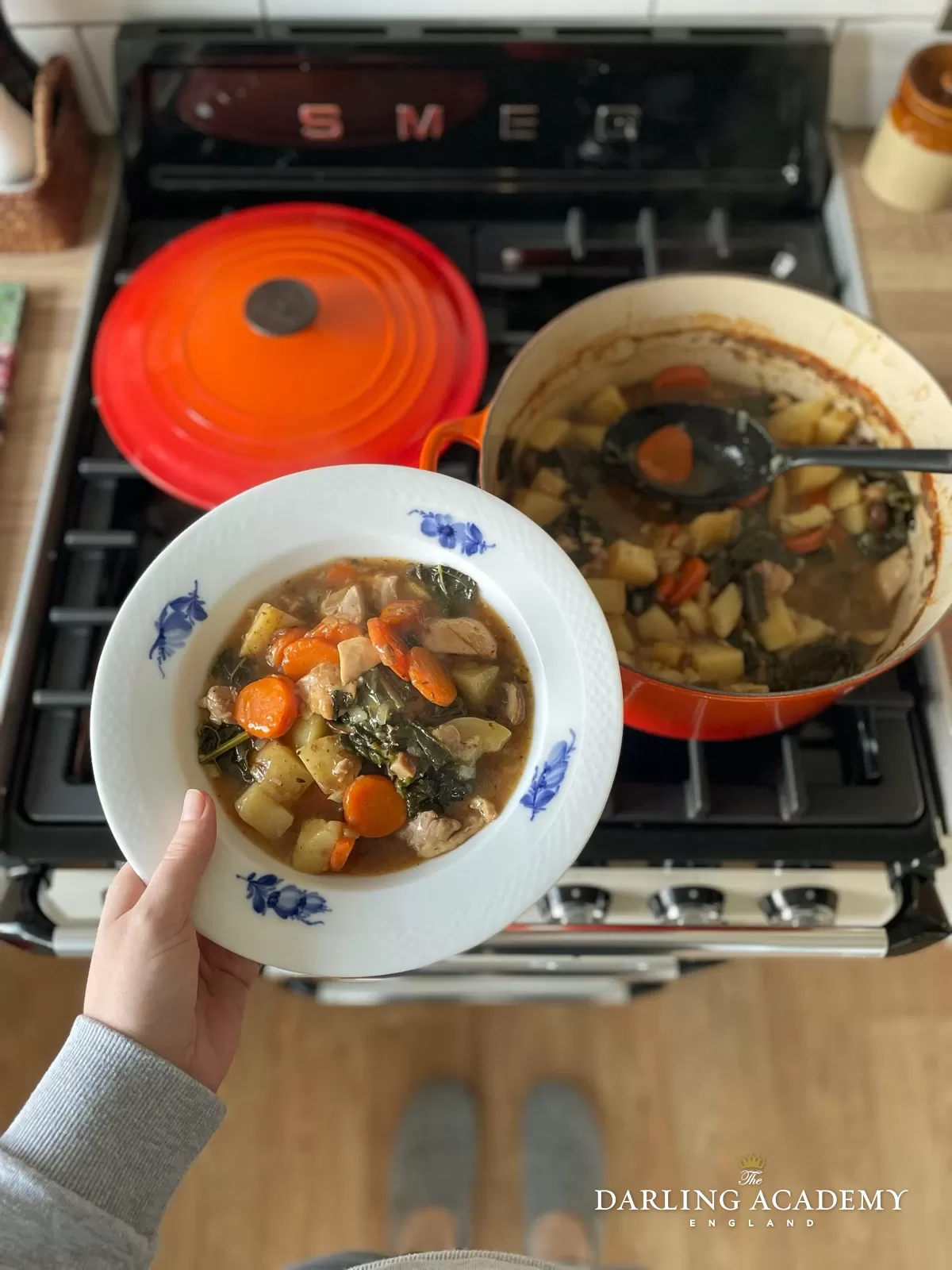 I know it's not the most groundbreaking of recipes, but it's the simple things that win over hearts via tummies after all! I really hope you enjoy this dish gathered around your family table one day soon.

With love from my kitchen to yours,

A big thank you to my OG blog friend Christine for clarifying the difference in casseroles! My suspicions were indeed correct.
You may have noticed my absence from Instagram, please don't worry - I'm fine! There are many reasons why I decided to step away from the platform, but the main one is that I want to pour my efforts into the blog this year which I find far more rewarding! This little invitation is now the best way to stay up to date.

I hope this post and your time here at The Darling Academy has blessed you. If you like our values and found this post useful or inspiring, would you kindly consider supporting the blog.

All content and images in this article are copyright of The Darling Academy and are not to be shared or reproduced without our express permission. Affiliate links have been used in this post.