Ovaltine Tea Loaf: a vintage recipe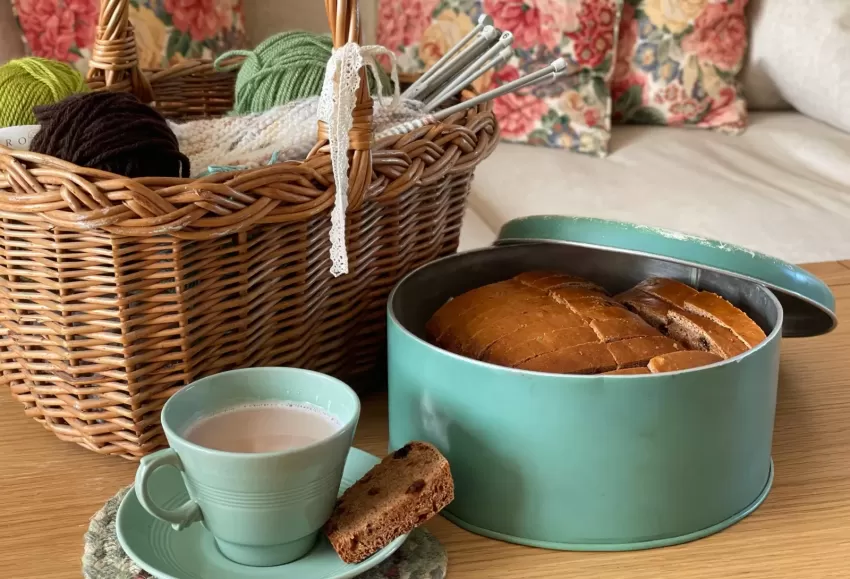 This malty tea bread is a deliciously "old fashioned" tasting loaf which pairs beautifully with a cup of tea. Ovaltine itself has been around since 1904 and is so achingly vintage and for many, nostalgic, that it deserves a bit of a revival. Not only as a night cap, but on our teatime menus too. This recipe is a good one if you haven't any eggs, and like most cakes containing fruit, it keeps well (and tastes even better), after a few days.
I took this loaf to my knitting group this week, and the lovely Sheila, who is 103 years young, suddenly piped up and sang us the "Ovaltineys" song word for word when I told her it had Ovaltine in it. She said she remembered the advert used to come on the wireless at 6pm before they'd head to church for Evensong. You can play it below.
I did ask Sheila if she would be given a mug before bedtime as a child, but she confessed she didn't really like it - she did however enjoy a couple of slices of my loaf cake!

How to make Ovaltine Tea Loaf
I think this has to be one of the simplest recipes to have made its way into my repertoire since I discovered it in an old edition of "Traditional Farmhouse Fayre". An oft used cookbook in my collection, this recipe was submitted by a Mrs. S.J. Deli in Milton Keynes to Farmers Weekly magazine. She tells how it had been handed down the family, and always proves popular with visitors young and old. "It's good for packed lunches, not breaking up, and providing nourishment without being heavy".
Packed in foil, the loaf will keep well for several weeks, and is best left 2-3 days before eating as buttered slices.
The first time I made it, it was rather dry so I have adapted the original suggestion of milk. I would say that it tastes akin to "Soreen" but a much lighter and less sticky version. Luckily a few slices made it home from Knitting Club and I'll be testing the butter theory in a few days (if I can hide it well from my boys in the meantime).
Please also know, that I have tried it with Horlicks instead of Ovaltine and while it did work, the taste wasn't quite what it should be.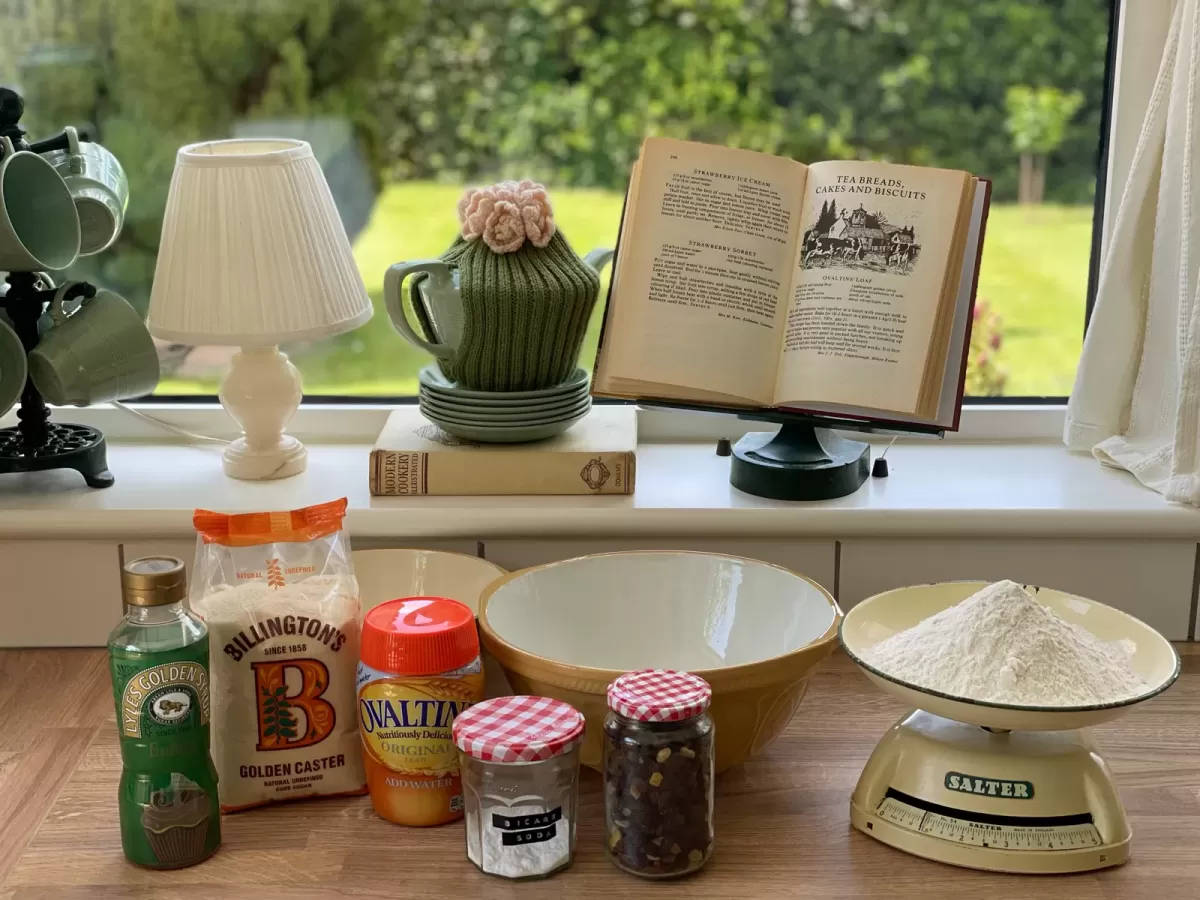 Ingredients for Ovaltine Loaf
450g/1lb Self-Raising Flour
100g/4oz Caster Sugar
40g/1½ oz dry Ovaltine
175g/6oz Dried Fruit (I use Mixed Fruit)
1tbsp Golden Syrup
½tsp Bicarbonate of Soda
Pinch of Salt
420ml/¾ Pint of Milk (you may need a splash more)
Method for making an Ovaltine Loaf
Pre-heat your oven to 150*C/300*F/Gas 2.
Line or grease a 2lb loaf tin.
Sift and mix the Flour, Sugar, Ovaltine, Bicarbonate of Soda, and Salt together.
Then add in your Golden Syrup and Milk. Mix to a smooth batter like consistency.
Stir through the Dried Fruit, and if the consistency becomes stiff, add a bit more milk. You want it to be rather moist.
Pour into your loaf tin, and bake in the oven for 1½ to 2 hours. Check with a skewer after the minimum time, mine takes 1½ hours, but if your oven is a little slower, you may need the full 2 hours.
The finished loaf will be a lovely even golden brown. Leave to cool completely, then slice as required. At first it might seem a little dry, but as it "ages", the moisture balance changes and it becomes a little sticky like that well-known shop bought malt loaf.
It will keep for a week (or more) in foil, or an airtight cake tin or container. I can imagine this also freezes quite well, but I haven't tested it myself yet - we never have leftovers!
Enjoy with a cup of Ovaltine for a really malty taste. I'm currently wondering if it'd go well in a chocolate cake too for a Maltesers spin, or maybe even to taste in chocolate butter icing?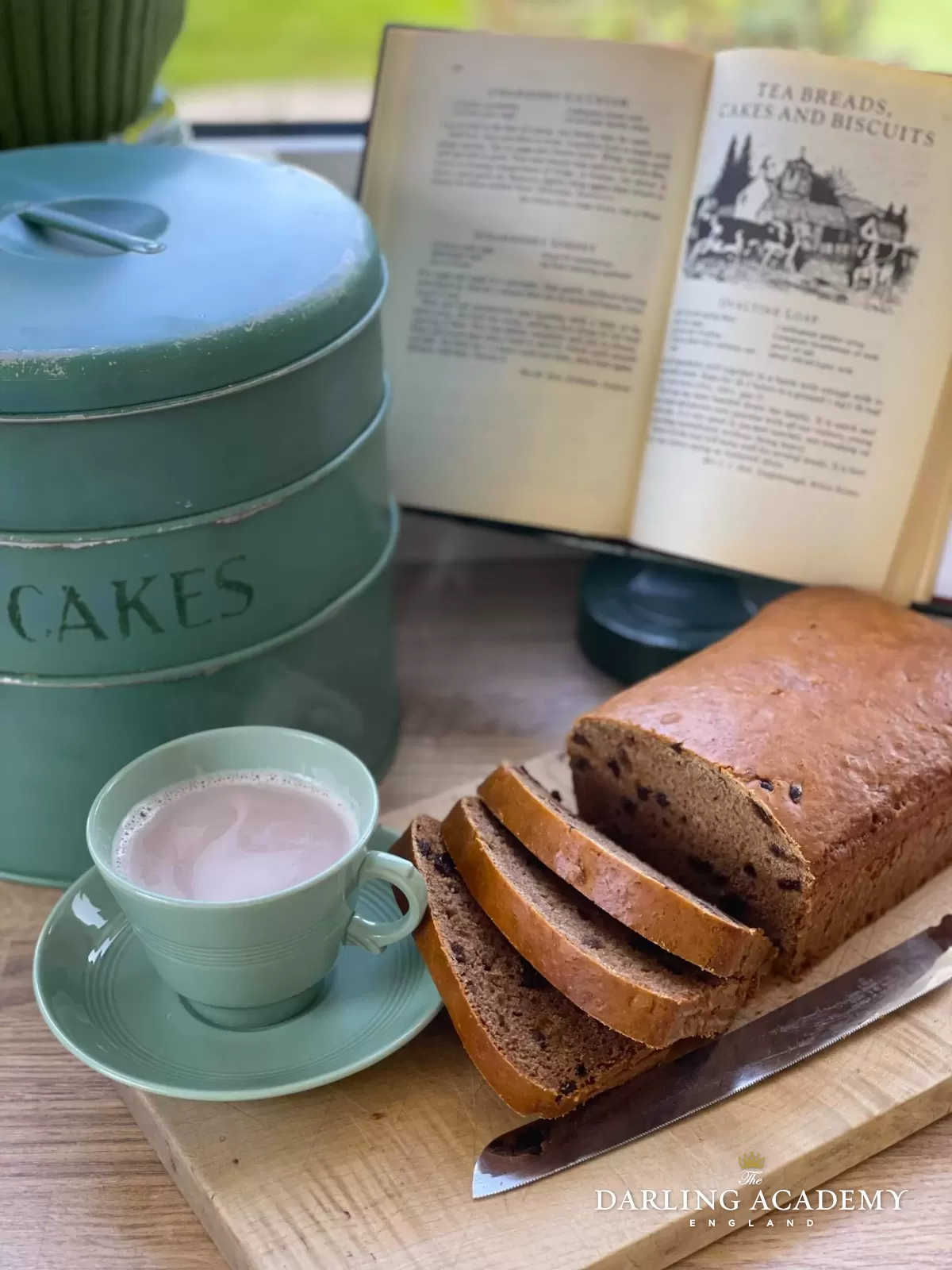 It's funny all this connection to "malt", as there is a lovely chap who works at one of my favourite haunts for antiques, The Malthouse Collective in Stroud. He said his wife made this once when I posted it on my old Instagram account, and he really liked it. Hello if you're reading :)
I also just quickly wanted to share this little recap video I made of our the weekend spent with Sian, and some lovely things that May has held for us so far. If you like it, I'd quite like to make little short lifestyle videos to share with you all the things I used to post on Instagram. Do let me know if that's something you'd like to see going forward?

Anyway, back to the matter of Ovaltine, do try it as a bedtime drink too, if you're not familiar with it. We quite like an evening cup of tea here in the Darling household, but if I'm not careful making sure I reach for the decaf teabags it takes me forever to fall asleep. This old advert is enough to convince me to try have some before bed tonight. If it helps me sleep that soundly, and may I add, prettily. It's worth a go!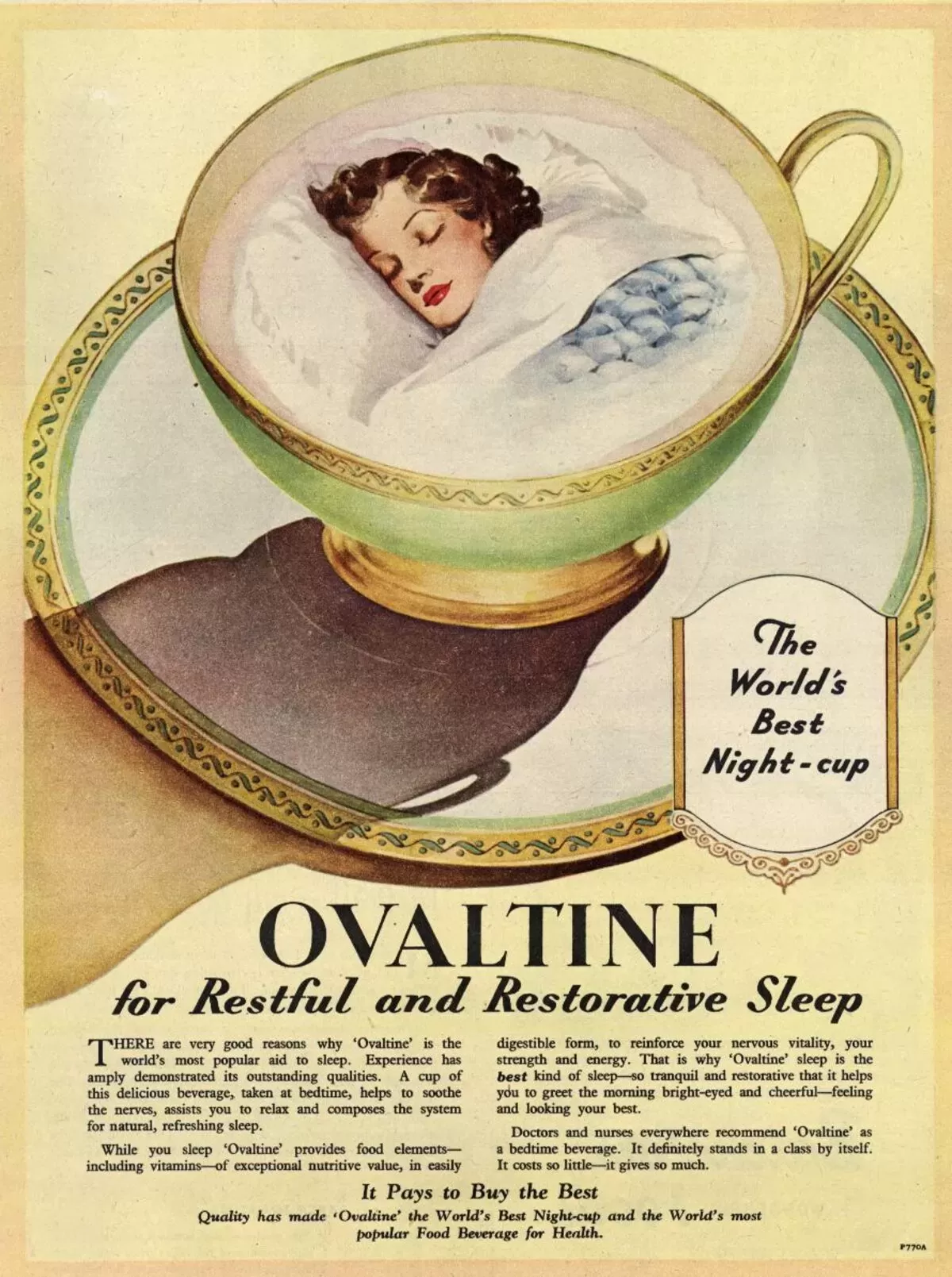 With love from my vintage kitchen to yours,

Thank you to my lovely patrons.
I hope this post and your time here at The Darling Academy has blessed you. If you like our values and found this post useful or inspiring, would you kindly consider supporting the blog.

All content and images in this article are copyright of The Darling Academy and are not to be shared or reproduced without our express permission. Affiliate links have been used in this post.