A very Corgi Coronation weekend for King Charles III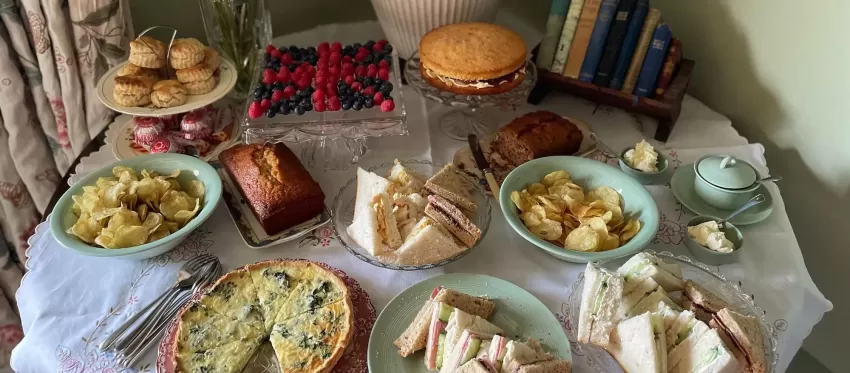 It is said, that to have as Royal a Coronation weekend as possible, you must go where the Corgis are! All rooms at Windsor Castle and Buckingham Palace were fully booked, however the Darling clan received an incredibly tempting invitation for a knees up. So we packed up our bunting and party hats and headed south east to Kent to spend it with my dear friend Sian and her family.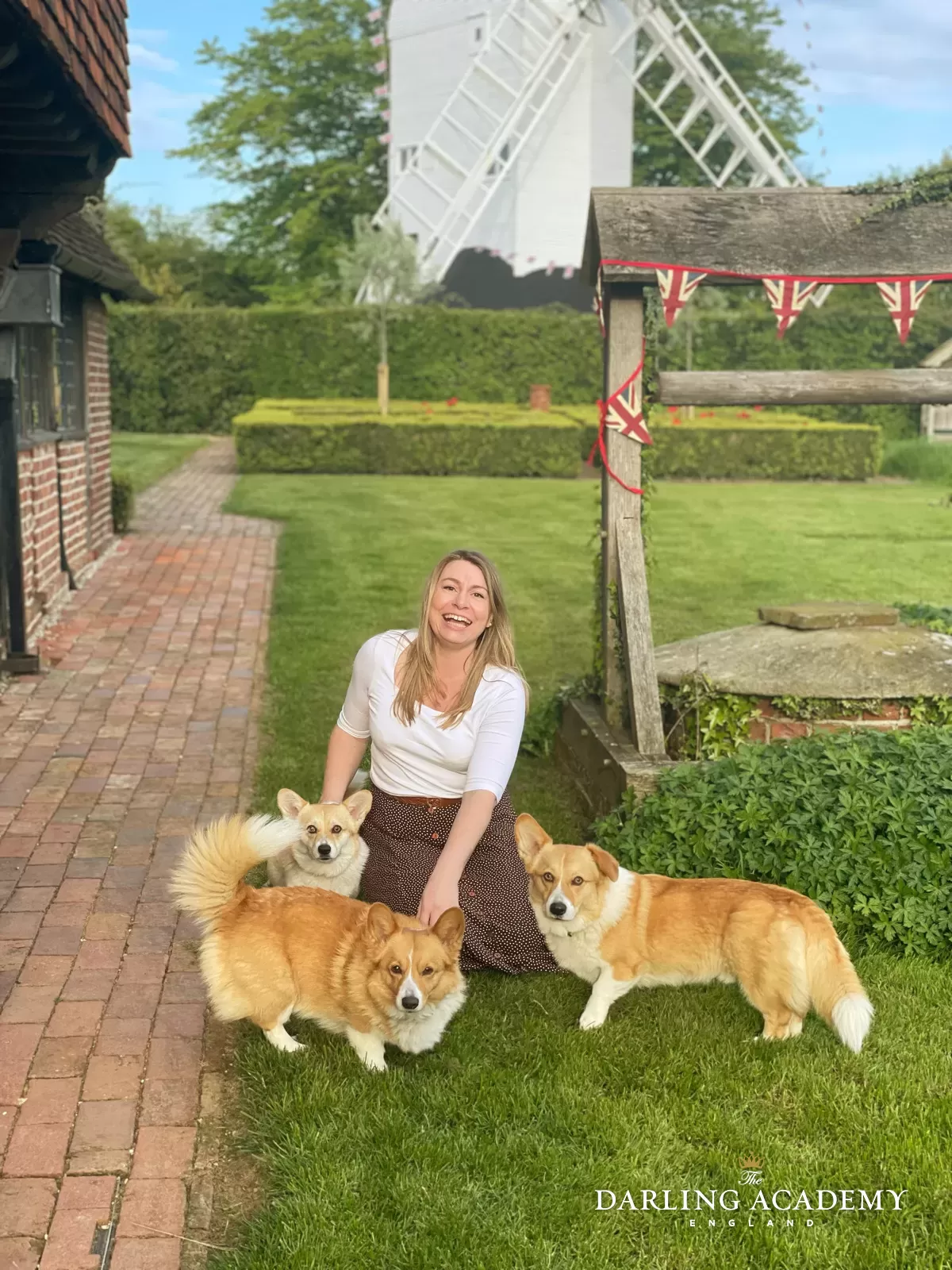 L-R: Willow, Honey, and Teddy
As soon as you arrive at her incredibly charming home, you are mobbed by a very friendly pack of Corgis. I was very happy to see Honey, Willow and Teddy again, it had been a whole year since I last gave them all a cuddle.
I feel like this image should have been my "society debut" frontispiece for the feature in Country Life that never happened.
"Alena, 37, is an author from Gloucestershire who loves homemaking, nature, nostalgia, and reading. She is a novice knitter who would make a great BFF for your Gran… despite appearances, she is more of a cat fancier, a trait which should not be trusted among certain circles, but we have it on authority that she makes a mean Gin & Dubonnet".
Obviously I'm not quite posh enough for Country Life, but that's not what it's about is it darlings?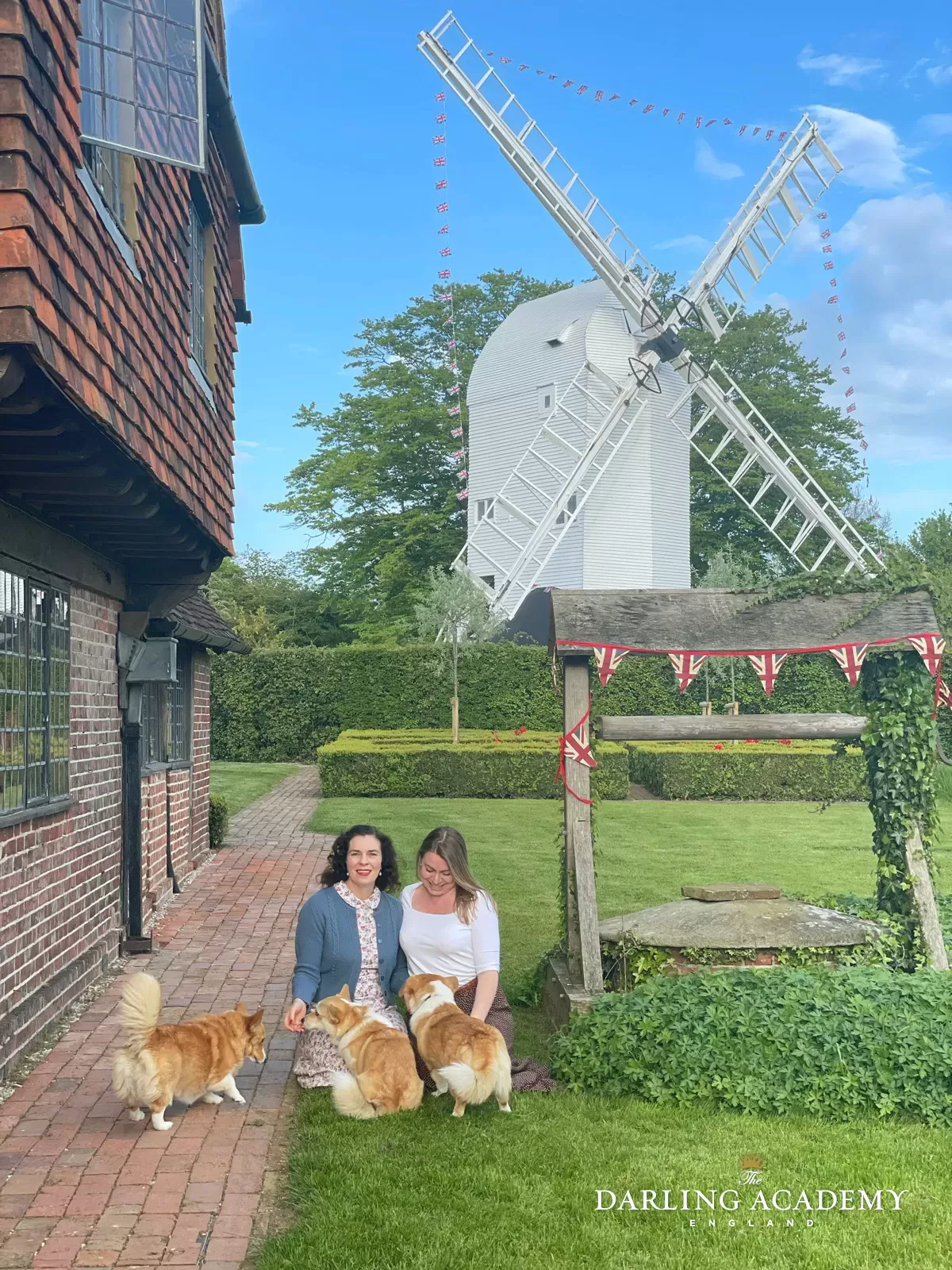 The older I get, the more I'm realising that nurturing friendships with women with the same values is incredibly important to me, I wasted too much time diminishing and hiding my own values in order to "fit in", and I'm glad I no longer have to do that. Growing older, and more importantly wiser is such a blessing. Especially concerning your cultivation of friends.
Sian and I initially connected via social media because of our joint love for Berylware, but the real gift has been discovering just how much we are alike in heart and spirit. It's just rubbish that we live over three hours away from one another.
How we celebrated the Coronation of King Charles III
After arriving at Sian's lovely home, and settling the boys in with a guided tour of the house to get their bearings, all seven of us enjoyed a delicious Fish Pie supper lovingly cooked by our hostess. Though Sian had met my husband before, and I had met hers, they'd never actually met each-other so it was nice to sit around the dinner table long after the food was eaten and chat late into the night over a few beers and glasses of wine.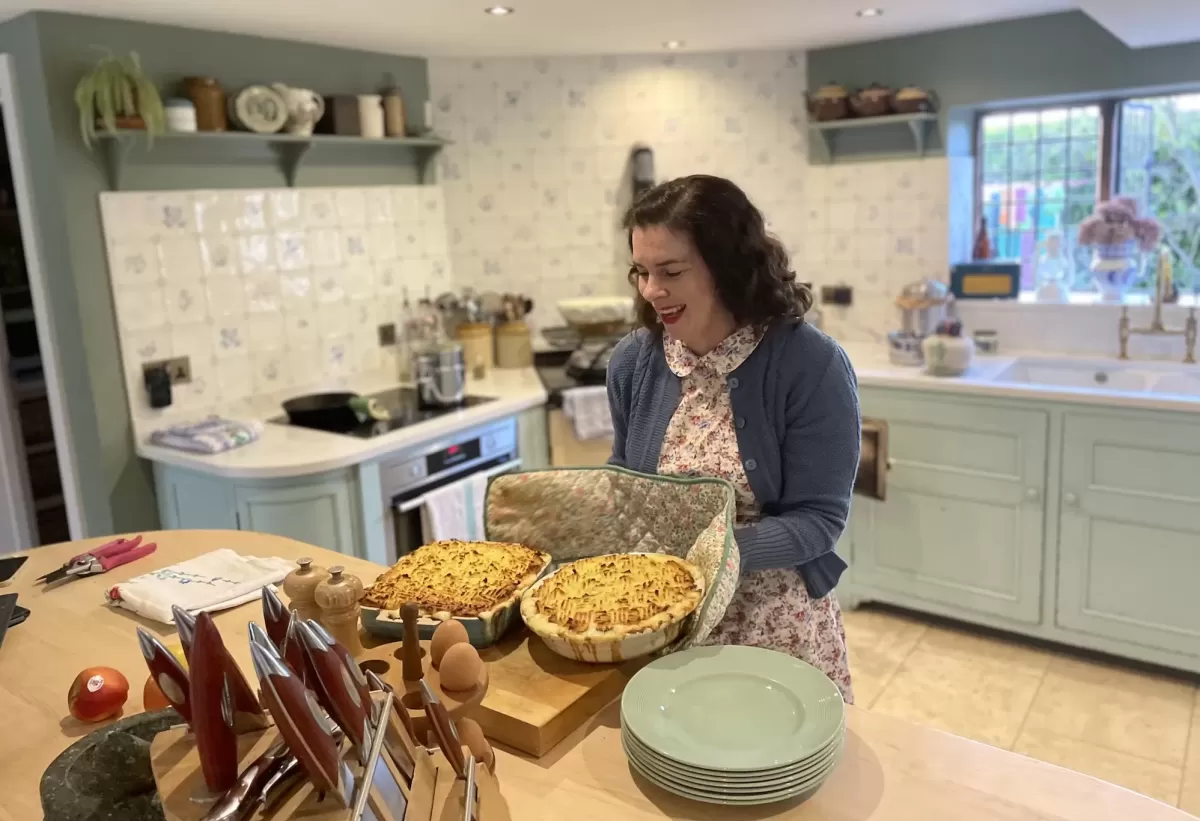 The next morning we came down to discover one of Sian's famous breakfast tables, always so beautifully laid, and all tucked into lots of yummy bacon, eggs, homemade sourdough, and jam, homemade granola, yoghurt, fruit, my meadow honey, and lots and lots of tea (much needed after the night before). The weather wasn't all that pleasant on the Saturday, typically grey and lots of drizzle, but we didn't mind as we planned to spend it in front of the television anyway.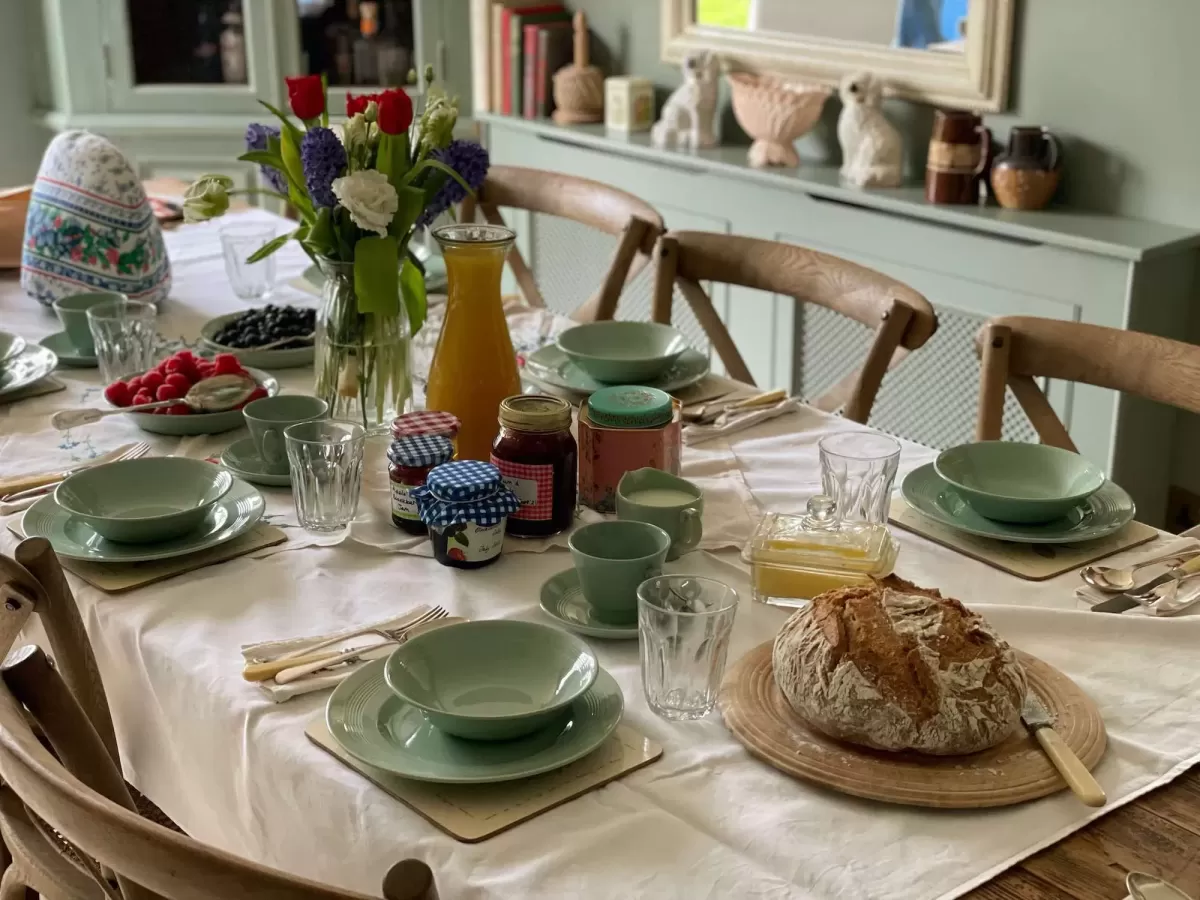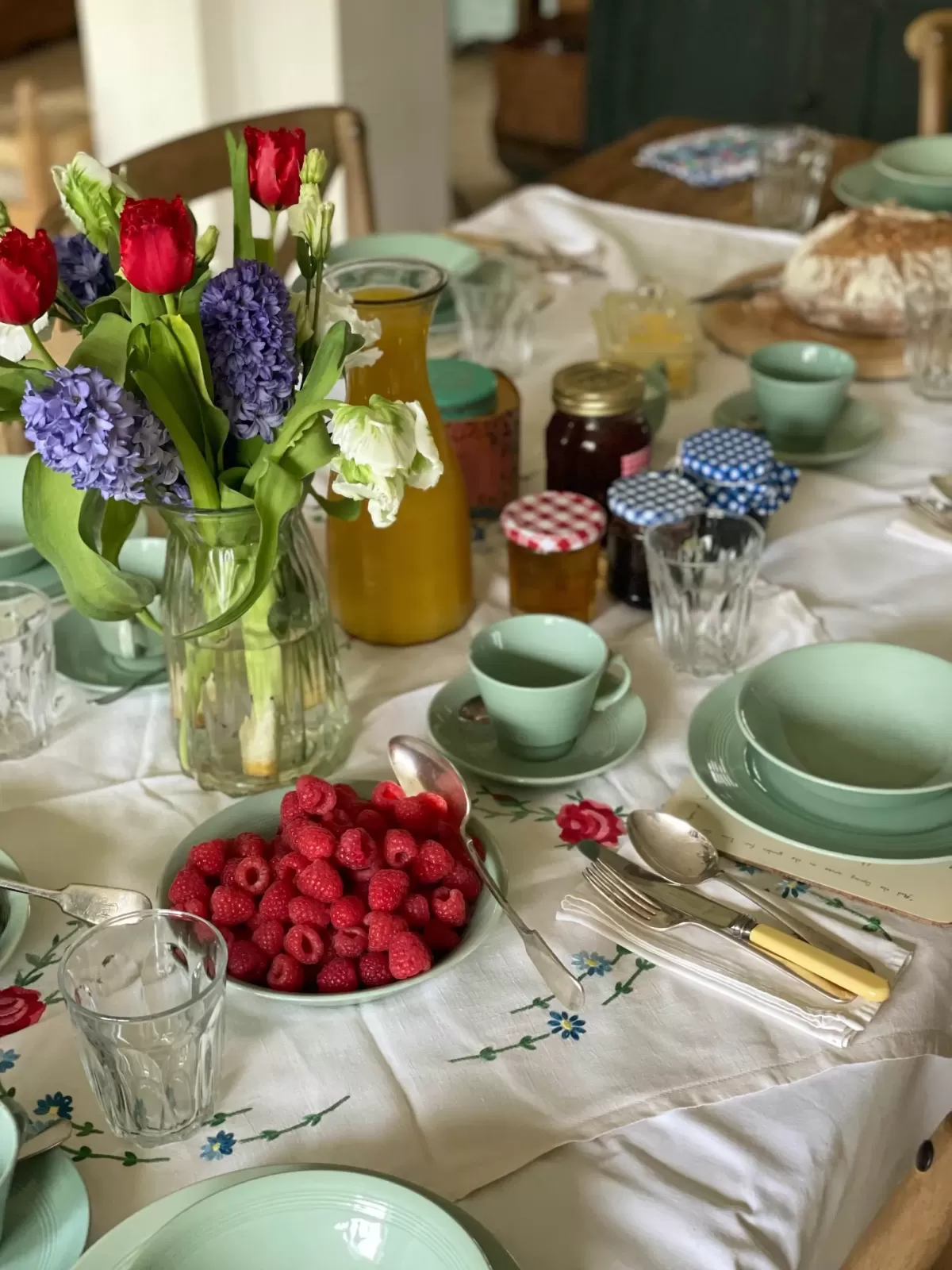 I wasn't joking when I said I had packed my bunting and decorations, it seemed such a waste to leave them behind in Gloucestershire, so I busied myself adding little bits here and there to make the house festive for the occasion… My bunting is from Powell Craft, and I apologise in advance for alerting you to their website, everything is gorgeous!!! Please don't blame me if you go a bit wild and want one of everything (the nightdresses are dreamy).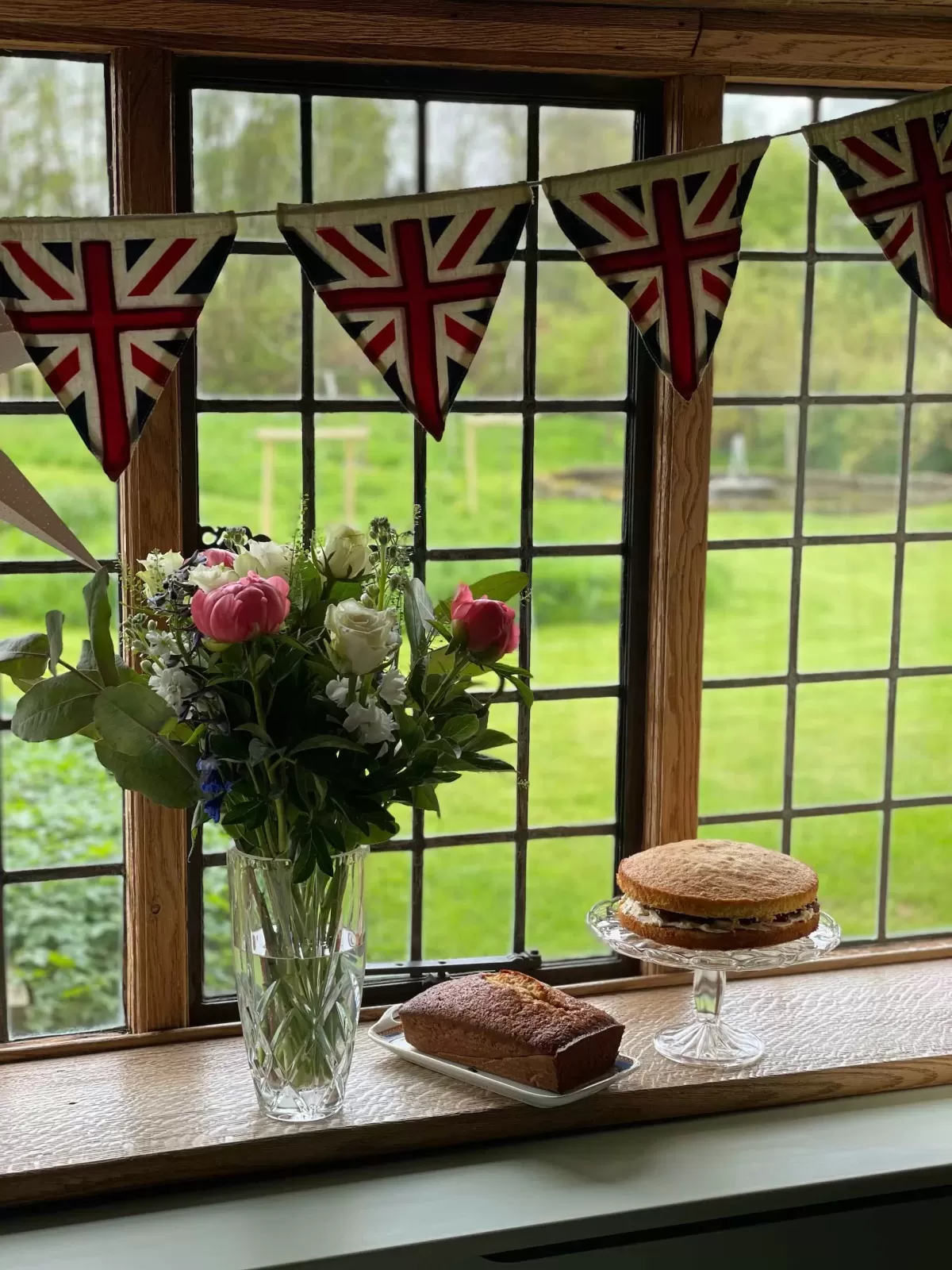 I gave these flowers to Sian - the bunch was called "Steadfast & True" (from M&S}
...and then we girls got on with some baking and cooking for the buffet lunch. Sian had made a Coronation Quiche (see here for the official recipe), and set to making the filling for the Coronation Chicken sandwiches. She put me in charge of the scones, and icing the Victoria Sponge.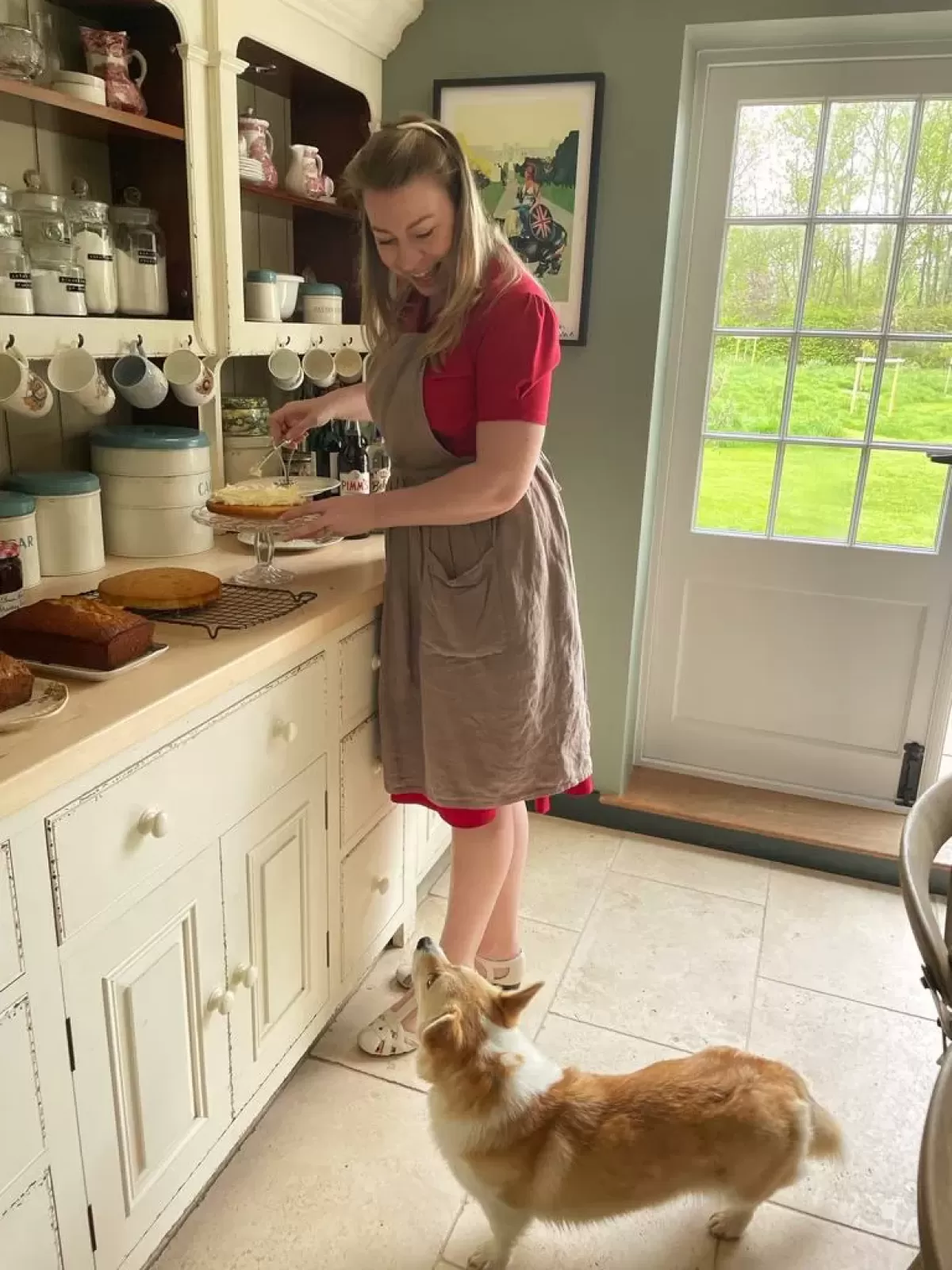 Willow is a pro crumb catcher
We laid it all out in the sitting room as soon as we could as we didn't want to miss a thing on the television. I have to mention The Princess of Wales, who looked more gorgeous than ever, which we didn't think was even possible, and of course our eyes were popping at the splendour of it all. I find it a bit odd that there were so many random celebrities in attendance, the Royal family, though famous in their own way, aren't really "celebs". I'm not sure I like the blurring of the lines between the two. I prefer my monarchy to be set apart from that, but times are a changing I guess…
It was also really interesting to me how "reduced" The King seemed in the service - usually they are front and centre at any occasion, but he seemed so little and humble as they stripped him down to his cotton undershirt, and piled on the regalia. We're very used to a Queen in her bright suits and hats, standing out like a jewel, and now we have a man in a double-breasted business suit. It was odd to see him look so plain, then plainer still, then emerge dressed to the nines! I did however adore the purity of the white dresses that Camilla, her ladies in attendance, Catherine, Sophie, and little Charlotte wore. It was a wedding, in essence, a commitment to the job.
A few tears came to my eye, and I got big a lump in my throat when Charles entered the Chapel and said "I come to serve, not to be served". A reminder that the monarchy, the Church, and the work they do is so historically entwined. The Queen's faith was so important to her, and I felt we had a little glimpse into Charles' too, something not really seen before. I really heard him say and mean it, rather than it sounding like he was just paying lip-service to tradition.
In His name and after His example I come not to be served, but to serve. King Charles III
It was beautiful too, I thought, how he acknowledged those of all faiths in the ceremony, while not deviating from his own as a Protestant King. True acceptance and unity.

We stood as the King was crowned and hailed three times. It felt right to do that.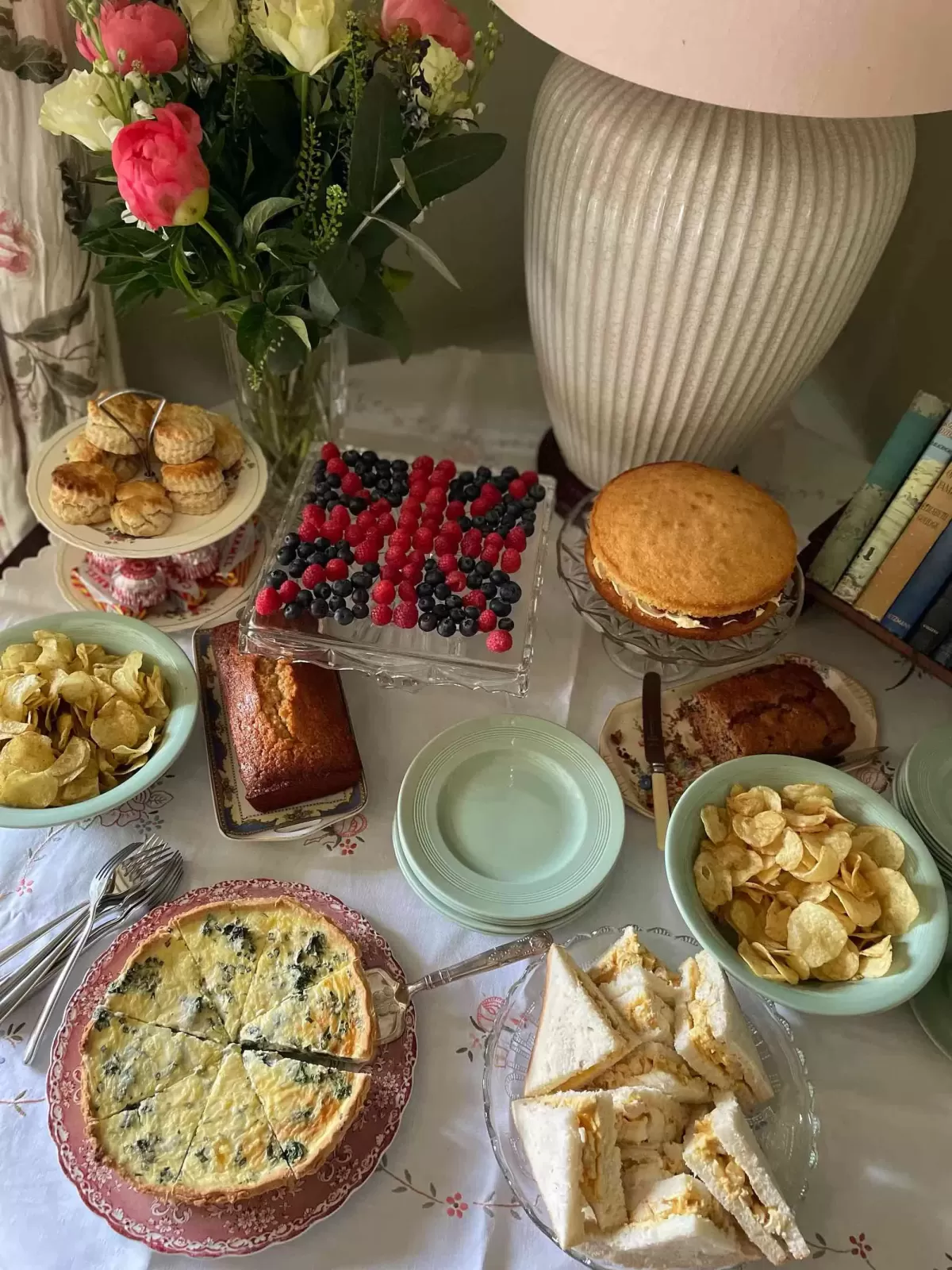 Our buffet, and a Union Flag I fashioned out of berries
As time passed us by, we sipped on English sparkling wine (appropriate), and nipped back and forth to the tea table. Not everyone was keen on the Coronation quiche (I myself had two slices as I quite liked the strong Tarragon flavour), but we all agreed it needed a few more eggs in the recipe and a bit longer in the oven for a firmer "set". So if you're planning on giving it a go, you might want to bear this in mind. I know a lot of people swapped out the Broad Beans for Edamame Beans as well - Broad Beans are an acquired taste, and really speak of Charles' generation than our own. I'm not sure I know many people our age who eat them willingly! Too many bad memories of them served cold, mushy and rather sad and grey-looking with our dinners at primary school.
However the sandwiches, cake, and the scones went down a treat, as always.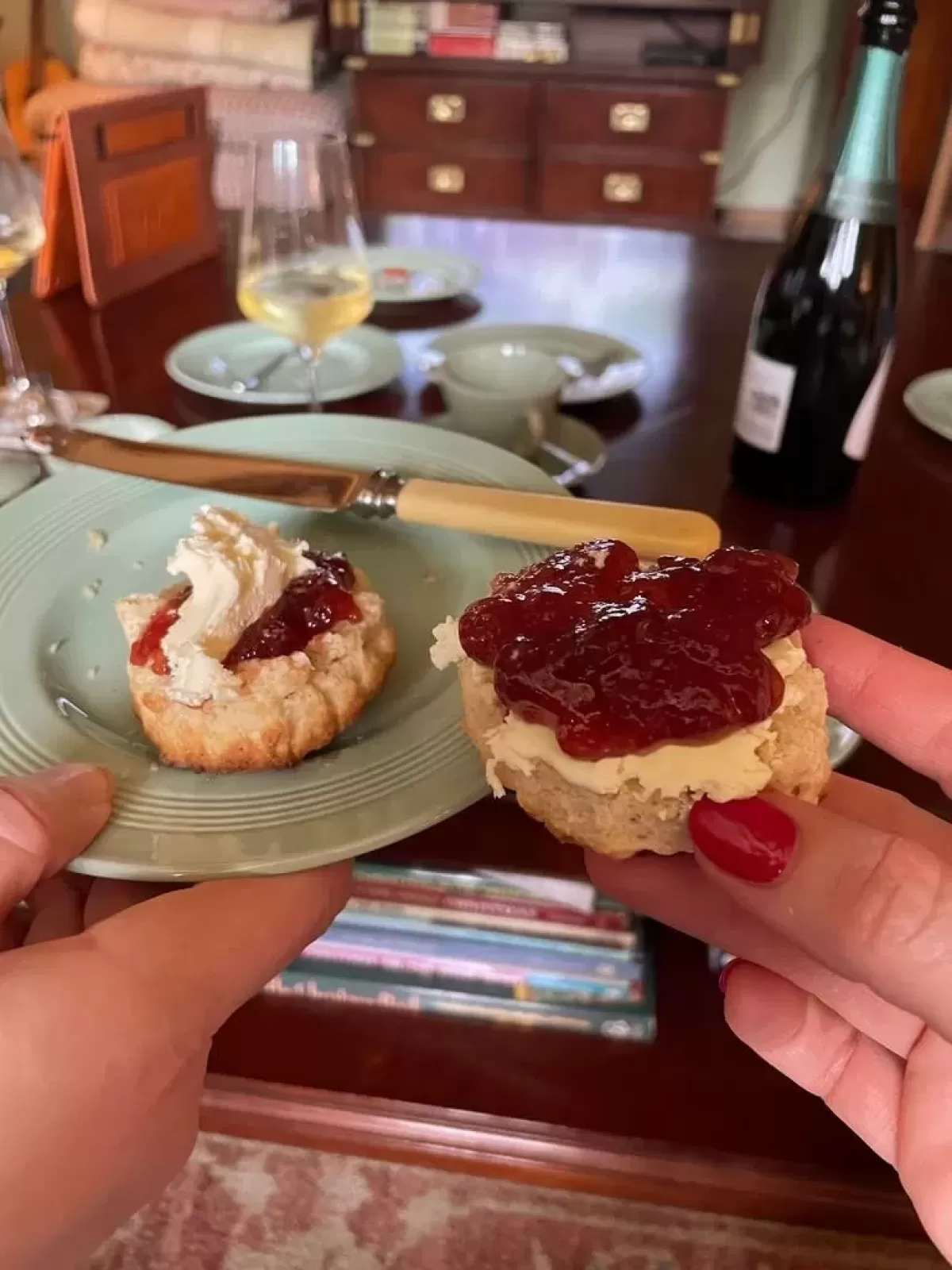 Jam or Cream first? On this Sian and I do not agree.
All in all it was a lovely way to mark the Coronation, especially draped in Corgis…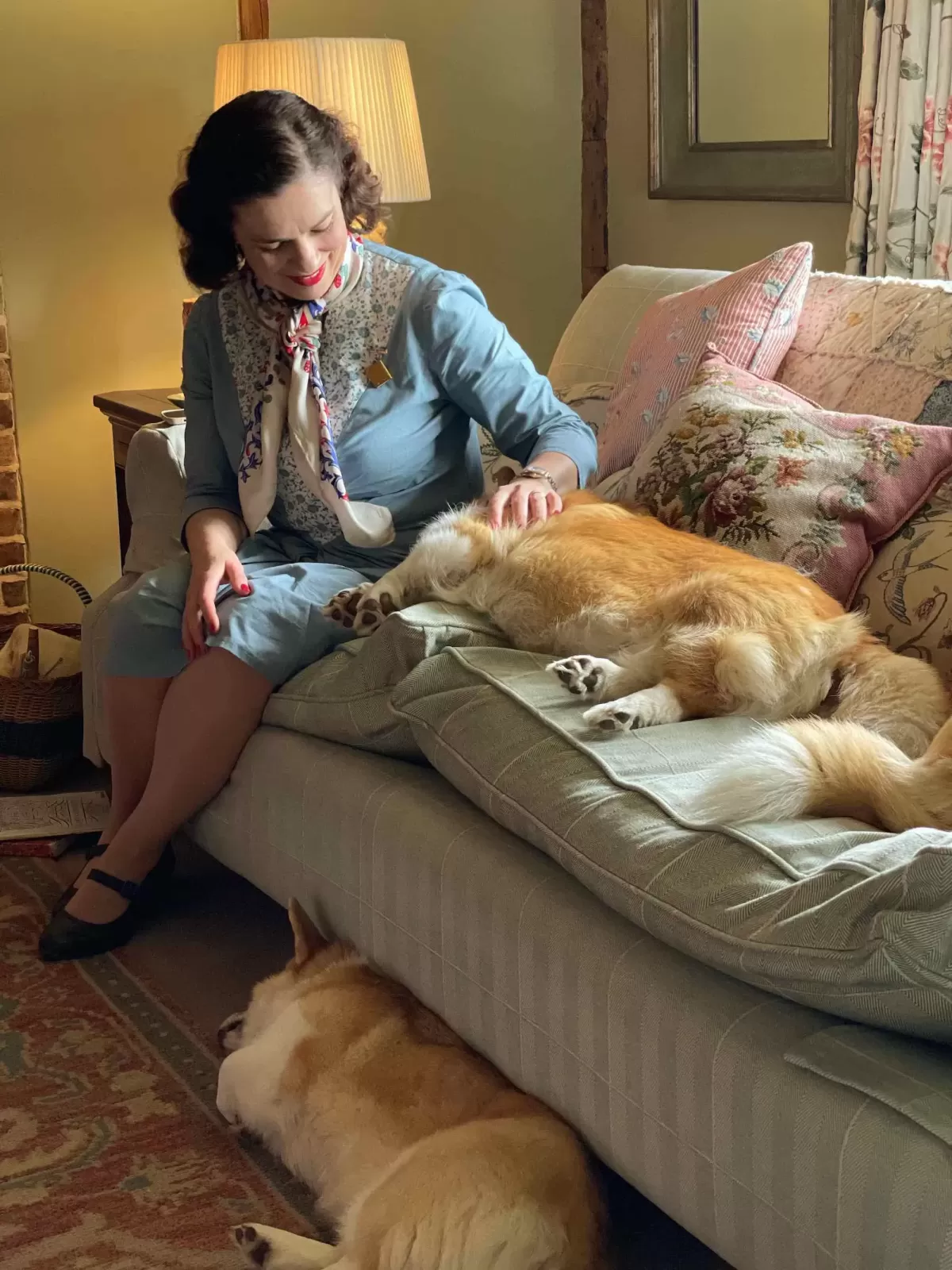 An English lady and her Corgis
Many friends of mine went to London for the atmosphere (some travelling all the way from America), but that would have been too busy for me. I get a bit overwhelmed with crowds and chaotic events. A cosy sitting room, with refreshments on tap and a lap-warmer or three suited me quite nicely.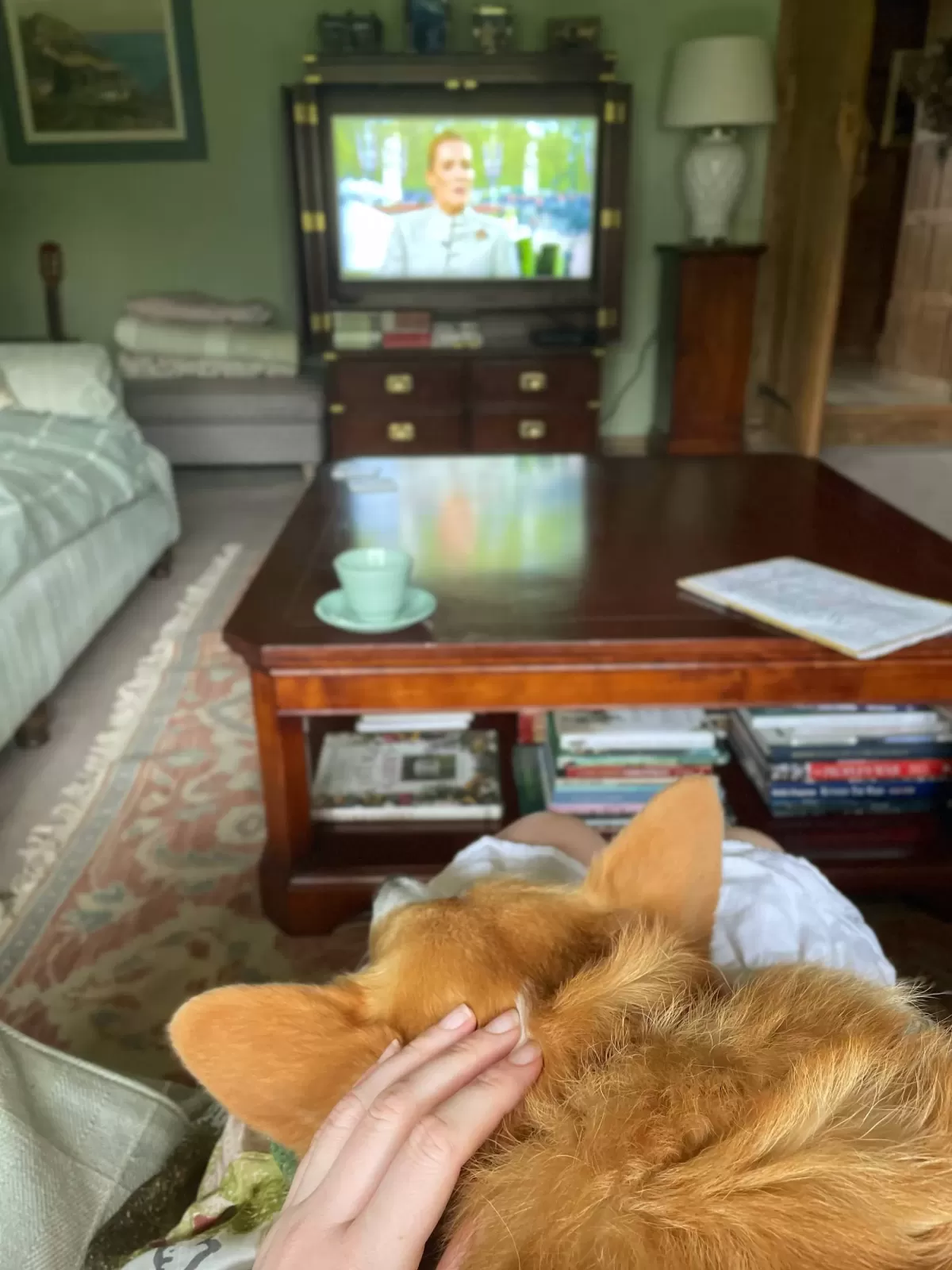 Shhh, don't tell, but Honey is my favourite
For the rest of the day we grazed and lazed, and as the sun began to set, Sian and I put on Home Fires, which is one of our favourite shows, and the wine was eventually swapped for mugs of Ovaltine. Our husbands came back and forth, joining us for an episode of Home Fires here and there, and catching up on the Formula One in the other room. All the while, we ladies chatted non-stop and looked through vintage knitting patterns. I can't say that much TV was watched, but we had both seen it a million times already.

A perfick weekend in Kent
The next morning, after another of Sian's wonderful breakfasts, the sun was finally peeping through so we headed out to see the chickens, and I got to collect the eggs. Something I hadn't done since I lived at home and my parents kept chickens. I'd really love some myself, and I got to give Bluebell, the Lavender Orpington, a quick cuddle. They really add life to the garden don't they?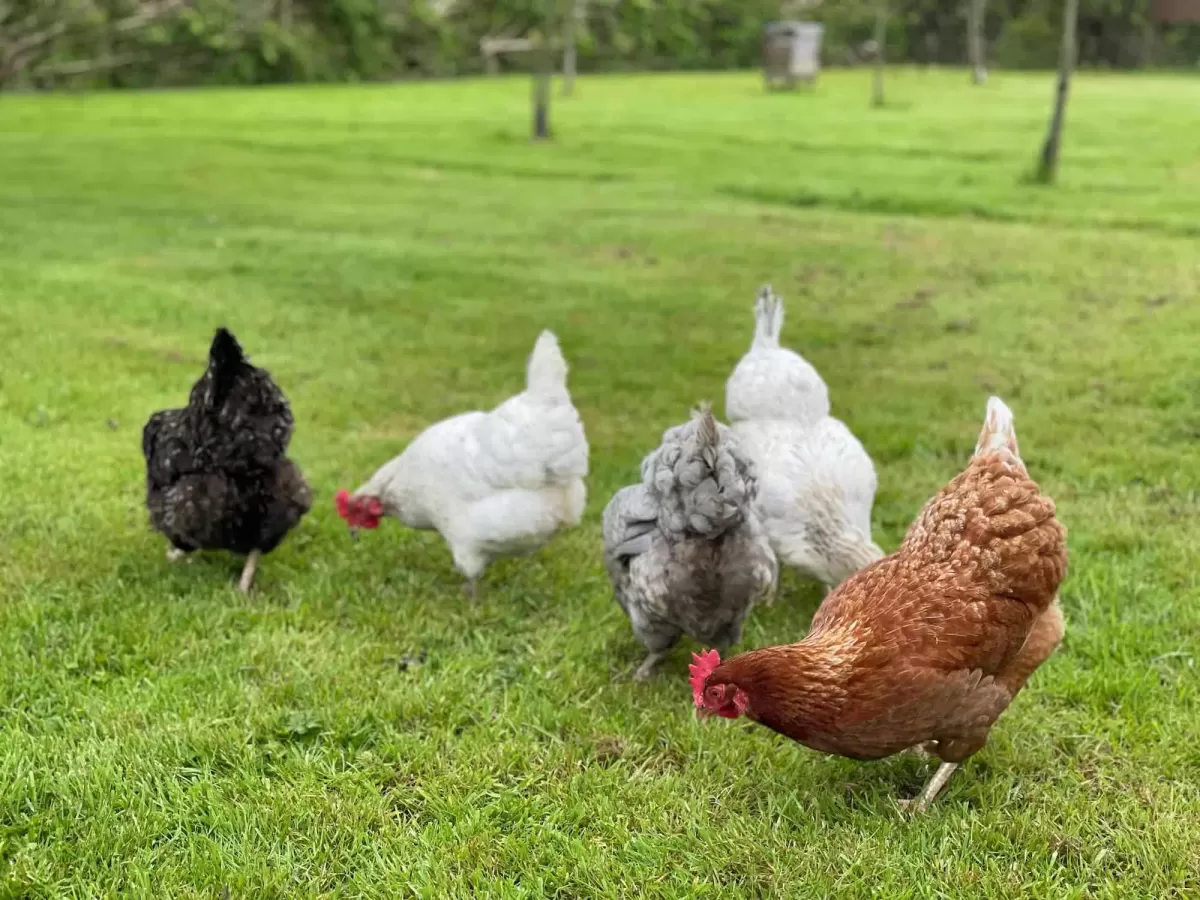 Bluebell's bottom, and the rest of the brood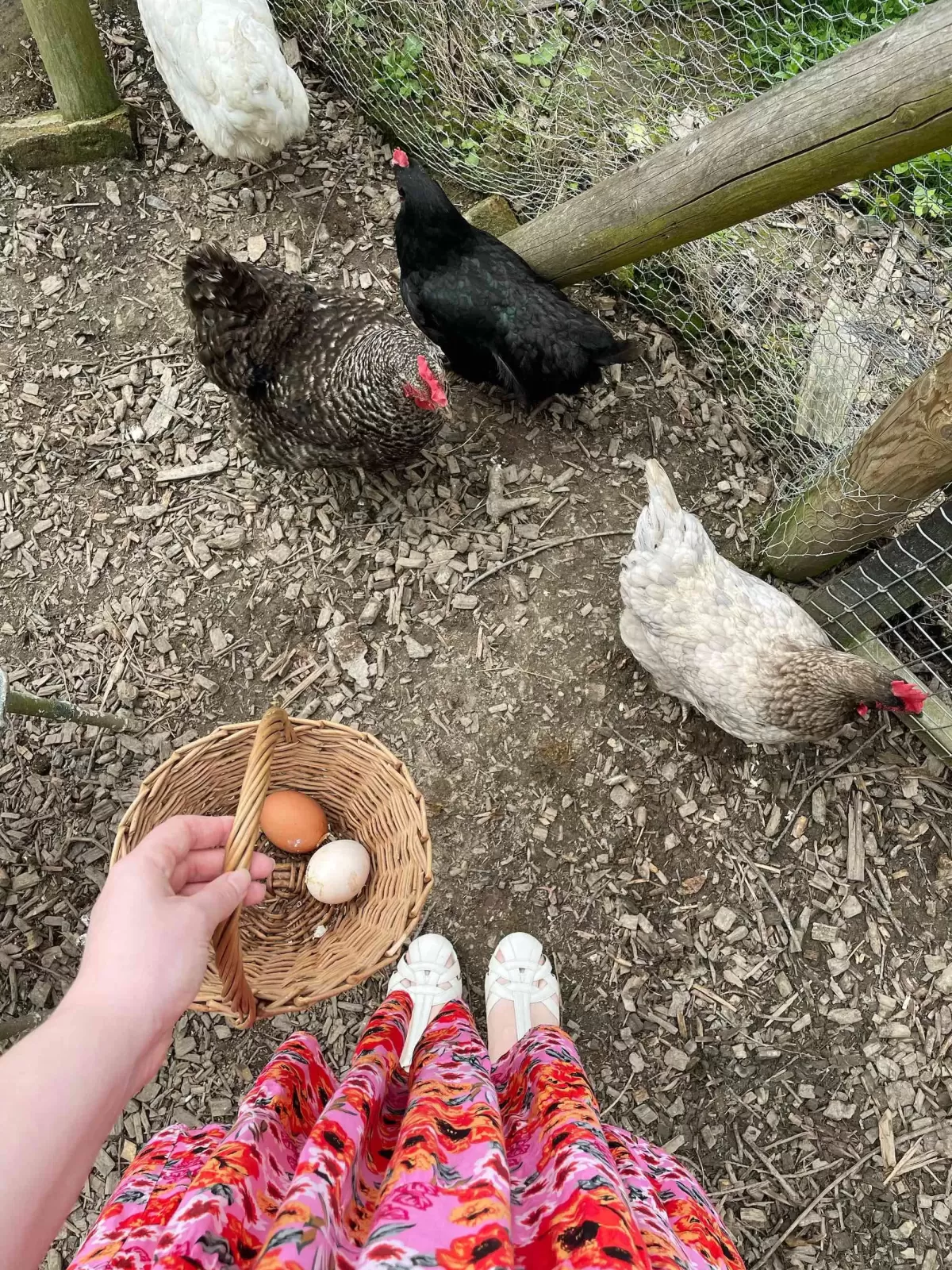 Eggs fresh from the coop
Some of us stretched our legs in the Bluebell woods nearby, and I drank in the sheer beauty of the Kent countryside. My favourite books are set here, and I can just imagine Mariette and Charlie, or even Ma and Pop taking a romantic stroll through here. (If you don't understand the "perfick" references I've used in this blog post, then you'll have to read these books! You won't regret it, I promise).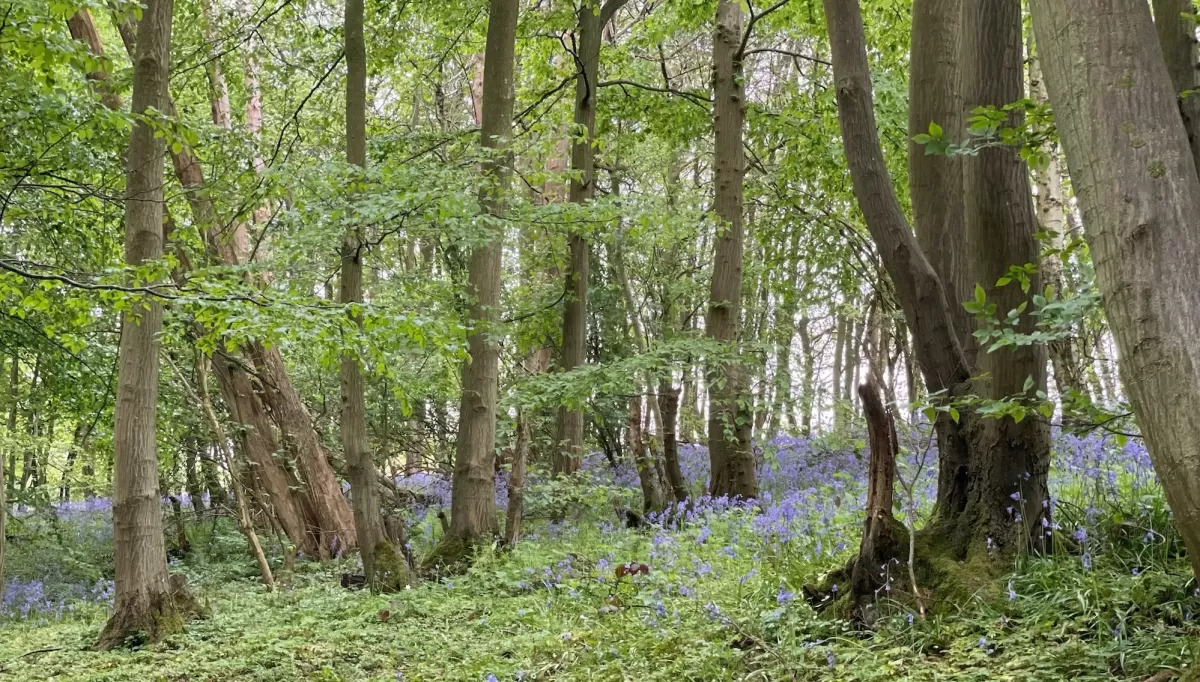 All too soon it was time to face the three hour journey home, taking some amazing and happy memories back with us. I'm so glad we spent this historical weekend with lovely friends, even if we were all a bit tired by the end of it.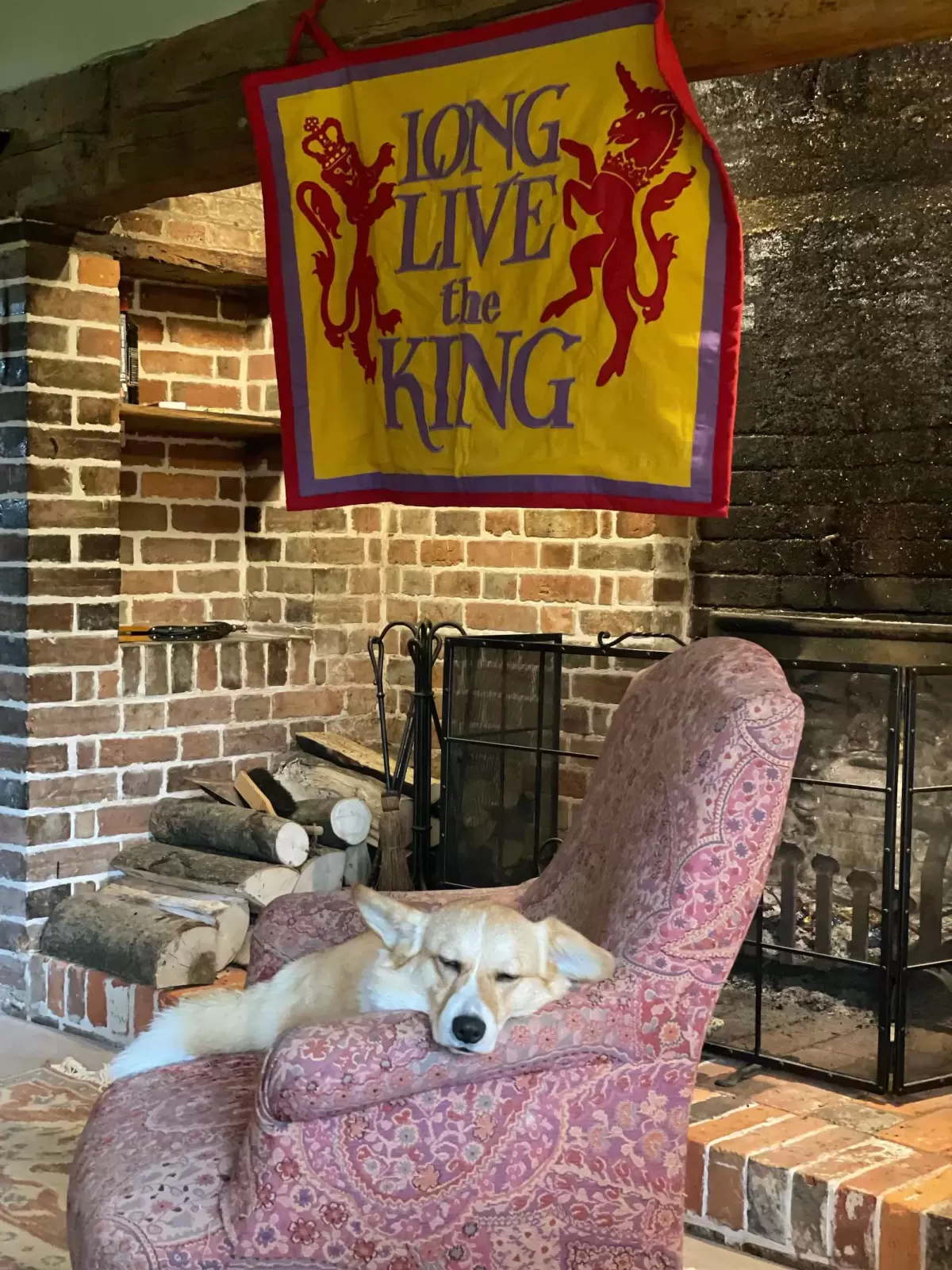 Poor Teddy needed a nap
I was very glad to see what I had chosen as a momento was waiting for me on the doorstep when we arrived home. I have been collecting this style of "Zari" Christmas decoration for years now, my first one was bought back in 2011 for William & Catherine's wedding, and we now have quite the "royal" tree going on. It is out of stock on the website, but they do occasionally bring them back.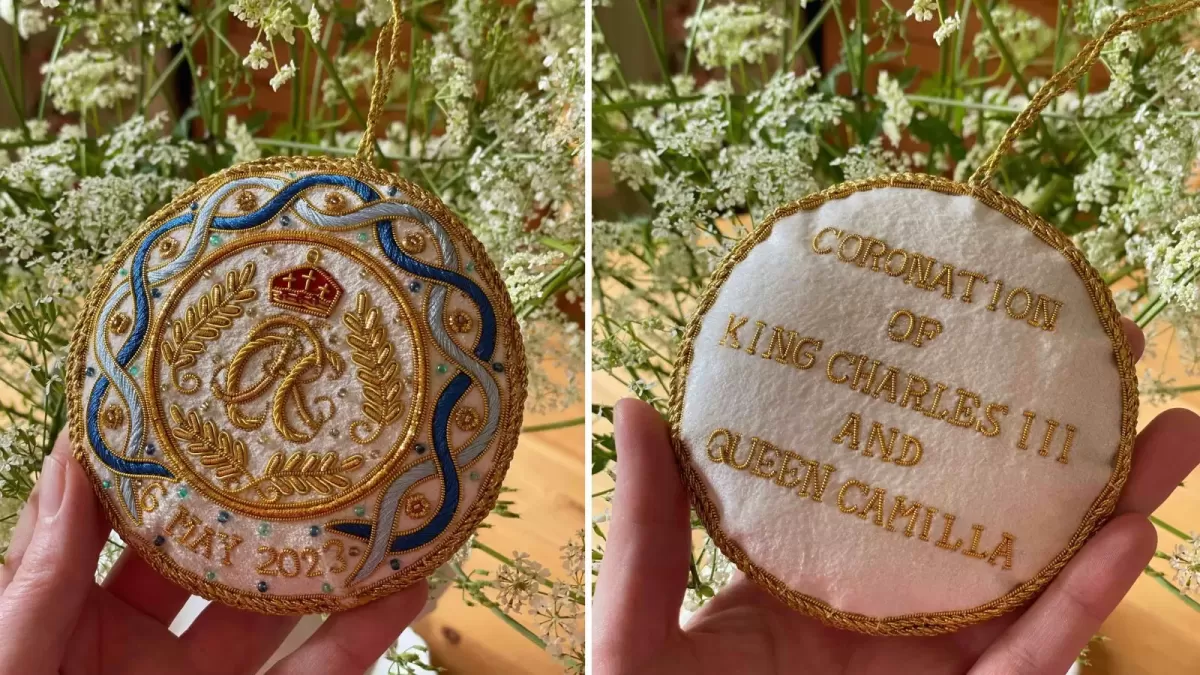 This will look wonderful on our Christmas tree over the years
The Emma Bridgewater "Long Live the King" banner hanging above over in the previous picture was also another purchase I couldn't resist. It was slightly pricey (but thankfully I got it with a voucher), and as my friend Jules pointed out - future proof, as we do have at least two more Kings coming through the ranks! I hope this, along with my Christmas decorations will be enjoyed by my family for generations to come. They may even become heirlooms one day.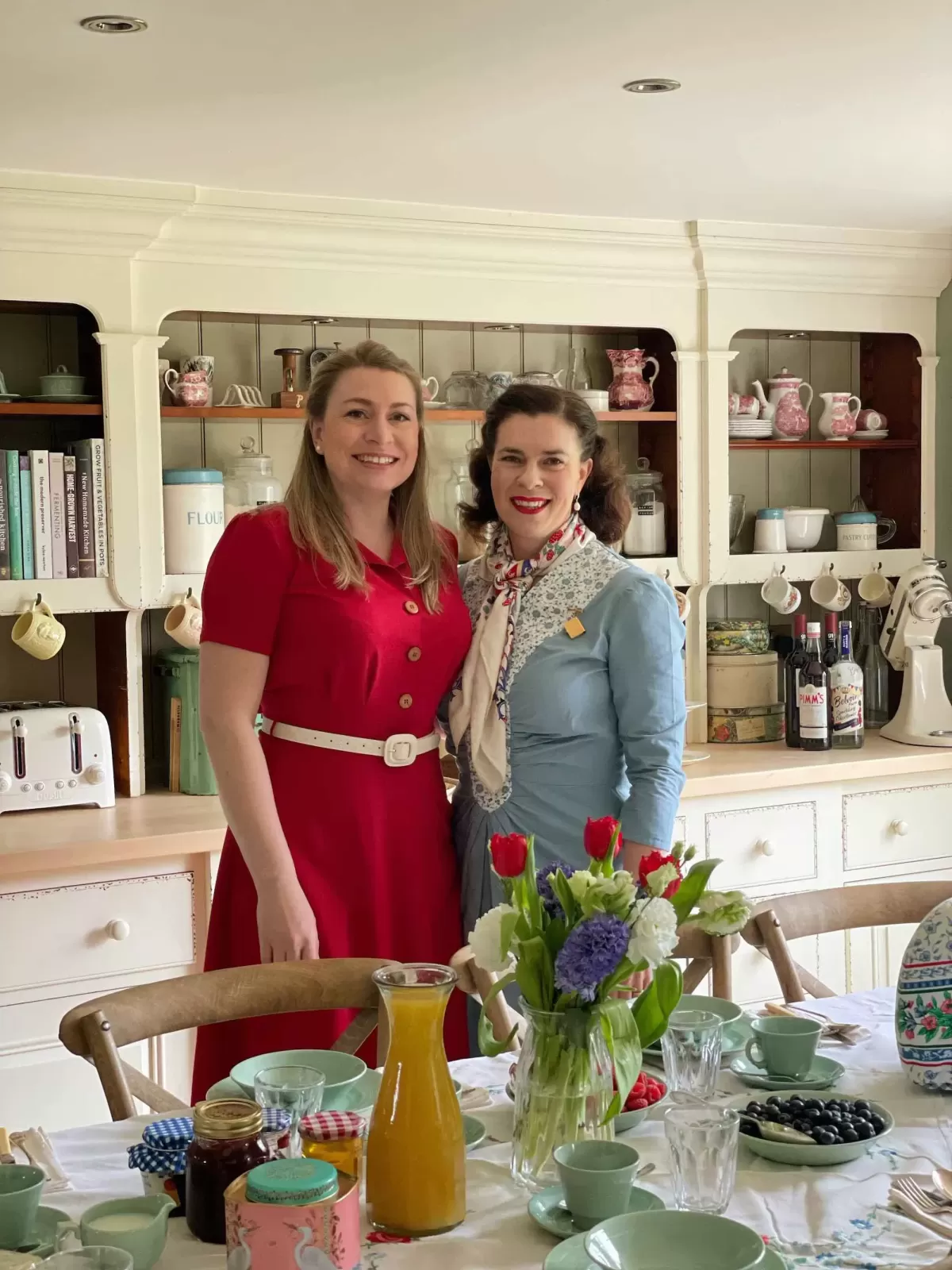 Thank you all so much for allowing us to share a little glimpse into our weekend with you! I hope you had a lovely time, however and wherever (and if) you celebrated. Sian and I love a Royal event, and it's likely you'll see us dressing the part too! My red dress is from The House of Foxy, and Sian made her own from a vintage dress pattern. It's not long now until we are back together again for our annual girl's weekend, and I cannot wait.
With best wishes from us in Kent, and Gloucestershire.
Long Live The King!

*Special mention and thanks to our husbands, who do not feature in our photographs (out of choice), but who facilitated the long distance trip, kept our wine glasses topped up, children entertained, and smiles on all our faces this past weekend.
The kindness of strangers who become friends
As ever, thank you to the wonderful Patrons of The Darling Academy, you continue to surprise me with your generosity. If you like our values and content, please would you kindly consider supporting the blog?
It is always so lovely to hear from you, and especially when you let me know which posts you enjoy the most. I am afraid I do not have the time to reply to every message, but please do know I read every one.


All content and images in this article are copyright of The Darling Academy and are not to be shared or reproduced without our express permission. Affiliate links have been used in this blog post.