Let's celebrate National Cream Tea Day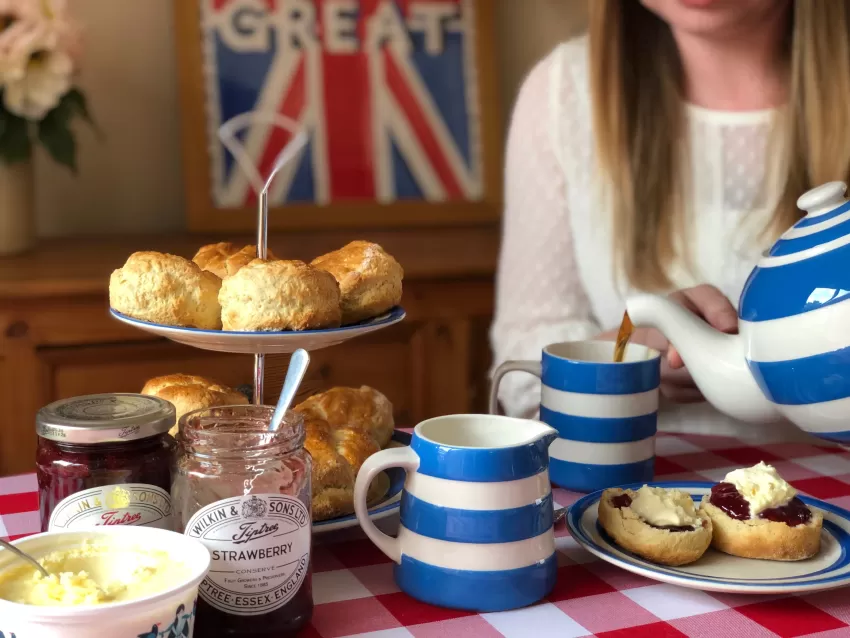 Mark your diaries, and pop clotted cream and jam on your shopping lists, as National Cream Tea day is set for Friday 26th June 2020! Cream teas are a British institution loved by so many people up and down the country, and friends from around the world (especially America) tell me that a good cream tea is what they miss most after returning home from their travels.
The idea of National Cream Tea day is to celebrate this decadent teatime treat with friends and family, and in doing so raise money for good causes.
Never one to pass up a festive occasion, fundraiser, or reason to celebrate, I'm sharing with you a fantastic recipe for homemade scones, as well as a little history and etiquette surrounding this lovely afternoon affair.

Cream or jam first on a scone?

Instead of 'to be, or not to be', surely Prince Hamlet should have questioned whether it be jam first, or cream first?
This seemingly inane question still causes a great divide between the Devonshire and Cornish people, and the rest of us for that matter. Devon swear it should be cream first, while the Cornish say jam first.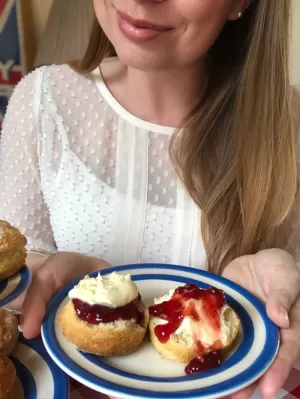 Preserve positioning or pronunciation preference aside, etiquette never dictates a correct way to embellish your scone - instead we should look to practicality rather than manners. It is good manners to be practical after all!
In my personal opinion, I find that a preserve is easier to spread and far likelier to stay where it is than a viscous, luscious cream. So therefore jam should be the first layer to adorn your scone. Then one should apply the cream with a deft 'dollop' and a flattening squish from the back of a spoon. No further spreading required. See my 'scientific' evidence in the picture!
Even The Queen agrees with me. Or I her?
Should one attempt to spread a very thick cream directly over the scone, the delicate structure of the bake will begin to break and crumble, thus losing strength and causing a great mess. Also, if you eat your scones warm you also risk the cream 'melting' due to direct contact with the heat, and thus potentially creating a dripping chaos on your plate.
Try both ways in order to find your preference and what feel easiest to you. The most important thing here is to enjoy yourself!
How do you pronounce scone?

Is it scone as in "gone", or scone as in "bone"? Where's Professor Higgins when you need him?
According to a YouGov poll, a small majority of Britons (51 per cent, to be precise) pronounce it to rhyme with "gone," while 42 per cent prefer rhyming with "bone".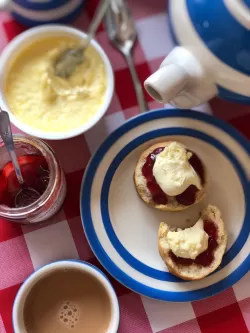 There is no 'posh way' to pronounce the word. In any case, the posher you try to sound while saying the word, the more try-hard it seems. Remember, as Jilly Cooper unearthed in her exposé Class, there is a lot more in common between the upper and lower classes than you realise. Only the class-affected 'middles' seem bothered by such trivialities.
Much like Brexit, this one is a matter entirely of personal preference and should not be debated with any great passion in public, lest you be forced to duel.
Cream tea etiquette
I have found a very lovely book written by the Queen of Cream Teas entitled Scone or Scone: The Essential Guide to British Afternoon Tea.

The author, Jane Malyon has spent many years studying the art of English afternoon tea, and has subsequently set up a wonderful business dedicated solely to delivering delicious cream tea hampers straight to your door. A perfect option for those who are time-starved or perhaps a little intimidated to try baking their own.

Jane has kindly shared her top tips for perfect Cream Tea Etiquette with us.
Put the knife down! Unless you are met with a teeny mean and dry scone (in which case you have my sympathies), you shouldn't need to open a scone with a knife. The correct method to open your scone into rough halves, is by prising it apart with your hands. Tiny, hard scones may not cooperate so a knife might be required then - but overall, leave the knife for the application of cream/jam only!
It is not correct, alas, to dollop your jam/cream (in whichever order you prefer) directly onto your scone halves. Instead, you should take your required jam/cream and put them on the side of your plate. From there you can apply the toppings. It's fine to break the scone halves further into smaller pieces too and just add cream/jam to each part as you go. Some people like to add butter too to their scone, underneath their jam and cream. That's fine as well.
It is most definitely wrong to reform the whole scone back into a scone burger after applying jam/cream to the sides. Doing so forms too big a bite to be elegant, and you'll create a squidgy mess. Plus, you can get much more jam and cream on each half separately than in the centre of a 'scone burger' so you're missing out eating it that way!
The Devonshire method is to put cream on first, just as you would butter. They point out that you wouldn't put the preserves under the butter on your toast so why attempt to do so on your scone. However, Cornwall isn't having any of that. They say that if it's a warm scone, then the jam acts as a barrier to the cream melting, so jam first is the only way. They also point out that you can get a lot more cream on second, and as it's the crowning glory of their county, you don't want to cover it up with jam.
English Cream Tea comprises a scone (often made with sultanas inside it and delicious eaten warm) served with clotted cream and jam (usually strawberry, raspberry, or blackcurrant)….plus a cup of tea. The cream goes nowhere near your actual cup of tea, please note. Afternoon Tea is a different event altogether, which includes scones, cream, and jam but also has the addition of cakes and before that, with savoury elements such as cucumber sandwiches. It's a wonderful British tradition, described by Nelson Mandela as 'Britain's greatest export'.

Afternoon Tea. Britain's greatest export. Nelson Mandela
The perfect scone recipe:
In order to enjoy a traditional English cream tea, you'll need a good recipe for the scones—nothing compares to homemade.

There are plenty of scone recipes to be found which can confuse matters. However, after a lot of trial and error I believe I've perfected the best recipe for the nervous cook!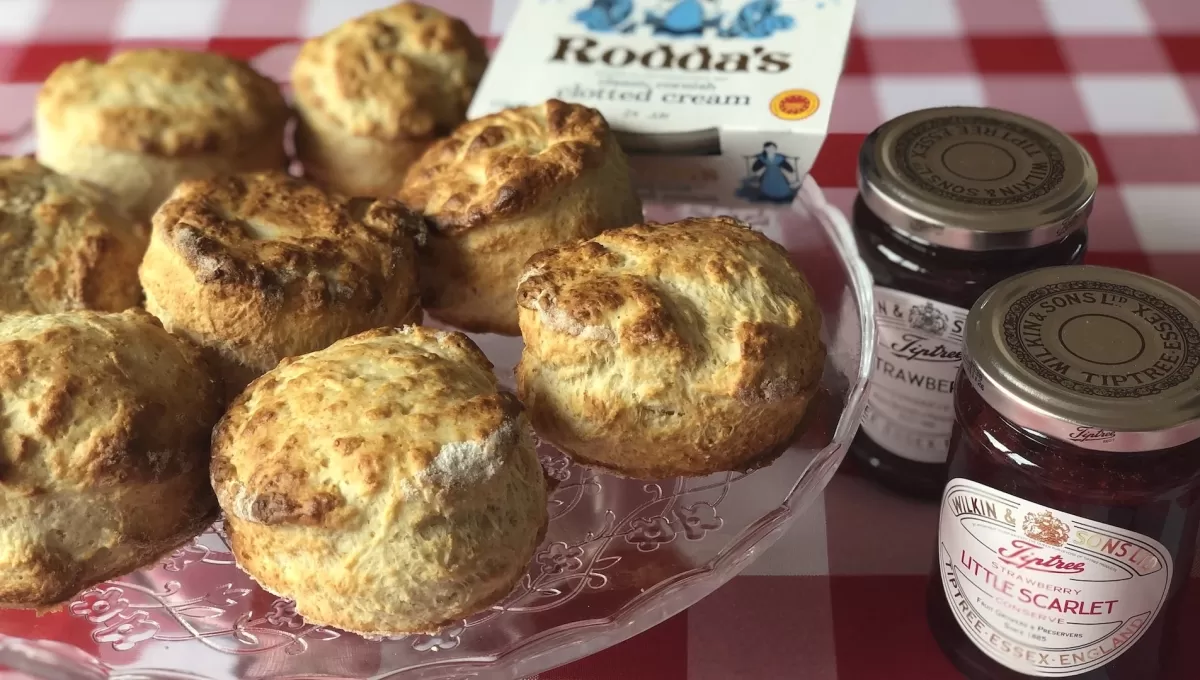 See our favourite recipe for How to Make perfect English scones at home. Below we have listed our favourite scone accompaniments from British heritage producers for you too.
Wilkin & Sons Tiptree Jam

Fruit growers and producers of good food, Wilkin & Sons Ltd have been making Strawberry Conserve in the village of Tiptree since 1885. Their farms in the heart of the Essex countryside provide a rich harvest of soft fruit such as the famous Little Scarlet strawberry (said to be James Bond's favourite, according to Ian Fleming), stone fruit (cherries, damsons and Victoria plums), and a selection of unusual fruits that make amazing jams and jellies (quince, medlar and mulberries).
​The jam making business, started by Mr Arthur Charles Wilkin in June 1885, has evolved and expanded with their preserves now enjoyed in more than sixty countries. Tiptree Jam in any flavour is a reminder of the rich tradition of English summer fruit, and absolutely perfect for afternoon tea.


Tiptree jams and condiments are available in most supermarkets, with a large selection to be found in Waitrose. Or you can order direct from Wilkin & Sons. They have a wonderful gift selection and are able to ship their products overseas!
Rodda's Clotted Cream

In 1890, great-great-grandmother Eliza Jane Rodda started making Cornish clotted cream in her farmhouse kitchen in the heart of Cornwall. The business, now in its fifth generation, is still crafting clotted cream in the very same way it did all those years ago; through cherished family recipes and time-honoured traditions.
In fact, clotted cream is so special it has become a treasured Cornish export. Following a long five-year campaign spearheaded by the Rodda family, Cornish clotted cream gained Protected Designation of Origin status in 1998 to join the prestigious ranks of Champagne, Stilton cheese, and Parma ham.
​Rodda's use the very best Cornish milk, which is sourced directly from Cornish farmers, all within a 30-mile radius of their creamery. Rodda's can be found in supermarkets nationwide.
I suggest setting it out on the table a few minutes before you intend to eat it to 'take the chill off', and make it a little easier to manipulate, because this stuff is decadently thick!
Cornish clotted cream - the food of the gods. William Gladstone 1809 - 1898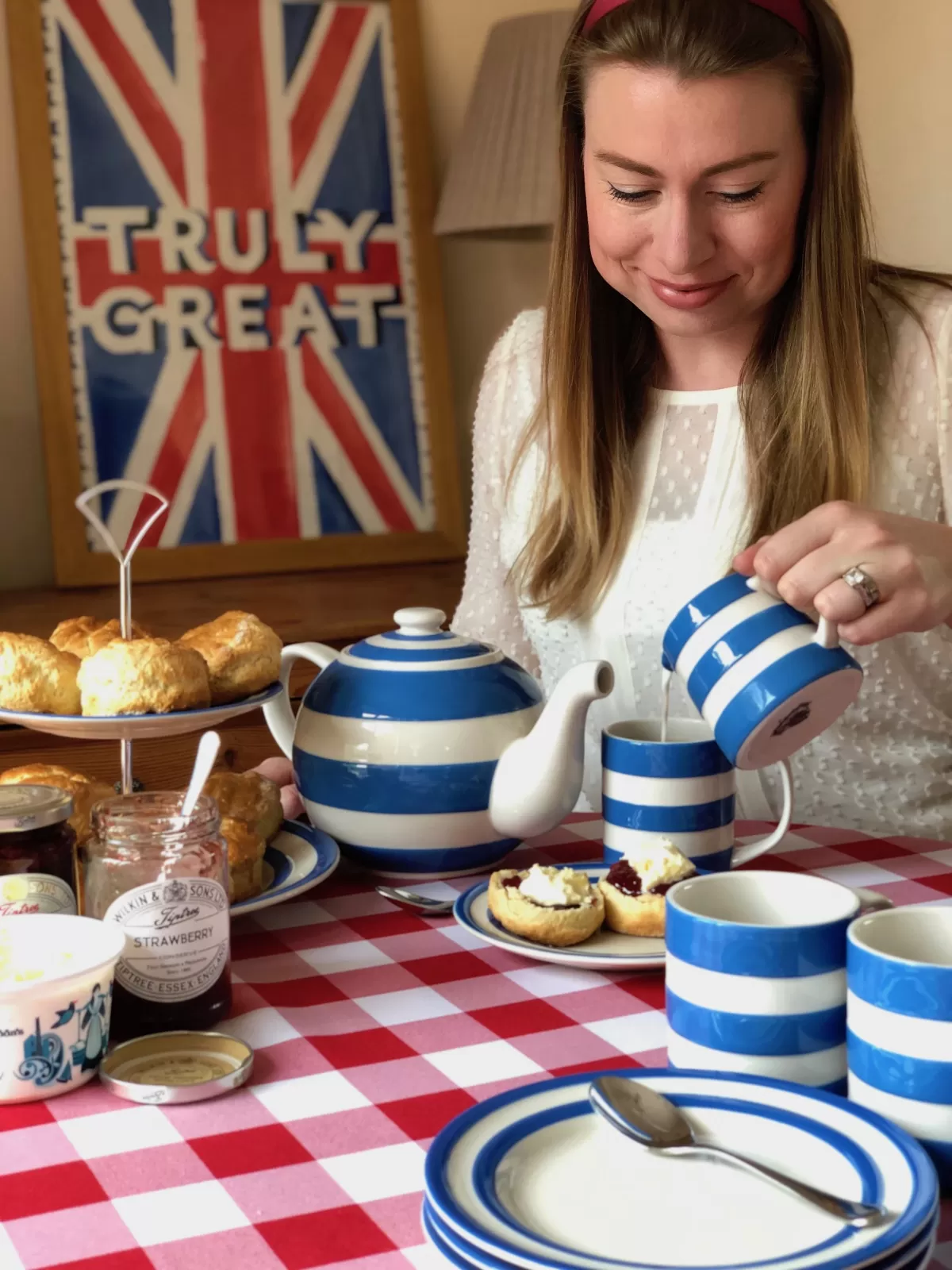 Make an event of it...
Whether enjoyed in a sumptuous city hotel, a cosy little tea room on a blustery British coastline, or even at home, there is something so lovely about the 'humble' cream tea.
Take the time on National Cream Tea Day - or any day - to relish the event with your closest family and friends - though this year may be a little different and bijou, why not brighten up a "lockdown Friday" for your little household? I really believe lovely rituals such as this helps one to slow down, and to remember that life is about the little things.
So dust off the tablecloth, put out your best china, and indulge. Just make sure to keep that teapot topped up!

All content and images in this article are copyright of The Darling Academy and are not to be shared or reproduced without our express permission. Thank you to our Pottery Partners, Cornishware, for gifting us this beautiful tea set. Affiliate links have been used in this post. There is no extra cost to you, but The Darling Academy may make a small commission from any purchases.