Made in Britain: Cornishware by T.G. Green

I would like to take you on a little trip down memory lane with me today. I'm not sure about you, but this is one of my favourite things to do to while away the time spent in a queue (which we seem to do so often here in England).
Personally, I feel that aside from reading a good book, or grumbling about the matter - whimsical thinking is a nice way to pass the time in otherwise boring, or difficult circumstances such as waiting rooms. Good memories do seem to place a pleasant smile upon your face. It's considered good etiquette to occupy a public space serenely and without complaint, so I highly recommend this trick.
Some of my fondest memories seem to have a golden glow, most are from my childhood, and unsurprisingly, lots centre around food. From Saturday morning family breakfasts, with bacon and eggs galore, AGA toast (there's nothing better), and countless hot cups of tea. Then there were the parties, outdoor garden picnics in the summertime, and cosy 'hyggelyt' dinners in the depths of winter. Everything served up on chunky, but cheerful, blue and white plates. Plates that dutifully served a family of eight, plus guests, without faltering, or feeling too precious to use.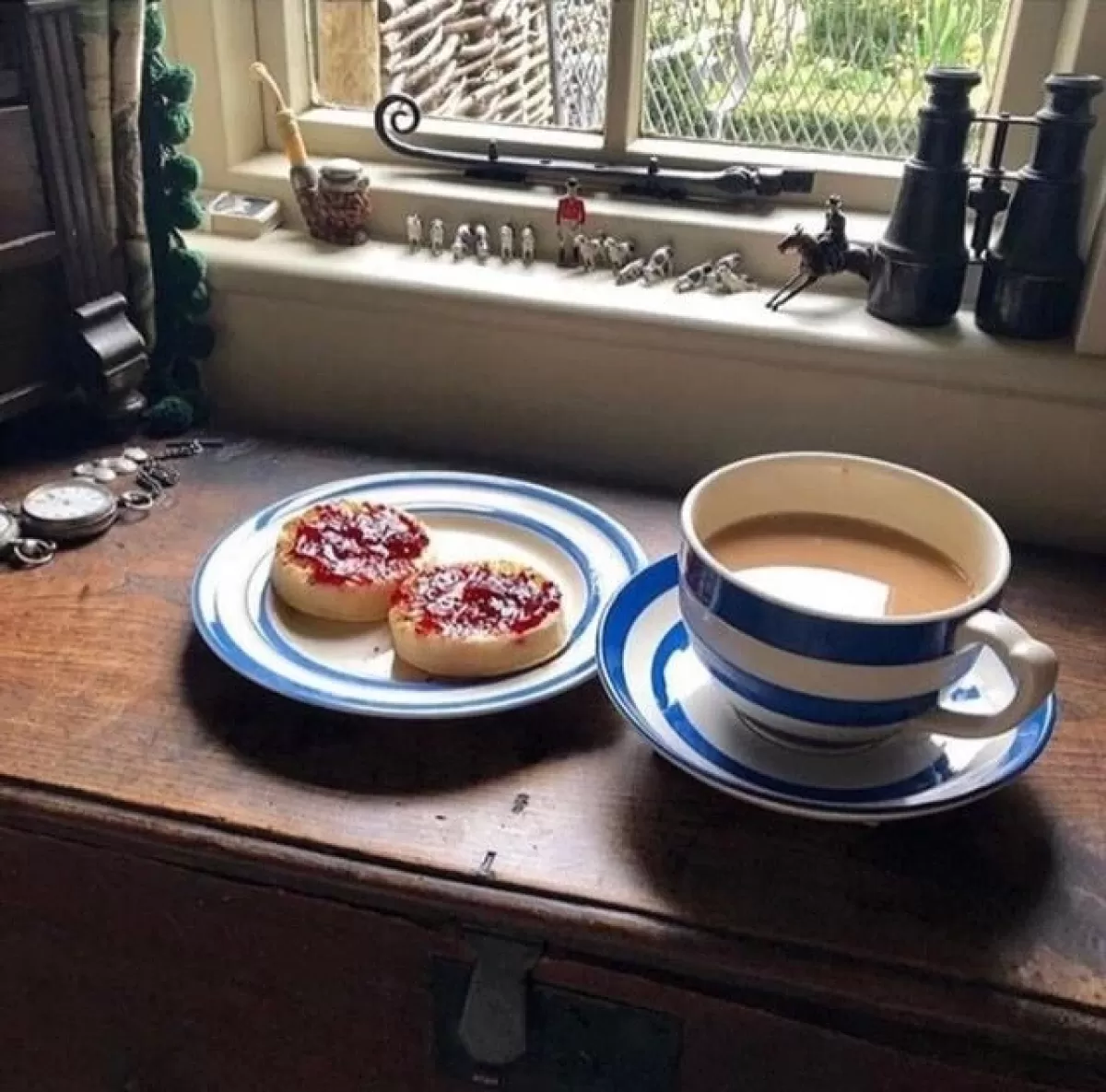 I thought those gorgeously tactical cups and saucers we had growing up were only a thing of memories. Left behind along with copious amounts of Laura Ashley wallpaper in our old Victorian cottage, before my parents moved and decided to go 'modern', as one by one their collective six children flew the nest. That was until one day on Instagram, Karina Rickards appeared as a suggested follow. I caught a glimpse of her sat at a turning wheel, grinning as she hand painted chunky blue stripes onto a plate. I immediately recognised the design, and all those memories came flooding back.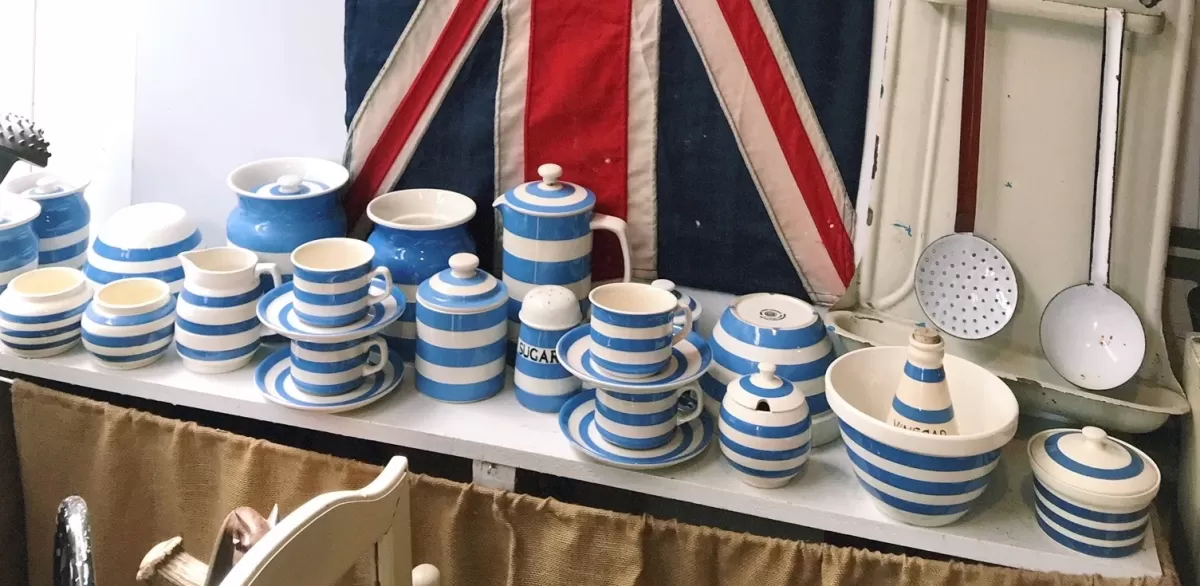 Without hesitation I immersed myself in the back-story of Cornishware, I was so happy as I hadn't seen it for years. I'm so fond of the whole collection.
The iconic blue & white stripes were first produced in 1924, created using a nifty lathe-turning technique that scraped blue slip away from its beautiful ceramics to reveal white bands of clay beneath. They reminded an employee of the blue skies and white-crested waves of Cornwall – which is how Cornishware got its name. By the 1930s, T.G. Green were retailing their kitchenware products in all major UK department stores and it was so popular, soon most kitchens up and down the country had a piece.
In the 1960s, Cornishware's look was updated by young designer, Judith Onions, and the restyled range was embraced as warmly as the originals. Vintage pieces, especially unusual ones, are highly prized by collectors, and this is evidenced in the vast collection of my 'Instagram friend', and fellow vintage lover Mandy.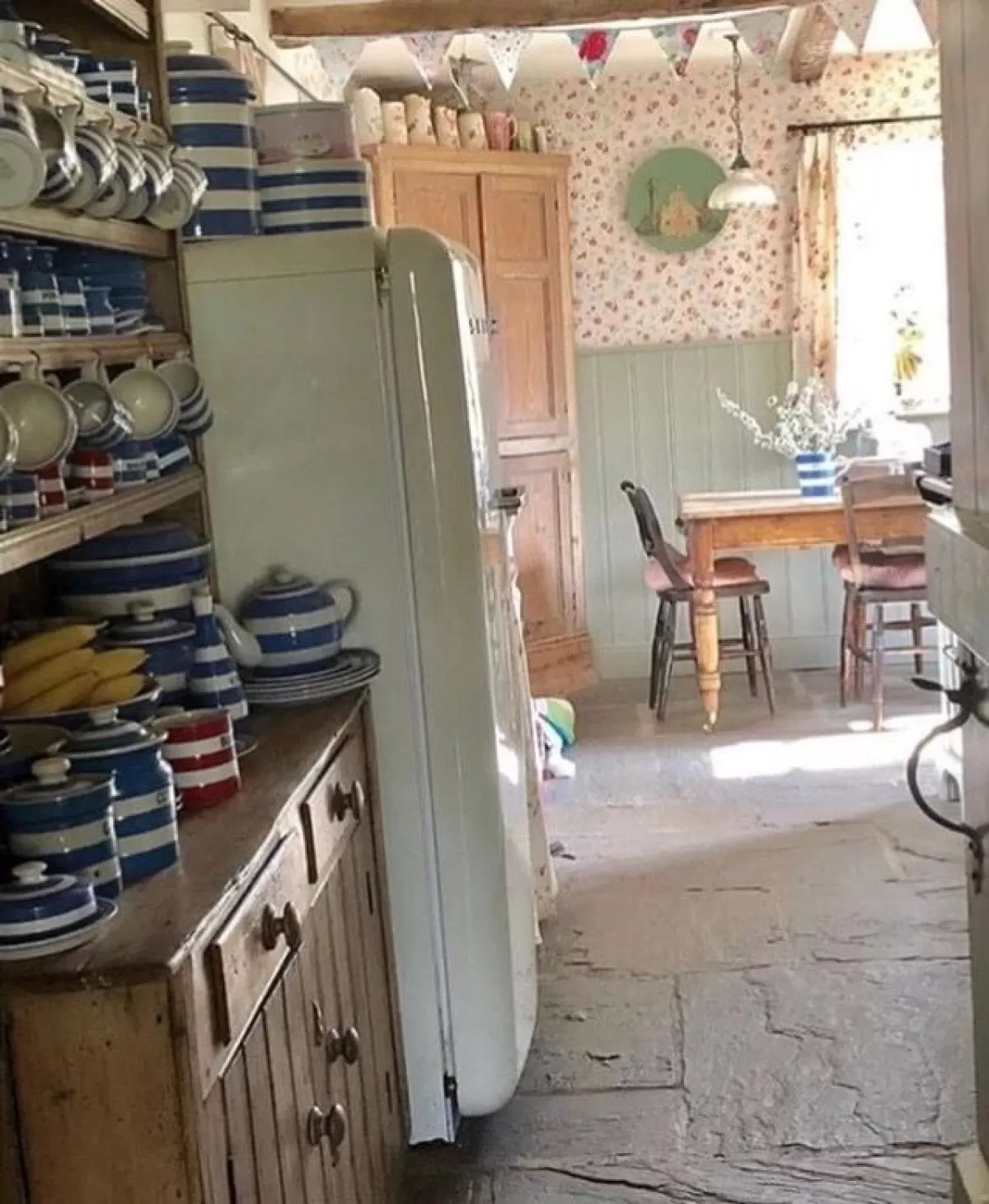 As you can see, Mandy has covered her beautiful dresser with vintage Cornishware, and mixed in some newer pieces. Her cosy cottage reminding me so much of the one we once lived in.
There is something so lovely and homely about the look of a dresser filled with beautiful pottery. Even better when it's stuff you can actually use daily, and you know it has been made lovingly by hand. Not to mention produced on home soil, as opposed to some far-off mega factory.
Sadly, the English pottery industry really suffered with the increase of overseas production and imports, and the story didn't go well for T.G.Green either. As the 20th Century marched on, it became increasingly difficult for the Victorian pottery workshop to compete, and after a series of different owners tried their best to save the business, it closed down in 2007.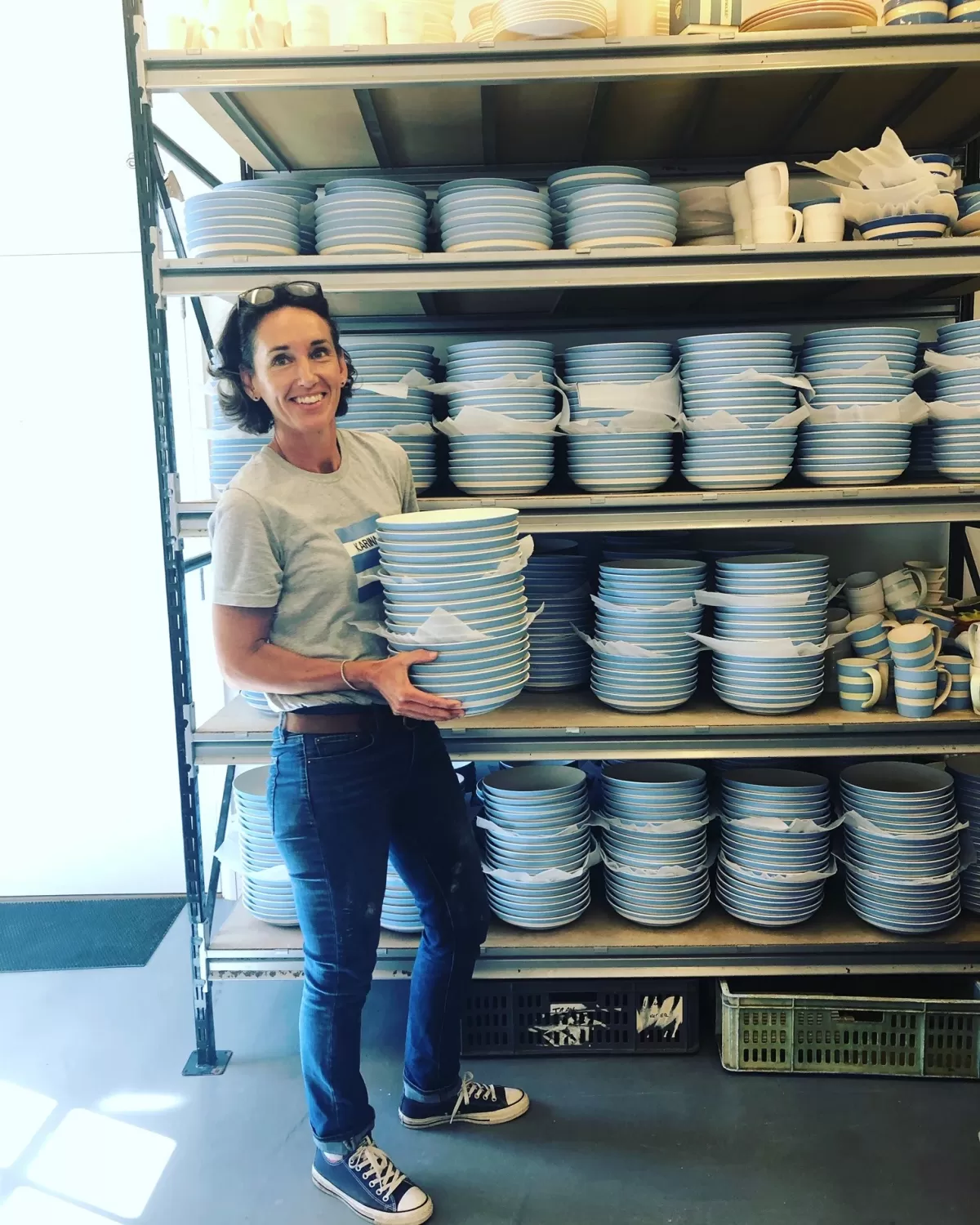 Luckily, there are some wonderful people in the UK who are looking to restore and keep those home fires burning for British industry. Karina (pictured above), and her fellow investors are the stuff "Buy British" advocates dream of. Together they are gradually bringing back production of Cornishware to the UK. Several lines are now made in Stoke-on-Trent and decorated in their pottery in the West Country. They are gradually increasing the items made back here in England and hope to have 100% of production on British shores by Christmas 2019. Look out for the green back-stamps that denote the new Made in England products.
Some friends are also collecting new pieces like Juliette (and Panda) here with her red stripes. There are a wealth of colours to choose from on the Cornishware website if blue isn't your thing, a fun personalisation service making some lovely gifts too.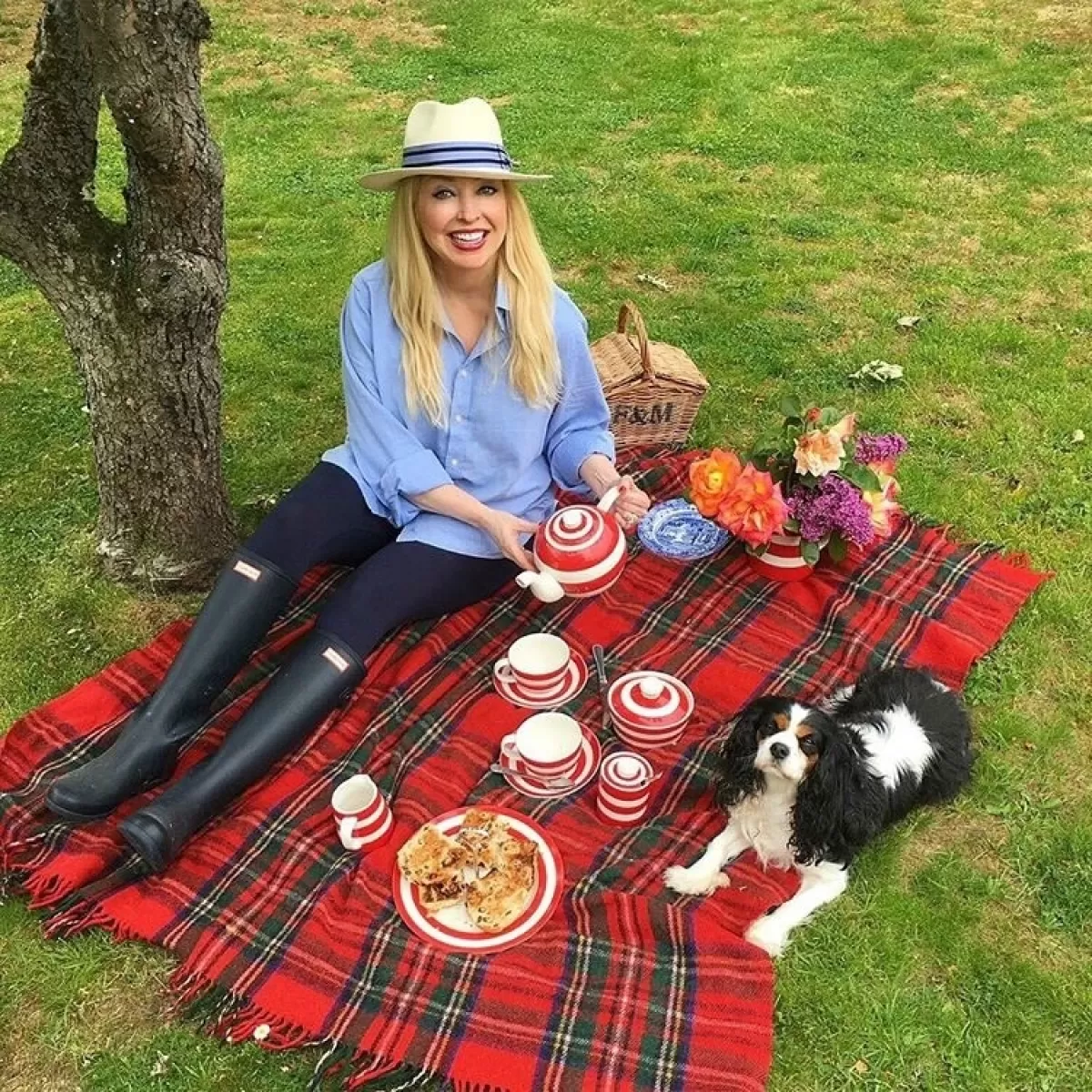 I'm very happy to see this revival of such an iconic British brand, and am over the moon that I now have an opportunity to easily start my own collection, just like the one we had when I was a child - and know who painted those cheerful stripes for me.
Now I just need to convince my husband we need more plates… I'm thinking we should start with the breakfast set, and if he's not convinced, then hopefully I can convince you to Buy British if you are in the market for new dinnerware.


All content and images in this article are copyright of The Darling Academy and are not to be shared or reproduced without our express permission.