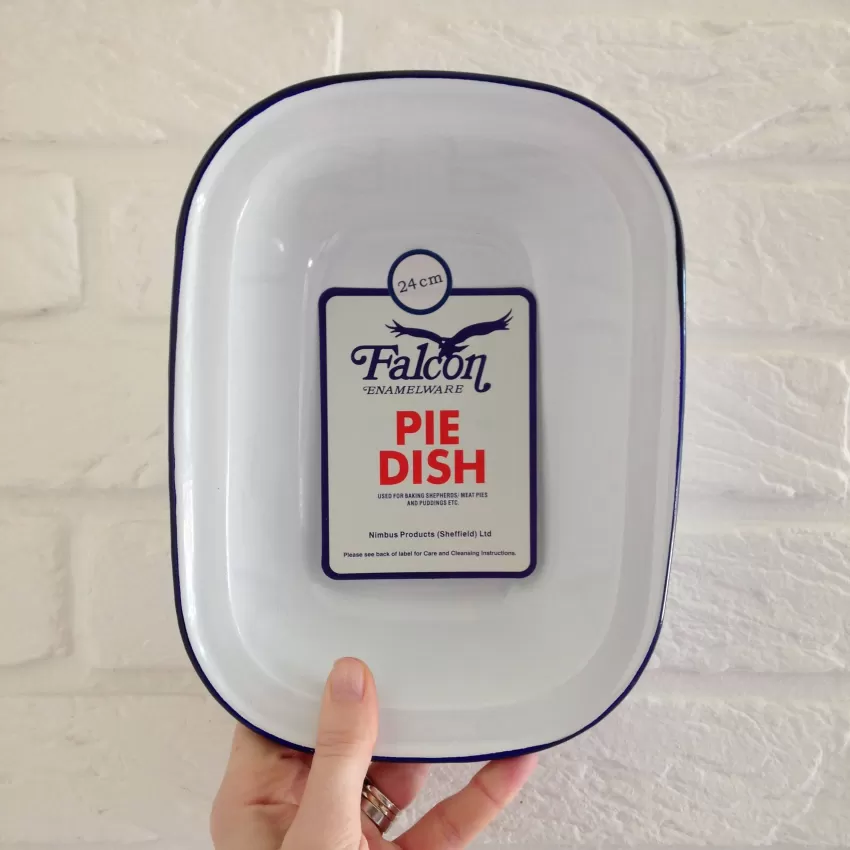 Today's purchase felt like a brilliant step back in time. Braving the madness of the January sales I headed out for a new pan suitable for the oven. My "cheap white purchase number 386,406,624" from a generic (Swedish *sideeye*) store failed me yet again at Christmas.
This lady wasn't looking for a bargain though, no. I cannot abide sale shopping. I went out to purchase something very specific from an almost two-decade old memory. *(Once I was satisfied by my research, the market sale price inspected and shoe leather cost considered first of course).
It's worth doing your research for even the smallest of purchases, for good reason. Let me ask you this. How many times have you been failed by sub-standard manufacturing in the past year? I dare you to count the times. Frayed hems, cracked plates, threadbare t-shirts, ripped seams, splintered plastic…. Now add all that cash you spent, the costs to travel to the stores and better yet, the cost of your time to replace it. Not to mention the emotional sum of deep disappointment.
This really adds up over a lifetime, and yet we are still stuck in a cultural quagmire of waving our debit cards at anything that sells itself as cheaper than the price label originally stated. I'm not knocking great discounts - I'm questioning the purchase of something unconsidered.

Just mindless spending on worthless things is not very ladylike.
Over the past six months I've been working on reducing our household waste, not a new concept I know, but I'm trying desperately hard at balancing my desire to "do-good" vs. my overwhelming passion for enjoying a quality lifestyle surrounded by beautiful things.
I've had enough of thoughtless "bargain" shopping just to save money (because that's no fun at all, really) and am now embracing a quality-filled, timeless and tested old-money mentality. Something which balances the ability to indulge in the things I adore but still does the right thing by stemming the over-consumption pandemic. Buying less, but having more
Enter my new pie-dish! Nothing exciting, you may think… But where this blue and white 24cm pie-dish has real value lies in what it represents, not just how long it will last (the company have been manufacturing this iconic British enamel kitchenware since 1920).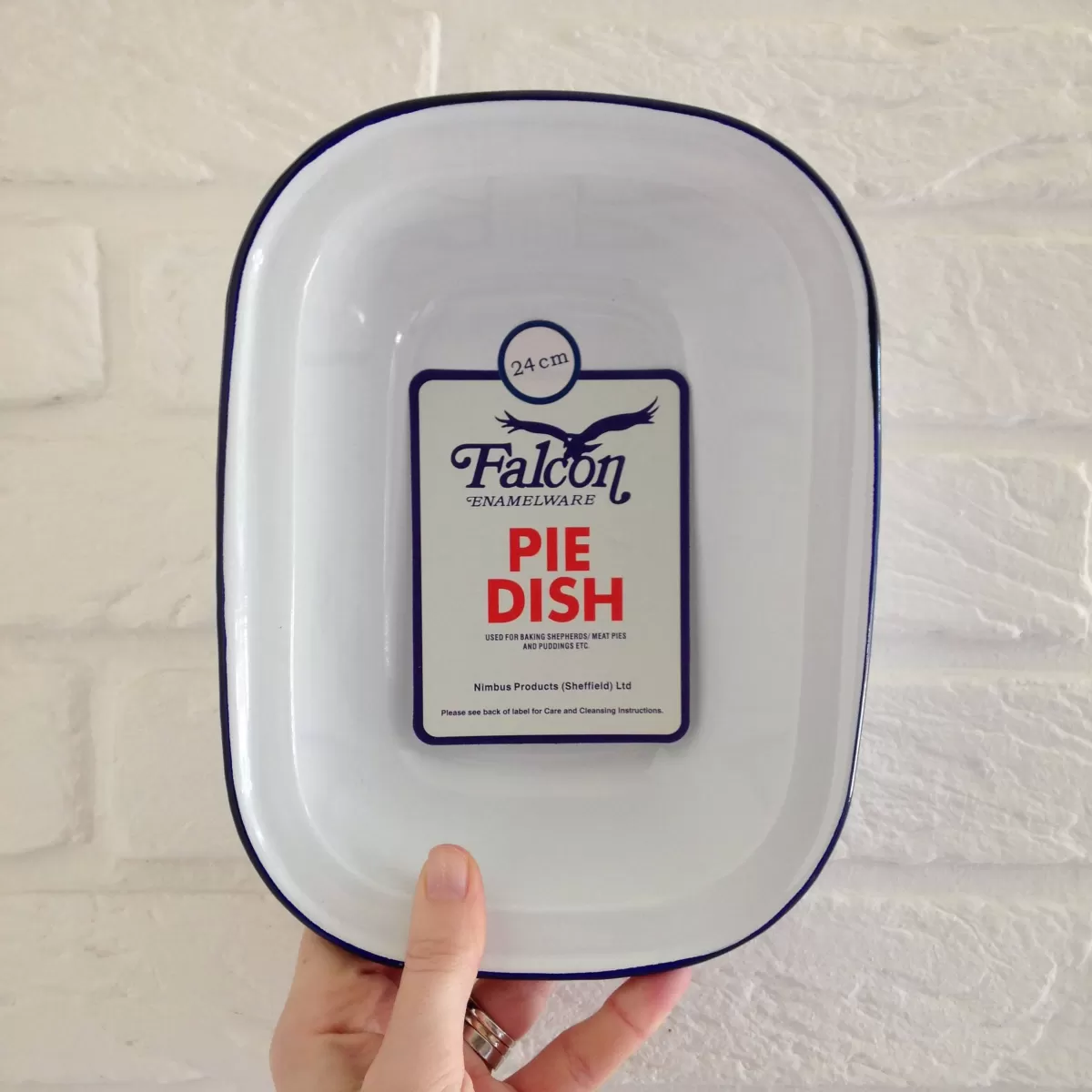 How to create a cosy kitchen.
Falcon enamelware to me is synonymous with home. Not just any home, but the West London home that contains the kitchen of my Grandfather (Morfar, if you are Danish - first you learnt "Hygge", now you know the word for Mum's Dad, hooray for expanding your Danish vocabulary)!
Morfar's kitchen was the epicentre of many fond childhood memories. Stored away in untreated pine cupboards and collecting in piles atop brown melamine countertops, he had a vast array of items that look rather vintage to us now. Not entirely fashionable but his "Kitchenalia" has stood the test of time. Most things were battered enamel in shades of utilitarian blue and white, brown slipware, or a robust sunny orange melamine. Heavy glass Kilner jars too (before they were trendy) - everything a relic from the 60's when he first set up home with my Grandmother. Not showy items meant for display, but things designed for hard graft and providing a family with nutritious meals. Things that never matched and had quirks, but we're always loved and very, very practical.
Heavy duty Volcanic orange Le Crueset pots gently scrambled eggs. I remember the faint smell of gas as he toasted bread the old fashioned way, you really had to watch it or it'll catch! Or lighting and extinguishing a match to mask the smell of a grilled butterflied mackerel he made for his breakfast.
The banging and crashing of his enamel pots, pans and colanders would wake us too early in the morning but he would make up for it by delivering a cup of fresh Earl Grey in bed poured from the glossy Brown Betty teapot.
I'd watch as Morfar would lean his weight into the heaving turns of his counter-mounted mangle to grind his own mince, always letting me have a go but never being quite strong enough. I would cover my ears as he smacked at a cut meat with a forged cast-iron tenderiser. I'd play on tin-can "stilts" or would catch the frogs in the pond as he dug at and turned the earth in the garden to fill the kitchen with home grown produce. Carrying earth-crusted potatoes and carrots in his work-worn hands to wash them in the stainless steel sink, not pretty - but practical. That goes for his hands, the sink and the vegetable patch.
This kitchen sink was often "home" to a fish or two, intended for supper, that he'd make "swim" and jump out to spook me whenever I'd take a peek over the edge of the bowl. He'd wipe up the splashes with his blue and white j-cloths. He'd scrub at dirty dishes with a horsehair dish brush brought over from Denmark because they were just that good.
Tomatoes, home grown and warm from the sun would find a home in brown slipware my Grandmother had thrown at a late 60's pottery class. Local milk turned up on the doorstep in foil sealed glass bottles with a clink and a rattle at 4am, along with a sack of spuds and a tray of eggs from the "Egg and Per-tater Man". Finding home in their designated glazed earthenware.
Irish Stew with dumplings, a roast chicken, his famous homemade chips. All eaten around the circular pine table by candlelight or under a pool of warm light from the Poul Henningsen pendant that hung from above.
Don't even get me started on the percolated coffee and liquorice.
This was and will always be hygge to me.
(Morfar is rather "hygge" himself actually).
He has an old-money mentality. A utilitarian, post-war mentality. You found something good, something useful, something that works hard with you and for you, and you stuck with it. It doesn't matter if it's the latest thing to have. You know what works and you use it. An item should be reliable, steady and it should serve you. Simple as that.
It's no use buying things that look pretty if they won't last you. This counts for every area of your life.

Simplify stuff in order to multiply contentment.
Hygge, is often credited to be about moments, to which I agree, but more often than not memories are linked to very specific "something" too. Things had their place, and they were as familiar as family. Items you remember from slices of time when you were so aware of how happy you were just to "be", right there and right then. An old brown sofa heavy with patina where you read your favourite novel, steaming cups of hot chocolate from chipped childhood mugs, warm cosy socks knitted by grandma. The way an arctic breeze stings as it whips against your cheek, you shelter from it with an old trusty scarf - made of wool, meant to shield you from the cold - not just for fashion. The velvety feeling of your newborn's skin which you clean with a gentle soap you know and trust.
The smell of Earl Grey and hot buttered crumpets wafting up the stairs - all the more delicious being served on old faithful plates your grandparents have fed you from since you were a toddler. They may be brown and speckled, a pattern favoured in the 70s and rather retro now, but you wouldn't change them. It makes the moment truly a moment.
Blissful, gentle, steady and reliable people, moments and things. That is where real hygge lives, in the simplicity.
Now I'm the mistress of my own kitchen, I want to evoke these very feelings from the bosom of my home too. I want my boys to have similar, homely familiarity in this ever-changing world that consumes.
In my own small way I can make a difference to stem the trend for new, the trend to replace rather than use for a lifetime - which is why I'll be saying goodbye to the purchase of new fandangled kitchen gizmo's, a white stark kitchen and anything pin or insta-worthy. Just old reliable classics for me from now on. I'm just not interested in impressing anyone with what is in my home - no, the kitchen and what it houses need to impress me. Heritage, hard-working and longevity are keywords. Function over fanciness.
Only £6.99 (about
$8.70)
Instant Worldwide download
Kitchen Management Manual
Printable PDF housekeeping handbook
Meal Planner
Shopping List
Recipe Card
Pantry & Freezer Guides
Seasonal Food Guides
Conversion Charts
FREE BONUS Laundry Tips!
International payment methods accepted:
Lifeless, uncluttered and picture perfect is not for me. It should really be that way for everyone, but we get caught up so easily in consumerism and commercialism. Of course, you should still have the freedom to buy things that you LOVE and will live with you for a lifetime. Collect what you love (Le Crueset, Emma Bridgewater, vintage enamel, whatever - but just please, please USE it). Make it part of your story.
I'm embracing all things that stand the test of time, because these are the moments I wish to simmer for all the days to come. Whether they be brown, orange, chipped or out of fashion next season.
If I'm going to spend most of my life in the kitchen, it might as well feel good for me too? To be surrounded by things that spark only joy.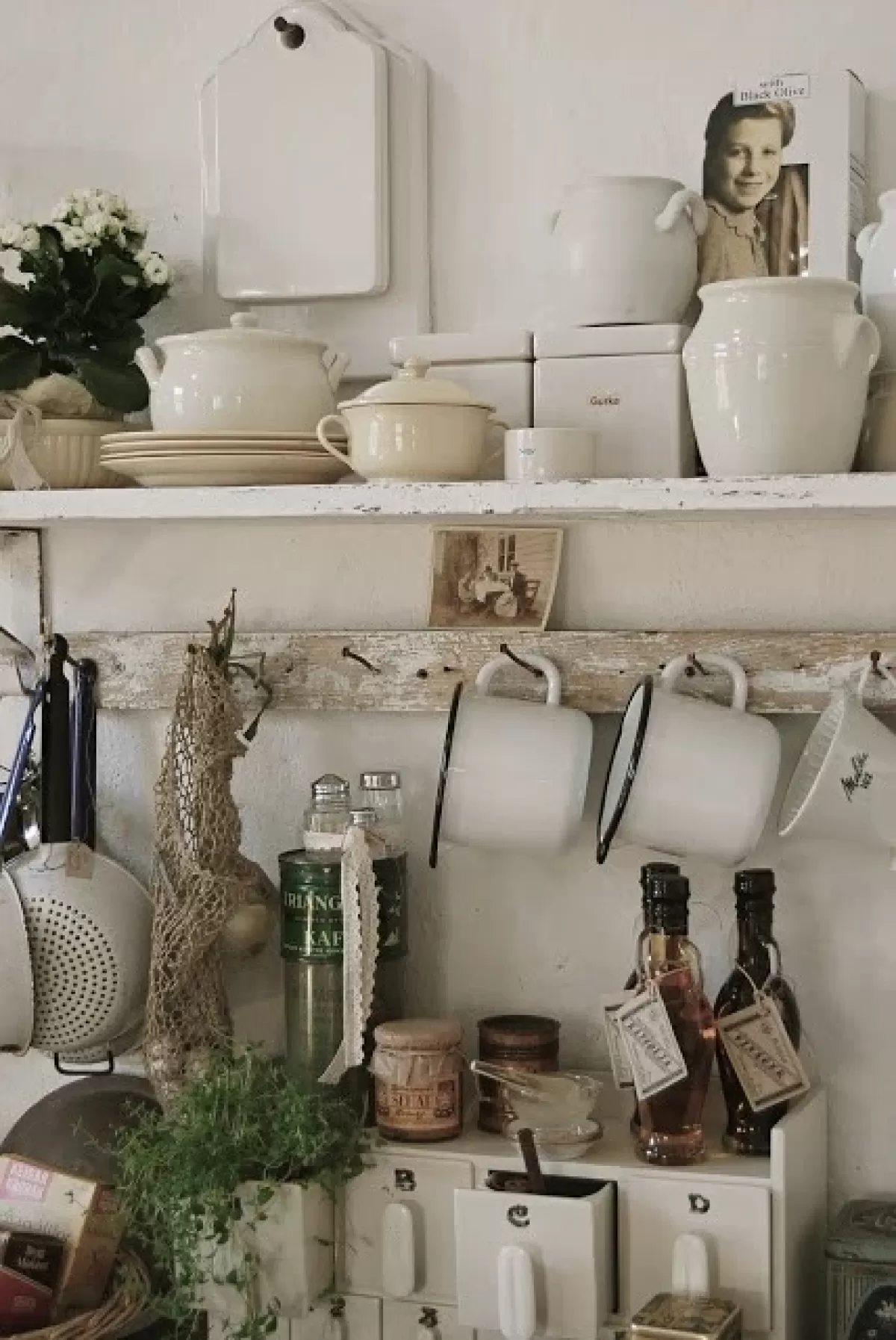 My kitchen is the heart of my home. Full of love, memory and the desire to nurture. Not to show off.
This is my resolution for my home, to curate only items in my domain that mean, or intend to mean something. That, right there, that decision to create the life you want is what promotes real hygge in your life. Love your home and what it can feel like in the little things, not solely on the value of how it looks.
Now get in that kitchen and clear out the clutter. Leave only behind what is meaningful, useful and gives you a deep sense of joy. Donate the rest.
---
If you are as obsessed about slow and vintage inspired living as I am, follow this swoon-worthy Scrubbed Pine & Copper Pots board - for some great inspiration and the visual enjoyment of things with age and patina.
Have confidence in the tried and true, the honest homeware. It feels wonderful.

For more on the amazing heritage and range of Falcon go to the home of iconic British enamelware.

All content and images in this article are copyright of The Darling Academy and are not to be shared or reproduced without our express permission.