Cotswold kitchen garden inspired quiche recipes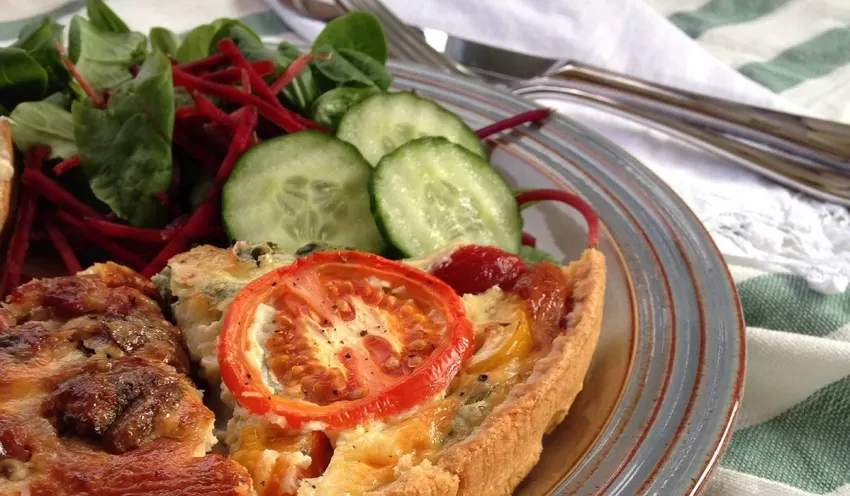 Sometimes you just have to try making things for yourself, rather than reverting to store-bought options. Not only for the self-satisfaction, but for better health, and better taste! Nothing tastes as good as homemade.
One dish for lunch or a light dinner, and is surprisingly easy to make yourself - is a good old quiche! A staple of British summertime menus.
I have a couple of vegetable patches in my back garden here in the Cotswolds, and plan as many recipes as I can to make use of the produce - not to mention survive the occasional glut. I have a passionate love affair with local ingredients and rustic country cooking, and I also happen to have a mountain of Swiss Chard right now.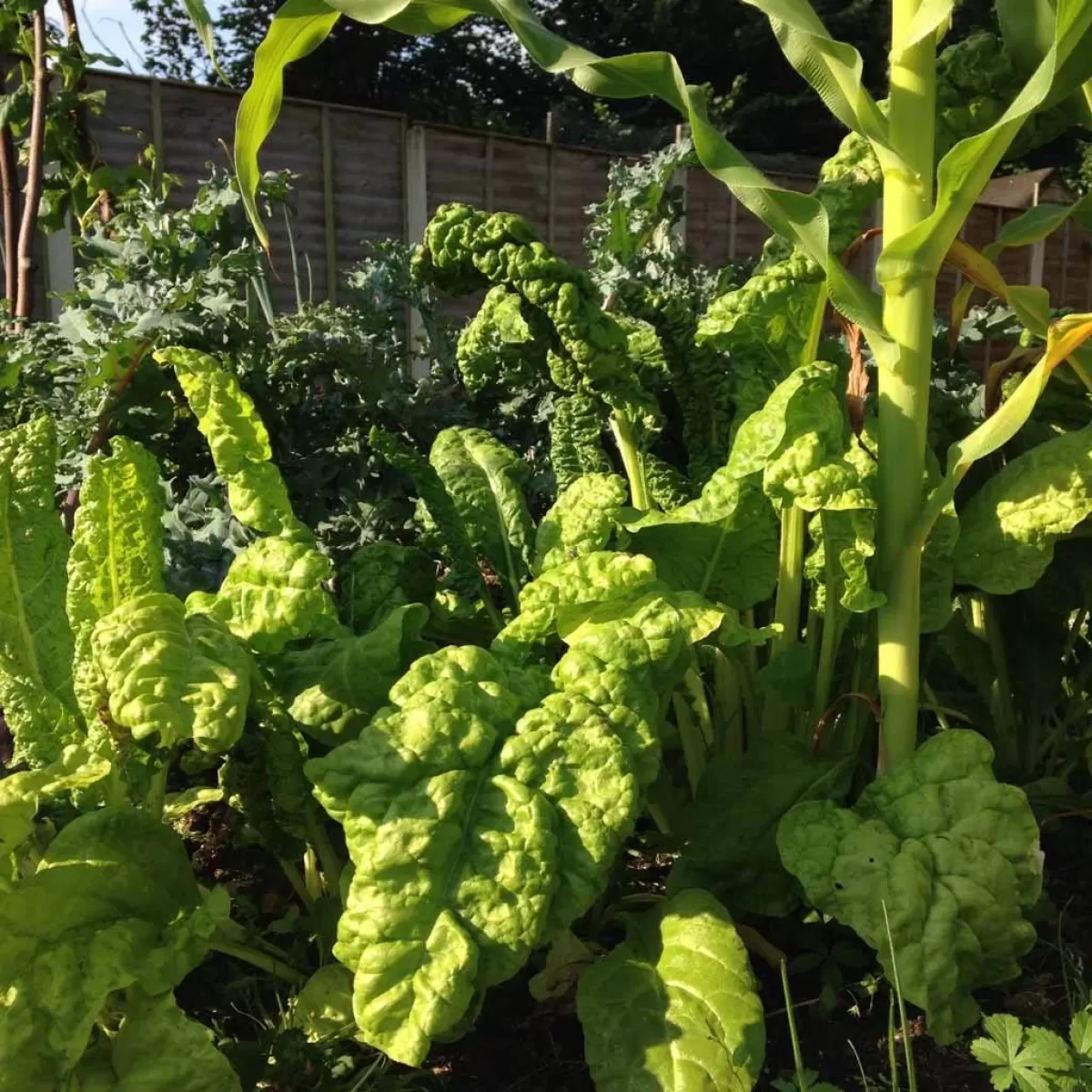 With a desperate need for ways in which to 'deal with' the abundance of this lovely cut-and-come-again vegetable, I headed to the internet. Most suggested to throw them in 'baked eggs', they didn't really appeal - but quiche always does! Having never made it myself before, I decided to cheat with the base - the idea of pastry frightens me, and I am yet to furnish my kitchen with a quiche dish or any sort of blind baking bean. A baking hurdle I need to learn to master, I know, but for now I'm rather thankful to the supermarket for stocking pre-made cases.
After gathering my facts about the components, and cooking times, I decided to experiment rather than follow a strict recipe, and to my surprise, they all turned out great! I hadn't realised how easy quiche was to make, especially when cheating with the pastry. I think this recipe may soon be on repeat using whatever my vegetable patch decides to supply. Tomatoes, Peppers, Courgettes, Broccoli and Pak Choi - I'm looking forward to some lovely seasonal pairings.
Anyway - onto the recipe.
I made two flavours. The basic ingredients are listed, with the differing ingredients per quiche below that.
Cotswold Quiche with Swiss Chard:
Makes: 12 portions (2 x 8" quiches)

Ingredients required: (per quiche, omit Swiss chard and replace with other ingredients for recipe variants)
2 x Savoury pastry base - I found mine in the baking aisle of my local supermarket. Or make your pastry fresh (if you have the time, and you know what you're doing - clever clogs).
3 x large free-range eggs
200g (1 cup) of Crème Fraîche
50g (1/4 cup) Cheddar or Hard Cheese - preferably Double Gloucester, finely grated
50g (1/4 cup) of a 'rubbery' style cheese - I used Emmental, finely grated
1 x Shallot or Red Onion, finely chopped - I used a homegrown red onion
4 x large Swiss Chard leaves - I used homegrown using these seeds (more on Swiss Chard below)
Salt & Pepper to season
Olive Oil for greasing the frying pan
Tomato & Basil Quiche:
a large handful of small tomatoes of different varieties - some of mine are homegrown, others bought
1 x large tomato
a handful of fresh torn Basil leaves - bought or homegrown
Double Gloucester Old Spot Quiche:
3 x rashers Bacon, chopped into chunks - use Gloucester Old Spot if you can find a local butcher! Otherwise, shop bought will do.
5 x Mini Portabello Mushrooms - halved and sliced
Oven Temperature & Preparations:
Preheat oven to 180c (350f)
Grease a large frying pan/skillet lightly with olive oil
Prepare a side salad if you wish
Method:
1. Prepare by lightly frying your vegetable and bacon fillings on a medium-high heat. Do this one ingredient at a time and set each aside while you move on to the next until they are all lightly cooked - no need to concern yourself with keeping them warm, they'll cook further in the oven. Remember to fry the bacon last so that you don't "cross contaminate" if you are feeding vegetarians.
The order in which I cooked my fillings were onion, swiss chard (this needs merely a minute or two), mushrooms, tomatoes (they only need warming through), and finally bacon until lightly browned.
2. Next prepare your egg mixture by cracking 3 large eggs into a jug and mixing together using a fork with the crème fraîche. It will look a bit lumpy to start but work it together and it'll eventually become a nice pouring consistency. Season with salt and pepper.

3. In two large bowls begin mixing together your fillings. Then pour out into their bases.
For Vegetarian - use onion, swiss chard, tomatoes, half Cheddar, half Emmental and tear in some fresh basil
For Meat - use onion, swiss chard, bacon, mushrooms, half Cheddar and half Emmental
4. You'll now need to spread and level out the fillings into the bases and sprinkle over your cheeses, but don't compact them too much. You'll want the egg and cream mixture to be able to find all the cracks and crevices.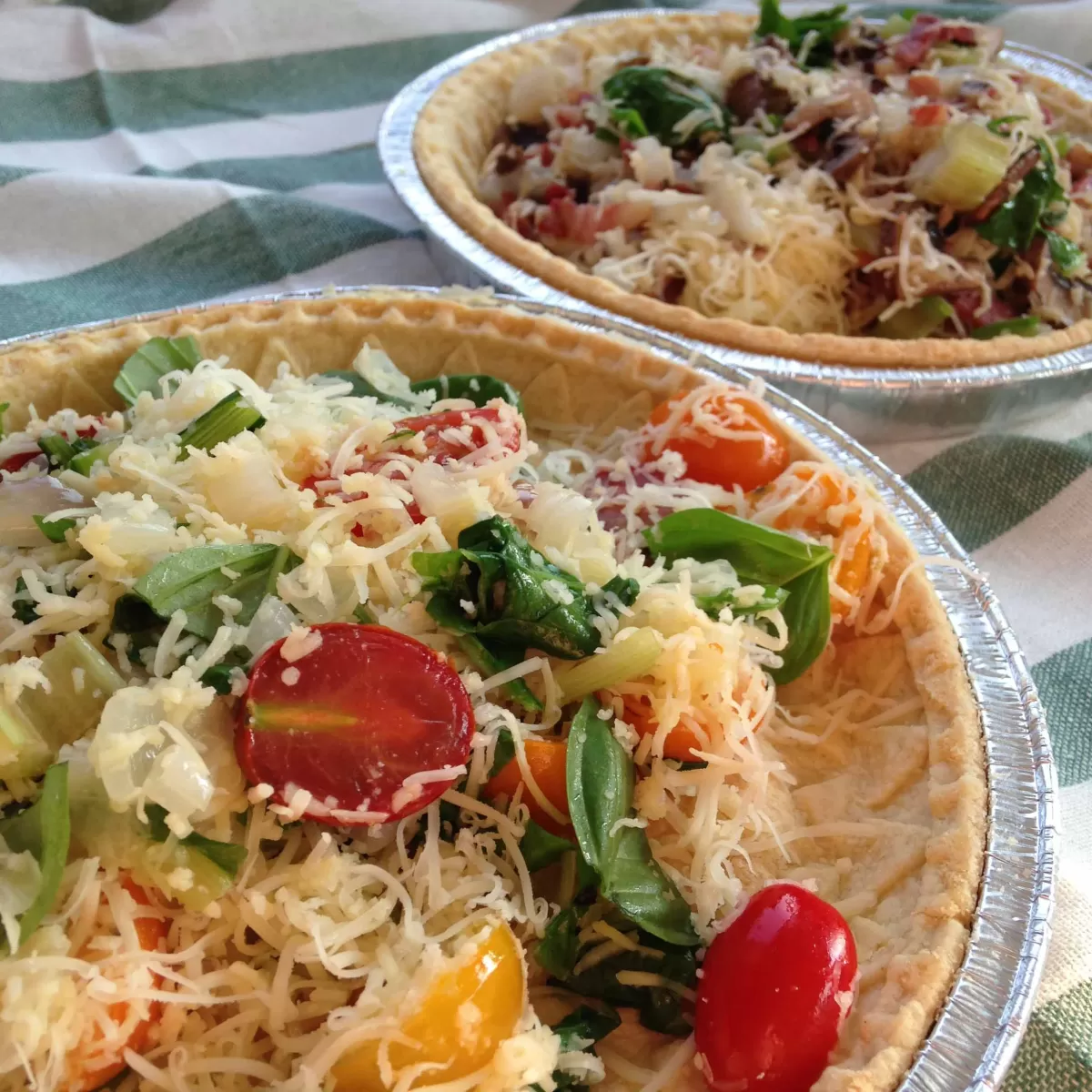 5. Over each filled case, now pour half of the egg and crème fraîche mixture until it evenly covers the fillings and wait (or help) it to settle into all the little spaces. For the Vegetarian Quiche I sliced a large vine tomato and popped this on the top for decoration and cracked over a little more pepper.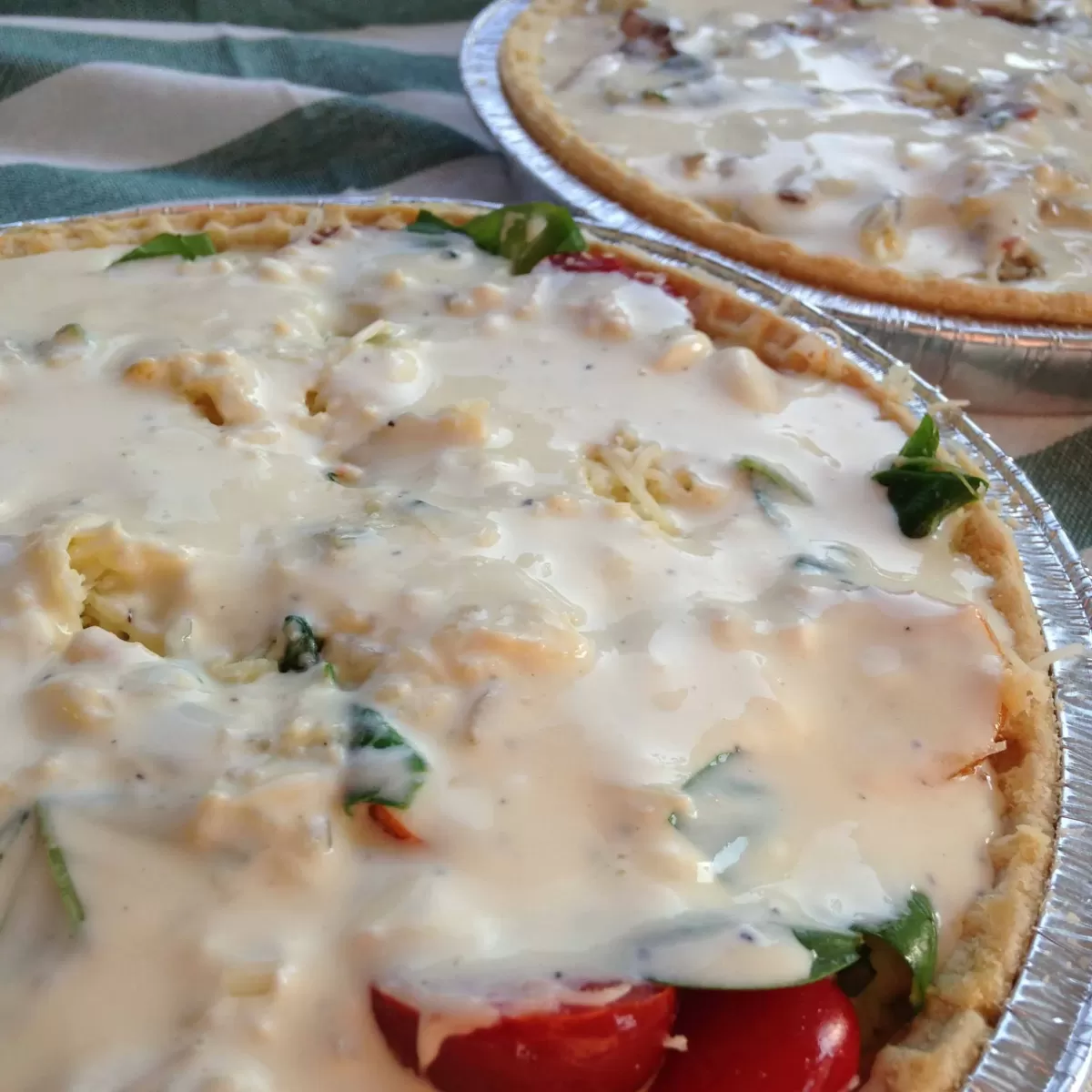 6. Move each quiche gently onto a tray and bake in the centre of the oven for 30 minutes, checking after 20 minutes and swapping shelves if one is looking browner than the other. You'll know they are done when the centre of the quiche is no longer "wobbly".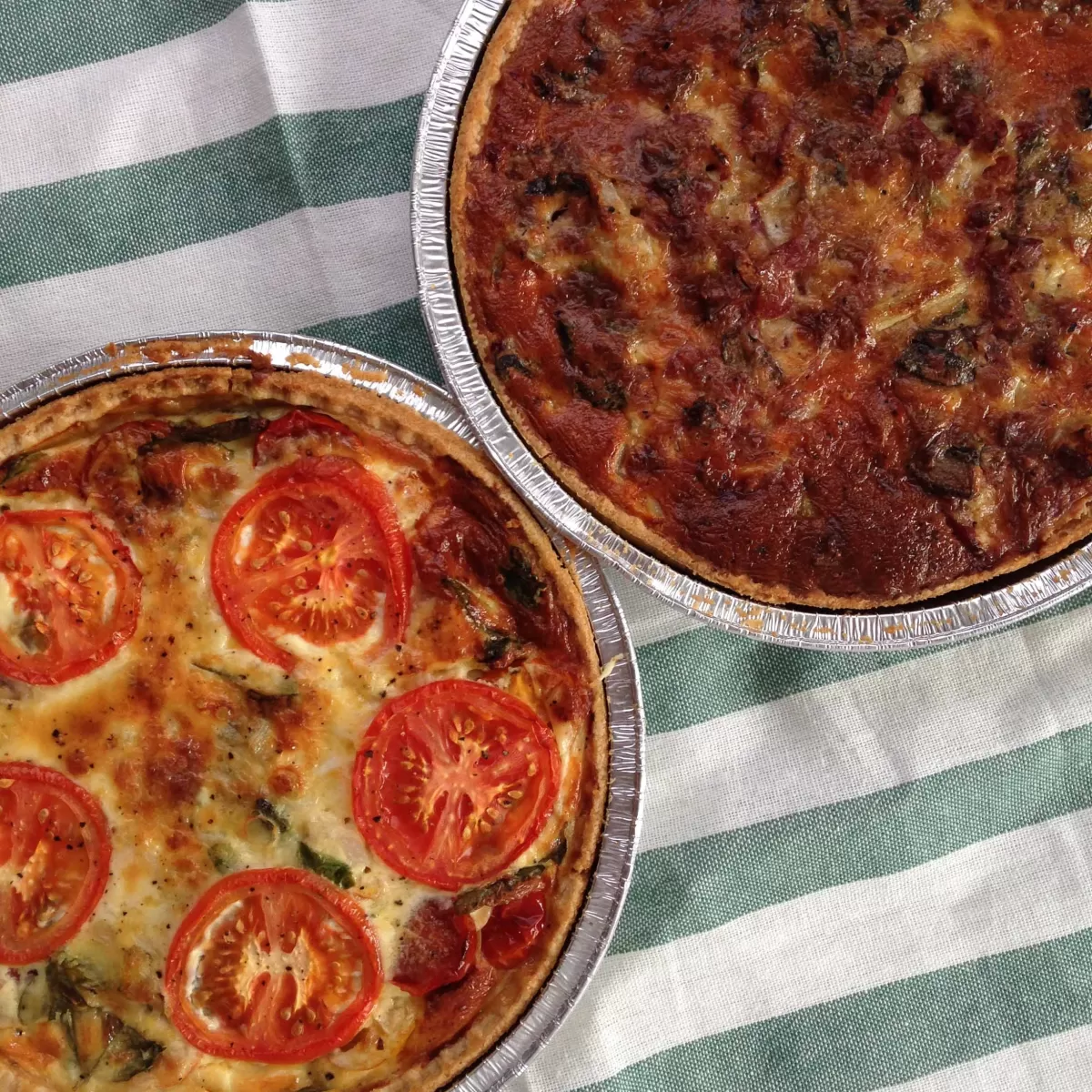 I served mine with a simple bistro side salad and a slice of good old bread and butter.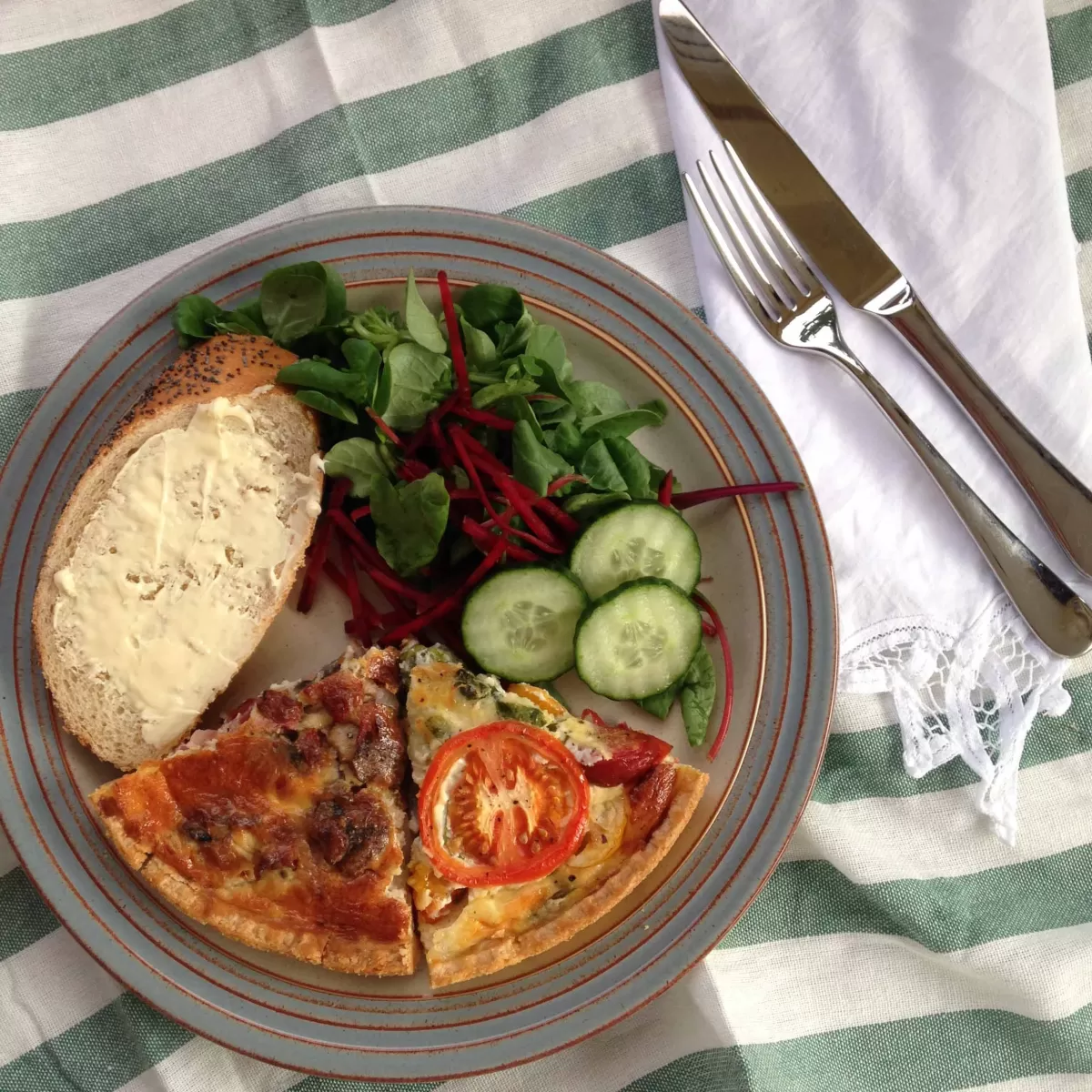 These quiches make a good light dinner, lunch, or packed lunch idea and are a great option to take to a BBQ or picnic, you can eat them hot or cold.
Don't forget to experiment, it's what makes a good home cook!
A quiche inspired by my favourite pizza is on the cards…Pepperoni, Tomato, Mozzarella and Jalapeño Quiche sounds so good…
With regards to Swiss Chard, much like Kale, it is an absolute superfood. I don't know about you, but if I'm going to eat vegetables, I want them to really pack a healthy punch. You can get some great Swiss Chard seed varieties including this one from Sarah Raven called "Bright Lights" which will make your dishes even prettier, but be aware that coloured stalk varieties are tougher and therefore will take a little longer to cook.
Swiss Chard can be grown in pots rather than the ground if you are limited on garden space - it is also a "cut and come again" vegetable so you can have a constant supply almost all year round depending on your location.
If you are a novice grower, then I highly recommend this book written by the delightful River Cottage Team to get you started.
Happy cooking!

Only £6.99 (about
$8.70)
Instant Worldwide download
Kitchen Management Manual
Printable PDF housekeeping handbook
Meal Planner
Shopping List
Recipe Card
Pantry & Freezer Guides
Seasonal Food Guides
Conversion Charts
FREE BONUS Laundry Tips!
International payment methods accepted:

All content and images in this article are copyright of The Darling Academy and are not to be shared or reproduced without our express permission.