Cheese & Broccoli Crustless Quiche Recipe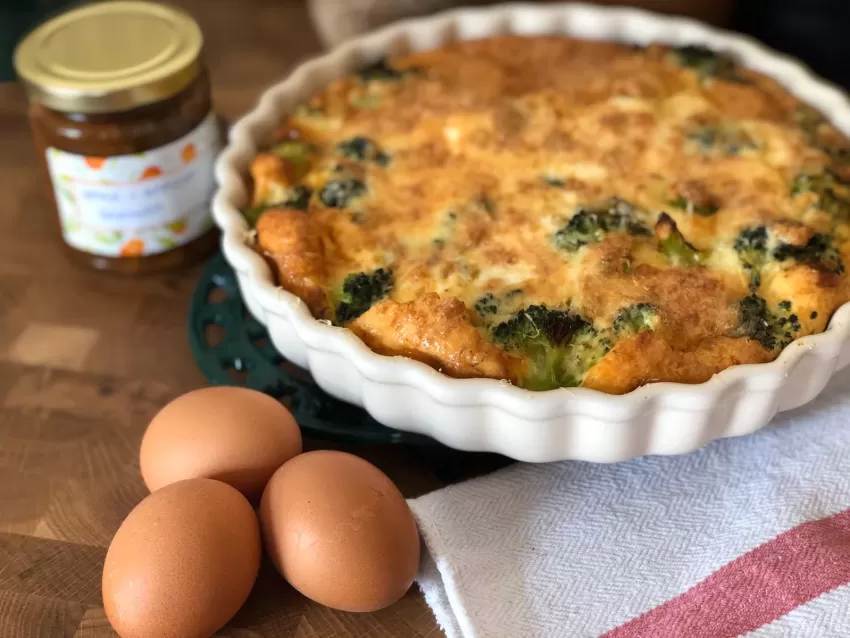 We've always been big fans of quiche in the darling household, but sometimes making (or even dealing with) pastry can be such a faff! All that blind baking, potential soggy-bottoms that would make Mary Berry cringe (if you know, you know), even the best homemaker can be put off from making it often.
However, a crustless quiche is delicious, simple, and best of all can be whipped up from fridge-to-plate in 35 minutes! My recipe uses only 5 ingredients (plus seasoning) and best of all, no pastry means less fuss, and it keeps things lighter! Try it for a light lunch or better still, a picnic. This dish would also be wonderful for meal-prep as it stores well in the fridge for several days.

Crustless Quiche, a simple recipe
We love a broccoli and cheese filling, but feel free to experiment with flavours you love! Variations can include, onions, tomatoes, courgette, peppers, ham, bacon - you name it!
Yield: One large quiche (this Le Creuset tart dish is 25cm diameter).

Serves: 6-8
Suitable for freezing once cooked. Wrap well, and use within 2 months.
Cheese & Broccoli Quiche Ingredients:

10 medium Eggs
1 large head of Broccoli
180g (1½ cups) of Mature Cheddar Cheese, grated
60g (½ cup) Parmesan or Pecorino, grated
2 tbsp Milk
Salt & Pepper
How to make Crustless Quiche
Preheat your oven to 180*C or 350*F (Gas Mark 4), and put a pot of water on to boil to steam the Broccoli.
Prepare your baking dish by greasing it lightly with a little olive oil or butter. (I use butter flavoured Fry-Light).
Wash the Broccoli and cut into small florets, the smaller the better. Place into a steam insert and steam for 4 minutes.
Meanwhile in a large bowl, crack 10 eggs, add the milk, season with salt & pepper, and whisk until the whites and yolks are combined.
Add the Cheddar and Parmesan into the egg mixture (leaving aside a little of the Parmesan for sprinkling on top).
Put the steamed broccoli into the baking dish and arrange into a nice even layer.
Pour the egg and cheese mixture over the broccoli. If you have air bubbles, wiggle the dish to help distribute the egg mixture evenly.
Sprinkle the remaining Parmesan over the top of the quiche and bake in the centre of the oven for 30 minutes until golden brown and set. Keeping an eye on it after 20 minutes in case your oven runs hot.
Leave to cool for 5 minutes before slicing and serving.
We like ours with a side salad and homemade chutney! Children love it with ketchup.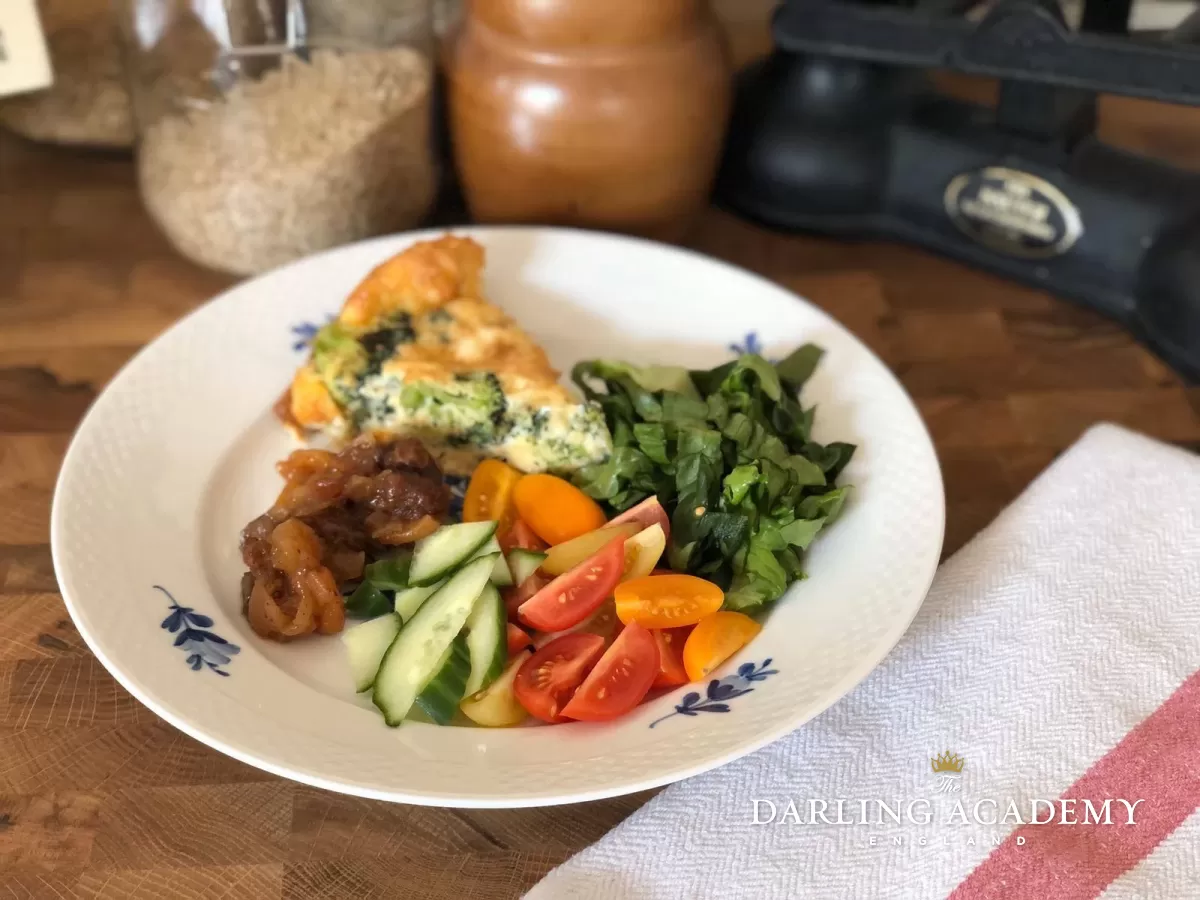 Recipe Notes:
Glass, enamel, or ceramic/stoneware baking dishes work best. For obvious reasons I do not advise loose-bottom dishes! Leaky quiches aren't fun.
You don't have to make this in a round baking dish. Try a rectangular baking dish and cut the quiche into square pieces. Perfect for picnicking.
Make sure your dish is oiled before adding the filling otherwise you risk your quiche sticking.
See, no soggy bottoms to deal with, and a delicious dish for all.
With love,

Only £6.99 (about
$8.50)
Instant Worldwide download
Kitchen Management Manual
Printable PDF housekeeping handbook
Meal Planner
Shopping List
Recipe Card
Pantry & Freezer Guides
Seasonal Food Guides
Conversion Charts
FREE BONUS Laundry Tips!
International payment methods accepted:
Stay up to date with our recipes!
Don't forget to sign up to our newsletters to receive new recipes and posts directly in your inbox.

All content and images in this article are copyright of The Darling Academy and are not to be shared or reproduced without our express permission. Affiliate links have been used in this post. There is no extra cost to you, but The Darling Academy may make a small commission on any purchases.