Pippa Middleton's Cauliflower & Broccoli Cheese
Carrying on with the cheesy comfort food theme, I'd like to introduce you to a new series here on the blog. What better way to introduce it with than something "royally cheesy", or at least - as close to royal as I'll ever get.
Drumroll please…
I'm "cooking the books"!
Nay, I'm not about to run off to some far flung island with unpaid tax lining my pockets, instead - every once in a while I will share a family favourite recipe that I return to time and time again, and our Sunday "Middleton Menu" inspired me to do so today.
I often get emails from ladies asking me to share what my favourite recipe books are, and I thought this would be a fun way to do it. To write up, review, and share the ones I love, and perhaps share the experiments too, provided they're not complete disasters!
Pippa Middleton's book Celebrate
I feel sorry for Pippa, the press really went to town when her book was published. I guess having a pretty face, shapely bottom and being close to the royals - those are, by proxy - valid reasons for the British press to dislike you. They really slated this book for being "obvious", but if you are new to entertaining or indeed love anything British then "Celebrate" really must sit on your shelves!
Pippa guides you through "a year of British festivities for family and friends", sharing classic recipes, as well as hosting, decorating, and crafting ideas season by season. The photography is so aesthetically pleasing I find it really inspirational, and in many ways - comforting. There's plenty of opportunity to reminisce, and reignite the pleasures of your childhood in party and food form.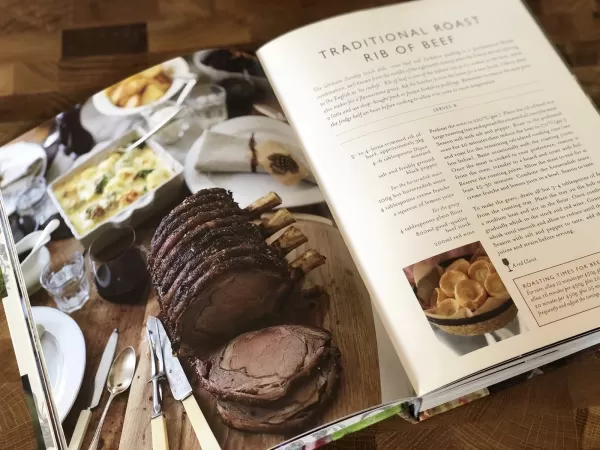 Of course, many of the recipes can be found elsewhere, they are, after all "classics", but nonetheless there's something quite lovely about flicking through while sipping a cup of tea that makes you look forward to and appreciate the little festive moments to enjoy throughout the year. Nothing seems out of reach, and Pippa's hosting tips are very useful.
Oh my goodness, do I miss parties and gatherings. Even a "Turkey Curry Buffet" would make me so very happy right now!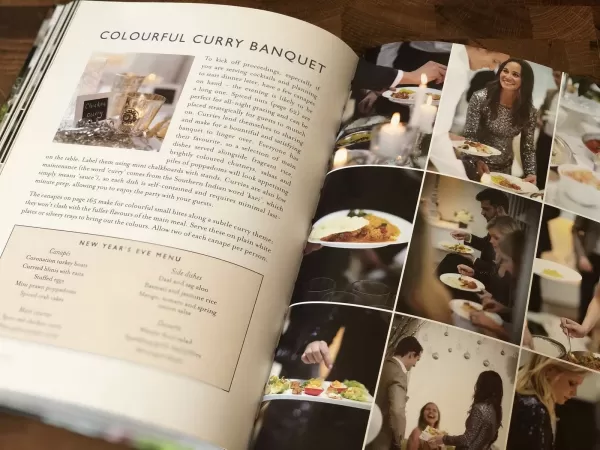 I have returned to this Broccoli & Cauliflower Cheese recipe time and time again over the years - it's incredibly simple, the boys in my house adore it, and as silly as it sounds - as a fan of anything royal and royal-connected, I like the idea that the Middleton's might dish this up for supper once in a while, in their Berkshire country pile.
Pippa Middleton's Cauliflower Cheese with Broccoli recipe
Serves: 6-8
Cauliflower & Broccoli Cheese Ingredients:
50g (½ cup) Butter
50g (½ cup) Plain Flour
1 tsp of Mustard Power (or 1 teaspoon of English Mustard), I use Coleman's
650ml (3 cups) Milk
Pinch of freshly grated Nutmeg
200g (1½ cups) of Mature Cheddar Cheese, finely grated
60g (½ cup) Parmesan, finely grated (plus extra for topping)
Salt & Pepper
1 large or 2 small heads of Cauliflower, cut into florets
1 large or 2 small heads of Broccoli, cut into florets
How to make Cauliflower & Broccoli Cheese
Preheat your oven to 180*C or 350*F (Gas Mark 4), and put a pot of water on to boil to steam the vegetables.
Wash the Cauliflower & Broccoli and cut into small florets. Place into a steam insert and steam for 5 minutes. Once steamed, arrange in a single layer in a large shallow baking dish.
Meanwhile in a large saucepan, create a roux by melting the Butter, then add in the Flour, stirring constantly and cook for 2-3 minutes. It should thicken into a paste like consistency. Add mustard powder to this paste and stir to combine.
Reduce the saucepan to a medium heat.
Add the milk to the roux a cup at a time, continually whisking to combine the roux and the milk, taking care not to scald the mixture or bring it to a boil.
Once you have added all the milk, keep stirring until the white sauce thickens to a runny custard consistency.
Remove from the heat, season the sauce with Salt & Pepper and the grated Nutmeg.
Add the grated Cheddar and Parmesan into the white sauce and stir to combine. The Cheese will melt into the sauce and thicken it up considerably.
Pour the cheese sauce all over the Cauliflower and Broccoli, and sprinkle the top with a little more Nutmeg and Parmesan.
Bake in the centre of the oven for 35 minutes until golden brown and bubbling. Keeping an eye on it after 25 minutes in case your oven runs hot.
Leave to cool for 5 minutes before serving.
We enjoyed ours as "the main event" for a vegetarian Sunday dinner alongside buttered potatoes and minted peas, but this dish is also wonderful as a side with Roast Beef, Pork, or Lamb too.
Recipe Notes:
Glass, or ceramic/stoneware baking dishes work best. I do not advise metal baking dishes as they run too hot.
A heaped teaspoon of Wholegrain Mustard takes this dish from good to great!
Adapt this recipe by reducing the cauliflower and broccoli, and adding fried bacon lardons and cooked pasta for an instant pasta bake.
Fried bacon lardons added as a topping make this extra scrumptious.
Don't forget to "celebrate" the simple things!

Cooking the books
This recipe was shared and adapted from Pippa Middleton's "Celebrate", published by Penguin/Michael Joseph 2012.

Copyright belongs to the respective author and publishing house.
I highly recommend adding Pippa Middleton's Celebrate ~ a year of British festivities to your cookbook selection. Secondhand copies can now be picked up inexpensively on Amazon.

All content and images in this article are copyright of The Darling Academy and are not to be shared or reproduced without our express permission. Affiliate links have been used in this post, there is no extra cost to you but The Darling Academy may make a a small commission on purchases.