Perfectly British Wedding Gift Ideas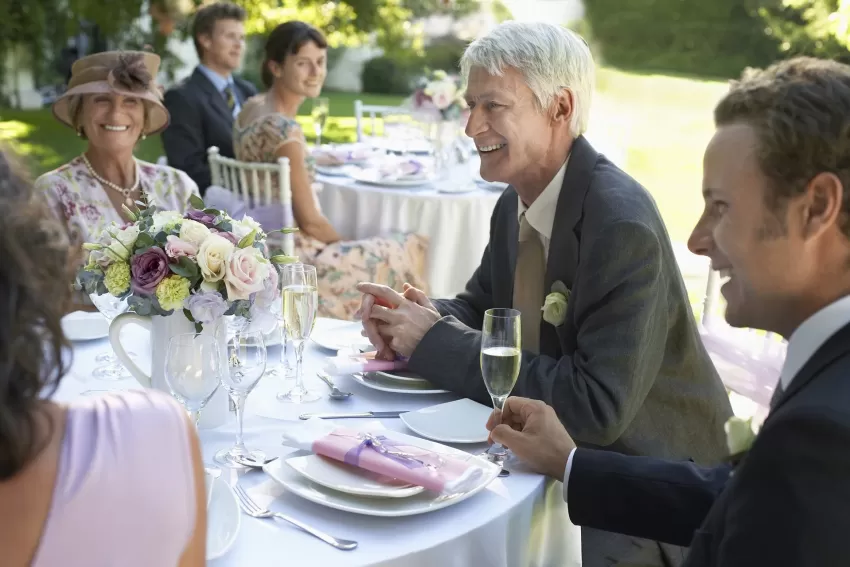 Church bells ring in villages all over the United Kingdom, signalling the start of wedding season once again. Once you've promptly taken care of your RSVP, and swotted up on the etiquette of what to wear, your attention must now turn to sourcing a lovely gift to bestow upon the happy couple.
No, turning up empty handed is not an option.
Modern weddings are a distant cry from those of two decades ago. In the majority of cases, gone are the gift lists, and in their place a request for cold hard cash, donations towards a honeymoon, or money for a good cause. In some cases couples have been known to ask for no gifts whatsoever - a flat negative on the very idea. Unless they are minimalists, or have stated this for environmental reasons, feel free to ignore them.
While it's also nice that couples are confident enough to plainly ask for what they want, (probably in fear of being the recipients of a toaster, or two), good etiquette still dictates that you should never request what you want, and instead gratefully receive what your beloved guest chooses to give you.
The art and beauty in gift giving is in the thought, not the request.
Many people still love to give gifts, but some feel unable and uninspired to find 'just the right thing' for such a special event.
So what does one get the couple who have everything? The couple who have double the household goods, and probably very specific tastes?
This collection compiled by The Darling Academy are some of the finest British home goods and lifestyle products any bride and her groom would be delighted to open, once the last of the Champagne has been finished and the confetti swept clean away…
A luxury picnic set from Amberley Hampers
In order to facilitate a lifetime of spontaneous romantic dates, and wonderful family days out once the pitter patter of tiny feet arrive, why not consider a quintessentially English luxury picnic hamper?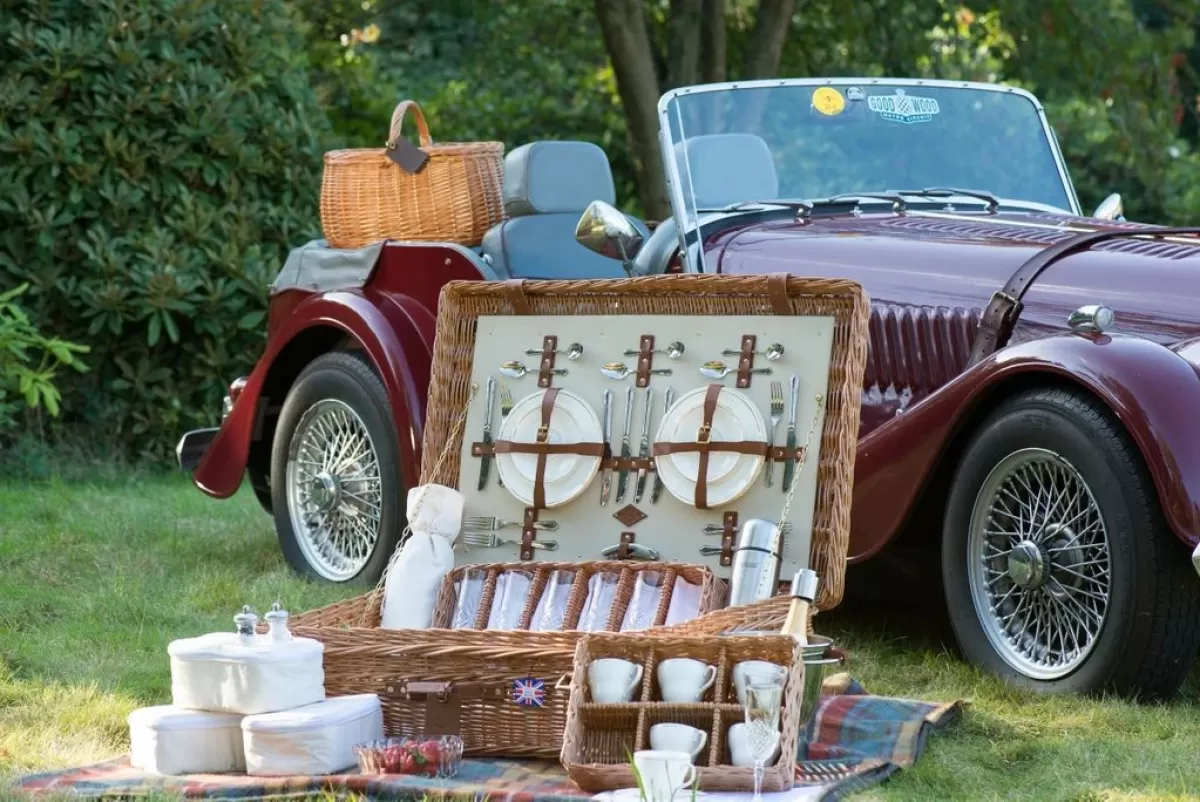 Amberley Hampers have been designing the highest quality fitted picnic hampers since 1989. Their range of twelve luxury hampers take their names from the best events of the British season, holiday spots, and decadent times in history. The range includes something to suit everyone from the sweet top-handled Henley, the beautiful Ascot, the generous Goodwood, and my personal favourite, the elegant Edwardian with its stunning British Racing Green interior. Most of the picnic hampers are customisable and can be personalised. Every hamper is woven from British willow, made to order, and hand fitted at their workshop in the beautiful wooded Surrey Hills in the South of England.
Carefully designed to continue to provide great service for more than one lifetime, to ensure that you and your descendants continue to get great use from them year after year.
Amberley Hampers ship worldwide!

Perfectly British bubbles with Nyetimber
Nothing says 'celebration' quite like a crisp cool glass of bubbles, and what better way to mark the occasion than a case of Nyetimber to start off the newlywed's cellar.
Grown across nine perfect greensand and chalk soils on vineyards across Sussex, Hampshire, and Kent, the Nyetimber grapes grow on gently sloped fields to allow for the best exposure to our glorious English sunshine. Over the past 30 years, Nyetimber wines have won international awards and blind tasting competitions, rivalling anything imported from across the channel.

Married couple Cherie Spriggs and Brad Greatrix first joined Nyetimber as winemakers in 2007, after trying a bottle gifted to them by Cherie's parents. They recognised the promise of this early wine, and for the past 11 years, Cherie and Brad have been integral to building Nyetimber into a sparkling wine producer that is rivalling the best in the world. A true testament that the heart of this lovely English wine is built upon a foundation of gift giving to married couples.
If you are really lucky you can spot The Nyetimber a 1968 Routemaster bus at the best summer events across Britain, hop aboard to quaff your glass in spectacular fashion.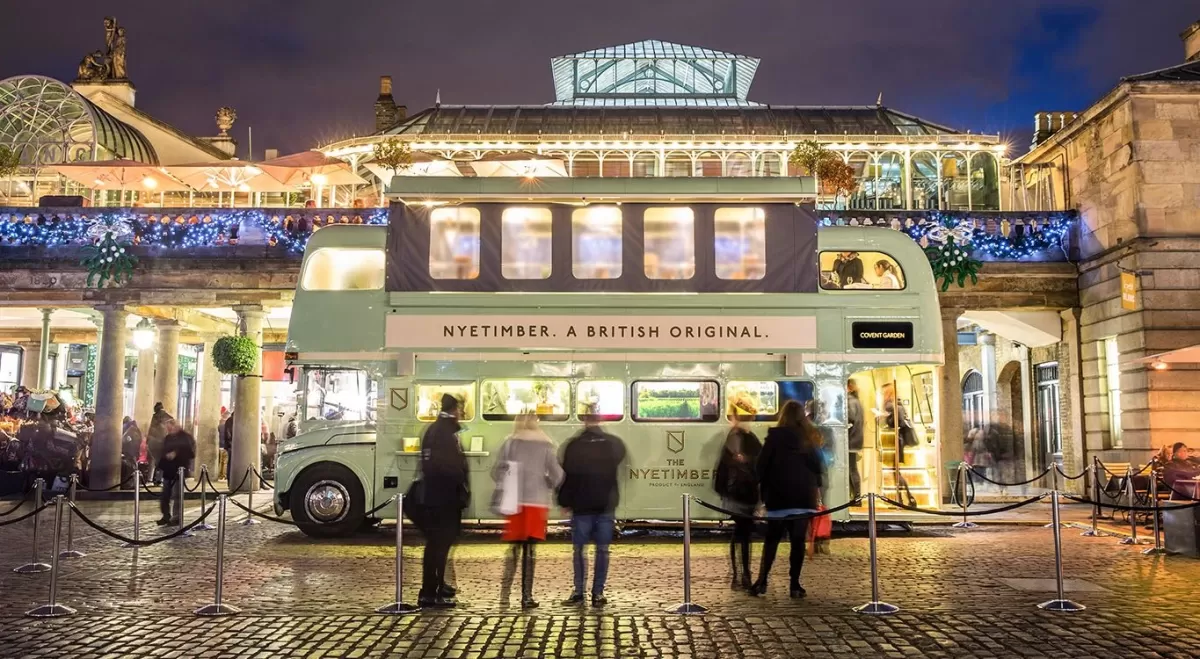 Nyetimber can be found at quality wine merchants and retailers worldwide.
The Darling Academy recommends Waitrose Cellar.

Tea for two, an entire collection (or just a few) with Cornishware
To have a set of matching dishes makes one feel rather 'settled down'. It brings a smile to the face, a sense of occasion to the table, and is something the younger generation aren't particularly au fait with. Many young married couples continue to miss out on this simple pleasure, instead eating off mismatched china from their 'single' days.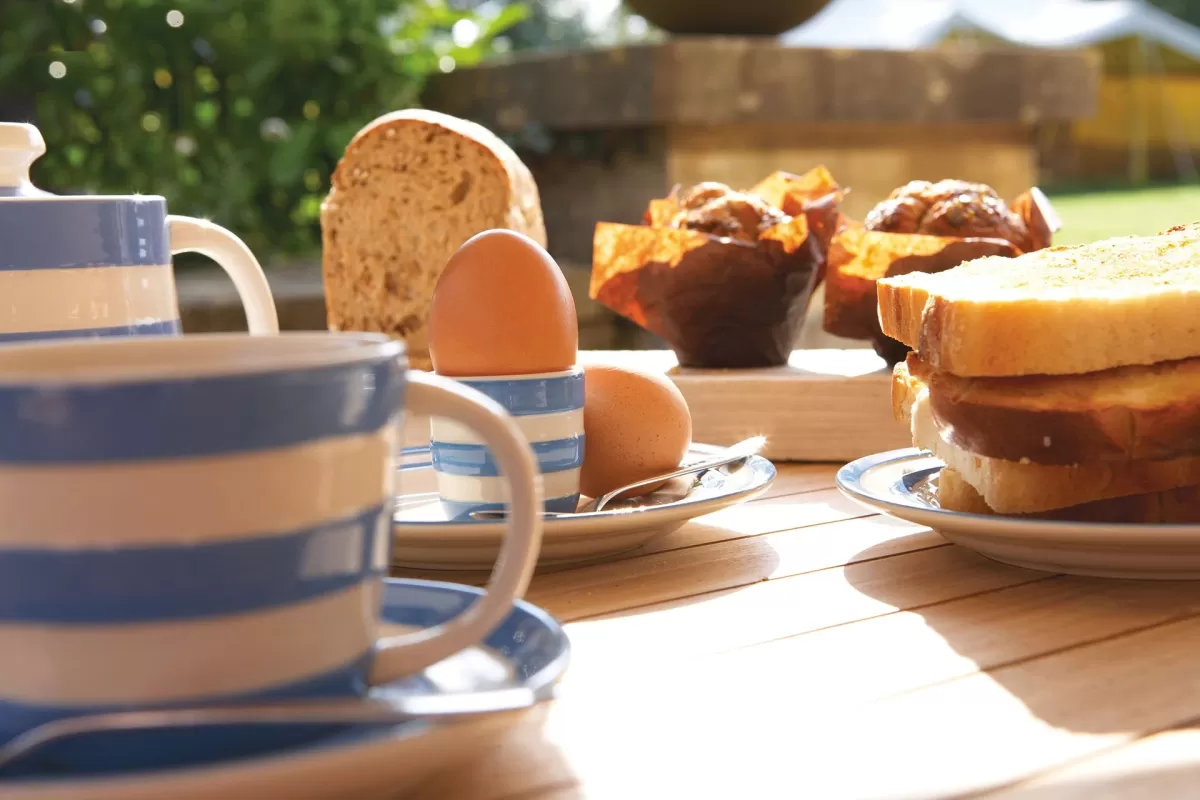 Help them curate that homely blissful feeling in an instant by purchasing a few pieces of iconic striped kitchenware from Cornishware. It could be the start of a joyful collection that can be added to and cherished over the years. Blue and white is a classic, clean and charming colour combination that will go with almost any design of kitchen (modern, or rustic), and pairs nicely with any existing pieces of pottery. For real colour enthusiasts, pieces can also be purchased in a rainbow of options. The breakfast set makes a nice starter, or explore their carefully curated gifts for weddings.
A British design icon, Cornishware has been supporting Britain's cooks, bakers, and tea makers for nearly 100 years. Cornishware was founded by Thomas Goodwin Green back in 1864, and rumour has it that he bought up an existing pottery factory while he was on his honeymoon with his new wife. Once again, a product with its roots in nuptials! Many pieces can also be personalised for that extra special touch.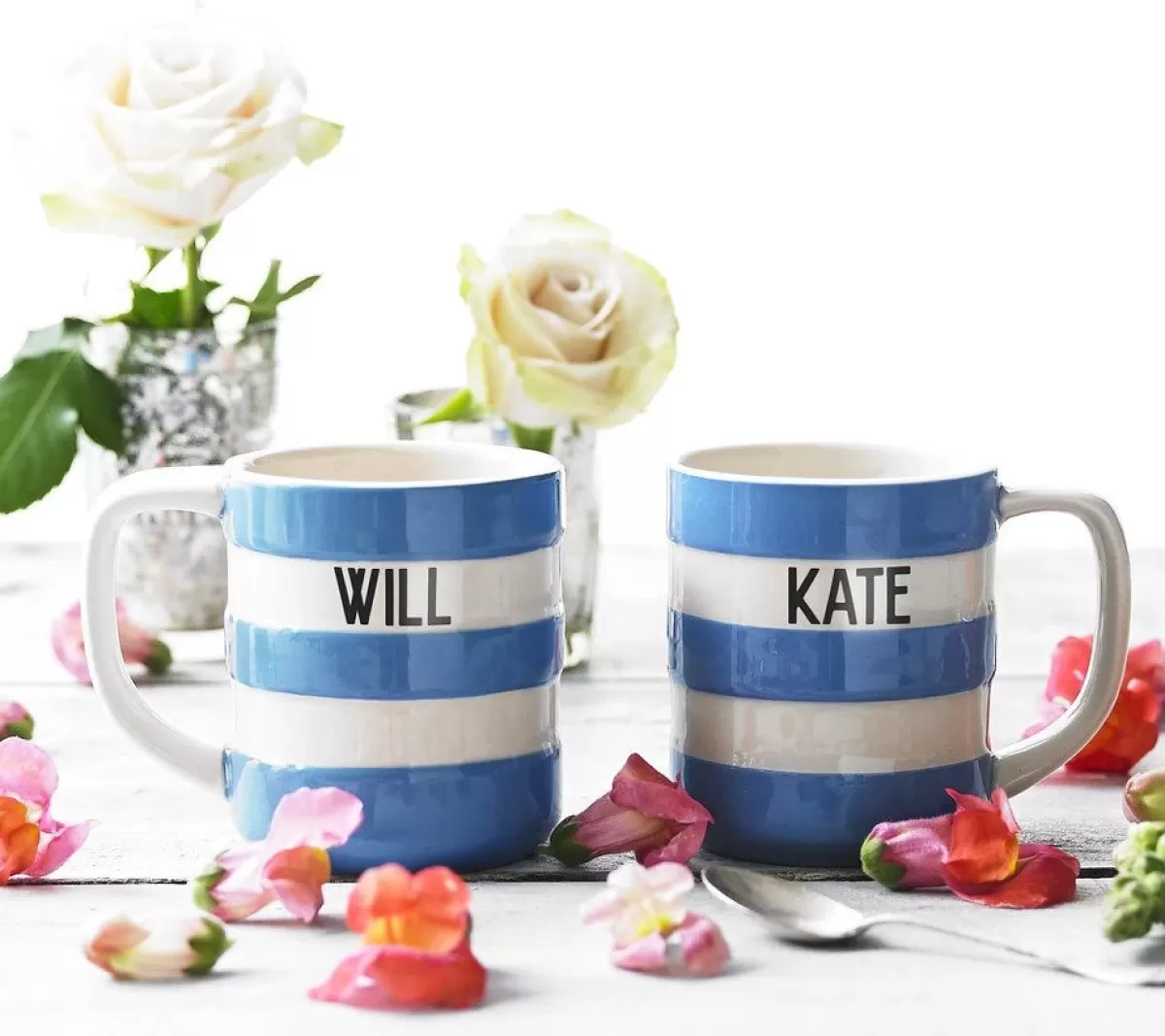 I myself grew up with breakfast, lunch, and dinner served on these dishes. The nostalgia associated with such a classic design can never be replicated by your bog-standard white china found in supermarkets.
Buy them something classic that will become part of their life story.


Beautiful bespoke dinner napkins from
Extra Special Touch
Good dinner party etiquette dictates you provide a napkin for your guest. Paper is no longer passable, or elegant, nor eco-friendly, so why not gift the couple with a pretty set of custom embroidered napkins designed and made to their tastes.
Heidi Lawton of Extra Special Touch will take your design ideas and create an exquisite set of linen napkins for the special couple to add a touch of whimsy, for the humblest of weekend morning fry-ups to the most lavish of dinner parties.
You could even go one step further and make something truly unique, the only limit is your imagination. Be sensitive however to the decor and colour choices in the home of the newlyweds - opt for something tasteful and classic. Refined is always best.

Hundreds of free days out at over 500 special places with the National Trust
After the inordinate cost of most modern weddings, the Bride and Groom may be licking their financial wounds for a while, and so dates and carefree days out can be put on the back-burner. What many people do not realise is that;
even though it felt like a marathon to get there, the wedding is the very start of your journey, not the end
It is so very important to keep on dating your spouse in order to keep the spark alive and give you both a break from the routine of daily life. Getting out there in the fresh air, to stretch your legs and absorb a bit of culture is a productive, healthy, and positive way to spend time with one another as opposed to gobbling a cheap pizza in front of the telly box.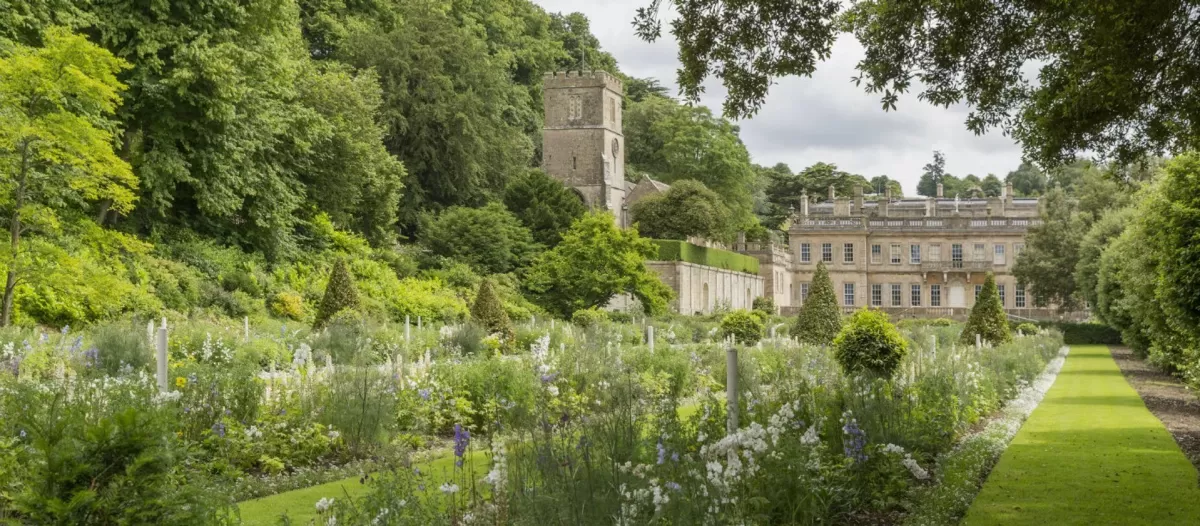 A year long National Trust membership bought for the couple (or their small family), will afford them hundreds of free days out, with nothing more than the cost of petrol, and perhaps a picnic.
This gift will also appeal to those who like to support good causes, as your donation towards the membership helps to protect, restore, and maintain some of Britain's finest stately homes, green spaces, gardens, art collections, and heritage. For those living in other nations, research options of local trusts or perhaps buy them a season pass for the theatre, cinema, or local theme park.
It's a very reasonable price when you consider the couple have a wealth of relatively free days out to choose from for the entire first year of their married life at any National Trust location, which are perfectly preserved, and host of the finest parks and houses Britain has to offer.

Gift etiquette for weddings
Regardless of what you choose to give the couple, there are a few little rules of politeness to remember;
It is customary to bring a gift if you attend the wedding. If you did not attend, whether to give a present is at your discretion.
It is also at your discretion to buy from the suggested gift list, or not.
If you are giving cash or a cheque, pop it inside a greeting card and hand it personally to the groom. Or place in the dedicated card box at the wedding breakfast.
Small gifts can be taken to the reception, but left on a present table - not off loaded into the arms of an unsuspecting wedding attendant.
If a present table cannot be identified, ask the Best Man where the ideal place to leave your gift may be. It is his duty to take care of such arrangements.
Larger gifts are better sent ahead of time (to the bride, or her parent's home), or to the marital home once the couple return from honeymoon.
If no thank you note has been received in a timely manner (4 weeks from return of honeymoon), it is ok to casually ask if the couple liked your gift. This is less of a prompt, more of an enquiry as to whether they received it—but does ruffle their feathers enough to remind them to get on with the task of writing and sending thank you notes.
Mr & Mrs - notes on being grateful recipients
It is ok to ask for what you would like, but do not expect everyone to adhere to your list.
Be very insistent if you want donations made to charity in your name (donations for honeymoons and home extensions are not the same), otherwise expect gifts from traditionalists.
Make an event of the gift opening, pour Champagne and enjoy this moment together.
Alternatively open one gift a day to delay the pleasure - and write a thank you note right then and there to ease that task.
As you open the gifts, have one of you make a note of who gave you what item.
If you truly dislike a gift, be gracious and thank the person who bestowed it upon you anyway. Do not let slip to anyone, even jovially that you didn't like it. Feelings will be hurt if the news gets back to them. Put the item away for at least a year, and quietly move it on (donate/sell) after that.
Write your thank you notes in a timely manner (to be received no later than 4 weeks after the wedding).
It is nice to thank people individually and refer specifically to the gift they sent you.
Do not send a thank you by text or email. Only cards or notecards delivered by post are appropriate.
In order to personalise your thank you, consider having a photograph taken at the wedding with a handmade 'thank you' sign, then print and attach with photo corners to plain note cards. Or source really gorgeous ones from The Grosvenor Stationery Co.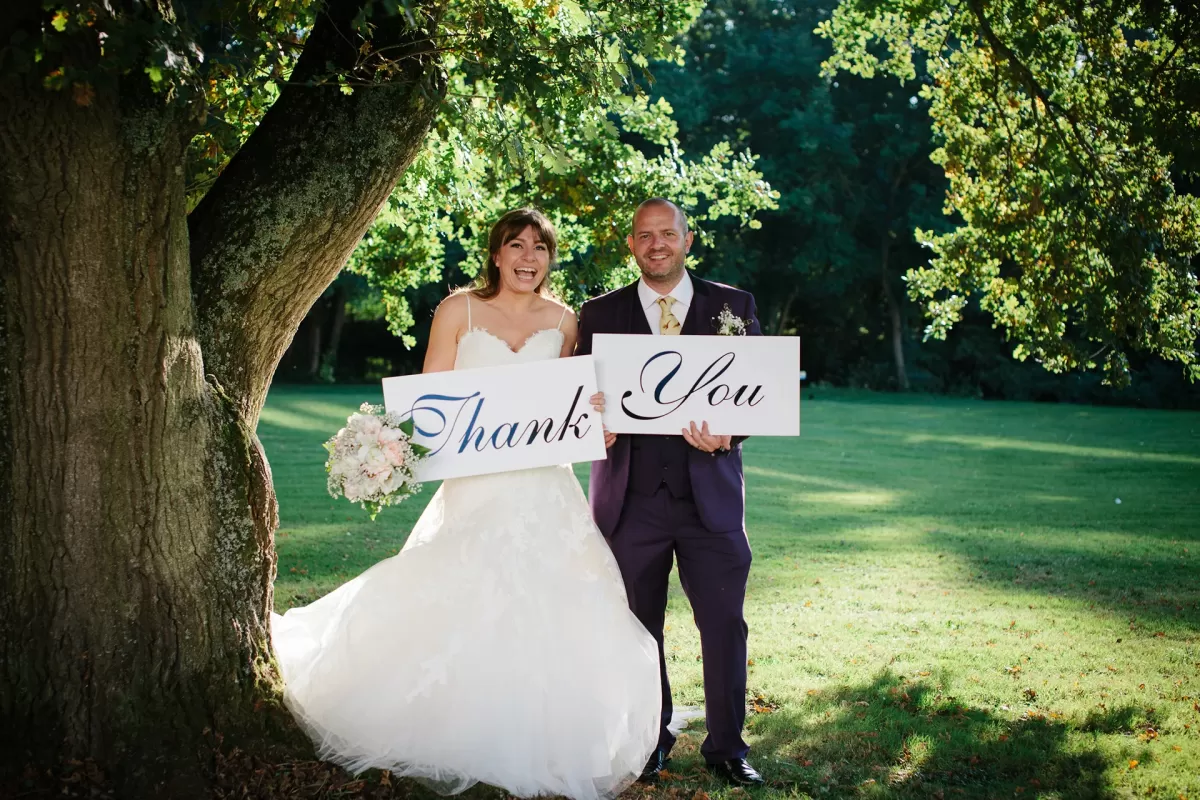 If these lovely gift ideas still don't tickle your fancy, you can always go with the traditional route and consider china, cutlery, crystal, or… a toaster.
Happy wedding season! Not too much champers now…
Alena x

All content and images in this article are copyright of The Darling Academy and are not to be shared or reproduced without our express permission.