Best Ever Apple Crumble Cake Recipe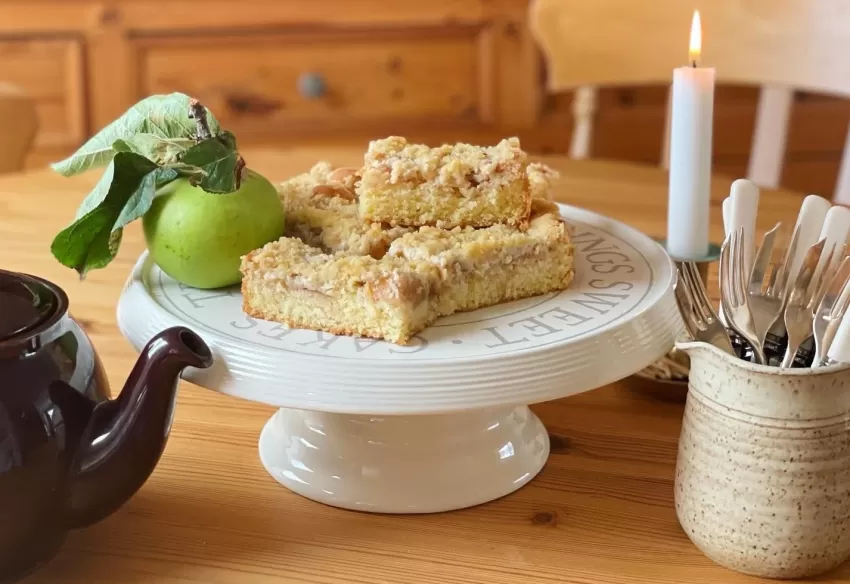 Autumn is steadily approaching here in England. It would seem our Summer was but one heatwave this year, and if I'm to be honest with you - I couldn't be more glad we only had to suffer the heat for a week or so.
I'm just not a hot-weather girl at all, which makes England my utopia - always a little chilly, rainy, or overcast, the opportunity for "cosy" all the time makes my soul sing. I think Anne Shirley and I have more in common than I'd like to admit, this is my season too!
It's a little obvious how much I seem to come alive at this time of year, my Mum has always known since I was very little that Autumn is my very favourite, now sending me seasonal recipes, or links to Autumnal decor because they make her think of me… Perhaps being a November baby has influenced my preferences, but all the best things do happen this time of year!
Delicious autumn! My very soul is wedded to it, and if I were a bird I would fly about the earth seeking the successive autumns. George Eliot
The fire is lit every evening, the house always filled with candlelight, we snuggle in our cosiest clothes, walks outside are fresh and invigorating, not to mention all the best food and holidays come out to play! Harvest Festival, All Hallow's Eve, Bonfire Night, (then my birthday), and onwards to the delicious swing of Christmastime. People and families are together more than ever, and you know that is truly my favourite thing.
I'd like to share my Mum's Apple Crumble Cake recipe with you today, which she has kindly given me permission to share with you gorgeous lot. (It's good manners to ask first, of course).

How to make Apple Crumble Cake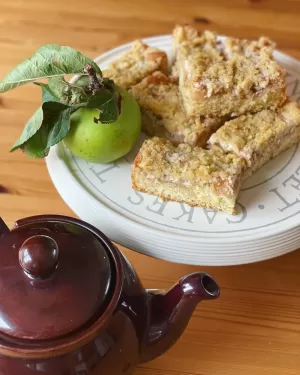 The deliciousness and versatility of this cake speaks for itself. We've had it as-is, on a plate with a cuppa for afternoon tea, but it's also amazing when warmed up and swimming in custard. Serve it how your heart desires! I'd like to try it with Caramel sauce soon.
The recipe also calls for eating apples, which are abundant at this time of year, but don't be afraid to experiment with other types, just don't use anything "too wet" (such as stewed apples) else, the cake batter may not cook through. It's nice when the apples have a little bite in them! I think an additional sprinkle of chopped Pecans or Hazelnuts would be wonderful on this too. If it's good enough for the Squirrels, it's good enough for an Autumn lover…
I hope you enjoy this recipe as much as we do!
For an easy to understand British to American baking conversion chart, please see our Kitchen Management Manual.
Ingredients for Apple Crumble Cake

For the crumble topping
100g Plain Flour
70g cold Butter, chopped into small pieces
75g Light Brown Sugar
40g Oats (optional)
For the cake

100g Plain Flour
100g Butter, at room temperature - plus a bit extra for greasing
2 large Eggs
100g Caster Sugar
1½ tsp Baking Powder
4 red/pink dessert (eating) Apples, such as Gala or Pink Lady
1 unwaxed Lemon, zest grated, and juiced
1 tsp Ground Cinnamon

Method
Preheat the oven to 180*C/160*C Fan/Gas 4. Grease the sides of a 20cm/8in square cake tin and line with baking paper. You want the baking paper to come up the sides and allow you a little extra "skirting" around the edge as we'll be using this to pull the cake out of the tin later.
Make the crumble topping by rubbing the flour and butter together with the tips of your fingers until the mixture resembles rough breadcrumbs. You can also use a pastry blender (as I do - it's a nifty tool!), or food processor on pulse for this step to ensure ingredients stay cold. Stir in the light brown sugar (and oats, if using). Cover, and keep in the fridge until needed.
Now make the cake, by beating the sugar and butter together until light and fluffy. Add in the eggs one at a time, adding half the flour after you've beaten in the first egg, then stir in the rest of the flour and the baking powder.
Peel the apples, then cut each one into quarters, remove the core and cut each quarter into four long slices. Put the apple slices in a bowl with the lemon zest, juice and cinnamon. This step prevents the apples from browning, so work quickly to get the apples mixed with the lemon juice.
Pour the cake mixture into the prepared tin, and place the apples on top in neat, slightly overlapping lines, then cover with the cold crumble topping.
Bake the cake in the middle of the oven for 40 minutes, or until a skewer inserted into the centre comes out clean.
Leave to cool in the tin for 10 minutes, then take the cake out carefully using the parchment paper and place onto a wire rack crumble side up.
Slice into equal squares or rectangles, depending on the serving size you want.
Serve warm or cold with lashings of custard, double cream, or vanilla ice cream. Also tastes fantastic just on its own!
*Will keep in an airtight container for 3 days.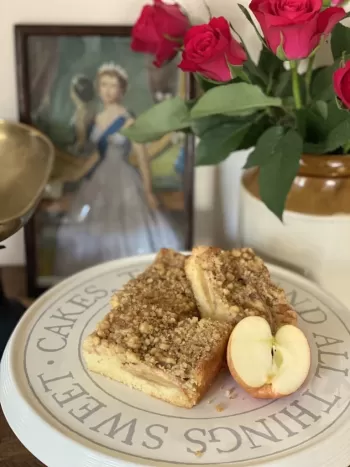 We hope you enjoy this recipe! Please do let me know if you make it.
With love and cosy blessings from my family to yours,

Become a friend of The Darling Academy
I do hope you enjoyed this article, if you like our values here at The Darling Academy and found this post useful or inspiring, would you kindly consider supporting the blog.

You can also join our women's only private Facebook Group here.

All content and images in this article are copyright of The Darling Academy and are not to be shared or reproduced without our express permission. Affiliate links have been used in this blog post.