Vintage inspired banana & cinnamon cupcakes recipe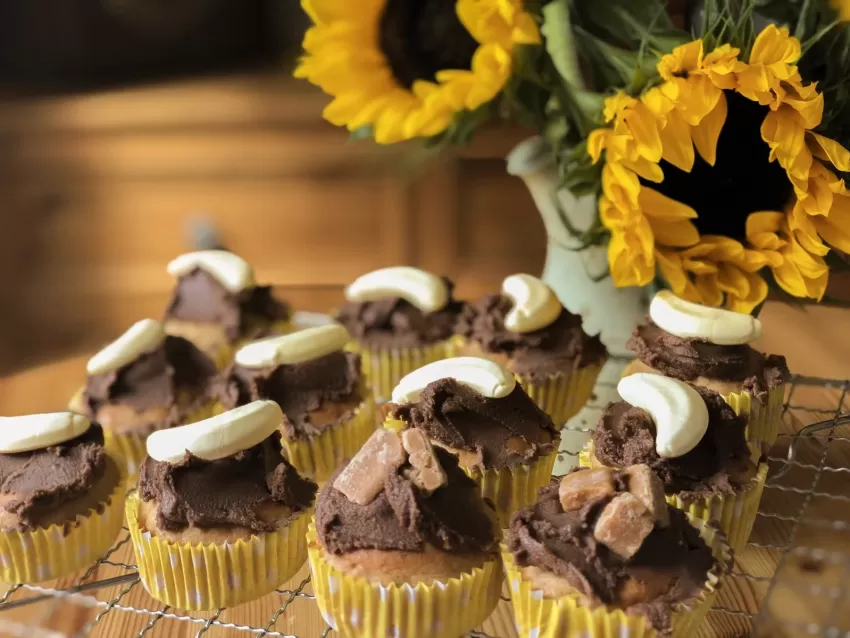 The one thing I really love about the little "communities" you can find on Instagram and through blogging, is the ability to share resources, recipes, and lifestyle ideas with likeminded people all over the world.
Just last week, one of my favourite accounts to follow, Michelle from Remembering The Old Ways, shared this recipe from a very old, 1930's vintage cookbook. Spying a few spotty browning bananas in our fruit bowl, I knew I wanted to try something other than the usual banana loaf with them. My banana bread is adored by my boys, but it can get a bit boring baking the same old thing!

In many ways, I found this recipe so much simpler than banana bread in that the ingredients are fewer, the quantities lower, they are quicker to make and bake, plus cupcakes are much more child-friendly. We are taking this batch to a playdate at a friend's house tomorrow, and from the smell that emanated from the kitchen during the bake, plus the taste of one I gobbled up - I know everyone will love them!
There are a couple of changes made to the original recipe, namely butter used instead of margarine, and it had no frosting. If you don't like frosting, omit it. These would be great topped with a dollop of Nutella too! Mmmmmmm.

The next time you have some dotty "narnas", why not give these a go? I'm also marking this one down as a Christmas-appropriate cupcake, the warmth that came from the cinnamon had me wishing for cooler temperatures. My "Christmas in July" daydream of snowfall, the house bedecked in fairy lights, endless cups of chai tea, plus a plate of these cupcakes is almost too much to bear! I'm dreaming of displaying them all prettily on this new kitchen island I've ordered too.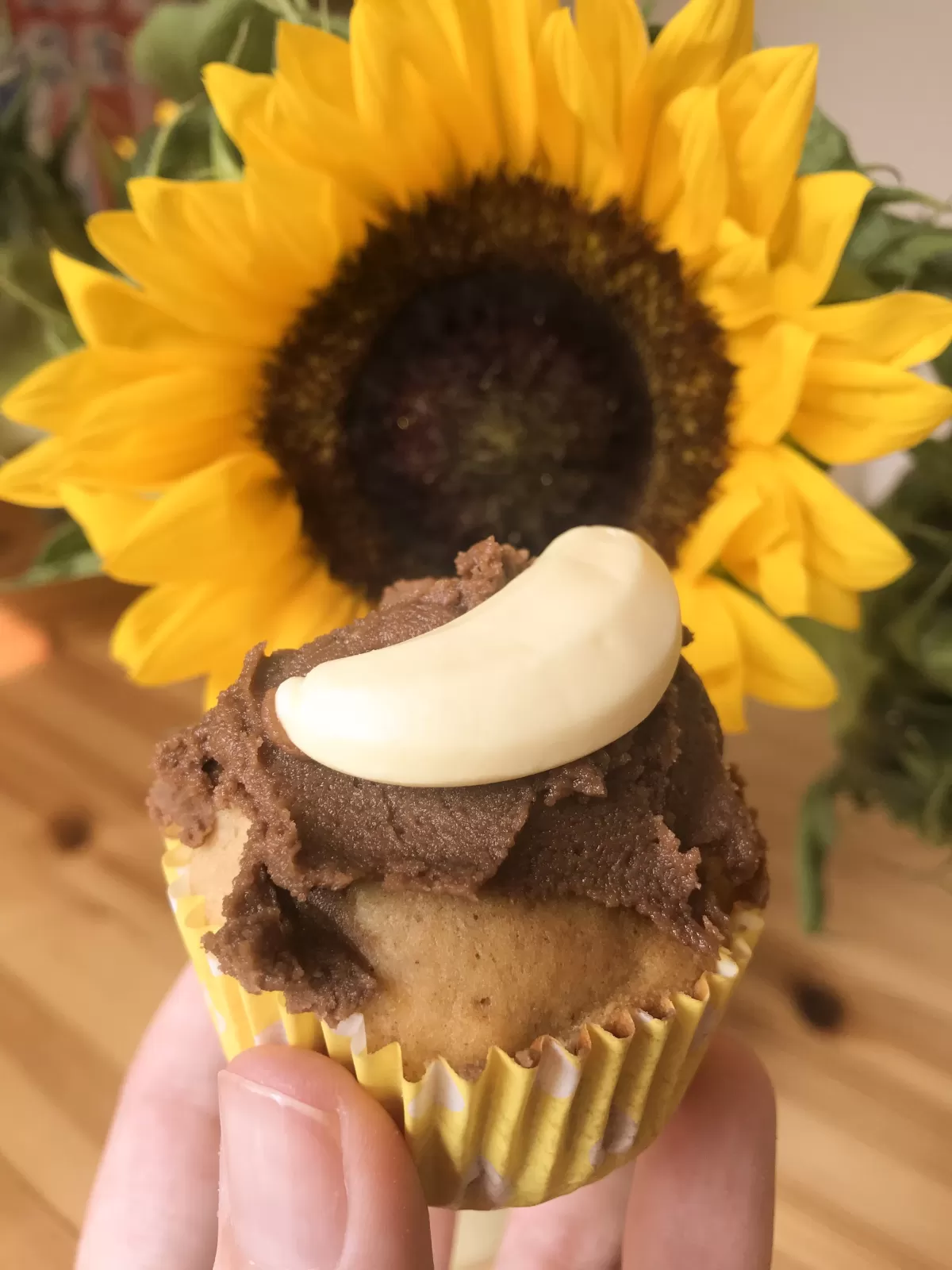 Banana and Cinnamon cupcake recipe
Yield: 12 medium sized cupcakes, or 8 larger muffins.
Storage: Suitable for home freezing if left unfrosted. For freezing, wrap individually in cling film, or vacuum seal. However these are best eaten fresh. They'll last for up to three months in an airtight container. Defrost in an hour or two at room temperature.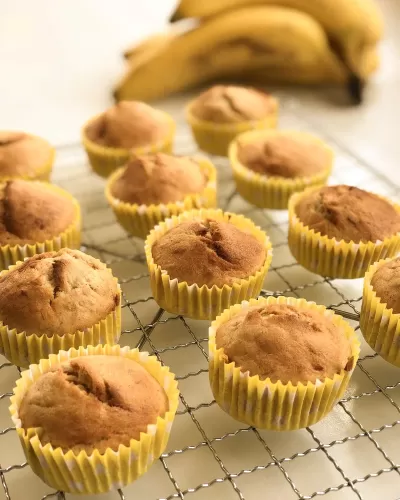 Banana cupcake ingredients:
170g (3/4 cup) of self-raising flour. Sifted
80g (1/3 cup) caster sugar.
80g (1/3 cup) unsalted butter. Softened.
2 over-ripe bananas. Mashed
1/2 tsp ground cinnamon.
1 large egg. Beaten.
Easy chocolate buttercream frosting ingredients:
200g (2 cups) icing (powdered) sugar. Sifted.
120g (1/2 cup) unsalted butter. Softened.
1 drop Sicilian Lemon extract (not necessary, but I liked the fresh kick it gives).
50g (1/3 cup) cocoa powder. I used Green & Blacks.

How to make banana cupcakes
Preheat your oven to 180°C or 350°F (Gas Mark 4).
Line your cupcake tin with cupcake cases.
Beat butter and caster sugar together until light and fluffy.
Once combined, slowly sift in the flour and continue to beat, meanwhile adding in the mashed bananas, whisked egg, and cinnamon.
When your batter is smooth, carefully divide between all cupcake cases, making sure to leave a little room at the top of the cases in order for the cakes to rise.
Bake in the centre of the oven for 20 mins. Checking after 17 minutes in case your oven runs hot. These come out quite "blonde", so don't wait for them to go too golden.
Once lightly golden and cooked through, remove from the oven and allow the cupcakes to cool in the tin.
Meanwhile, make the chocolate frosting
Beat the butter until soft (ideally in a stand mixer), and tablespoon by tablespoon, add the icing sugar and cocoa powder. Don't forget the lemon extract! You can make this with a hand whisk, but be careful not to dump the icing sugar in all at once or you'll end up in a cloud of it!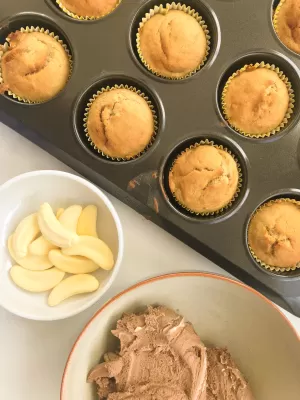 Once the cupcakes are completely cooled, pipe the buttercream over the top of the cupcakes, or if you are a little more rustic and carefree in your aesthetic (like me), just slather it on with the back of a spoon! It spreads a little easier when at room temperature.
Crown with foam bananas if you're into 'em (we had a small packet leftover in the sweetie box).
Dried banana chips would make these a bit more grown up.
Or go decadent with chocolate chips, or fudge. Yum!
Let me know if you try this recipe, I'd love for you to tag me in yours on Instagram or Facebook using the hashtag #DarlingRecipes
Happy baking!

Only £6.99 (about
$8.50)
Instant Worldwide download
Kitchen Management Manual
Printable PDF housekeeping handbook
Meal Planner
Shopping List
Recipe Card
Pantry & Freezer Guides
Seasonal Food Guides
Conversion Charts
FREE BONUS Laundry Tips!
International payment methods accepted:
Send me your favourite recipes!
If you'd like to submit a recipe for me to try, why not send it along via my contact page. Don't forget to include a little anecdote as to why you love it! Recipes coupled with a charming family story are my favourite kind.
I always enjoy receiving mail, especially when it comes with yummy ideas. If it gets our tummies rumbling at Darling HQ I'll share it with the community!

All content and images in this article are copyright of The Darling Academy and are not to be shared or reproduced without our express permission.