Mrs Darling's Cosy Autumn & Winter Beef Pie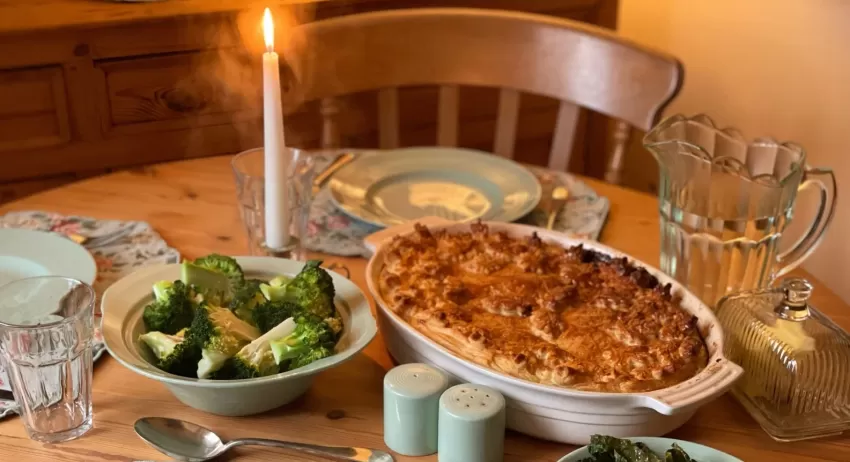 Several years ago now, on one particularly blustery autumnal weekend I spent a cosy day in the kitchen experimenting with the vegetables I had grown that year. My lovely neighbour had also given us some Horseradish root that day too - and I thought to myself, why not add that in? It worked so very nicely that this pie is now my "signature". So much so, I've been a little reluctant to share it before, but here we are…
I had ventured to the farm shop earlier that week for some beef as I had pie on my mind. The recipe that transpired from my "throwing it all in" on a whim actually worked so well I've not forgotten that day, and I hope I'm not being dramatic here when I say - magic was made!
Don't you just love those ta-da moments in the kitchen. The ones that make you feel all warm and fuzzy inside because whatever you had made was such a hit? The entire family (and my neighbour who I gave a portion to) loved it. I quickly wrote down the steps and ingredients on a recipe card and safely tucked it away for the future. It has been cooked every autumn since.

Now, before you get a bit teary-eyed at the torturous thought of grating your own horseradish, I have (thankfully) realised that pre-prepared horseradish works just as well in this pie. My darling neighbour is a wonderful man, often popping harvests of puffball mushrooms, gooseberries, runner beans and the like on the low hedge that divides our gardens, but should he offer up horseradish again, I will politely decline. My viking blood means I'm made of tough stuff - but we all have our limits I suppose.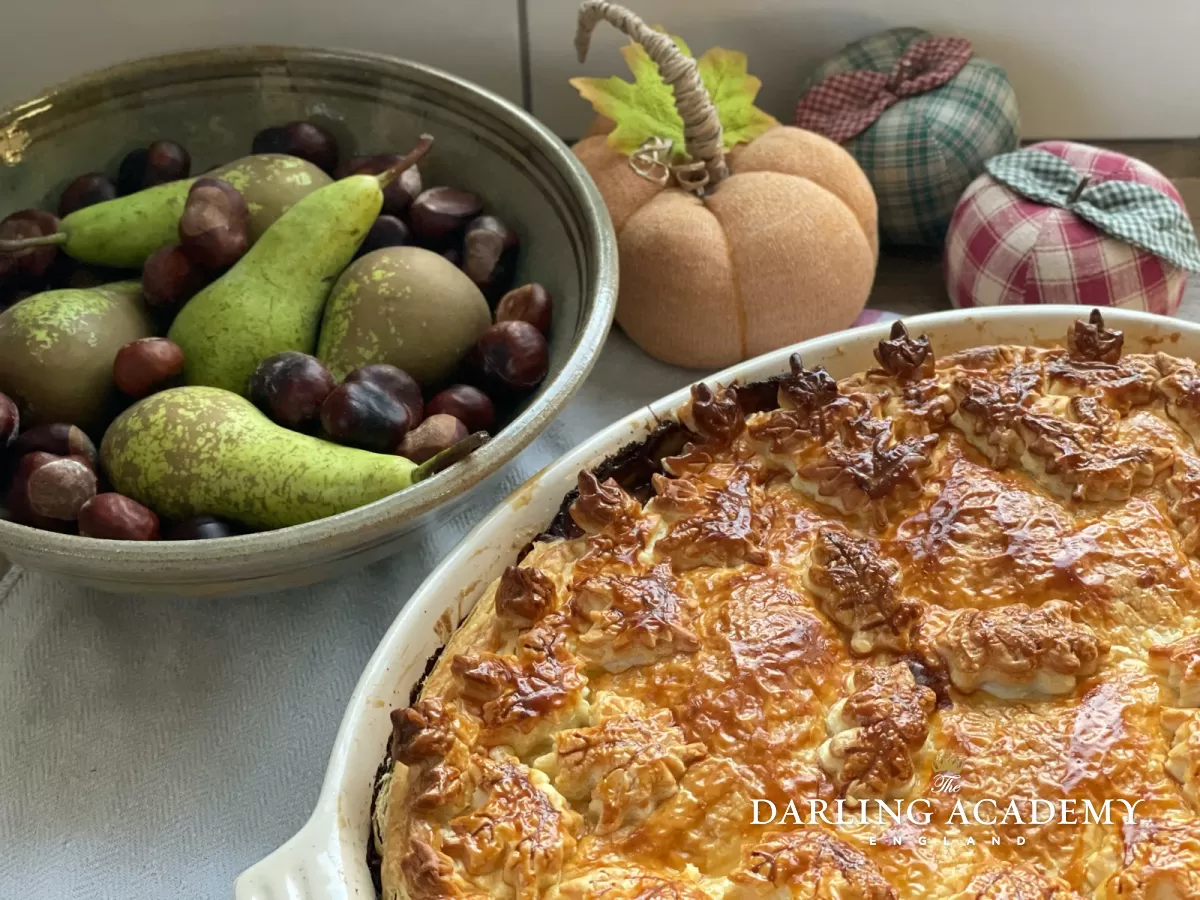 How to make my Autumn Beef Pie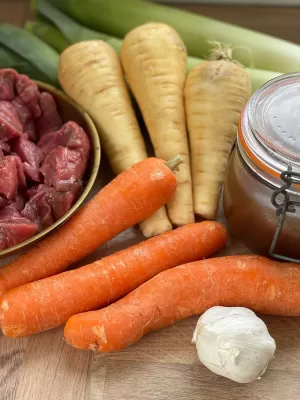 What will really make all the difference in this pie is using the best beef and vegetables you can source. The cut of the beef doesn't really matter because we will be cooking it slowly and for a long time, so buy according to your budget - but what does matter is the size of the pieces. I like to get mine from the Butcher's because they are usually quite generous in the way they cut the pieces, supermarkets seem to cut stewing beef into teeny tiny bits these days which are quite useless indeed.
The amount of beef you buy is also a personal preference. I asked my butcher for "four large handfuls" (which measured 800g), this amount fed the three of us twice. You can also buy a cheap joint of beef and cut it up yourself - this often works out much more cost effective than buying in pre-prepared packets.

The pie is also pretty versatile in that you can add or omit different vegetables depending on your taste, but the recipe below is the original (and in my opinion), best.

I hope you enjoy this pie as much as we do!
For an easy to understand British to American cooking conversion chart, please see our Kitchen Management Manual.
Ingredients for Autumn Beef Pie
800g Braising Beef (or similar cut)
Olive, Rapeseed, or equivalent oil for frying
3 x Garlic Cloves, minced
3 x Leeks, sliced
3 x Carrots, diced
3 x Parsnips, diced.
1 x large glass of full bodied Red Wine (I use a Malbec)
1 x litre of Beef Stock
2 x tbsp Gravy Granules (I use Bisto)
2 x heaped tbsp Horseradish sauce
1 tsp Paprika
Salt & Pepper
Shortcrust of Puff Pastry to cover your dish - you can make your own, or buy pre-made
1 x Egg, beaten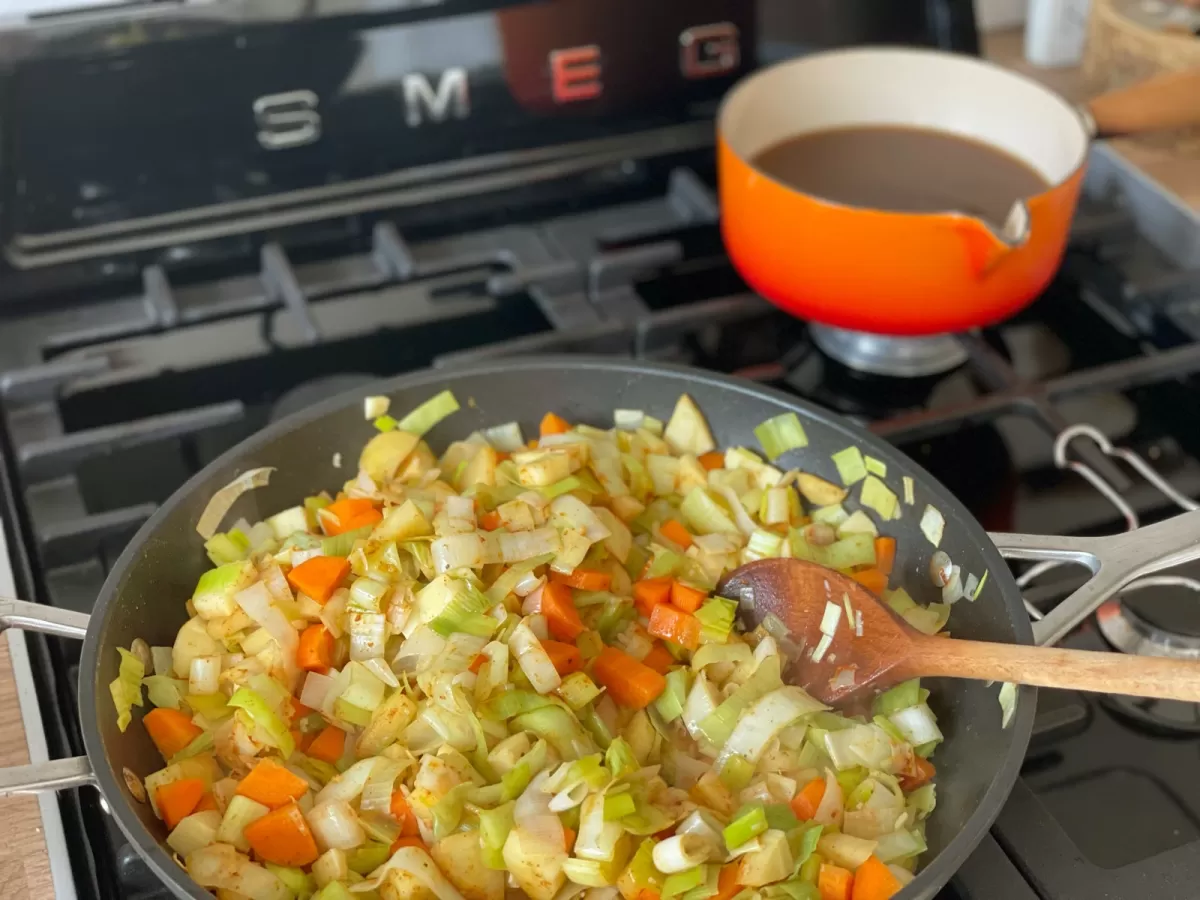 Method
Preheat the oven to 160*C/140*C Fan/Gas 3.
Heat the olive oil in a large deep frying pan.
Season your beef with salt and pepper, the sear in the saucepan, but do not cook through - we just want some colour on the beef. Remove with a slotted spoon and set aside.
Fry your vegetables for a few minutes in the oil, and beef juices, then sprinkle over the paprika.
Meanwhile, heat your stock in a separate saucepan, and once hot add the gravy granules to thicken*.
Once the vegetables have softened slightly in the pan, pour over the wine and simmer for two minutes.
Pour in your hot stock/gravy, and add the horseradish. Giving it all a good stir.
Season with salt and pepper, then add the beef back into the pan.
Spoon into a baking dish, cover with foil sealed tightly, then cook in the centre of the oven for 1½-2 hours.
Remove from the oven, and increase the heat to 180*C/160*C Fan/Gas 4.
Pop a pastry lid on the pie, decorating how you wish (I think leaves are always lovely). Glaze the pastry with some beaten egg and return to the oven for a further 30-40 minutes until golden (and risen if using puff pastry).
Leave to cool for 10 minutes, then serve with fresh vegetables.
*Use a cornflour slurry to thicken if you do not have gravy granules.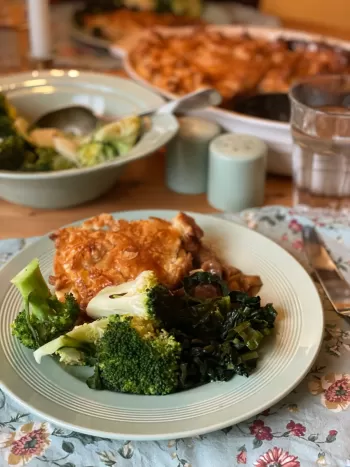 Please don't be concerned that this pie will be spicy because of the horseradish or paprika - the sweetness of the leeks, carrots, and parsnips balance it beautifully. It's a gorgeously comforting, deep and "rounded" flavoured filling that is just perfect for when the nights start to draw in.

I like to make a big pie so that we can eat it over two nights. It reheats really well in the oven for 40 minutes on a moderate heat - just make sure to cover in foil to protect the pastry from browning further. If the pie filling seems a little dry after reheating, you can add a further lashing of gravy if you like. It's especially nice with a bit of buttered kale on the side!

Pippi here hopes you are all having a cosy Autumn so far, and sends you her best wishes.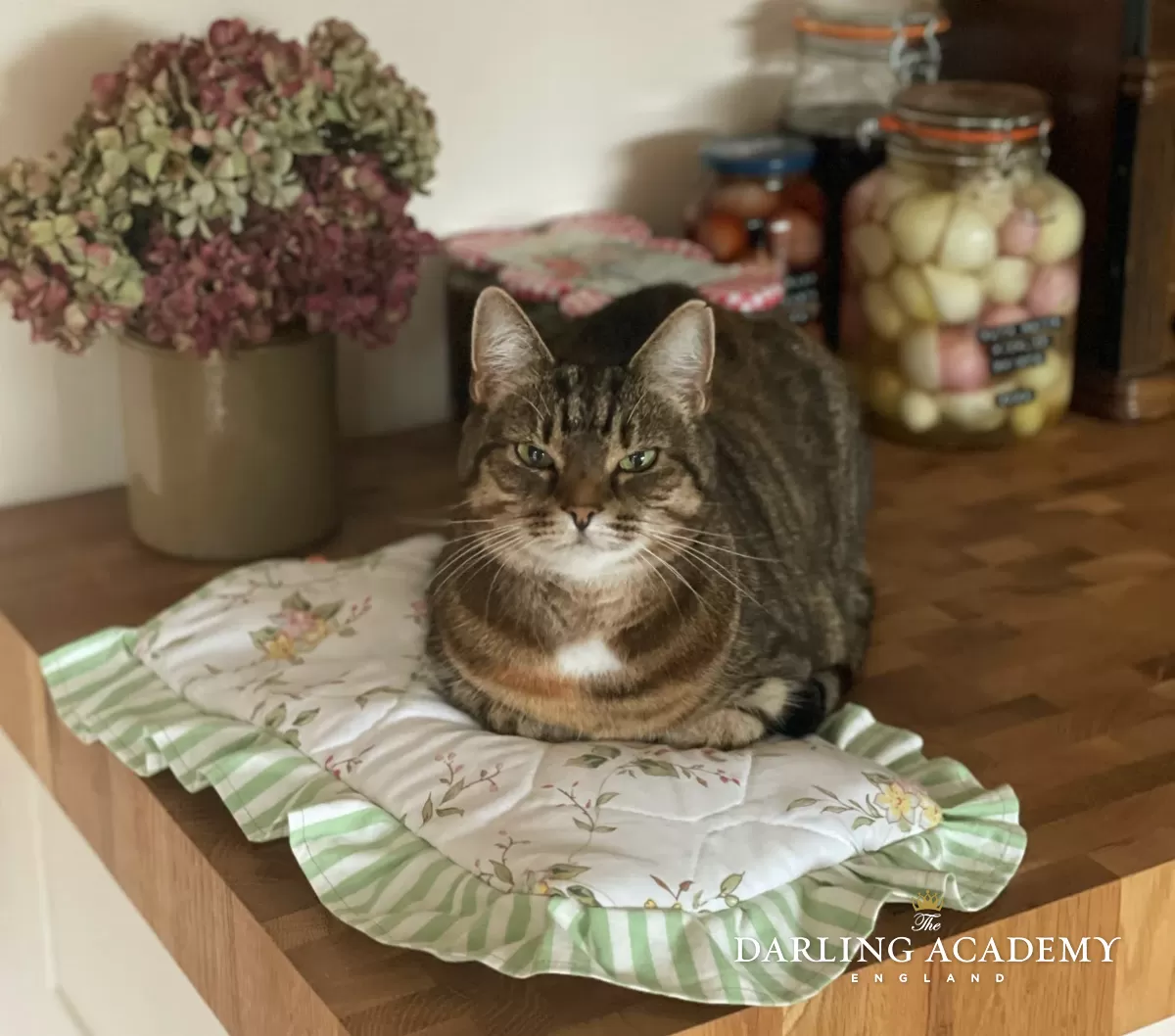 Cheeky Pippi, the neighbour's cat who has adopted US!
I'm sending you my best wishes too, and I hope I can wrestle my hot water bottle off the cat at some point (handmade by my friend Jade at Cosy Rosie from a vintage quilt).
Honestly, the kitty has nice taste, but she's a bit of a diva this one - looking at me like she's allowed to be on the surfaces. Next she'll be whiskers deep in my plate!
Happy Homemaking darlings,

(aka. Mrs Darling)
This autumn...
Mr Darling and I are taking a trip to Harrogate for my birthday next month - and have booked at Betty's for afternoon tea (so excited). Then I have a festive/birthday celebration meet up at Ellenborough Park planned with my vintage friends who I can't wait to introduce you to.
As previously mentioned, I plan to be on external social media platforms less and less over the coming months, so if you wish, you can keep up to date by subscribing. It doesn't cost anything, and you'll receive my blog posts directly to your inbox the moment they are published.

As ever, thank you to the wonderful patrons of The Darling Academy! If you like our values and found this post useful or inspiring, would you kindly consider supporting the blog.

All content and images in this article are copyright of The Darling Academy and are not to be shared or reproduced without our express permission.