Homemaker Happenings ... No. 002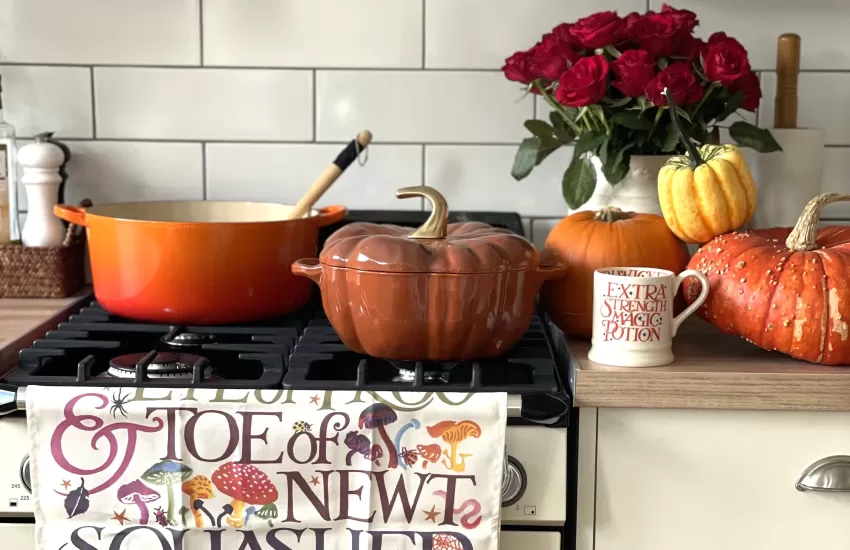 I won't sugar coat things, the past few weeks have been a bit of a struggle. I've come to realise as I am getting older that I am very much a homebody. Perhaps this is reason enough that I love being a housewife so much, but in my heart I know that if I don't get a good dose of home I tend to go a bit "wafty" and unsettled in my thoughts, and it's not fun. I like routine, and this Autumn is all about concentrating on forging a new one because a lot has changed…

The last of the summer had been filled with lots of adventures for us, which in and of themselves were amazing, but made little time for homemaking or nesting. The Darling clan decamped to our favourite Greek island to celebrate our 9th wedding anniversary. Two happy weeks of sunshine, sailing, swimming, and enjoying road trips around the island, spotting dolphins, and (quite literally) climbing mountains to find ancient amphitheatres and secluded churches.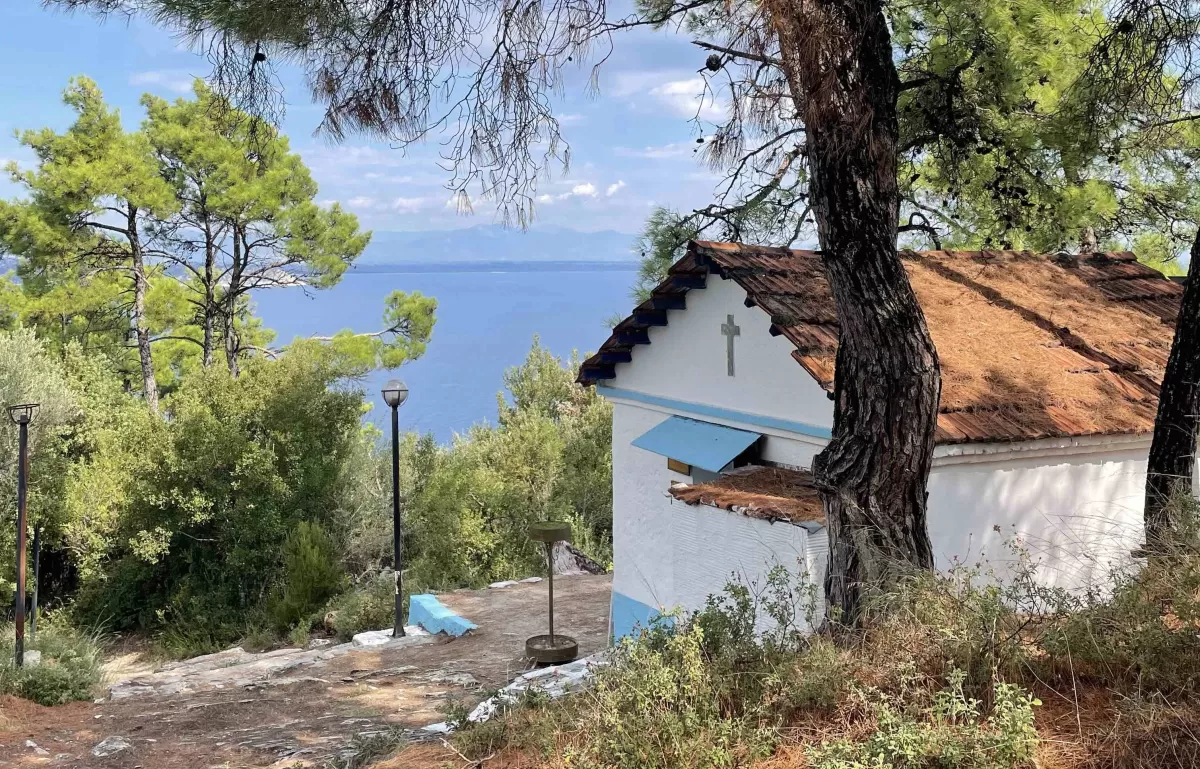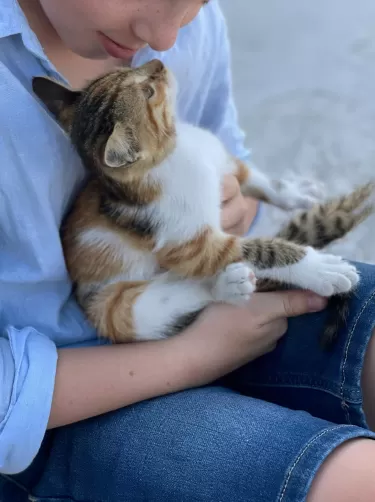 Arlo was made overwhelmingly happy with the abundance of kittens on the island. We named this little one Penny. She lived alone in a storm drain, and it got to the point that we fell so in love with her, we would sneak out smoked salmon or ham scraps from the hotel breakfast buffet every morning for her, and while Mr Darling and I would relax over a long lunch, or graze at dinner in the balmy evenings, we'd allow Arlo to go off to play with the local children in the village square, or more likely the kittens, of which there were plenty - he is obsessed.
If that boy doesn't grow up to be a mad old cat lady, I'll eat my hat!

Saying goodbye to Her Majesty.
Our holiday was tinged with sadness too. I had felt it in my bones for a while that our dear Queen wouldn't be with us much longer, and it devastated me to learn that she had died just a couple of days into our holiday. I've never felt more bereft. I'm very aware that it sounds dramatic, but she was like a Grandmother to so very many of us, and was a constant in our lives. The sting made all the more painful that it feels like the death of a generation and an era too (one I am most fond of). The boys left me alone for the day of the funeral, so I could watch on the television in our hotel room. Sadly, Greece and our Royal Family have a very strained relationship, so I really lacked that feeling of collective mourning and togetherness, and haven't felt so homesick in all my life. I desperately craved being among those who understood.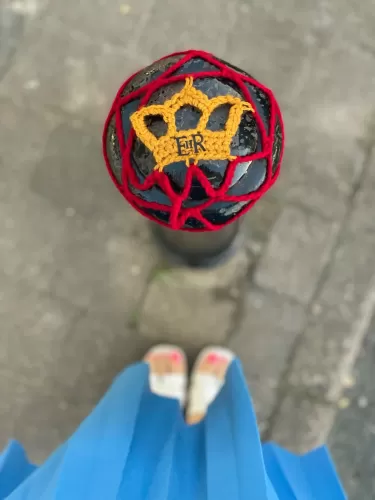 Thankfully my mother and some wonderful friends kept me updated on what was happening back home. Cheering me up in my down moments, collecting newspaper clippings for me, and my darling Sian even signed a book of condolence on my behalf. I was very happy to see our village had been "yarn bombed" the day we got home too. Venturing up to the shop the next day I noticed they were gone - so this little flourish meant a lot to me, if only witnessed for a brief moment.

I think Charles will make a great King. He had, after all, been under Elizabeth's wing from the very start of her reign. I'm already forming plans in my head of how to celebrate the Coronation - however I am coming to realise that I may witness another two in the future. How amazing if I live long enough to see three kings in my time. My cupboards are already groaning at the thought of more memorabilia.

A decade of domesticity, a new season of life, and a new school.

In the weeks that the dynamics of the Royal family's lives shifted forever, so too did ours. Some of you may have seen my mention of it on social media already, but after two and a half years, our home education journey has come to an end. We have always encouraged Arlo to be true to what he wants, and have supported any decision he has made - of late, we were feeling like a return to school was the next step. We have absolutely no regrets, and our home education adventures were amazing, and right for us at the time, but as life ebbs and flows, and seasons change - so too do the needs of children.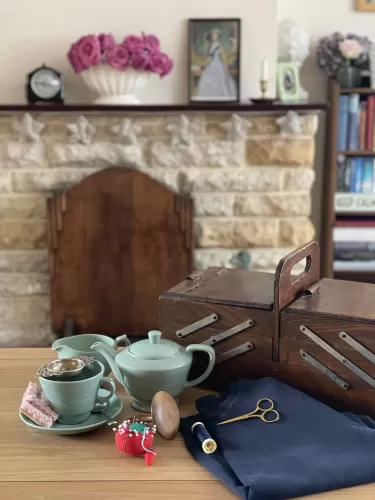 I have always been somewhat private about our reasons for home educating, as I feel like every family's choices are unique to them and deeply personal, and so too are reasons for returning to the school system. It's going to be hard navigating influences and exposure to certain things that don't align with our values, but I must remember that while we are in the world, we are not of it, and need to encourage this mindset in our child too.
I will admit though, that I found sending him off to school harder this time round. The house is so quiet without him! Arlo joined our village school the week we returned from Greece, and is settling in very well.
Life looks a little different now, and so too does my laundry pile. Not three weeks in and his school jumper is already on the mending pile. Evidence of playtimes well spent with new friends I guess.
This week he also turned ten! Which marks a decade of not only being a mother, but of working my favourite job ever - being a housewife!

The return of Autumn homemaking rituals.
One of the things that has delighted me most now we are settling into our new routine, is simply enjoying the pleasures of the season. Weekends are now punctuated with autumnal drives to our favourite spots in the Cotswolds. Strolling past dream houses dressed in fading foliage…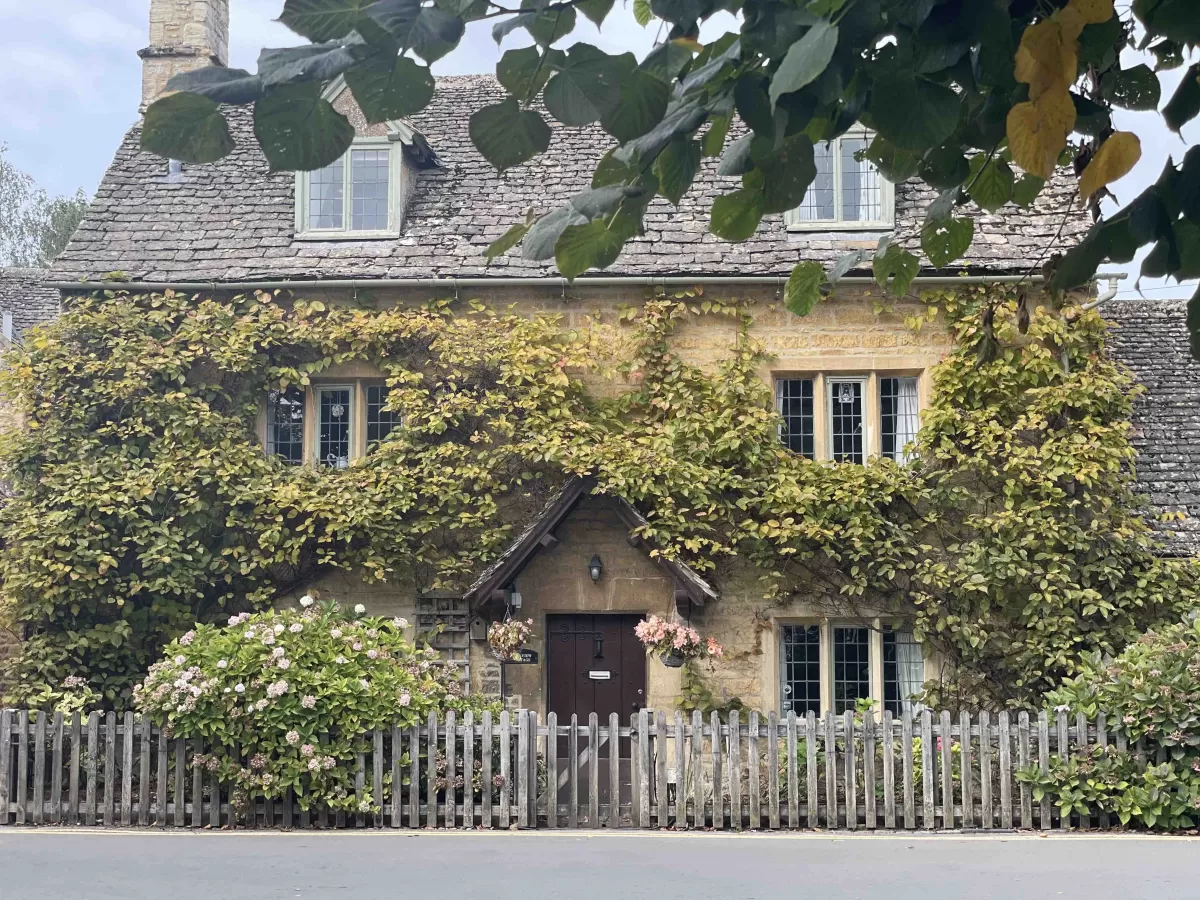 ... and admiring pretty planting. I've taken lots of cuttings of Hydrangeas this year to dry. I hope to enjoy them over winter on the mantlepiece. I shall be bringing in the wood and kindling tonight as I think it's just about chilly to start having fires in the evening again. We're going to try and rely on the central heating a little less this winter, as I'm sure you'll appreciate. Remember to add a "mild winter" to your prayer list if you can.
The blankets are all being laundered this week too. Now is definitely the time to try our best to emulate the old ways and layer up, and batten down the hatches before we even think of reaching for the thermostat.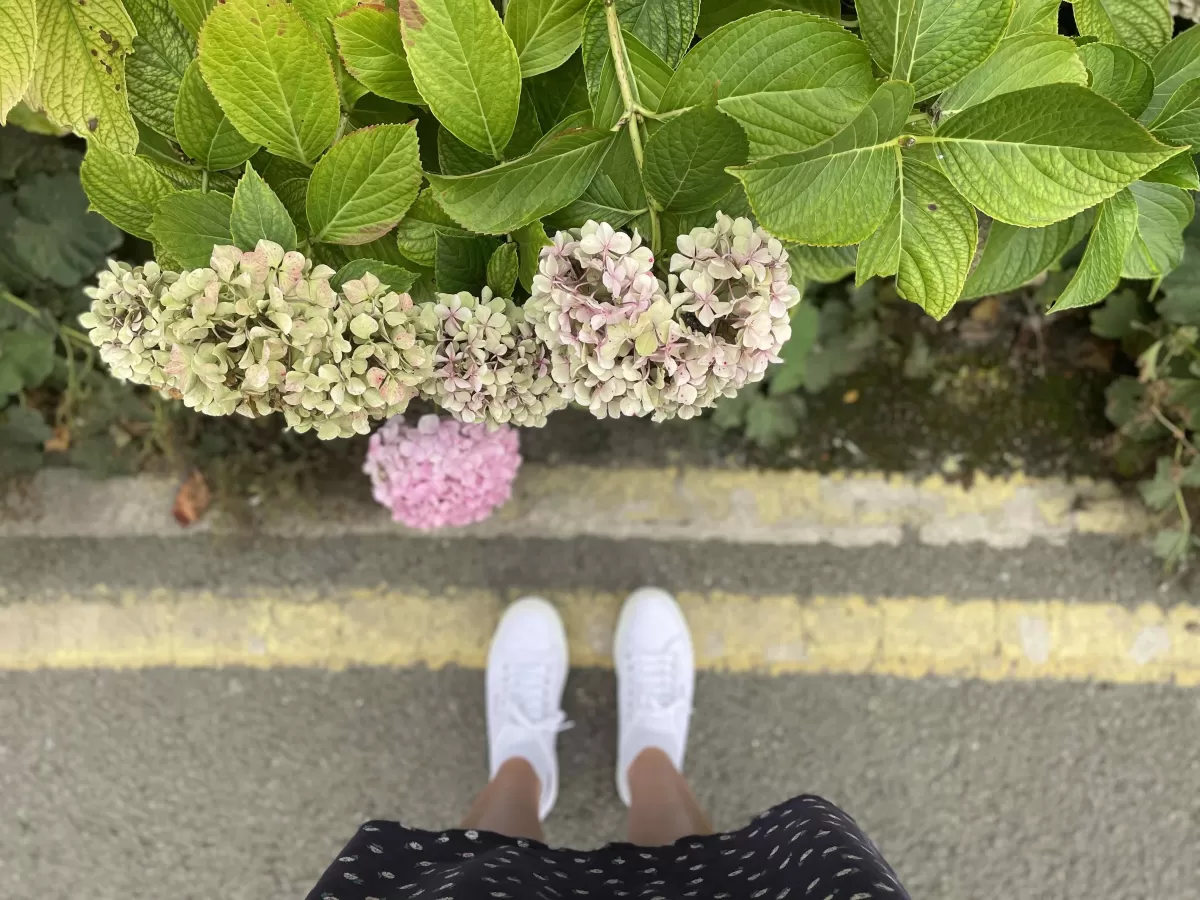 I'm extremely grateful for a lucky find at my favourite charity house clearance shop a couple of weeks ago. These handmade vintage Colefax & Fowler curtains are fleece lined, and ever so thick. Practically duvets! They cover our French doors a treat and I think I can feel the difference already in keeping the temperature steady. We have an open plan living area and I think they'll come into their own this winter. I felt like I had won the lottery when the lady said she would sell them to me for £30! Thankfully Mr Darling approves and has made peace with my love for Chintz (I think). That, or he suffers it without saying…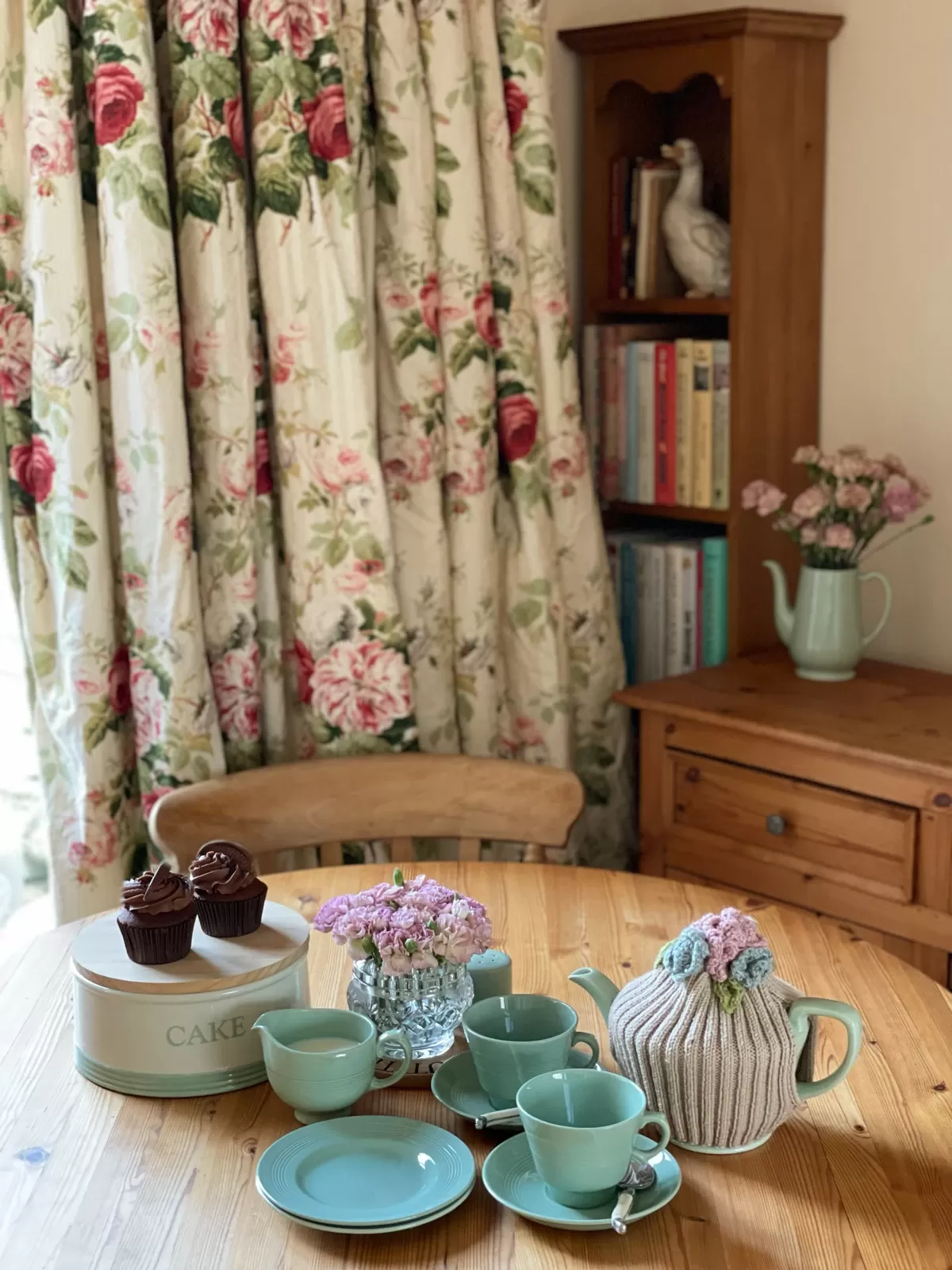 Homemaking that's more happy than appy.
As the nights draw in and the world outside seems an increasingly darker place on the whole, I'm mindful that I'm craving an even quieter life. I appreciate it's a quieter one than most, but while full time homemaking may seem very peaceful on the surface, it's actually full to the brim of tasks, chores, routines, and being pulled in different directions.
I can't help but feel there are a few things I'd like to cut loose in order to make more room for the experiences and things that I love. Writing and blogging is one of the things I'd like to invest more of my spare time in, and I've been really weighing up how I feel about the distraction and pitfalls of social media lately (particularly Instagram). It's an incredibly useful tool for sharing and connecting with people, but I can't help but feel it's all so temporary and a bit fickle. Not to mention how "stats" are encouraging people to measure themselves up against others.
Conversations with a few close girlfriends lately have been troubling me somewhat too.
I have had friends who have confessed to me that they feel left out because they don't have a "large" following, or fit a certain acceptable "aesthetic", some are being bullied incessantly, and I too have shared with them that I have my own insecurities. While my "following" is larger on average (I hate the term "followers": I'm not Jesus), people seem to treat me differently because of the "numbers", in good ways and bad. Not to mention those who have a go at me because of what someone else (read:journalist) said. You become less of a person with feelings and more of a wall to fling mud at when your numbers climb or you sit in a "controversial" space. How homemaking content is "dangerous", I do not know!
This blog feels like a safer space, and I know people are here because they want to be. Because they are looking for meaning in something beyond a pretty curated picture and "likes".
I'm fast approaching 37, while I appreciate this isn't "old", I definitely feel I've changed a lot in the past few years. I'm not the same woman I was 15 years ago when I first met my husband, let alone the one I was when I became a mother, or even six years ago when I began all this! I need to consider how I spend my time and energy a lot more these days.
I have so much time for this community, and such a love of writing, and I'm really questioning why an app has such a hold over so many people (me included)? I'm feeling just a bit too old, and tired of it, to invest in it much anymore. This space here feels so much more of value to me, a nicer place to be, and a far better expression of what I'm trying to achieve in advocating for this lifestyle. I hope you feel that too?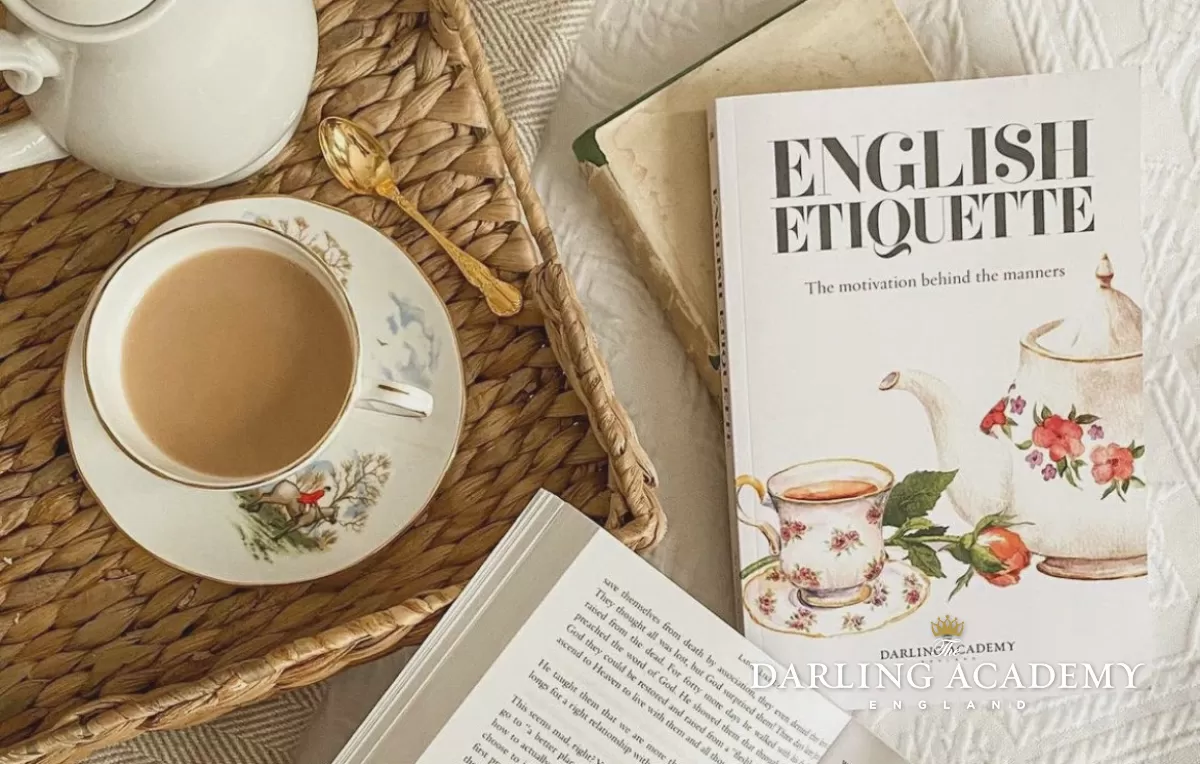 more time for reading, writing, and tea!
Numbers on an app won't make you special, pictures cannot convey the complete truth of your 24 hour day, and nor can they express the complexity of the person that you are. Filters too cannot fix an ugly attitude.
The companies that run them blatantly ignore the mental health of its users, and toy with them by constantly changing the goalposts and shifting the algorithms. Not to mention exposing you to adverts over showing your friends updates. I don't fancy making reels of myself dancing to whatever song is trending at the moment in order to win at the popularity contest it appears to have become. I'd like a quieter, vintage inspired life - and I'm no longer seeing how social media fits into it. Especially when I have this wonderful blog my husband built for me! Pretty pictures can be posted here, as well as captions that have no limit (or censoring). I have control over this space, it does not control me. It's another place to "nest" and make people feel welcome and included, and I like that thought!
So I hope to be here a lot more, and present in real life spending it with those I love most.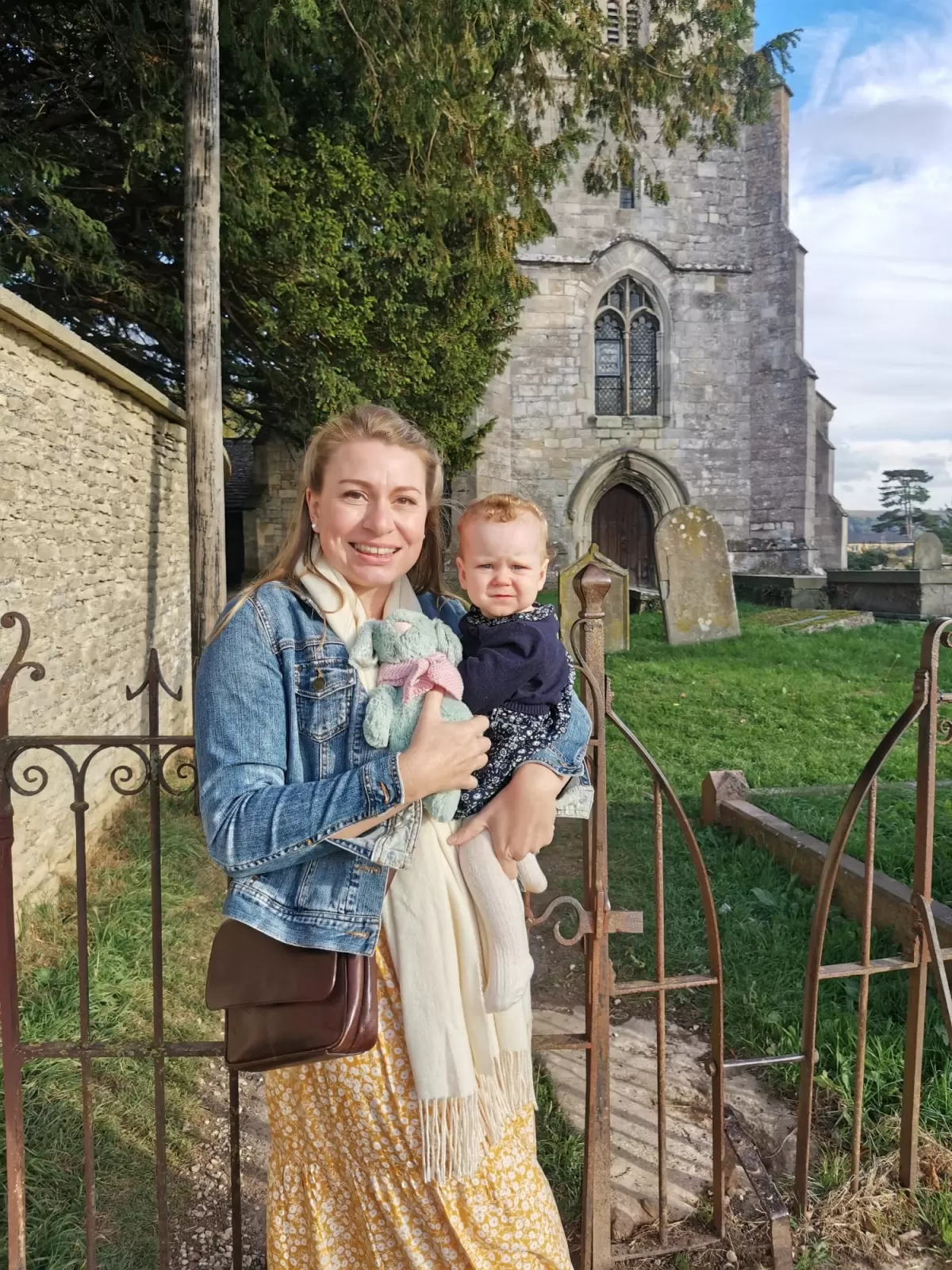 My beautiful Goddaughter Persephone and I
Busy hands, a brimming pantry, and a peaceful heart.
So too do I hope to be in my kitchen this season. I have already made some Hedgerow Gin, and set to work these past few days making mincemeat from Delia Smith's timeless recipe, and have just this morning poured spiced vinegar over some baby onions I grew in my garden this year. The mindfulness of it is better than any hour spent in a spa. I love relaxing homemaking tasks that create something to enjoy further down the line too. I'm dreaming of the homemade mince pies we'll enjoy this (quiet) Christmas, pickled onions with a cheese board on Boxing Day, and warming the cockles with a nip or two of gin from fruits gathered in the village. Homemaking really can be an art form rather than just a chore. I only wish I'd started with these activities sooner in my journey.
A home, full of handmade things and all crafted from the heart is the best kind of achievement.
"make it your ambition to lead a quiet life. You should mind your own business and work with your hands, just as we told you, so that your daily life may win the respect of outsiders and so that you will not be dependent on anybody". 1 Thessalonians 4:11-12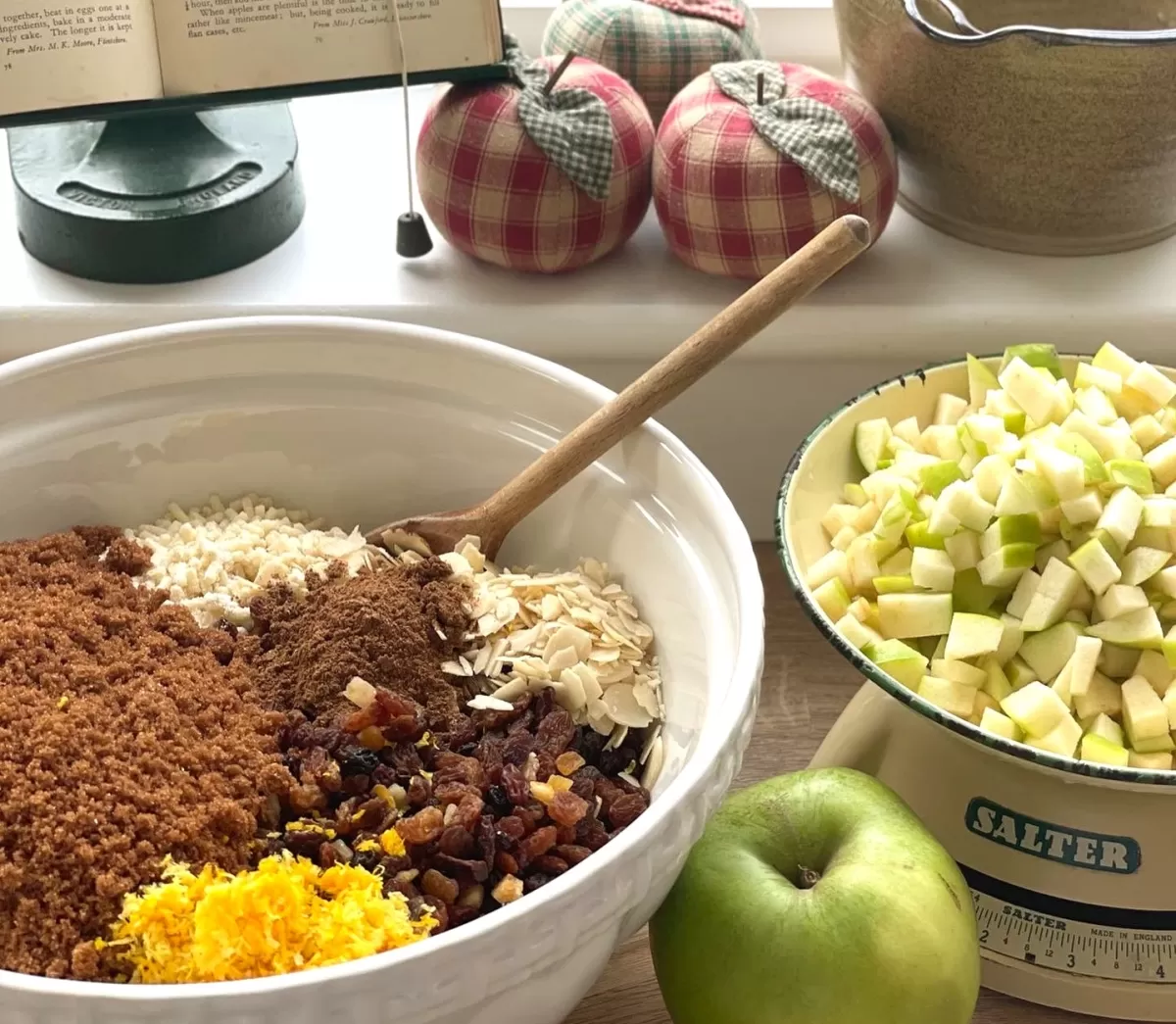 I have some wonderful crafts to keep my hands busy this Autumn too, like this beautiful cross stitch kit from The Historical Sampler Company which was recently, and very kindly, gifted to me. I chose the House cross stitch kit because the traditional colours are just beautiful and the verse spoke to me, I hope to share my updates with you once I get to work on it.

I want to sign off by saying thank you. Thank you for being a part of this community of homemakers, and supporters - I may not have the time to reply to emails, but the experiences you share with me, and your encouragement for housewives does not go unnoticed. So many people reach out who aren't homemakers themselves but wish to say that they really appreciate what we do and to "keep going", and that's just so heartwarming.
With best wishes from my home to yours,

Coming soon...
I have some wonderful autumnal recipes to share, and we are also taking a trip to Harrogate for my birthday next month - expect more afternoon tea, and a festive meet up with my vintage friends. I plan to be on external social media platforms less and less over the coming months, so if you wish, you can keep up to date by subscribing. It doesn't cost anything, and you'll receive my blog posts directly to your inbox the moment they are published.

As ever, thank you to the wonderful patrons of The Darling Academy! If you like our values and found this post useful or inspiring, would you kindly consider supporting the blog.

All content and images in this article are copyright of The Darling Academy and are not to be shared or reproduced without our express permission. English Etiquette book image courtesy of Robyn Thompson,