How to make an Autumnal Hedgerow Gin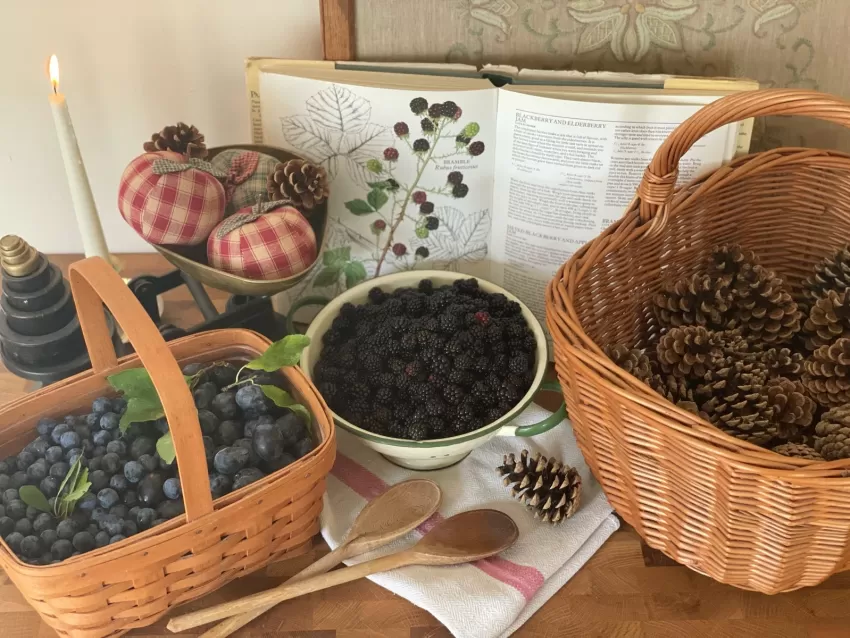 It's no secret that Autumn is my favourite time of year. The delightful cosiness that seems to envelop every waking moment - frosty mornings, leaves tumbling from trees, the return of your best woollen jumpers, and the glorious smell of woodsmoke clinging to the evening air.
Harvest is here too, and while those who grow their own are pulling parsnips, and farmers bringing in crops sown long ago, nature too effortlessly feeds the hungry, both sparrow and son of man, without any expectation of money changing hands. Autumn is truly a gift.
How to make Hedgerow Gin with Sloes and Damsons
In early September, my mother, my little sister, my son, and I, took a lovely walk around the village with baskets in hand to look for blackberries to put in the deep freeze. We spent the majority of September on holiday in Greece and I didn't want to miss out on the blackberries before the birds and the devil's spit got to them all (see: this Michaelmas folklore). We wanted to enjoy a little bit of English autumn joy before jetting off to sunnier climes.

My Mum is an amazing person to take foraging because she is so thorough (the children soon tired of the hedgerow hunt and ran off to play by the brook) so we carried on as a team of two. A million blackberries later, we also stumbled on Damsons and Sloes - all on public land and nowhere near roads so we felt it was a good place to fill our baskets.
The first frosts hadn't yet arrived, so I decided to wash, and then freeze all the fruit for a later date. I had Sloe Gin on my mind, and today was the day to start preparing what I can for Christmas.
A little birdy has told me that there are still some Sloes and Damsons to be found, so if you're lucky you might stumble across them while out and about which is why it always pays to take a basket with you. Apples and Pears are ripe now too - so make sure to take advantage of what nature has on offer. It's what our forebear's would have done, and is as relevant to the lean times of today as it was in the 1940s when people had to find food from nature to supplement their larders and mealtimes, as well as what they could source in shops. It's a good time to go foraging now and "make hay while the sun shines", as they say!

Sloe & Damson Gin recipe
To make your own bottle of foraged hedgerow gin, you will need:
500g (1lb) of foraged fruits. (I used Sloes & Damsons in equal weights).
400g (14oz) Caster Sugar.
1 Litre of Gin (use a plain or flavoured variety depending on your personal preference). Vodka can also be used as a substitution.
You will also need on hand
A large airtight glass container such as a Kilner Jar.
a sterilised pin. (I used one from my sewing kit that I sat in boiling water for one minute).
How to make homemade foraged gin


Forage your fruits after the first frost so that they have "bletted", (which means the juice inside the fruit has been frozen, usually by natural frosts). Alternatively, forage your fruit before the frosts and cheat your way to gin happiness. Make sure to wash your fruit well in cold water, drain and dry, then freeze in containers or plastic bags - you can leave it all in the freezer for a good few weeks, then defrost your fruit when you're ready to use them.
Prick each (defrosted) fruit several times with a sterile pin and pop in a large airtight glass jar. Pricking them helps to release the juices, which in turn will flavour your gin.
Add the weighed out sugar on top of the fruit, then pour in your gin.
Seal your jar and give it a good shake… do this daily for a few weeks, so make sure to put it somewhere you'll remember to do this.
Store gin in a dark place for at least three months (ideally a year).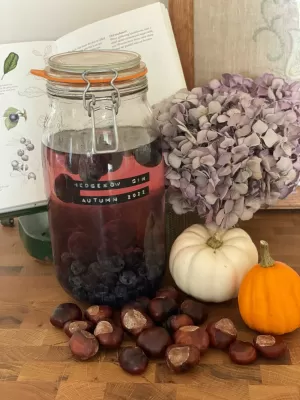 You can drink your Hedgerow Gin (young), this Christmas, but it'll be even better if matured and left until next year. Whichever option you choose is up to you!
This gin makes a lovely gift for Christmas (if you can bear to give it away). Strain the gin and remove the fruits when it's ready, then pour the gin into bottles for further storage or gifting.
I like to put a small measure in the bottom of a champagne glass and top up with bubbles! You can also add it into cocktails, pour over ice cream, or sip neat (but slowly). It's very warming on those cold dark December nights.

Surprise! I have made a (tentative) return to YouTube, I hope you like this slow homemaking video. It's somewhat different to what I have uploaded in the past, but in this current season of life, I thought it would be nice to take you along with me as I go about my homemaking days rather than stress out about making content that requires me to pull my focus away from home.
Why not stay awhile in my kitchen and explore my other Traditional Recipes.
Happy Homemaking!

Footnotes
I hope you enjoyed the video, it's the type of slow, and cosy content I enjoy watching myself, and I thought you might like it too, please let me know. I'm still trying to figure out if YouTube and Instagram are platforms I wish to participate in beyond this blog - I have so much to fill you in on next time I write!
If you're interested in foraging your own fruit and don't know where to start, may I suggest this lovely book, and this one too. Both are in my personal collection and I highly recommend them.

Lastly, thank you to the wonderful patrons of The Darling Academy! If you like our values and found this post useful or inspiring, would you kindly consider supporting the blog.

All content and images in this article are copyright of The Darling Academy and are not to be shared or reproduced without our express permission. Affiliate links have been used in this blog post.