How to be elegant: build a classic, ladylike and classy investment wardrobe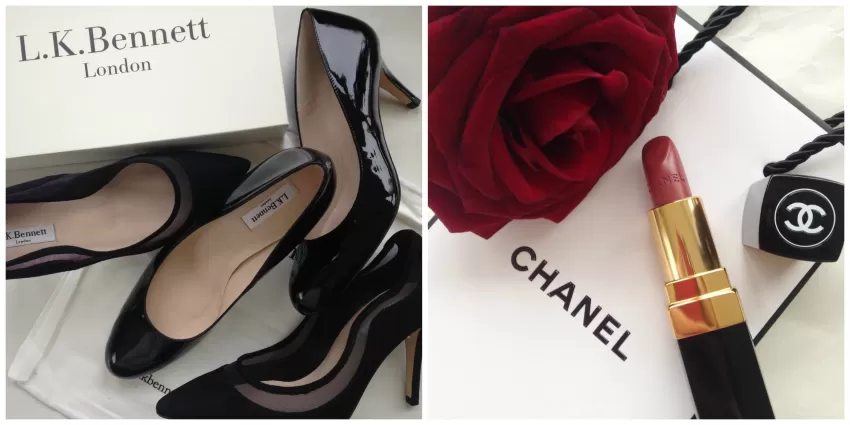 December is a time for many where we spend so much on other people that we often refrain from buying anything for ourselves - only to reach a boiling point where our hibernating "self-indulgent" streak tends to go a little mad come January and February. In December, before all those discounts I went a bit "mad" myself, but in a good way.
Here's a little lesson on why I think "sale shopping" isn't worth it… Not to ladies like us anyway.
After a hiatus on spending on nice things for yourself over the festive period, I'm all too aware that those promises of deep discounts and buy-one-get-one-free really seem appealing. It doesn't feel as though you're spending much, so a little purchase here or there won't hurt the bank, will it?

Or will it?
As a reformed fast-fashion shopaholic I'm here to tell you that it's not good for your self-esteem, your financial stability or your image if you blindly follow the ways of the world and continue to impulse purchase items for your wardrobe. Half the things you buy if you aren't careful about it will end up costing you greatly.
Firstly, "fashion" items from all stores cost you money, that's a given, but have you ever spared some time to think about what all this "fast fashion" that we buy willy-nilly is actually doing to the environment? Need we mention also the insufferable obsession and addiction our modern age has with consumption? Sub-par clothing and cheap shoes are all a part of that wicked soul and planet destroying game. Items of fabric that clutter up our wardrobes and destroy the calm energy in our homes, or significantly add to landfill and destroy the planet. Sad, but true.
Obsessive shopping often leads you to buy things just because, and in every colour (even if they don't suit you). You don't care if it's poor quality and will only last one wear/wash. Ridiculous, and it is completely irresponsible for your finances and your state of mind.
While shopping is fun, buyers remorse is a very real thing too. No one really wants to purchase that cheaply made garment that you never wore. Some things are so "high fashion" with all it's fringing and print that in two month's time it will obviously be considered dated.
You only need to look at the rock bottom prices and bundles of sweat-shop made garments other women are trying to flog off to realise that this type of "shopping" makes up the vast content of most women's wardrobes. What felt great to buy one day ended up stuffed in plastic and left at the door of a charity shop six months later. So not chic.
So what can you do to change this pattern and still have fun with fashion? The answer is easy.
Buy classics not "fashion"
I've learnt over the years to just simply ask myself "what would my mentors do". My mentors are ladies of a bygone era, or those in high places (royals, not celebrity circles) - where quality was and is sought over quantity. They dress themselves rather than slavishly follow trends. They are iconic.
The conclusion I have come to (after almost a two year-long ban on shopping) is that I must buy clothes, I simply can't walk around naked, and honestly, I just love clothes and shoes. However the promise I made myself is that I will only buy the best I can afford and I expect and demand those things to last. I refuse the temptation to buy on impulse and I do my research. Moreover the pieces I buy must be as versatile as possible. If I wouldn't consider buying them and wearing them at 50+ then they have no place in my wardrobe today. So cheap miniskirts, thigh-high boots and trashy slogan tees are out - but what real lady would wear those things anyway?
Ladylike, classic, black and longevity were the key words for my December purchases. I decided on what I wanted, expected every item to "measure up" and bought nothing less than what met my high expectations.
Now I only buy and invest in things I can have a long-term love affair with, not some cheap fling. Sophisticated feels so much better than sordid.
How to invest in a classic, classy, ladylike wardrobe
I will never profess to be a fashion blogger, nor someone who ever considers herself "stylish", but what I do know and have studied in great depth is how to get the best out of my buck and actually enjoy things for longer. It's a quality way to live compared to the days when I'd make fast-fashion purchases to try and keep up with…. Well, I don't know who!? They certainly aren't at the forefront of my mind today. **I'm having scary flashbacks of bleached and frayed denim a la Britney and early Beckham "pleather" looks**
The first thing you need to decide is that you can afford things. I see hundreds of women pouring out of stores like H&M and Primark laden with bags of contents "worth" hundreds of pounds. Imagine spending that same amount on a beautifully well made pair of shoes (these and these are the dream) from a store in the nicer part of town. Or even investing in a brilliant woollen pea-coat that you can wear for years. We really need to shift the focus from quantity to quality. From "stuff" to sophistication.
So, I have rounded up what I bought in December (eek, yes, I spent quite a bit of money on myself). Not for a humble brag but to demonstrate how sale shopping is worthless when you make the concerted effort to invest wisely and accurately rather than splurge mindlessly. Ironically, in many cases I still spent less than retail. It just takes a bit of work.
It feels a little more dignified than running about on grey damp high streets hoping for a bargain on something I never really wanted in the first place.
Ladies don't shop in the "sale" but still manage to hardly ever pay retail prices. The difference is they remove themselves from the indignity of the "mad woman's jumble sale" that today's store-based sales have become. Can you imagine Jacqueline, Grace, Kate or Audrey elbowing other women out of the way at the 50% off sale rack? No, neither can I. Neither should you.
A ladylike sartorial journey in style and shopping self-betterment

Classic and versatile black roll-neck
I purchased mine from Marks and Spencer. It feels so "Beatnik-Audrey-Chic". I wore it along with a skirt and opaque tights to a friend's dinner party. Again on Christmas Day (same outfit, different people) and right now with jeans as I type this post. If you buy them well, in great quality, they should last for years and be a real staple in the wardrobe. Buy them a size bigger than you usually take so that you keep a little mystery as they can run tight! Stretched knitwear creates "wobbly lines" over certain curves. We don't want that… Hobbs also do a great version in many colours so I'm told. The fabric is a little thinner so perfect for layering under woollen winter dresses or blazers and even thicker crew or v-neck knits.
Darling Deal: I purchased with Sparks card points giving 20% off knitwear. Buy knitwear in natural fabrics where possible. Or blends that are cotton/wool heavy. Always try knitwear on to check for fit (everything shrinks by an average of 14%), and determine its opacity! See-through knitwear = cheap.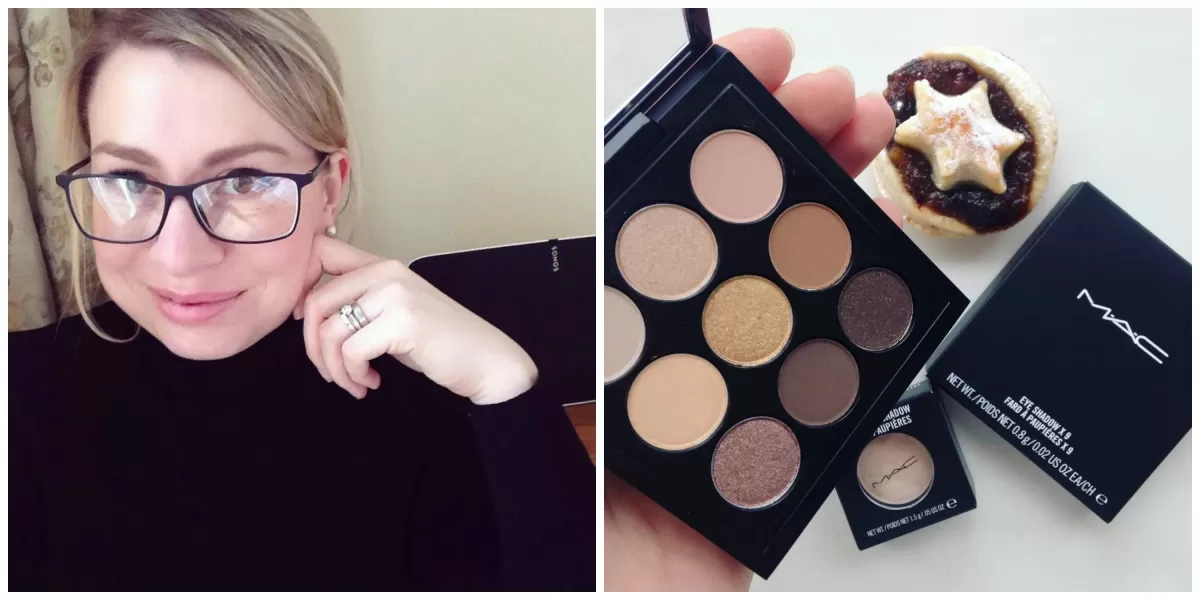 Jacquard Skirt
Midi length skirts are fabulous attention-grabbers, yet you still remain chic and modest. I had five compliments from strangers (men and women) on one evening alone. The length and material are really sumptuous and add real class where a dress might be too much but you want to shun the slacks or jeans for the night. Nothing feels more feminine or princess-like than this shape of skirt. You can pair them with opaques and turtlenecks in the winter (or even chunkier knits if you are adventurous). They are lovely with lace/silk blouses or camisoles and twin sets and with sandals or light wedges in the summer. My Marks & Spencer navy and gold jacquard skirt has since sold out but the Cruella De Ville inspired skirt below is definitely on my wish list (currently a great price) and a design that it so classic it would have looked great in the early 60's, fantastic now and will definitely be beautiful to bring out for a special occasion in 2047.
Darling Deal: I purchased using Sparks card points with an offer for 20% off skirts. Buy skirts that you plan on keeping and re-wearing. Buy skirts in general… They are a luxury and a style statement not available to men, enjoy them!
Chanel Perfection Lumiére & Rouge Coco "Mademoiselle"
I had run out of my Estée Lauder foundation and while the formulation was nice my skin has changed slightly and I wanted something for lighter coverage. I went to the Chanel counter on three separate occasions, asking each time to be colour matched and then I "tested" how the foundation wore for the rest of the day. I watched countless reviews on YouTube and read blog articles about it.
Once I was armed with the knowledge that it was reliable and suitable for my skin, only then did I purchase it. Planning for this spanned over 4 weeks when I knew my EL foundation would be running out soon. Same goes for the lipstick, I wanted a "my lips but better shade". I just love the style and luxury feel of Chanel products, plus the formulations are brilliant (having worked in beauty manufacturing I know this to be true). At over £35 for the foundation and £26 for the lipstick, four weeks gave me time to save up and also "saved me" from wasting that exact amount of money on four or more sub-standard foundations, and a few "impulse" lipsticks I'll probably never wear. I love and use these both daily and because they are Chanel I enjoy them and treasure them!
Darling Deal: never impulse buy make up, especially foundation (it's your face, what you slather on it should be the best quality). Go Google mad and let other's do the "testing" for you. Follow beauty gurus with similar colouring and whose style you like (no use following someone who wears punk when you are more princess) - go by her recommendations. Remember, quality not quantity. Sophisticated not slapped-on. Also - shop where you can earn redeemable "club points" like Boots, House of Fraser, Bloomingdales & Nordstrom. I saved £18 on my purchase by using accrued points.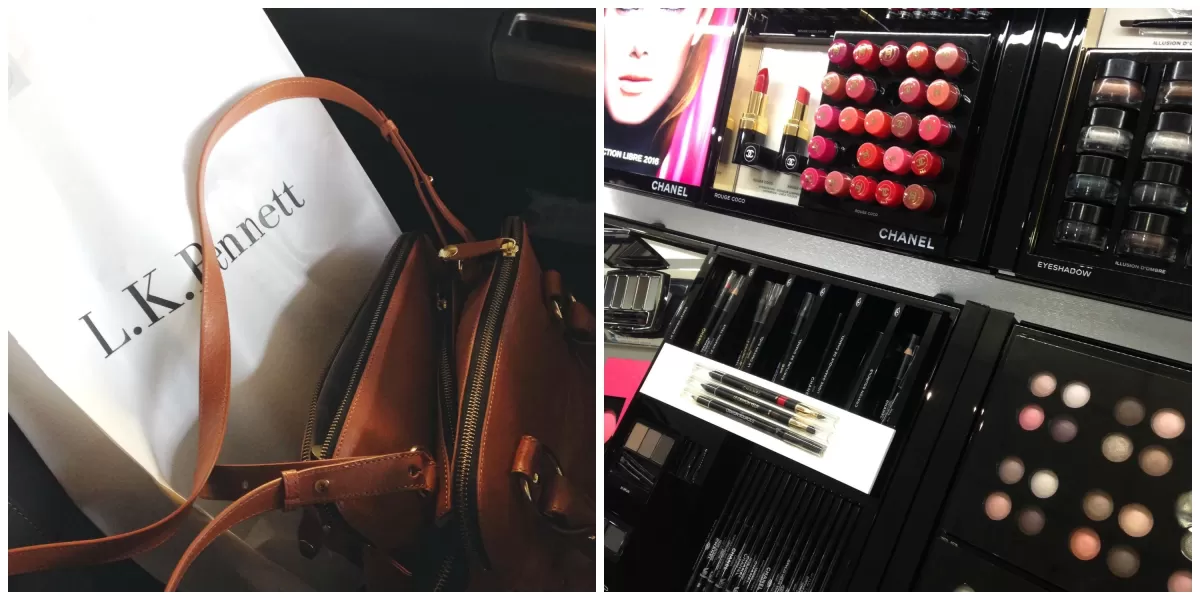 M.A.C Amber x9 Eyeshadow Palette
Having worked in the beauty industry for many years I have a love/hate relationship with beauty "gurus" on the internet. While I adore the fact that they are inspiring and teaching many women, on the other side of the coin they are fuelling the trend for "over consumption" of products. How many eyeshadows does one woman really need? How many lotions and potions have you got cluttering up your vanity - half used and slowly rotting in their plastic bottles? Having run out of my Bobbi Brown neutrals I purchased this palette of neutrals. There are some great shades for day wear (which for me just means neutralising any redness on my lids) and a few beautiful highlights, golds, sparkles and bronzes for special occasions. One palette. Simple, no need to "blend and cut-crease". Ladies have far better things to do than wrestle with pressed mica, obsessive blending and fall-out.
Darling Deal: buy the basics, but buy good formulations. One palette with a few neutral earth-toned shades is all you really need to create stunning, classic looks. Trust me, you'll regret the teal eyeshadow in ten years (I do). Hunt around for deals and discount codes. They're always out there!
LK Bennett Black Pumps
Unfathomable to some women but I only rotate about 5 pairs of shoes. Having grown up with a Mother who we could nickname Imelda Marcos, I spent my late teens and early 20's "acquiring" a collection of shoes in every colour just like Mum. All from New Look, Next or other fast-fashion stores and how many have lasted?
Not. One. Pair.
So, for the last few years I have promised myself to buy only quality shoes that I know I will cherish (and will last) for years to come. Already the proud owner of LK Bennett Sledge Pumps in Nude and Charcoal (yes, Kate Middleton made me do it - and note: bought at sale prices), I've realised over time that they are really hard to wear in the day. For me, at 5"8 I would consider them evening wear only. Unlike the DOC I hate to tower over people in broad daylight. People are not my subjects so they don't need me looking down upon them all the time.
So, knowing how much I love LKB's shoes I researched what I wanted and patiently waited for a sale. Lo-and-behold two pairs I had my eyes on came on sale at once! Just simply waiting saved me over £225 and £80 respectively. I keep them in the box, "dust them down" after wearing and will re-sole and re-heel religiously. Take care of your shoes and they'll take care of you. My trusty new Opal pumps are conservative and classic enough to go anywhere, and the suede Faye's (similar) are great for really dressing up.
Darling Deal: find and try on a pair you love, keep an eye on them online and then pounce when the price is right. Order them online and ship to store to try on if you are really enamoured, then take them home (you haven't had to pay shipping) or return them/exchange then and there at the desk. No postage issues, sizing triumph! Your precious feet are worth the wait for best quality workmanship and sensible consideration.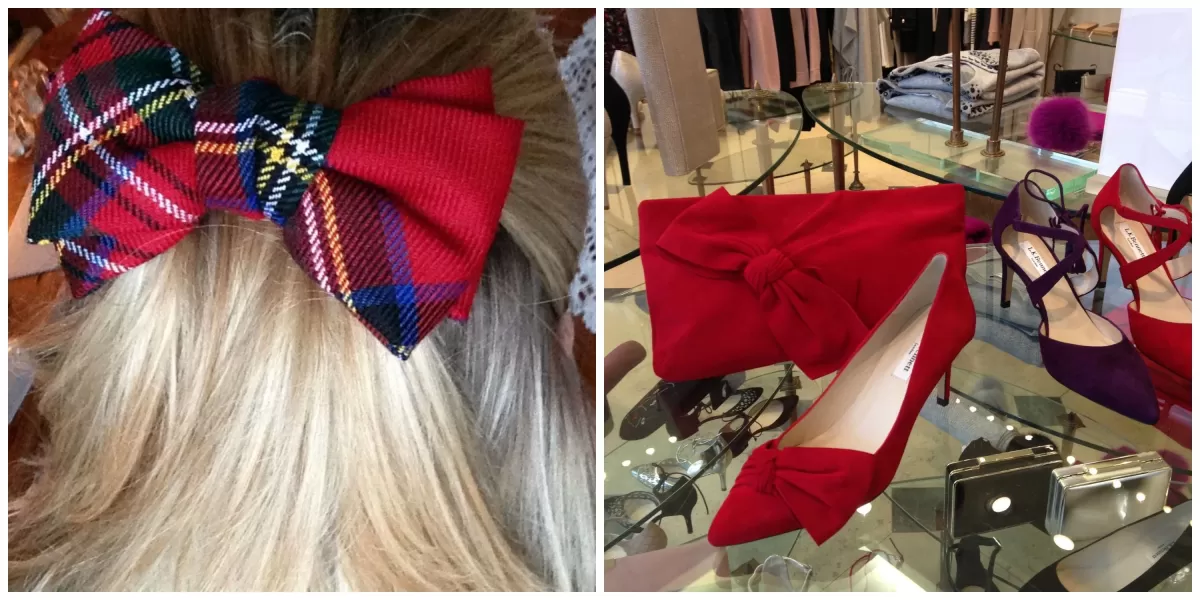 Lochcarron of Scotland Royal Stewart tartan scarf
The one item I wish I had every time the festive season rolls around is a beautiful red tartan scarf. Muffy over at Salt Water New England enlightened me about Lochcarron at just the right time - sale time! I had it in my mind to buy one this year and am so pleased I got something authentic and made here in Great Britain. For me, it fills my heart to know I am supporting a heritage Scottish brand rather than a "generic superstore".
Darling Deal: buy directly from the manufacturer when you can. Do you research, find out who makes originals and buy from them. It supports local industry, feeds a family more directly and makes you feel good. When your wardrobe is full of things with story it becomes entirely more pleasurable to wear and to talk about if someone asks you where you got it! (note: the gallery item below is not from Lochcarron, please visit them and show your support). My hair bow is their's too!
How to shop like a lady - a recap
If you are in the UK and tend to try on and research first then buy online with discount codes (like all smart gals do) make sure to sign up to TopCashback. You'll see even greater return on your spend.
You CAN afford nicer things, you just have to save and not spend on rubbish just to fill a void.
Never buy on impulse - it'll be there next week after careful consideration. Delay the satisfaction.
Learn how to get dressed. Books from real people with real clothing industry experience (note: the workhorses who know their fabrics and quality, not just "fashion stylists") are worth it.
Buy only things that you will cherish. If that means waiting for a longer time and spending more at purchase point, so be it. You'll spend less in the long run.
Be comfortable with "just trying on". Even in high-end "designer" stores. Makes sure to always always try on before you buy clothing or shoes. What might look good on the mannequin or in your dreams may look terrible on you. Try on! Test out. The SA's might be snotty and want to pressure you to buy but that's their problem. Be confident in saying "no thank you". You test drive cars, so why can't you test drive something you'll essentially be living in! In a chapter of Ladies Like Us we cover shopping and how to have real fun with it plus how to get impeccable, helpful service every time. Have you got a copy yet?
Only go shopping for specific items. You can browse online and in many ways it's better (for research and price point purposes). ShopStyle is great for this - hundreds of stores in one place.
Start with the basics in good quality, neutral tones. The pattern and "fun" can come later.
Remember - it's not a rule that you should own more than you need. It's not a rule that you have to be a slave to fashion. It's not true that every "trend" will suit you - but every "classic" will.
When you buy discreet items (meaning, no high-trend items or gaudy logos) people will look at you and not the items you are wearing.
If you feel like you have a problem with regards to shopping, read this. Also pick up and read Ladies Like Us - shopaholic tendencies often stem from low self-esteem and mis-directed emotional issues that can be sorted with love and support.
Always, always think about the environment and humanity. You might be saving money in your own pocket, but what and who is it costing at the other end of the "bargain"?
Your key words are classic, durable, well made, heritage/trusted, neutral, versatile and cherished. If the item you have in your hands fits every one of these without doubt then go ahead.
Buy only what you need and know you'll use even 10 years from now, not what the world says you should have in order to "fit in" for a season.
It's ok to look. It's ok to appreciate. It's ok to admire - but it's not ok to run yourself into debt or hoard more than you need.
Be discerning, darling.
Your homework: go to your closet, take everything out and separate it into three piles.
First pile should be the things that bring you joy according the principles above. These are your core items that you love, you wear and that serve you well. These get to stay.
Things that are just "fluff", you wear them but don't really care for them.
Things you've never worn and regret buying. It's out of style, doesn't fit, poor quality or looks terrible on you. You wouldn't even pass it on to a friend.
Now, donate pile three or take it to a fabric recycling plant. No ifs or buts. You don't need it.
Be ruthless with pile two and make a note of what you'd like to replace with better quality. Replace slowly and methodically.
Never shop "blind" again, do only as a lady of self-control and class would do. You owe it to yourself, your image and your credit card.
...
Here's to mindful, happy and elegant shopping, just how a lady should do it,


All content and images in this article are copyright of The Darling Academy and are not to be shared or reproduced without our express permission.