Emma Bridgewater Afternoon Tea Review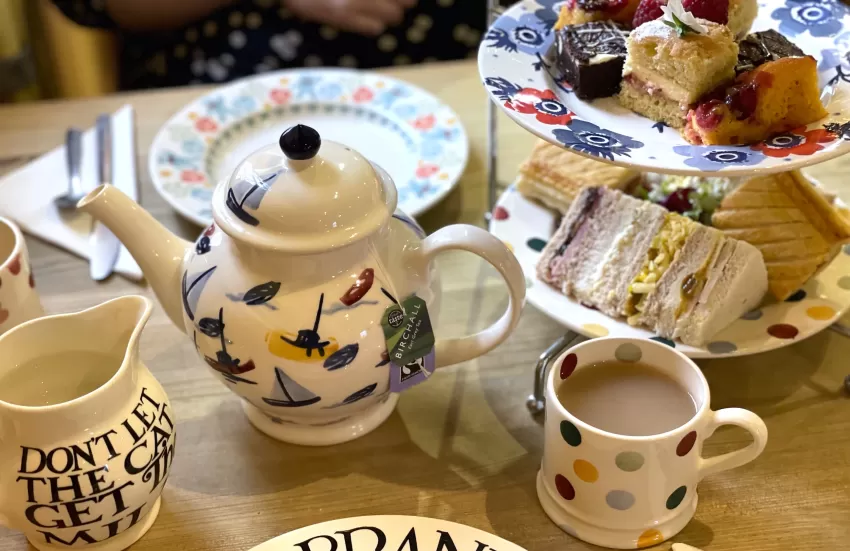 For the longest time, my right hand woman Jules and I have been itching to go to the Emma Bridgewater Factory for a girly day out. We are both big fans of Emma Bridgewater pottery, and with a baby due at Christmas (her, not me), it seemed a nice time to treat Jules to afternoon tea in Stoke-on-Trent to thank her for her amazingness. She helps to moderate our group, in case you didn't know.
I drove the two hours from Gloucestershire to collect Jules on a Monday morning, and after a quick cup of tea in her lovely Victorian house (in an Emma Bridgewater mug no less), we carried on for a further hour in the car towards our dream destination.

Visiting The Emma Bridgewater Factory for Afternoon Tea
The Emma Bridgewater Factory is located in an area colloquially known in the UK as "The Potteries". The Staffordshire Potteries is the industrial area encompassing six towns that make up the city of Stoke-on-Trent. North Staffordshire, the county to which Stoke-on-Trent belongs, became a centre of English ceramic production in the early 17th century, due to the local availability of clay, salt, lead, and coal. All required for the production of these mugs, plates, and pots we love so much! Historically, The Potteries has been a major employer in the area, but though numbers have dwindled in recent decades (due to production moving abroad for many brands), Emma remains a large employer in the area since its inception in 1985.
Emma Rice (née Bridgewater) set up the company after failing to find a nice cup and saucer for her mother's birthday, and instead decided to paint one herself! The company is still run by her and husband Matthew Rice - though some reports say they have recently separated, Matthew continues to design for the brand. The artwork (particularly the litho printed motifs) are by his hand.
I have noticed on forums of which I am a member, that many fellow fans of EB have spotted her about the place, and managed to grab Emma for a quick chat and a picture when visiting the factory - though Jules and I sadly missed out on Emma-spotting this time.


As you walk through the entrance, you are greeted with the Mothership that is THE SHOP. Not to be confused with the outlet/discount area - this is where you will find all current full-price ranges, and the brand's most popular products. It was early October when we made our visit and the area was already bedecked for Christmas. We had a good look at all the new designs that we had only seen in the catalogue thus far and made mental notes of the pieces we'd like to add to our wish lists.
Both Jules and I were up for a bit of bargain hunting, so we followed our noses to the Factory Outlet Shop to hunt down what we really came for. At the top of my wish list were some items from the Black Toast & Marmalade range, notably a butter dish, a large jug, small jug, a bellied milk jug, a garlic bowl, and ideally if pigs would decide to fly that day - a 6-pint Fig Jug I had my eye on last year but never pulled the trigger on. Sadly it has been discontinued and I cry myself to sleep over it regularly! (Just kidding, sort of)...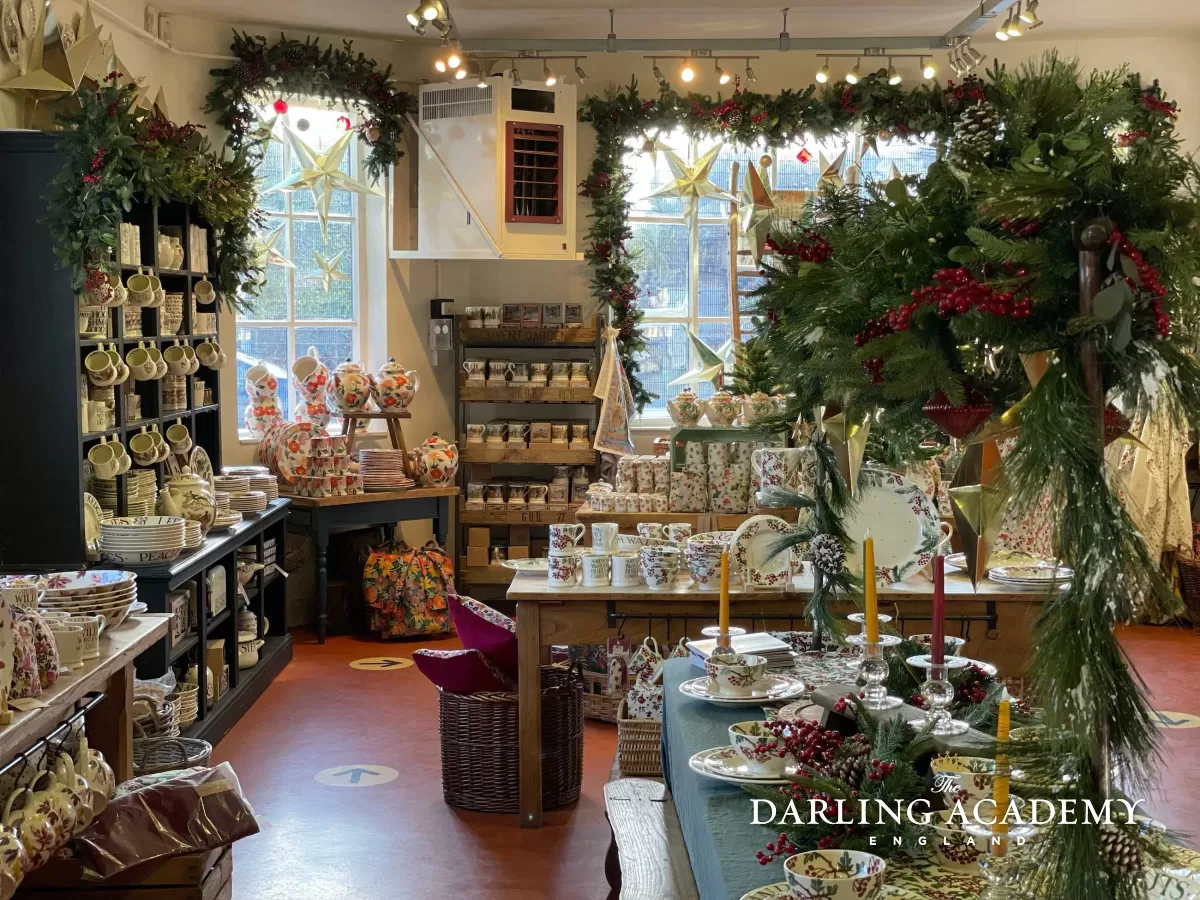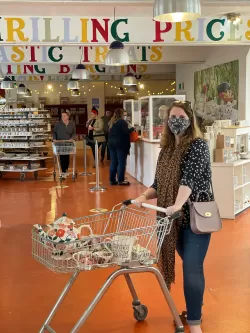 Jules was very happy to find her dream teapot. It takes a whole GALLON of tea! Not that she'll be using it for that. Display only - though a friend on Facebook did suggest they are good for Gin cocktails! Something to consider for the future when baby is weaned, hey Jules?

Once we had exhausted the shop of everything we wanted to buy and did a second "just to be sure" lap, we crossed the courtyard to stow our purchases safely in my boot and head back indoors for our 2pm booking for Afternoon Tea in the cafe.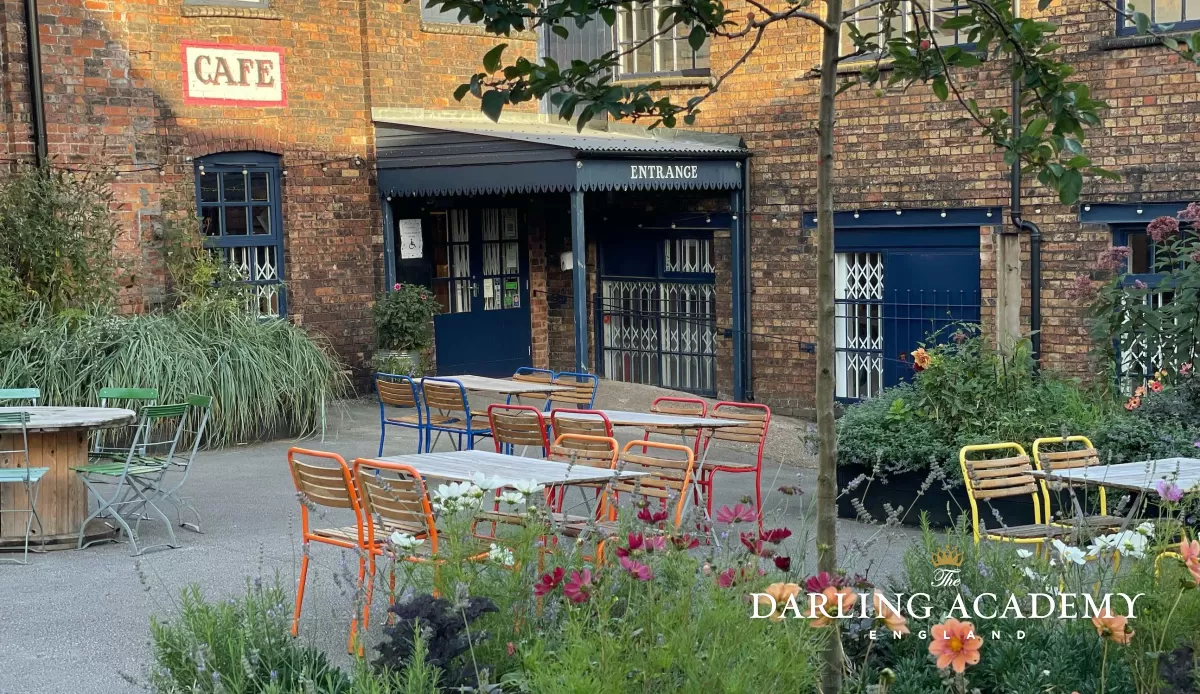 Afternoon Tea menu at Emma Bridgewater.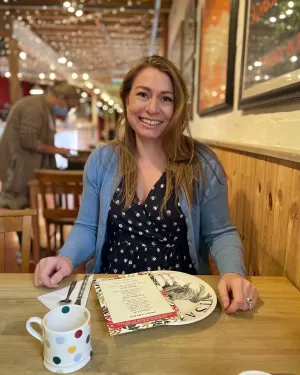 If there is one thing you should know about me, it's that I adore Afternoon Tea. I love the variety of it, the sense of occasion (no matter how simple, or grand), and it's a gorgeous excuse to get together with friends.

We were seated very promptly in the cafe, opposite the famous dotty Aga, and I thought to myself I would appreciate sitting right alongside it on a chilly day. There was definitely an "industrial" feel to the cafe. Long and narrow, bricked walls and iron railed windows, huge cast iron radiators, and fairy lights strung across the length of the room.
It wasn't busy for a Monday afternoon, and I took note of the reality vs. my expectations.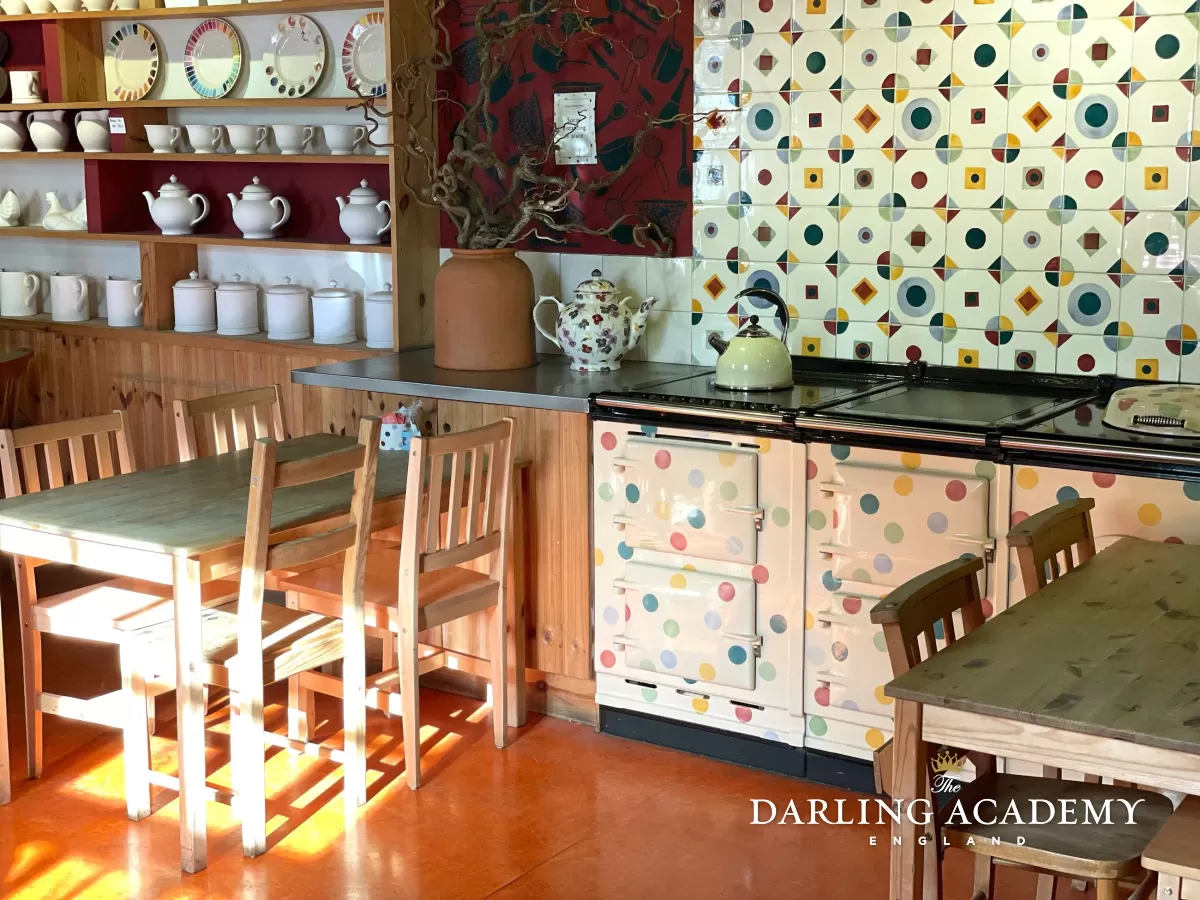 Emma's Famous Dotty Aga
Despite there being some fantastic chairs - many seemed to be vintage, and lots were from old Churches, I was surprised that the tables were as basic as they were. Not that it's an issue - but the brand is synonymous with "country kitchens" so I would have expected chunky old Victorian scrubbed pine, not lightweight IKEA pine. Considering the frequency in which Emma seems to take our money, I expected a little more. The whole place was spotlessly clean, and tables were cleared quickly by the staff. Much appreciated as it's not nice staring at other people's discarded food as you try to enjoy your own. The staff were definitely attentive!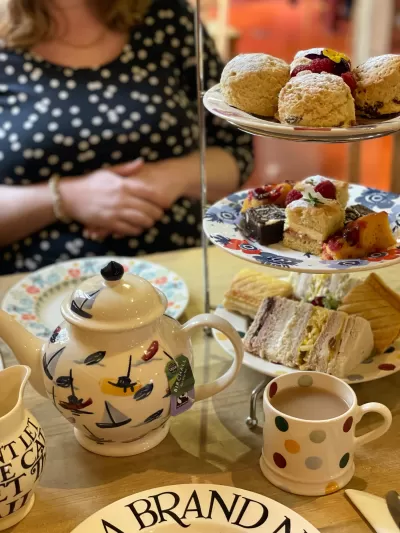 The Afternoon Tea itself arrived in record time. The typical three tiers of sandwiches, cakes, and scones on a mish-mash of Emma Bridgewater crockery. Jules and I decided to share a pot of Earl Grey, but further soft drinks weren't included in the price.
Ladies across from us looked to be enjoying a nice lunch of quiche and salad, and the portions looked ample, as well as delicious.

The sandwiches were a little chilly, each of us getting a triangle of ham & pickle, egg mayonnaise, cheddar & piccalilli (my favourite), and coronation chicken. As well as a small (but delicious) sausage roll.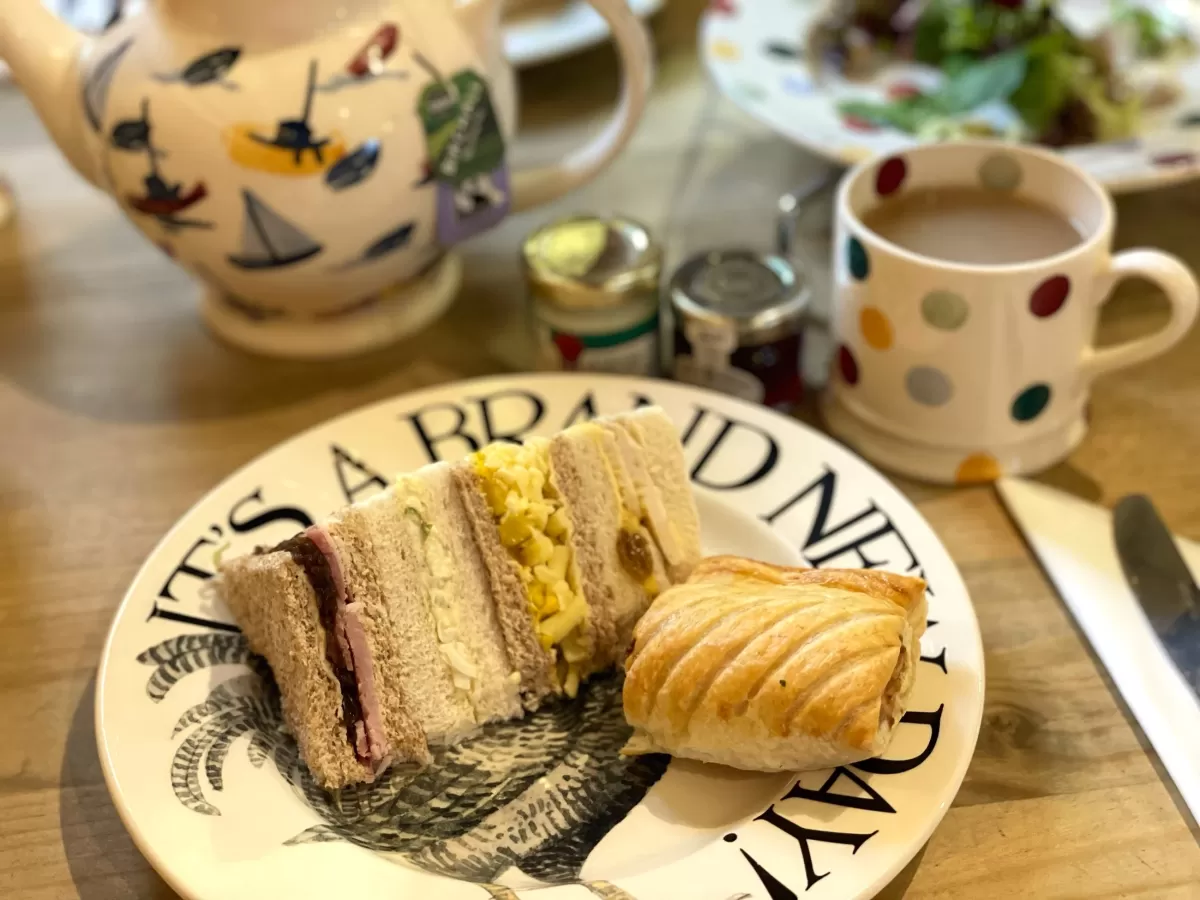 We were asked about dietary preferences when we sat down, so I am more than sure that they can accommodate vegans and vegetarians, as well as allergies. However because we had pre-booked I didn't sight a regular menu.
As we worked our way up the Afternoon Tea tree, the cakes were utterly delightful! We each had an individual portion of Victoria Sponge (they weren't shy on the vanilla and it was the best I've tasted in a long while), a fruity sponge I couldn't quite put my finger on - Jules and I thought it may have had apricot, and passionfruit with cranberries… Should have asked, I know. The chocolate brownie/ganache square was oh-my-goodness-me decadent! I couldn't even finish mine it was so rich. Couldn't help but feel Mr Darling would have loved it very much.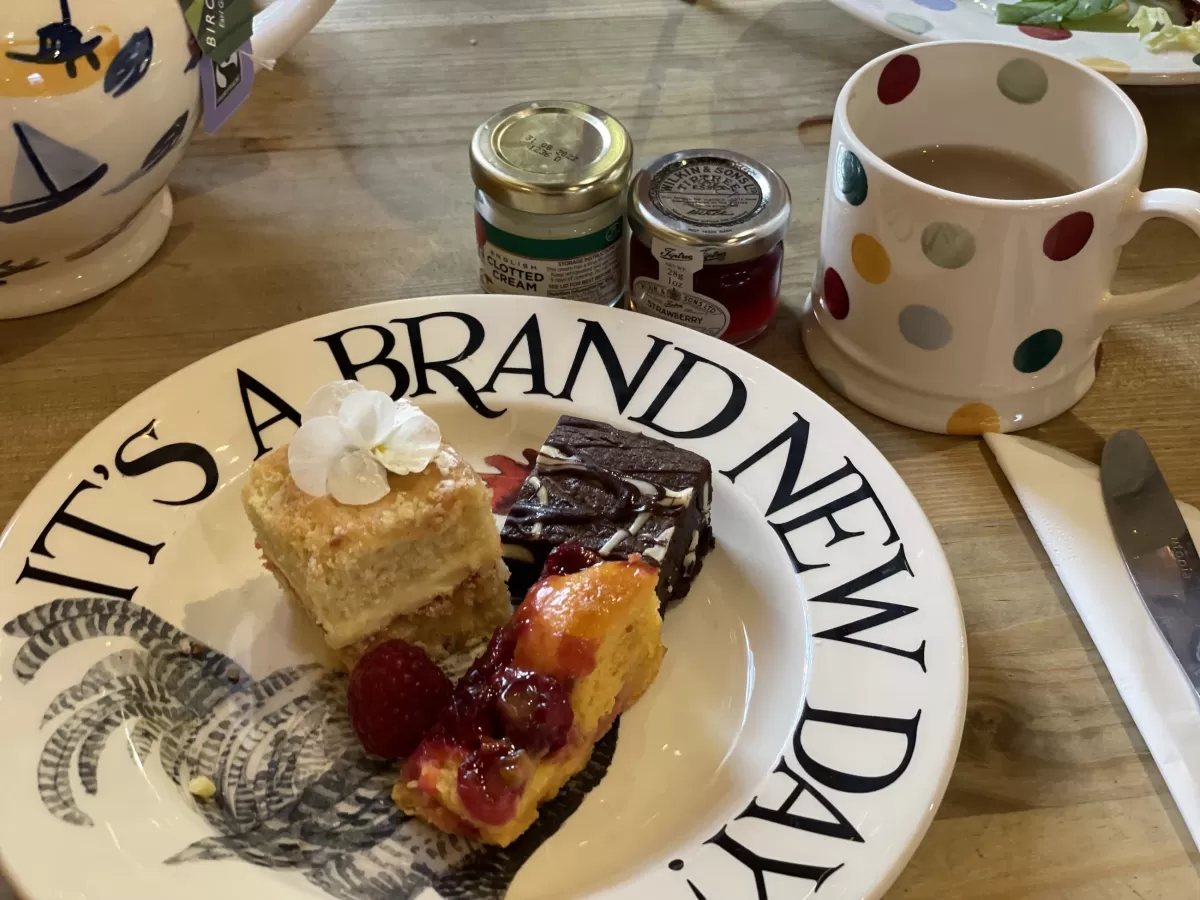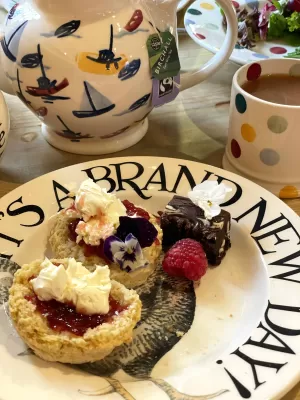 Lastly, the scones. By this time I felt somewhat full. This always happens, I seem to think that the petit-bites appearance of Afternoon Tea will never be enough to satiate me, but the act of eating slowly and sipping tea does allow the stomach to communicate with the brain and let you know you are full!
I chose to have a plain scone (see my dedicated scone post, and recipe)... I am not a fan of fruit scones so I left that one alone. They gave us little jars of my favourite Tiptree jam, but I was a little shocked at the long-life jar of clotted cream! Why not serve fresh Rodda's? I hate to sound like a snob, but it really is the best.

Pottery Painting at Emma Bridgewater Decorating Studio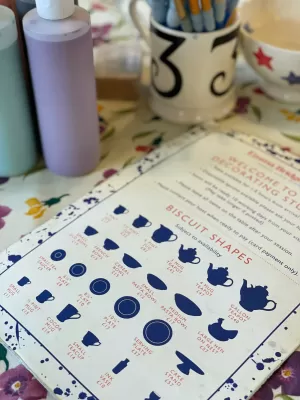 As well as taking a factory tour (which weren't running at the time of our visit), you can book to paint your own Emma Bridgewater biscuit pieces! It's really very reasonable, costing £2.95 per head, and bookable online. This was our final stop, and a lot of fun.
I know my artistic limits, so chose some small and simple pieces from the "biscuit menu" provided, and decided upon some "nature" themed sponges, but surprised myself by free-handing most of my designs in the end! You pay for the pieces you want to paint, as well as an additional £5 for glazing/firing and P&P.


It'll be so interesting to see what they look like when they turn up in the post! My bird-brain didn't really think too much about the colours and how my go-to choice of white, might not show up on a background of off-white! Major fail, haha! Oh well, we can live with "green grass".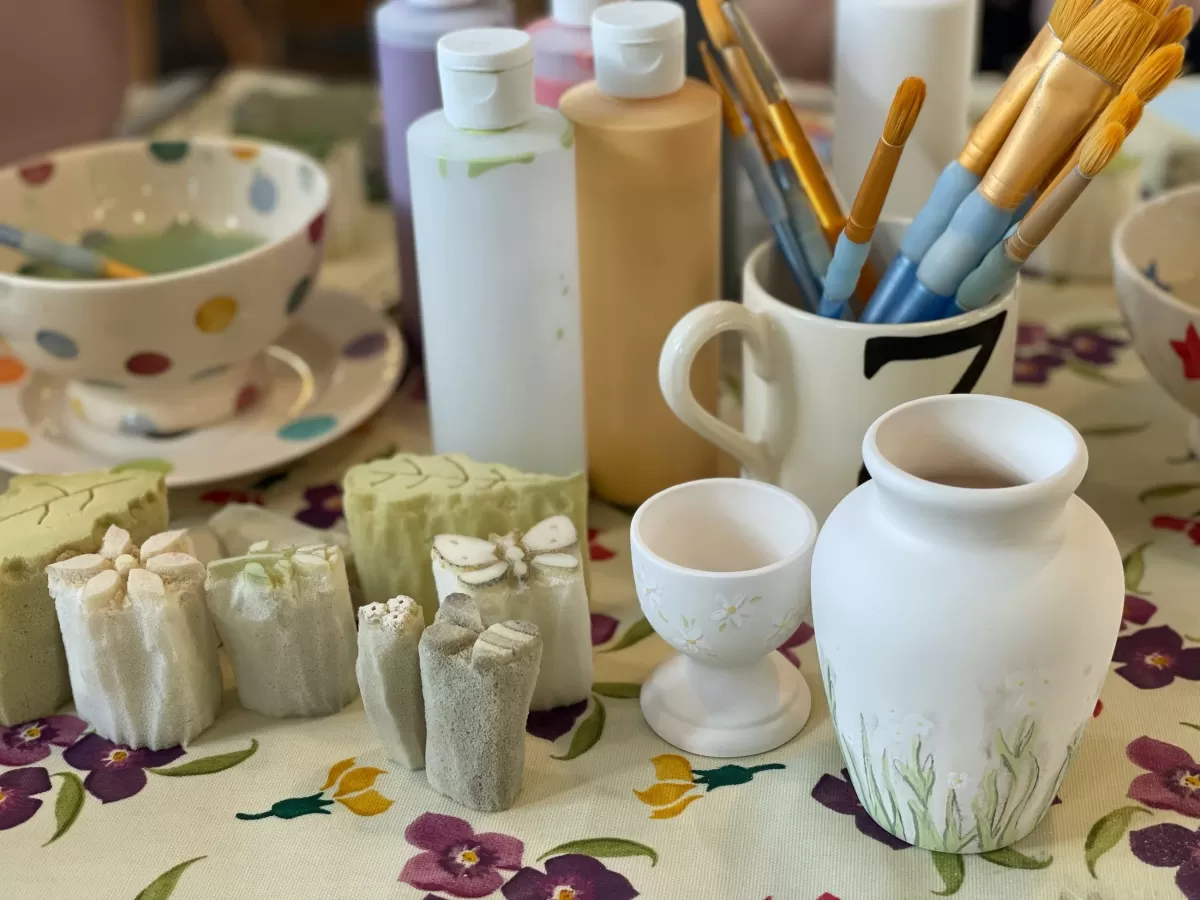 Jules' colourful mug design of "Space Dinosaurs" for her little boy will be far more vibrant, and I am more excited about seeing the final result of this than my own.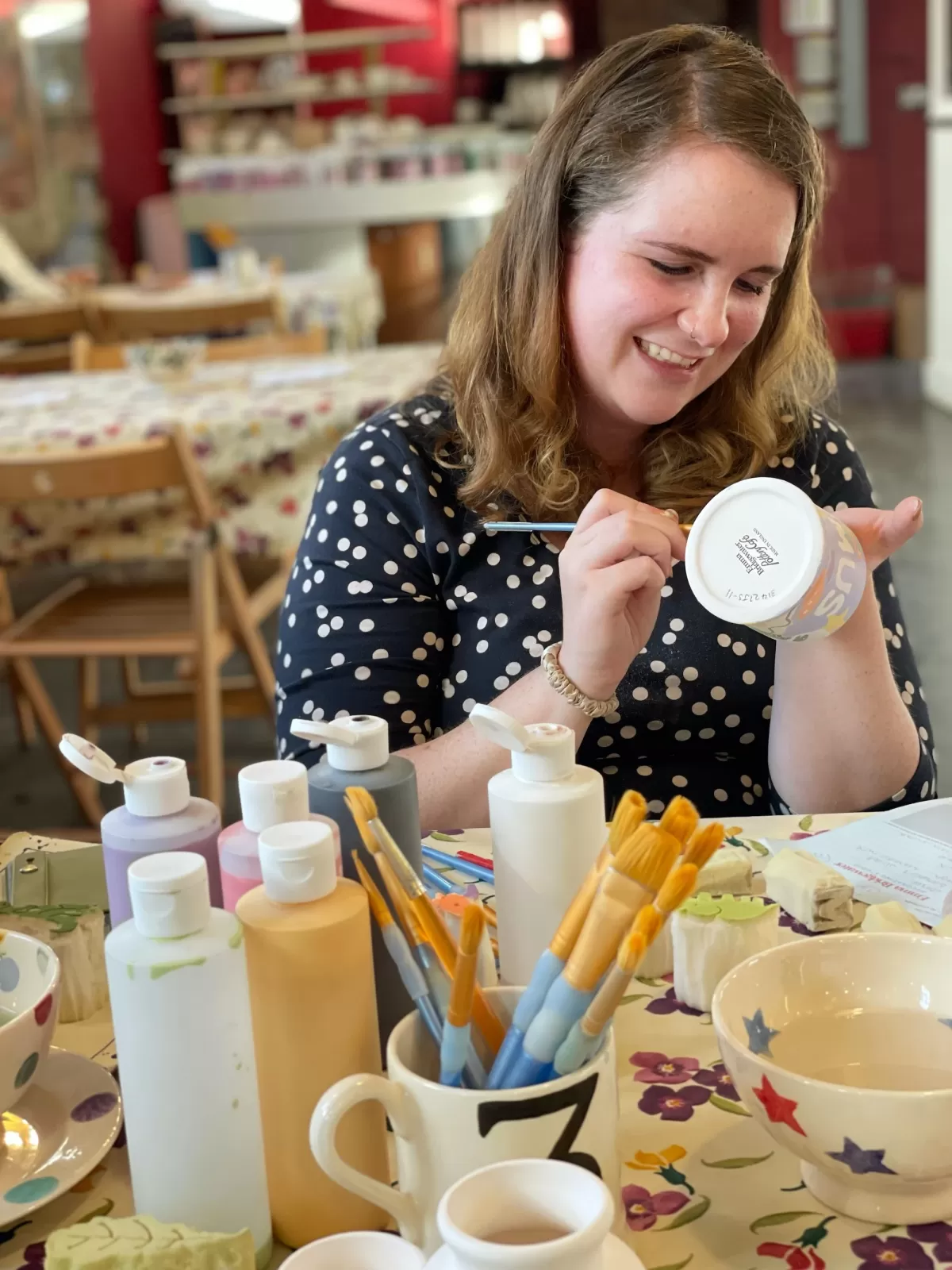 Jules at the Decorating Studio
After a good couple of hours spent painting in the Decorating Studio, our day finally came to an end as the shutters were closed. Jules and I had a quick peek of the gardens, as a helpful staff member put through one final last-minute purchase on behalf of a friend. Happy but tired, we walked out the door as they locked up behind us - literally the last to leave! In fact, we didn't really want to!
We decided this will become an annual pilgrimage for us. Pray for our bank balances, won't you!?
Emma Bridgewater cafe and factory review
Price Point: Fair! The Afternoon Tea cost £17.50 per head at the time of our visit (Oct '21).
Dress Code: Casual. Most seemed to be dressed in Joules & Jeans.
What I wore: The Riley Jersey Wrap Dress by Joules (similar), an EWM Lamb Wool cardigan, Reebox Classics.
Formality Level: Casual & Comfortable.
Food Rating: 7/10 - it would have been a solid 8 if the Clotted Cream was Rodda's.
Atmosphere Rating: 7/10 - the furniture and basic canteen weight cutlery let it down, and background music would have been nice! Perhaps it feels cosier in the winter with the Aga running, but the cafe felt a little sterile without it.
Service Rating: 10/10 - the staff couldn't have been lovelier, or more helpful.
Overall Score: 8/10
Will I return?
I feel I have already answered this, but it's a resounding yes! Jules and I have decided to make this an annual trip, but next time I think we will have a lunch, as opposed to afternoon tea. The food otherwise looked really good! I shall also save hard for our next visit as the prices were fantastic. I saved a good 25% on my wish list items. It will also be nice to "go a little mad" with the new season stock too. "When in Stoke", as they say. ;)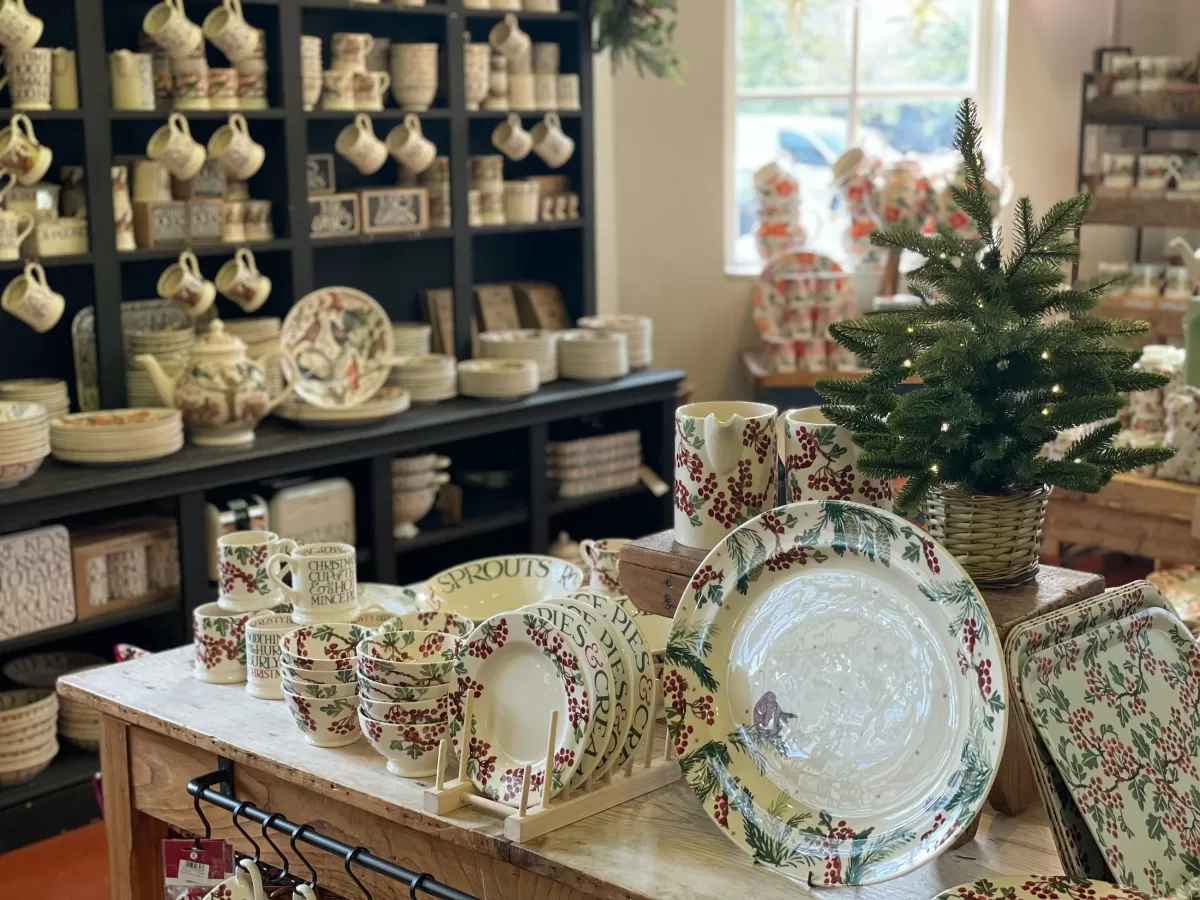 Tips for visiting the Emma Bridgewater Factory
Access was very good, as well as parking - but it is a little rough in the carpark (exposed ground and gravel), so do bear that in mind if you are in a wheelchair or are taking a pushchair. Don't bother wearing heels! I spotted ramps and lifts for wheelchair users, as well as an ample-sized disabled loo and baby changing facilities. Apart from the initial entrance, everything else was pretty much on one level, with double doors to all buildings.
Shop first! You don't want to miss out on your wish list items, because once they are gone, they are gone.
As for shopping; set yourself a budget unless you want to get in trouble! I'm glad I stuck to my budget and didn't deviate from my wish list. It's a good idea to plan ahead unless you want to go bankrupt. The prices in the Factory shop are very appealing - and you'll find trolleys if you are buying large, or multiple items. Do be prepared to find something that you aren't planning on though. Jules picked up a much longed-for gallon sized teapot at a price we'd never seen before! It was too good a deal to pass up. Alas, my DISO (desperately in search of) 6 Pint Fig Jug was nowhere to be found. If it had been there I would have definitely snapped one up.
Have a good rummage amongst the stock to find the best items. All "seconds" will have black pencil marks showing you where the 'fault' of the item is so you know why it didn't pass quality control. Some of them are so minor though, you'd hardly notice! I spent a good five minutes rifling through about thirty butter dishes in order to find the best top, and the best bottom.
Do bear in mind that they will not sell you any chipped or cracked items. The lady at the checkout noticed Jules' original chosen teapot had a small chip in the bottom, and so we had to find another as she refused to sell it - despite us claiming it's for display only.
Book your visit for late morning, to mid-afternoon. The area is rather industrial and traffic can be heavy, so do avoid arriving and leaving during rush hour if you can.
Visiting Emma Bridgewater
You can book your afternoon tea, factory tour, and painting experience online. I did notice a couple ask if they had spaces for painting while we were in there (they did), and the staff accommodated them, but do book in order to avoid disappointment!


I hope you enjoyed coming along with Jules and I for our day trip! It was a great day out and I'm really happy to support a British brand synonymous with English Country Kitchen Style - the girl can do no wrong!
Well, except for bankrupt me with her pretty pottery, but I'm more than willing…
Where to find more Emma
If you are outside of the UK, you can use this stockist finder to source your local distributor of Emma Bridgewater products. They also ship internationally within 8 days!
'Toast & Marmalade' is a great coffee table book to learn about the history and story of the brand, and I currently have the book 'Pattern' on my Christmas wish list.
If you'd like a FREE pint mug with your first order from Emma Bridgewater, you can use this referral link*, or click below.
Use Alena's personal referral code link for your FREE ½ pint mug.

As always, I hope you liked this blog post, thank you for your support - and make sure to stay tuned for more British Lifestyle and Afternoon Tea blog posts coming soon!
Alena xxx

All content and images in this article are copyright of The Darling Academy and are not to be shared or reproduced without our express permission. Affiliate links have been used in this blog post. *Qualifying first purchases with Emma Bridgewater will award me with a 15% discount code.