Family Favourites: Chicken & Leek Potato Pot Pie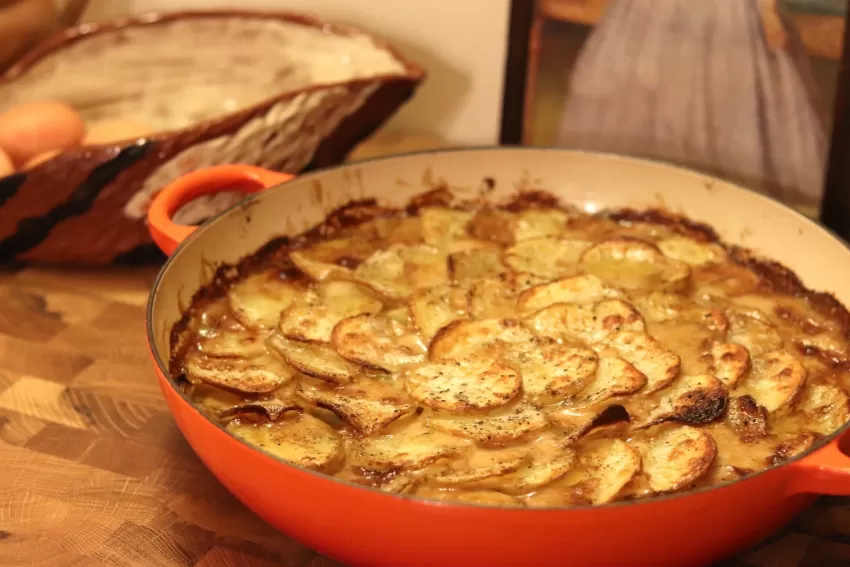 This delicious and surprisingly quick chicken and leek pot pie recipe is something I whipped up last week, and so many of you have asked me to share. It's almost foolproof, and, providing you know which flavours will work well, you can make swaps for different meats, vegetables, and herbs that you have on hand to create your own version!
The topping I chose was a few sliced potatoes as they needed eating up, plus doing them this way meant less washing up in the end! I keep the skin on my potatoes as that is where most of the vitamins and minerals are, and I don't religiously scrub them clean either in order to take advantage of healthy SBO's. Organic potatoes are best in this case if you can get them, or homegrown! Else, make sure to wash and dry them well if you are unsure of what their growing conditions were.
However, if you are a big fan of mash or pastry, this would be a great way to crown the pie too!

Chicken & Leek Pot Pie
This recipe is an easy mid-week meal to feed a hungry crowd. If you prefer pastry to a potato top, this can be used instead. Will also work well with a mash and cheese topping! Just make sure to cool the filling and the mash a little before you top the pie as it will make it easier to work with, and spread the mashed potato evenly without disturbing the filling.
*Bake all toppings at the same temperature, and for the same amount of time recommended.
Yield: 1 medium pot pie, or divide into portions for freezing (great for couples).
Serves: 4 people. Can be made to stretch further if you add side dishes, or bread.
Storage: Suitable for freezing if filling is cooked but left unbaked. Store in an airtight container, and defrost thoroughly before cooking. Top with fresh potatoes or pastry and bake in the oven as per instructions.
Chicken and Leek Pot Pie ingredients:
3 tablespoons of butter, plus a little extra for glazing.
2 or 3 large chicken breasts, cut into bite-size chunks.
3 large leeks, white and pale green parts only, sliced into 1cm rounds.
1 cup of frozen peas or petit pois.
175ml (3/4 cups) double cream.
1/2 a pint (around 1 cup) of hot chicken stock.
4 or 5 medium potatoes, sliced thinly, skin left on.
Freshly steamed green vegetables to serve on the side.
Salt & Pepper to season.
1 tablespoon of dried mixed herbs, or 'Herbs de Provence'.
*American friends, our 'Double Cream' is your 'Heavy Cream'.
---
How to make my Chicken & Leek Pot Pie
Preheat your oven to 200°C or 400°F (Gas Mark 6).
In a large skillet or frying pan, throughly cook and brown your chicken pieces in a little olive oil. Once cooked, set aside and keep warm.
Meanwhile, put a shallow cast iron pan on a low-medium heat, melt butter and slowly cook the leeks (cover and stir occasionally) taking care not to brown. The aim is to cook them slowly until they are very soft and translucent.
Once the leeks have softened (approx 20 minutes), add your cooked chicken pieces to the pan and stir.
Pour over your chicken stock, and season with the herbs, plus salt and pepper.
Once mixed, remove from the heat and add your frozen peas and cream. Stirring to combine.
Transfer to a pie plate if required, or if your pot is hob-to-oven safe then arrange your potato slices over the pie. Making sure to overlap and cover the filling entirely.
Melt a little butter in the microwave and with a pastry brush, 'paint' the tops of the potatoes with the butter, then season with salt and pepper. *Add a sprinkling of grated cheese here too, if you wish!
Place the pie on the middle shelf of the oven and bake for 25-30 minutes.
Once beautifully browned and bubbling, carefully remove from the oven, and cool slightly for a few minutes while you finish off the vegetables.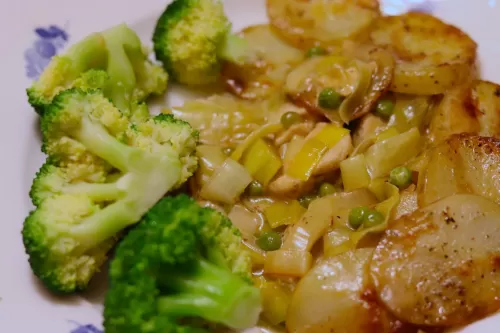 Do bear in mind that you may need to adjust the cooking time depending on how hot your oven runs. When it's golden and bubbling it's done!

I served ours with steamed broccoli, and I think some nice crusty bread would be great for mopping up the delicious juices!
There are three of us in our household. This size pie was enough for second helpings for the Mr, and a single portion for lunch the next day.

I hope you enjoy this warming winter pot pie. Join the #ApronCladArmy and let me know in our private Facebook group if you make it!
Happy Homemaking!

Only £6.99 (about
$8.50)
Instant Worldwide download
Kitchen Management Manual
Printable PDF housekeeping handbook
Meal Planner
Shopping List
Recipe Card
Pantry & Freezer Guides
Seasonal Food Guides
Conversion Charts
FREE BONUS Laundry Tips!
International payment methods accepted:

All content and images in this article are copyright of The Darling Academy and are not to be shared or reproduced without our express permission. Affiliate links have been used in this post. There is no extra cost to you if you make a purchase, but The Darling Academy may make a small commission from the sale.