Miserden Estate & Gardens Cotswolds Afternoon Tea: a review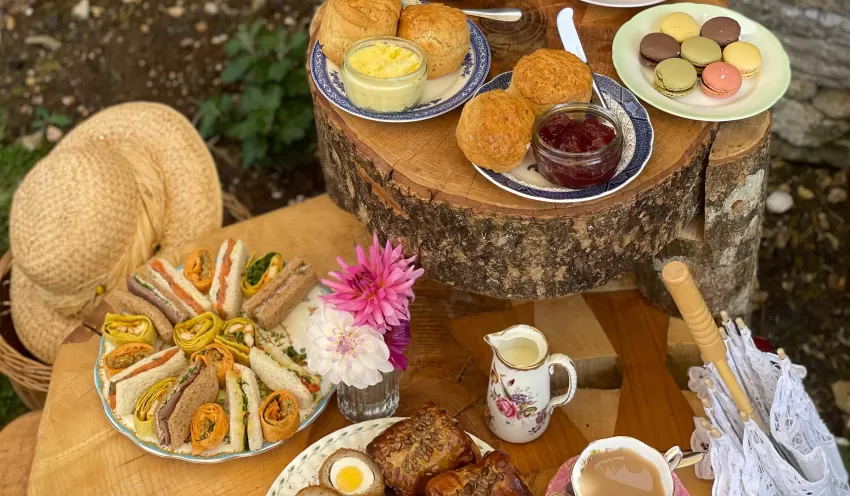 I once thought it was impossible for anyone to love afternoon tea as much as I do. That was of course, until I met my darling friend Sian! What it does for the soul is unrivalled in my opinion, and what it does for a friendship is even better.
Over the past couple of years, after having met online during lockdown (what's the female version of a bromance?), she and I have spent a fair amount of time together, often found sampling some of the best tea experiences England can offer.
My beautiful friend and I live no less than a labourious four hour drive from one another, and while we speak almost daily, nothing compares to being in one another's company enjoying a mutual love for something. You see, Sian and I are both happy housewives, with a bit of a passion for vintage, equally bulging Berylware hoards (our collection is actually how we met - but that's a story for another time), and we are so likeminded it's uncanny.

Where other women like to go on spa trips, we're not ones for laying poolside - instead we'd much rather stroll through beautiful gardens, or a country house, discuss knitting or sewing patterns, and sit and chat over tea and cake. I guess you could call us Grandmillenials, and we'd be quite happy to wear that label.
We kept it close to (my) home this summer, and chose an afternoon tea within the Cotswolds. Miserden Estate's Afternoon Tea experience, set among beautiful herbaceous borders in a stunning walled garden was an extra special one for us. The lovely team at Miserden invited us for a visit and it couldn't have been a more perfect day.

As I mentioned last time I wrote, England has recently endured enjoyed a scorching heatwave. Thankfully it has now settled into a perfect English summer, and as many of you know, there is nothing more lovely than enjoying a pretty garden when the weather is fine.
Sian came to stay the night at my house on the last weekend of July, and we started our day with a little breakfast served on our favourite Berylware before heading out on our adventure…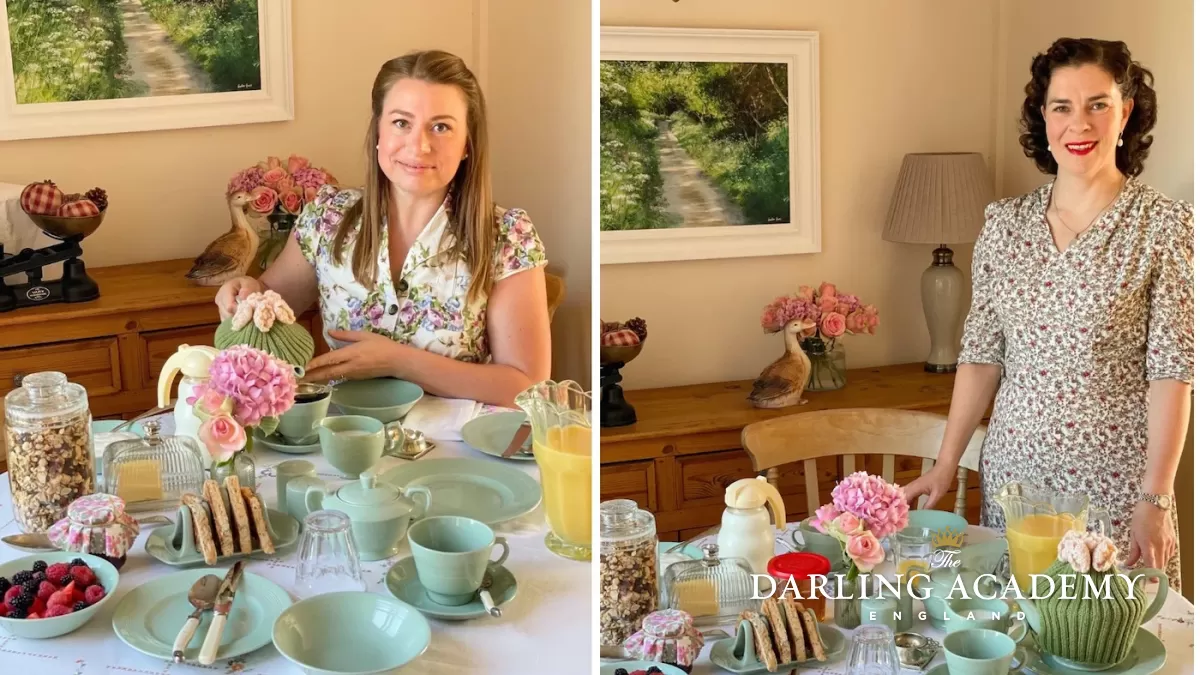 Our mutual love for this pretty mint green "Berylware" started our friendship
Miserden Estate Cotswolds Afternoon Tea experience
It's quite rare in England for a house of this size to still be "family" owned, and in many ways it's all the better for it - like a best kept secret! I'm happy to call it a neighbour, as it was only a 15 minute drive from my home to the beautiful Miserden Estate - a place so absolutely quaint all the signage for shops, pubs, schools and village halls "match", and every home looking as though it belongs in a period drama. No modernity like ghastly TV aerials or otherwise in sight. In many ways it rivals Lacock village for its charm.
Originally built in 1620, The Miserden Estate has been owned and occupied by the Wills family since 1913 and enjoys glorious views of the deer park and picture-perfect hills. It also makes a gorgeous backdrop for photos, this is one of my favourites from the day. Alena as a child would be very excited to see days like this in her future!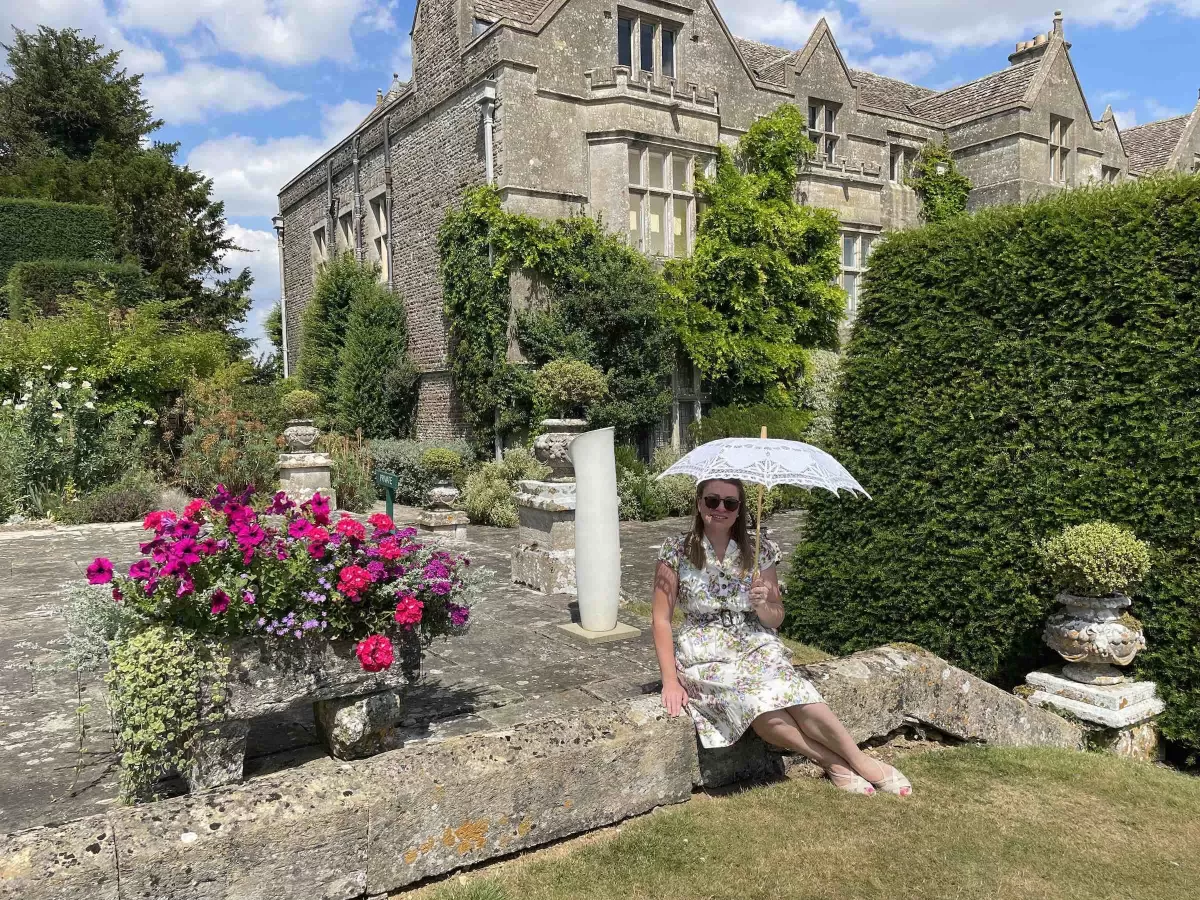 a parasol is a must for sunny days, it brings a fair few compliments too

Afternoon Tea tastes better in The Cotswolds
We worked up our appetites strolling through the gorgeous grounds, and viewing an incredible sculpture collection currently on display (including pieces by my good friend Deborah Harrison). We passed by a beautiful fountain, summerhouse, rose gardens, ancient trees, and yew hedges to find the setting for our afternoon tea. I don't think you can get more British than this - tea in the garden, and so much more than a simple picnic. The surroundings were utterly delightful.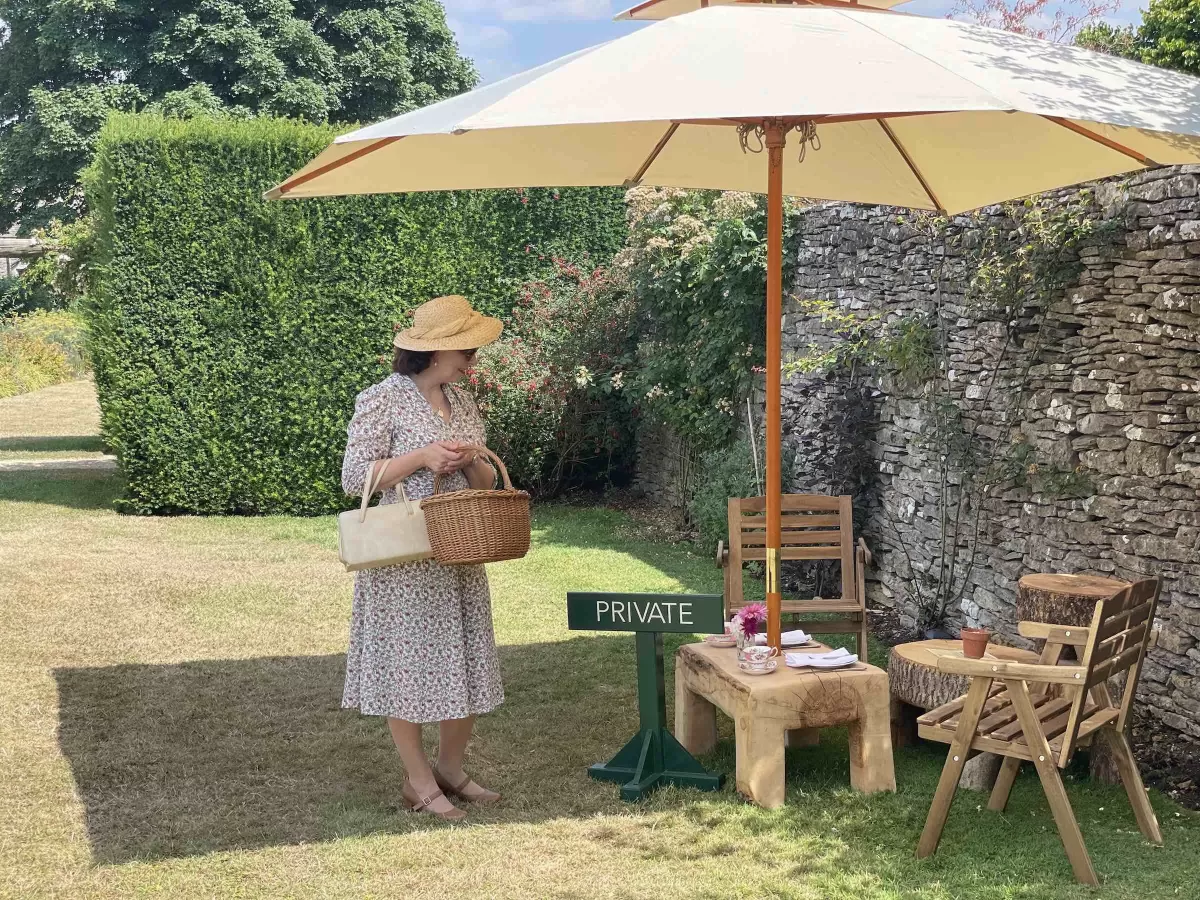 we appreciated the "Private" sign
Sian and I couldn't believe our luck. Previous afternoon teas, while lovely, really didn't have the same feel as this. It's like you're sitting in your own perfectly manicured secret garden - and being waited on hand and foot. Very Downton Abbey.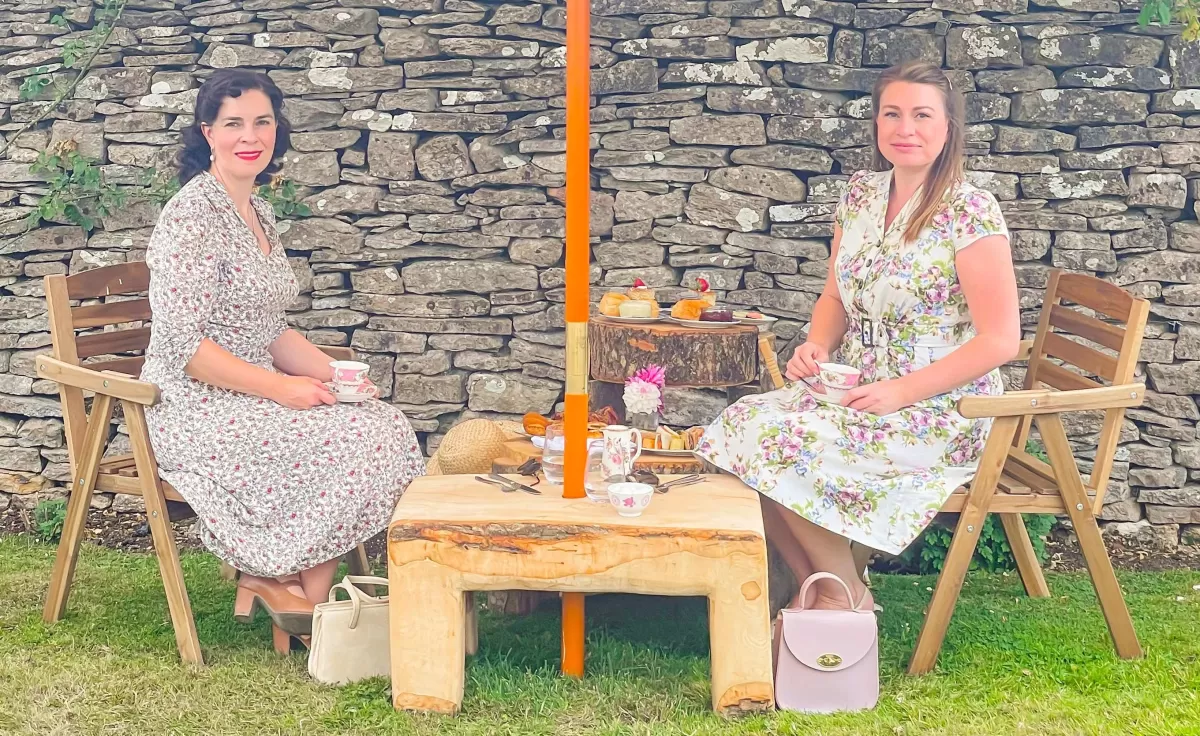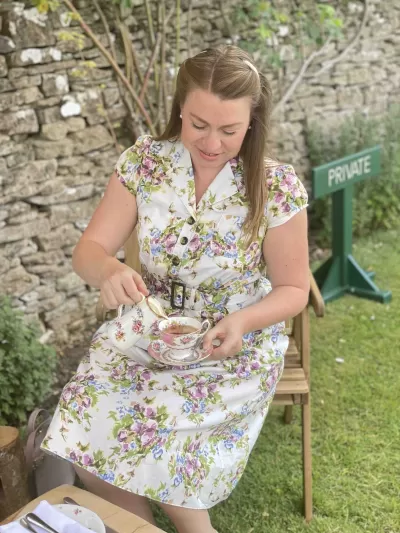 First, of course was tea. Sian choosing her usual English Breakfast tea, and it's always an Earl Grey for me.
Lula, our friendly hostess, was perched a few meters away, making sure to top up our vintage china teacups whenever they ran dry, and in Sian's case, this is often. I half joke she needs an I.V. as opposed to a teapot!
We were told that all the beautiful china you see here had been borrowed from the main house too, which gave it a special touch.
Soon enough, plate after plate of enticing food was carried out to our handmade "trunk" table.
The way it was constructed with tiers was really very clever. Like a giant, natural cake stand! I wouldn't mind one of these in my own garden.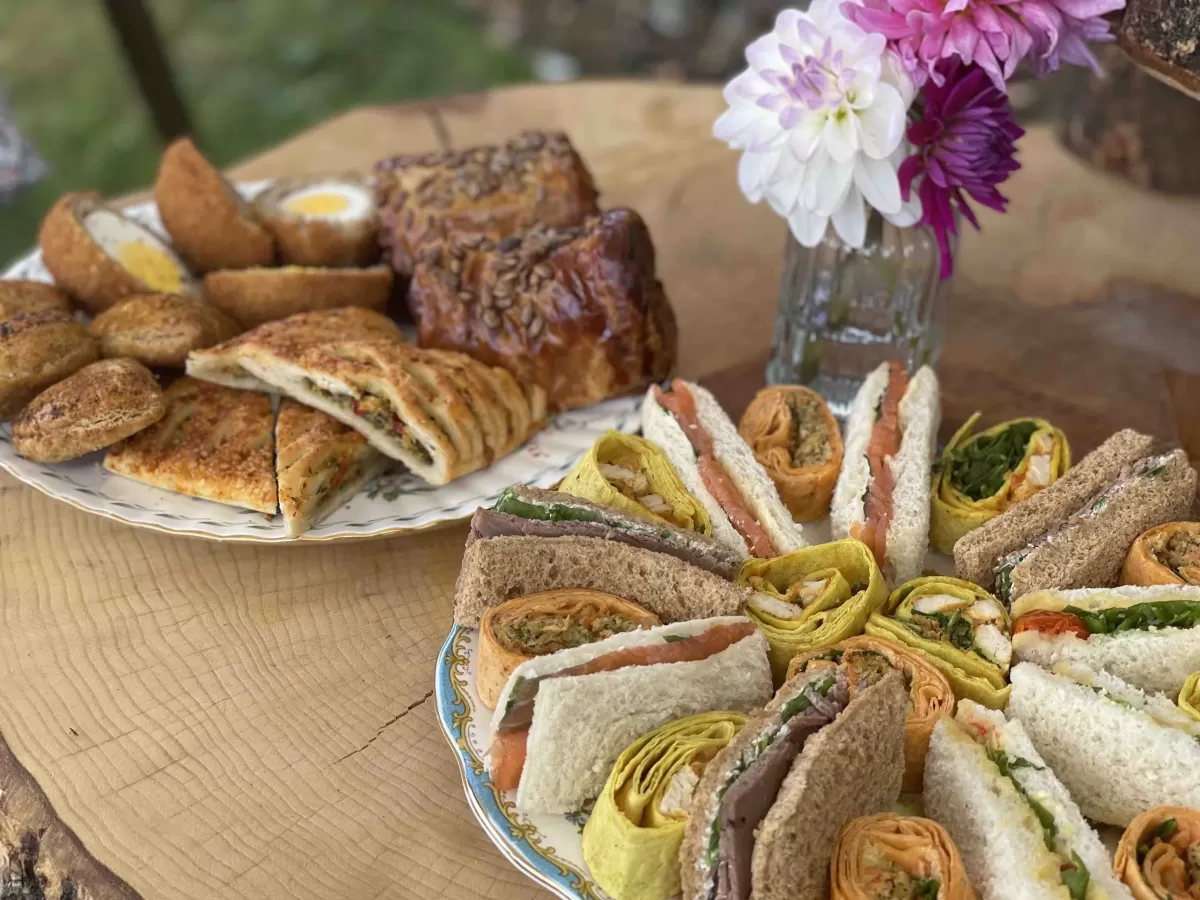 the Dahlias that graced our table had been cut from the gardens that day
To start, there was a selection of sandwiches, with classic roast beef, and smoked salmon. Mini pinwheel wraps, one of which had a gorgeous coronation chicken filling I'm still dreaming about, and a falafel filling in another, which was equally tasty. Savouries included scotch eggs, pastries, and the most incredible sausage roll! The biggest I've ever seen - we managed to cut four slices from just one.
To say this afternoon tea is generous would be an understatement.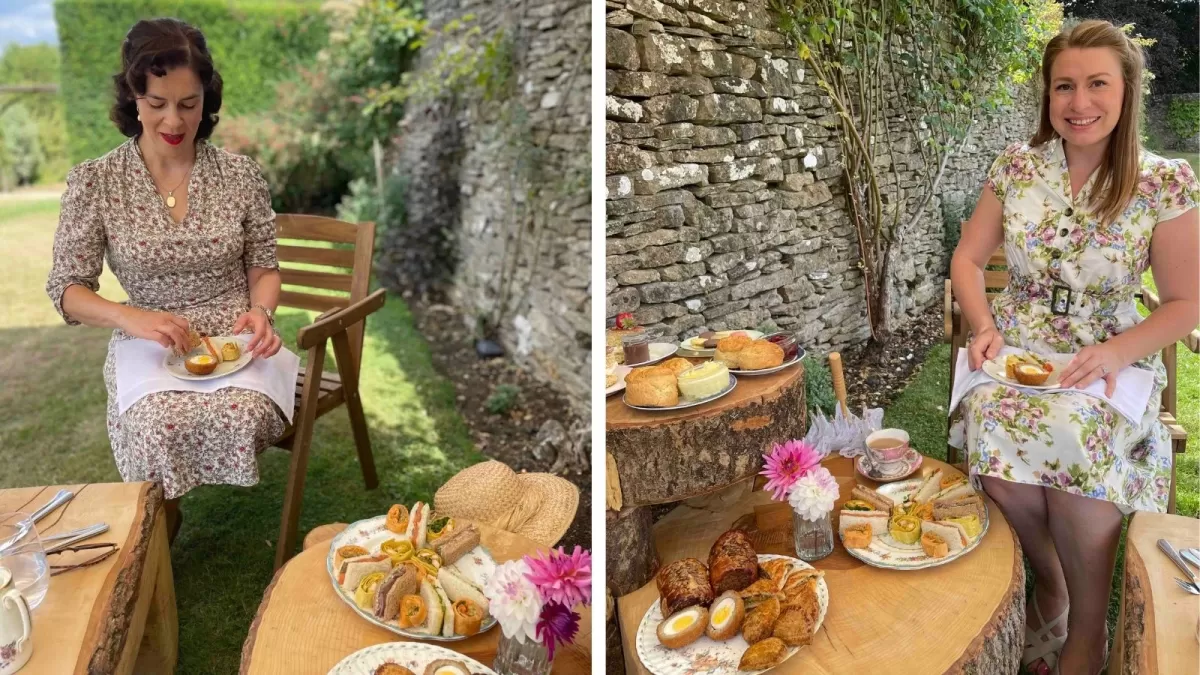 two very content ladies
Next of course, came time for cake! I often wonder if Marie Antoinette is my spirit animal, because I too enjoy cake a lot, especially when they're really pretty.
Qu'ils mangent de la brioche. Marie Antoinette
I'm hopeful however, that I am a little sensitive to those who have none - you'll never leave my house without me having offered you something to eat, and you certainly won't leave Miserden or its Glasshouse Cafe hungry either. It's a sign of a good host you see.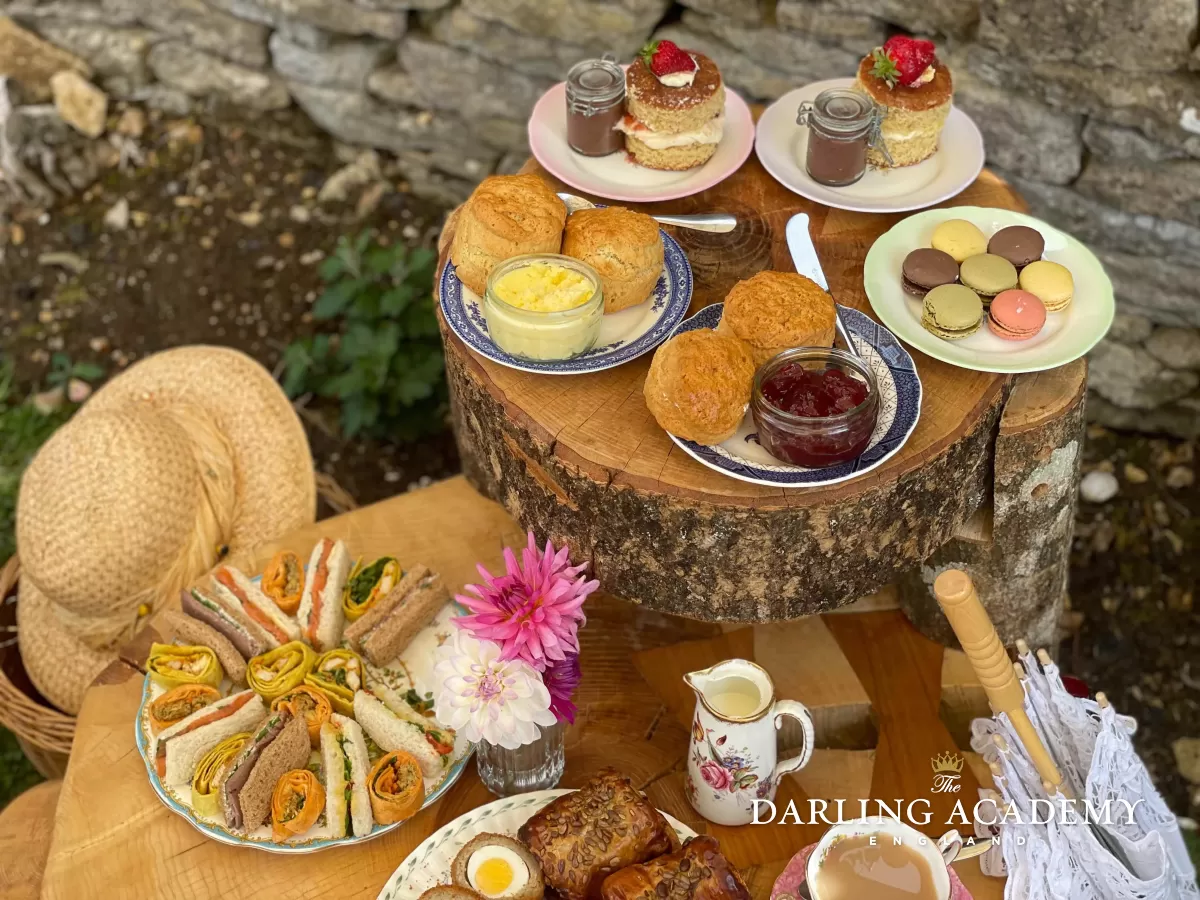 In fact, I'm also likely to bring it home to enjoy it all again later, because Sian and I only managed to split a scone, and one of the Victoria sponges between us this day! We also snaffled a few pretty pastel coloured macarons too. What I love about afternoon tea is that the tea is often bottomless, and you can take home whatever you don't manage to finish.
The team at Miserden made it a lovely experience for us, and we were sad to go but had to say a fond farewell until another time.

If you're looking for a lovely day out in the Cotswolds, exploring the Miserden Estate is a lovely place to while away a few hours strolling through perfectly manicured Austen-esque grounds, and the afternoon tea would make a truly special treat. Such a nice way to spend the day with someone you love.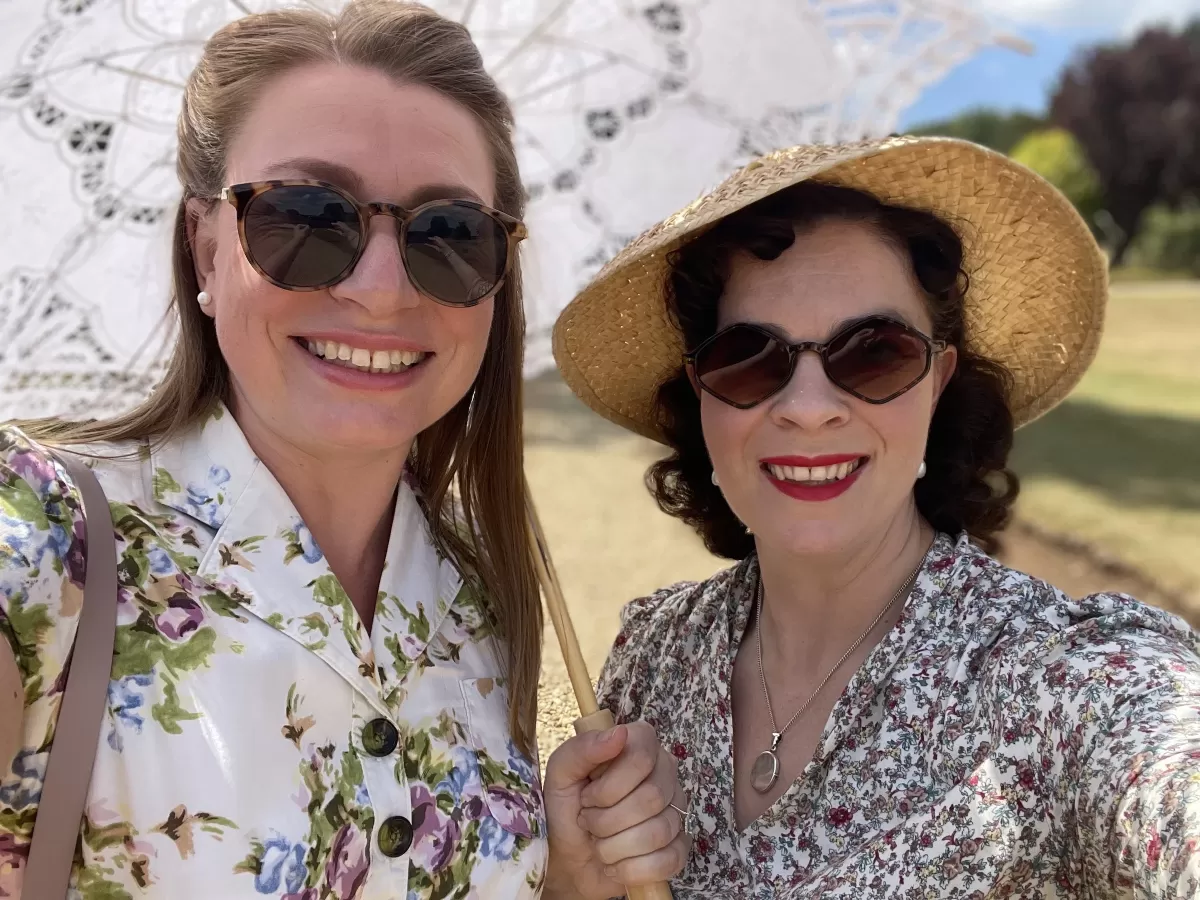 Sian and I departed completely content, and in agreement that the food was delicious, but above all the setting is what made it truly magical. Especially as we sat in the cool shade of the garden walls, while butterflies flitted past as we sipped our tea, and the scent of fresh flowers added to the occasion.
I hope you can visit one day too. Tell them we sent you!
Happy Exploring,

Visit the Miserden Estate
You can see more about, how, and when to visit the Miserden Estate here. If you hadn't guessed by now, the Afternoon Tea experience comes highly recommended!
Disclaimer: Sian and I were invited by the team at Miserden, and Pepper & Seed PR to review their afternoon tea experience. All opinions are our own, and we were not paid for this review, however the experience was gifted to us. We really appreciated the day.
Thank you for joining us on our day out! Don't forget to follow our adventures on Instagram by visiting Sian's page here, and my own here where we will be uploading video footage, and sharing more of the gardens at Miserden.
Dress Notes: Sian's dress was handmade by herself, and mine is old season from Cath Kidston.
As always, I hope you enjoyed this article, if you like our values here at The Darling Academy and found this post useful or inspiring, would you kindly consider supporting the blog.

All content and images in this article are copyright of The Darling Academy and are not to be shared or reproduced without our express permission.