Claridge's Hotel Afternoon Tea: a review

I am a spoiled girl, not only has this blogging lark connected me with so many beautiful new and likeminded friends over the past couple of years, but some of them have absolutely gone above and beyond. They have truly been a light in my life during these tough times, as I hope I have been to them. Sian is a wonderful example, and when she asked if she could treat me to Afternoon Tea for my birthday this November, I jumped at the chance!
As you probably know by now, I just adore afternoon tea. Sian and I actually went to a local hotel called The Painswick for afternoon tea the very first time we met "in real life", and I feel like this is a going to be a wonderful tradition for our friendship. Little did I know that Sian intended to book the best of the best for my birthday, and informed me that we'd be dining at Claridge's Hotel!
This place holds wonderful memories for me, having celebrated a "big" birthday for my Grandmother there many moons ago, and recently, our 7th wedding anniversary back in September 2020 when we were all "allowed out to play" for a little while during the pandemic.
London's best place for Afternoon Tea
Sian and I met at midday on a chilly Friday in Piccadilly, specifically outside Fortnum & Mason - one of London's oldest department stores, known for its luxury food. Our booking for afternoon tea wasn't until 4:45pm so we had some time to kill wandering the Food Halls of Fortnum's, meeting former Royal Butlers (we bumped into and chatted with Paul Burrell eek!), and buying way too many pretty things (sorry dearest purse strings).
A lovely 10 minute stroll down New Bond Street past the shop fronts of Cartier, Dior, and Graff took us to the delightful area of Mayfair, and Claridge's Hotel.
Claridge's Hotel began as a one-building hotel in the early 1800's, expanding to a further five buildings by 1854, and in the vibrant years after the end of the First World War, the bright young things of London decided to make Claridge's their place to party. It is a gorgeous example of Art Deco design (my favourite), transformed by Oswald Milne, a pioneer of the art deco movement who designed the lobby. Much of this decoration, including a beautiful Lalique door panel remains to this day, with renowned glass artist Dale Chihuly also adding his signature but sympathetic touches to The Foyer in recent years.
Entering through revolving doors manned by footmen in top hats and tails, the breathtaking reception area is a vision in black and white. Immediately before you "The Foyer and Reading Room", where Afternoon Tea is held. Since we had arrived a little earlier than expected, Sian and I decided to have a drink in one of the bars. There are the usual suspects of the Fumoir and Claridge's Bar, to choose from, but we decided upon Davies & Brook, a Michelin starred restaurant spearheaded by Head Chef Daniel Hume who started his career in the Claridge's kitchens at the age of 15. It was relatively quiet at that time of day, gearing up, we suspect for the dinner service, but they kindly welcomed us in and we enjoyed a glass of Provence Rose, and a Gin & Tonic respectively.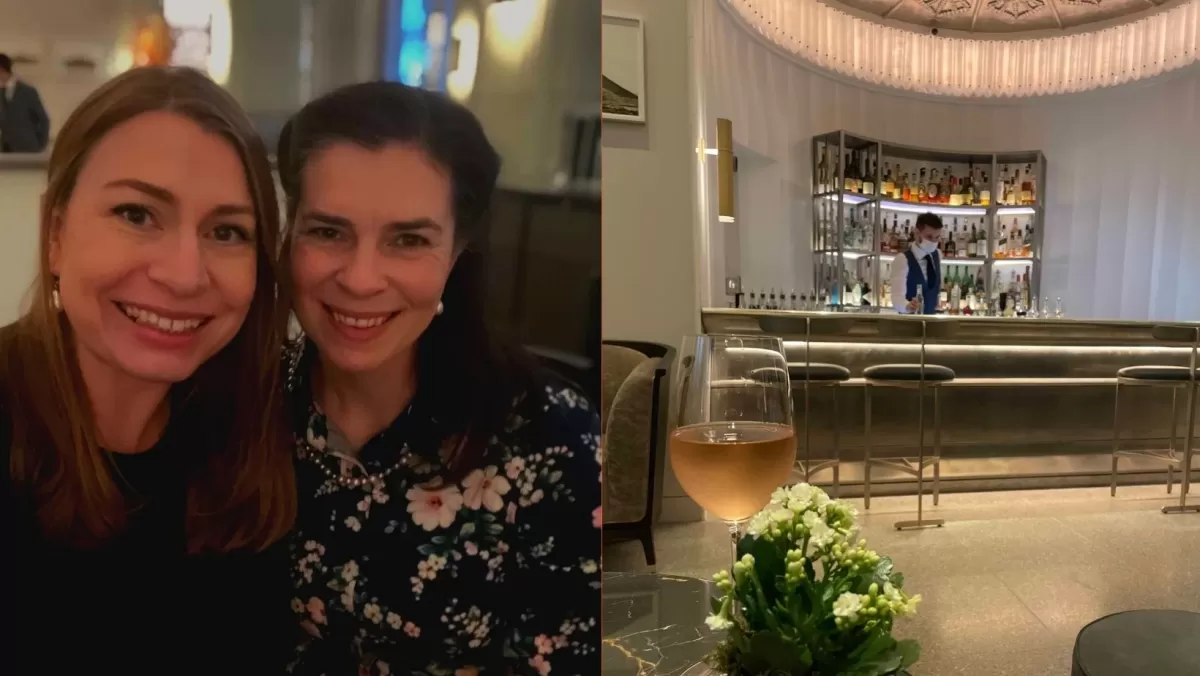 Drinks savoured and our weary feet rested, it was time to head to the main Foyer for Afternoon Tea. I was really pleased with where we were sat, which was in the central room just behind the floral display and Chihuly glass chandelier. Though it's fun to sit in the ante-room and look at the photographs of past celebrities and royalty that have graced Claridge's over the years, nothing beats people watching and being in the middle of things facilitates it beautifully.
I couldn't help but notice how much cosier it looked and felt since last I visited. There isn't much natural light in this venue, but the fact that the nights are drawing in now, and visiting later afternoon, the warm lamplight made it feel incredibly lovely and somewhat timeless. Save for mobile phones and obvious modern fashions - we could have stepped in from another time. We were greeted by our beautifully dressed waitress (ladies in chic black ensembles, and the men in white coats and bow ties). The menu was presented as she poured us a glass of Laurent Perrier each.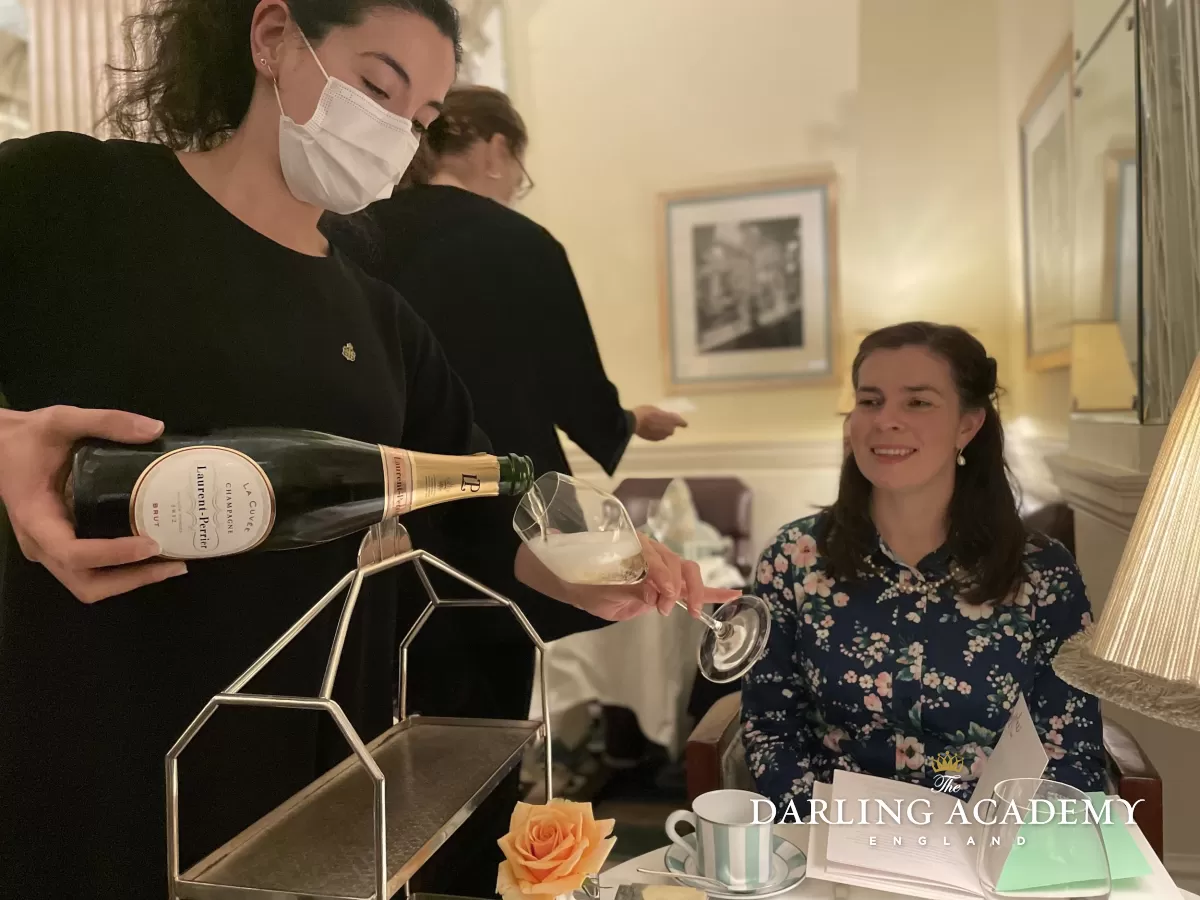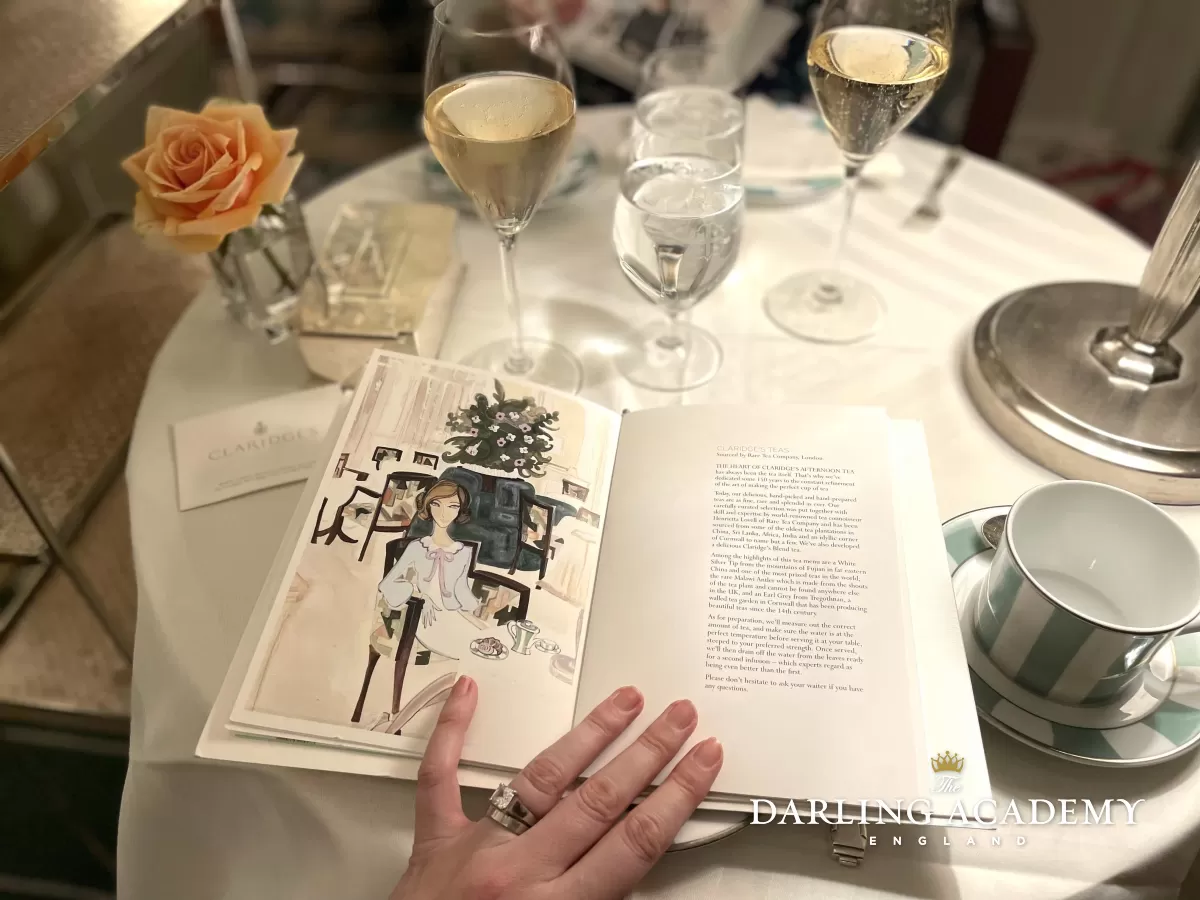 Claridge's Afternoon Tea Menu
The menu changes seasonally, but the tea remains pretty much the same. All are sourced by The Rare Tea Company, and though I usually opt for Earl Grey almost every time, Sian and I decided to try the Claridge's Blend. It would have been rude not to. It's a bespoke creation that combines the power of an English Breakfast tea. According to the menu (and my tastebuds concur) it is rich and aromatic with a deep malty finished. Though it said it was better without, I do not drink black teas sans milk and it was still delicious. A second pot was ordered of Earl Grey later on because try as I might, I just cannot replace my favourite. The edibles on offer were are follows;

A SELECTION OF TRADITIONAL SANDWICHES
Smoked Salmon with capers, brown shrimp butter on malt bread
Breast of Norfolk chicken with gem lettuce, lemon thyme butter on onion bread
Dorrington ham, with Quickes cheddar and mustard leaf on white bread
Clarence Court duck egg with truffled mayonnaise on white bread
English cucumber with horseradish, juniper and caraway on rye bread
Peppered plum and hazelnut tart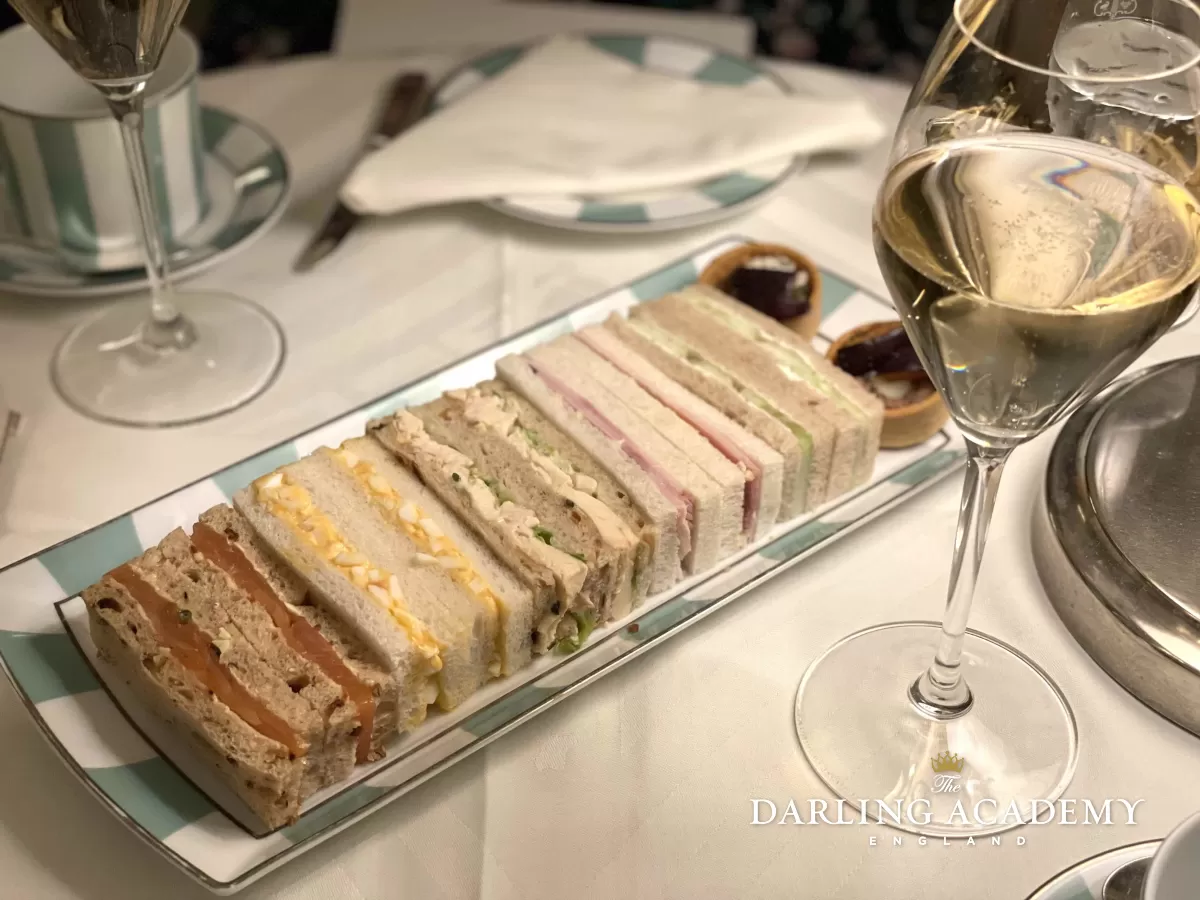 So delicious were they, and hungry were we after our shopping and walk to tea, we ordered more of the smoked salmon, chicken, and cucumber sandwiches.

SCONES, CLOTTED CREAM AND TEA JELLY
Next up were scones. See here for my musings on eating style, and pronunciation. They were smaller than I remembered from last time, and I only ate the plain scone on offer, deciding instead to save room for cake! By this point at an afternoon tea I find that you really have to pace yourself!
I was very pleased to see that the menu expressed that the Clotted Cream was Rodda's (written down as the finest in the country - hear hear Claridge's you know your stuff). Also, the jam is quite interesting. It's a specially made Marco Polo gelée (nope, I don't know either). On further research this is what I found out;
"The Marco Polo Tea Jelly, created by the Mariage family in the 19th century, is a wonderful accompaniment to toast, brioches and scones. This delightful Marco Polo black tea infused jelly, continues to be manufactured in the traditional style, using a copper bain-marie. Flavoured with flowers and fruits from China and Tibet it combines sweet, delicate notes of red fruit and berries with the splendour of the best teas".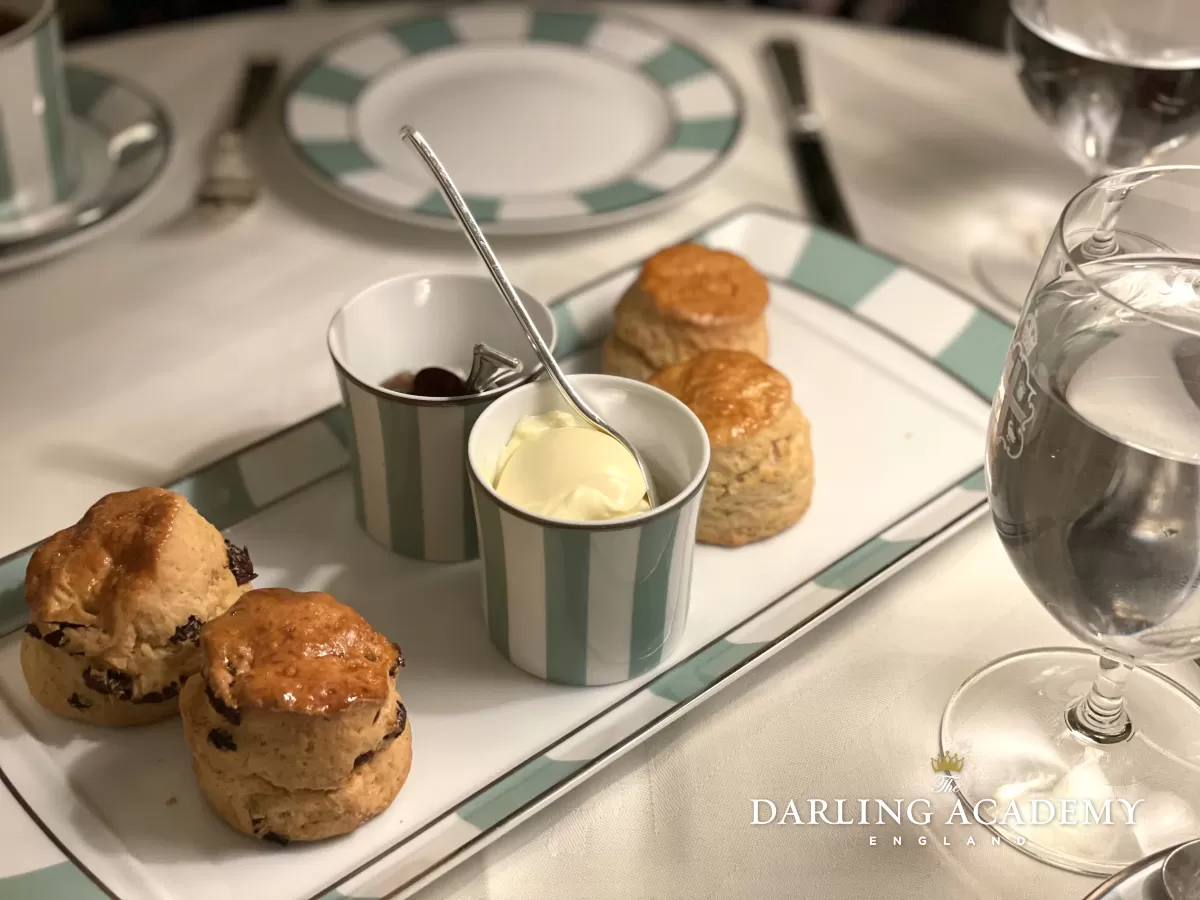 Delicious I suppose, and unique to Claridge's, but I personally wouldn't rush out to buy some. However if you did want to, you can purchase a jar here if you're happy to part with £17 for the pleasure.

SWEET PASTRIES
I failed to get a good picture of the cakes unfortunately. By this point, and after two glasses of champagne, plus tea, I was ready to roll out of there - not to mention the rate of chatter between my friend and I had really ramped up by this point making me forget to eat - sometimes its lovely when you are really just enjoying your time. We each kept taking a moment to just look around and let the beauty of it all sink in! There was also a pianist and double bass player entertaining us with live music which as a very special touch.
I really appreciate the cake stands that they have at Claridge's as they don't take up room on the table, instead sitting right beside you on tall stands! It's a real faff having to play Tetris with teapots, glasses, and plates of cakes at most Afternoon Tea events. The cakes of the day were;
Almond and orange cake
Pecan caramel tart
Vanilla Saint-Honoré
Pear Belle Helene gateau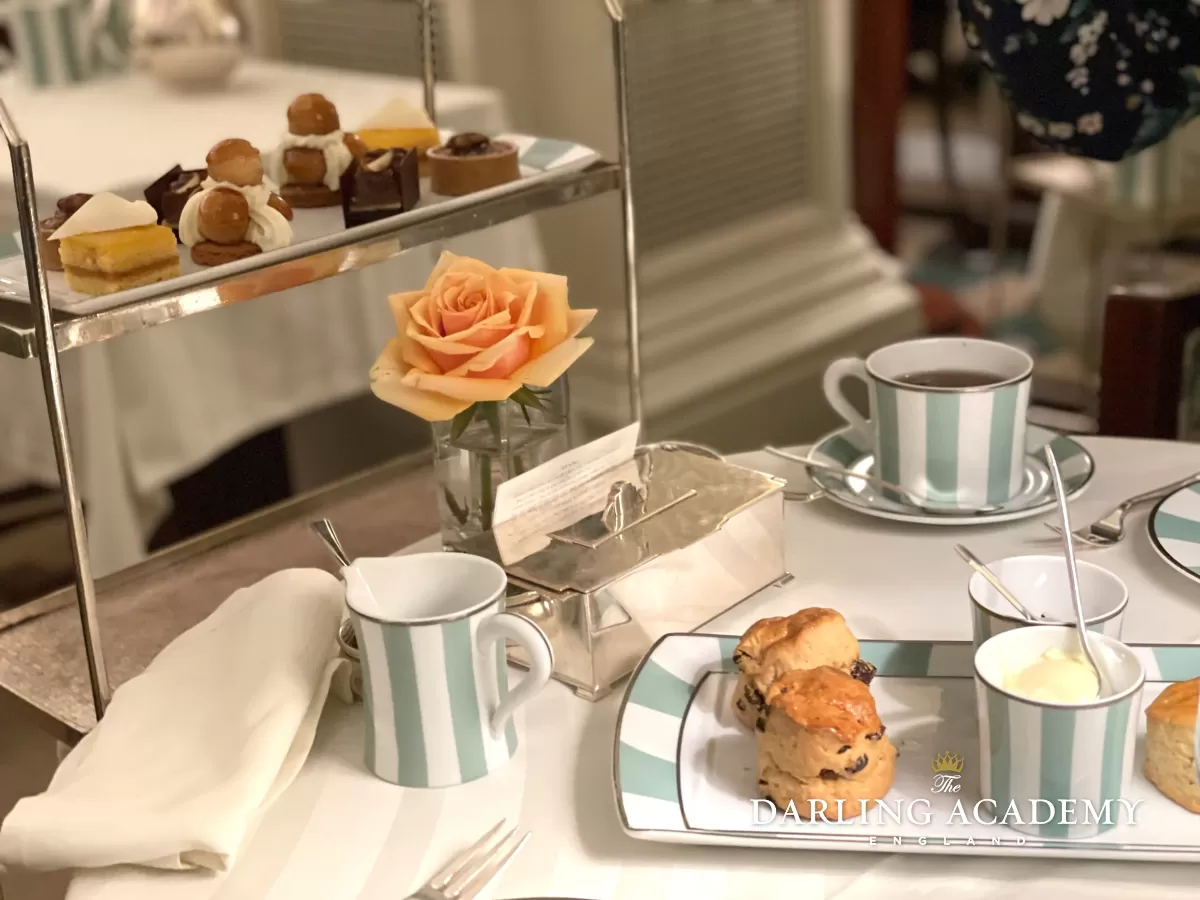 I'll be honest with you, I only remember eating two cakes, the almond and orange, incredible! The other was the Vanilla Saint-Honoré (the sugared topping got stuck in my teeth - oops, mind your fillings), the rest of them came home with me. The staff also presented me with a lovely mini-cake with a candle in to mark the occasion of my birthday (even though it was still two weeks away). I enjoyed it later on that evening with a cup of tea at my Grandparent's house.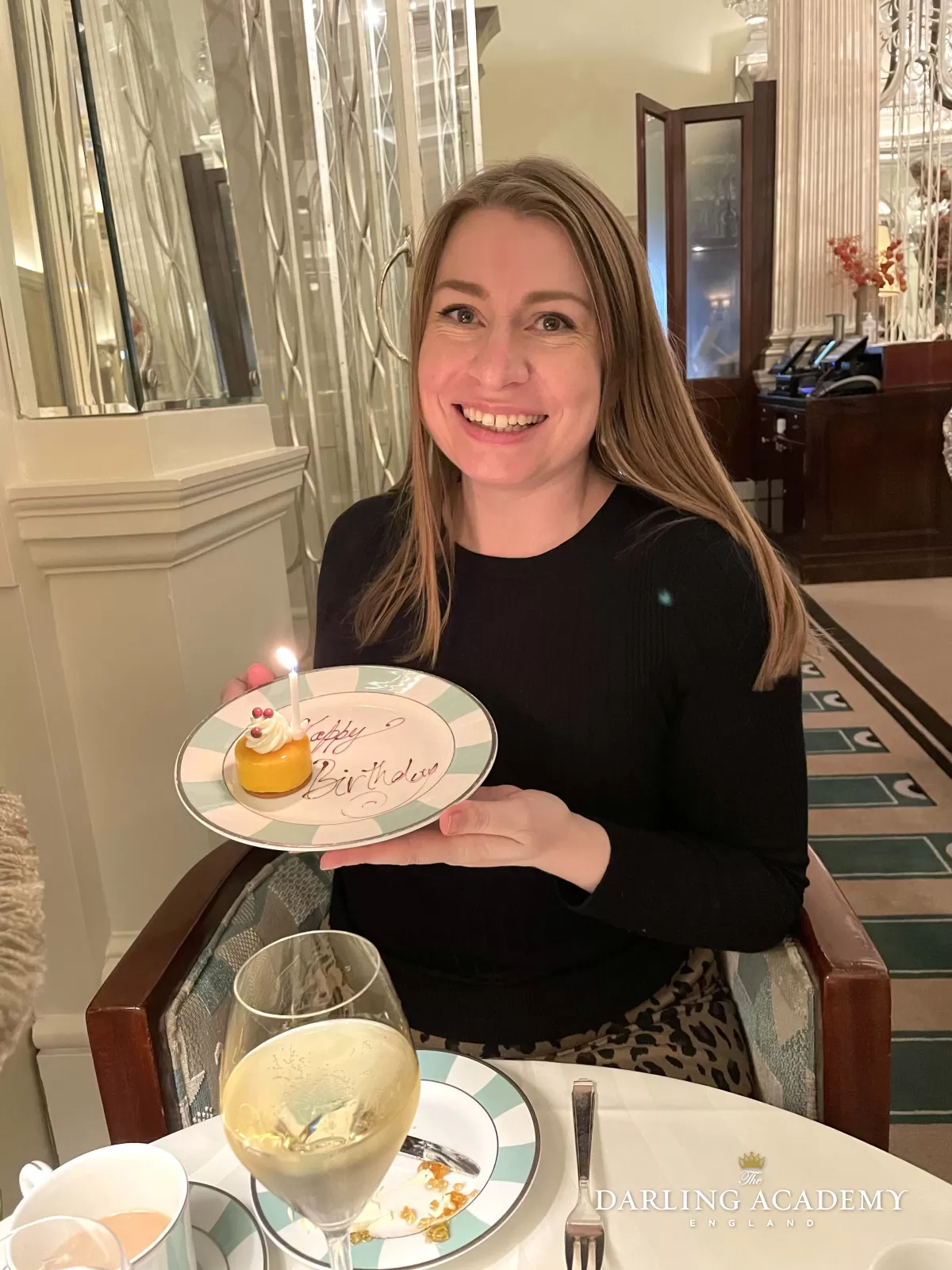 The birthday girl
Claridge's is my favourite place for Afternoon Tea in London, and I highly recommend it for a special occasion. I want to take this opportunity to thank Sian once again for such a magical way to celebrate my birthday this year. After a miserable lockdown birthday last November, you couldn't have thought of anything better to make up for it! London, Art Deco vibes, Afternoon Tea, Champagne, and best friends spending quality time together. My love languages were well and truly indulged this day!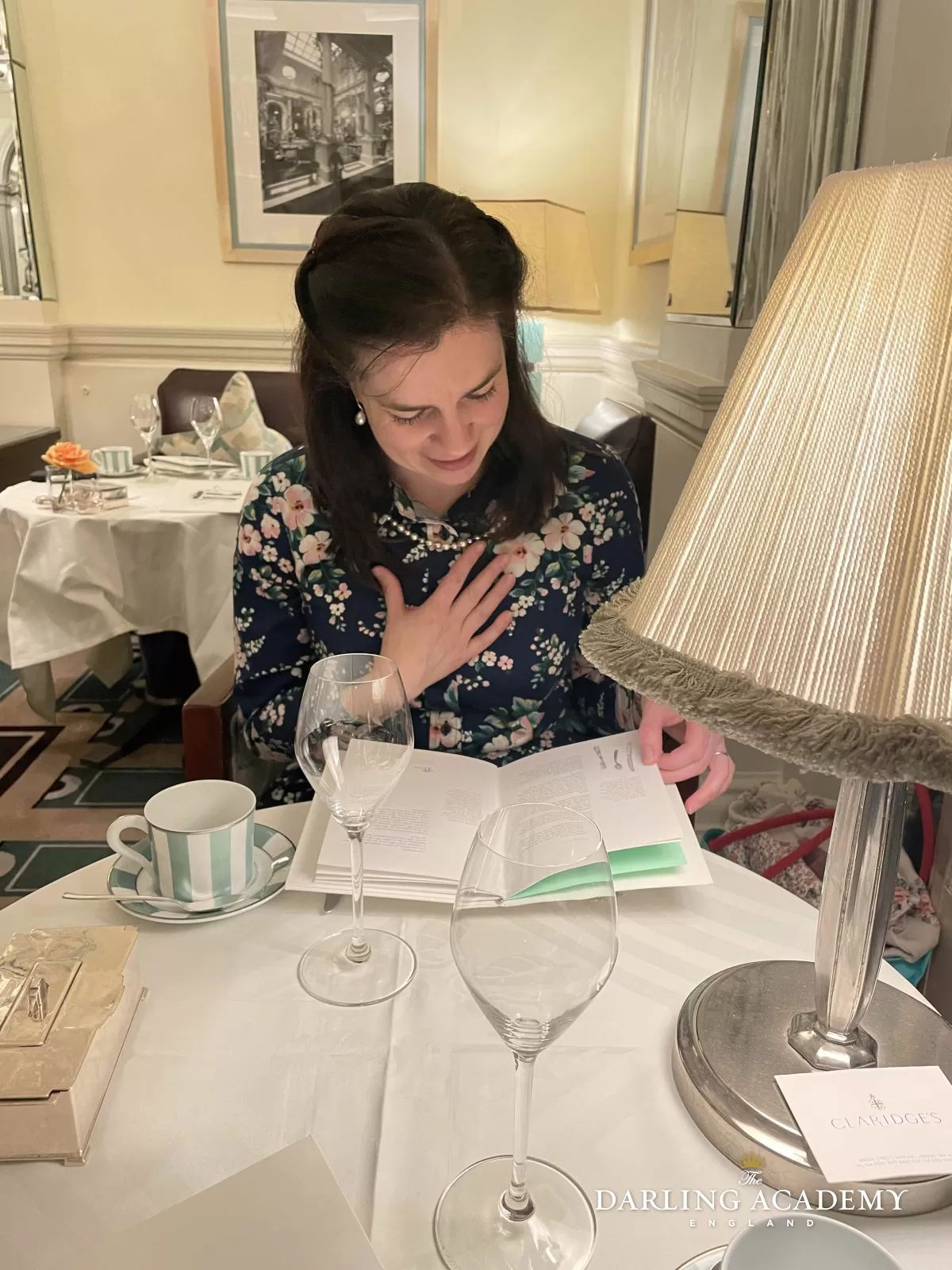 My friend Sian perusing the menu

Claridge's Hotel Afternoon Tea review
Price Point: Top tier, but that's to be expected - this is a 5 star hotel! The Traditional Afternoon Tea cost £75 per head, and Champagne Afternoon Tea £85 at the time of our visit (Nov '21). Additional glasses of Champagne are £23 each. The food is not limited however, so if you have a large appetite you can really get your money's worth - and they happily send you home with a pretty box of leftovers as well as some Clotted Cream Fudge given to all guests on departure.
Dress Code: Smart casual. Though there is no specific dress code for Claridge's, everyone makes an effort to look smart and well presented.
What I wore: M&S black crew neck sweater (similar), M&S leopard print mini skirt (similar), tights, Gabor riding boots, Linea Classic Camel coat (similar), Polène Numéro Sept bag in Chalk.
Formality Level: Classy & Comfortable. The staff are friendly, and the atmosphere exudes understated luxury.
Food Rating: 10/10 - everything was superb!
Atmosphere Rating: 9/10 - the surroundings are Art Deco heaven, the addition of live music was beautiful. Seats in the centre of the room are covetable as the lighting is a bit dark elsewhere.
Service Rating: 10/10 - the staff were incredibly attentive, and friendly.
Overall Score: 9/10
Will I return?
The question is not if, but when! This was my third visit to Claridge's and it will not be my last. I was a little disappointed that it wasn't yet bedecked for Christmas as I think it would be the absolute cherry on top of an already gorgeous venue, but that just gives me something to plan for next year! Claridge's have their Festive Afternoon Tea menu to view here for a limited time, please note that after Christmas this file will likely revert to the standard menu.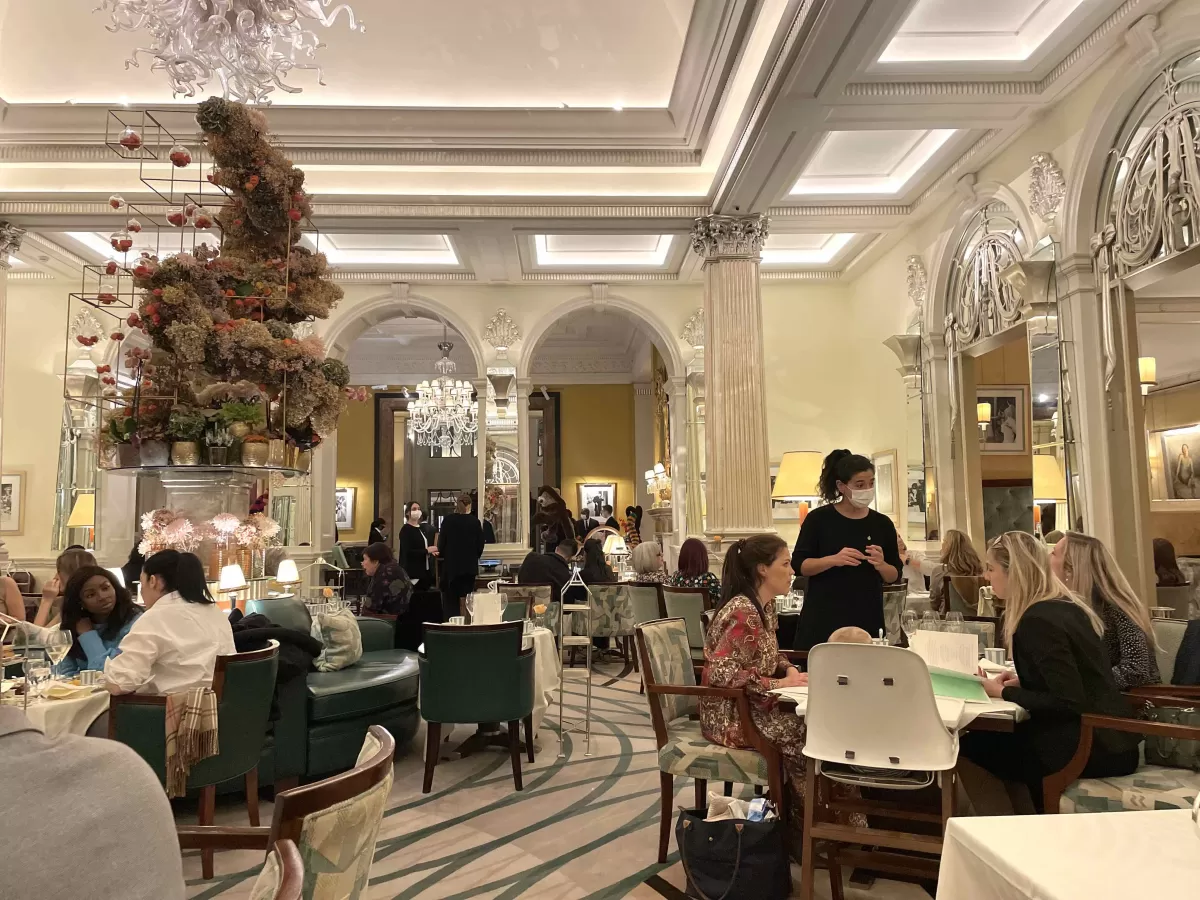 Tips for visiting Claridge's
Access was very good, they have footmen at the entrance to greet you. There is a revolving door at the main entrance, but side doors will be opened for wheelchair users and those with prams.
If you can find it in the budget, I highly recommend arriving a little early to enjoy a drink in one of the bars. The Fumoir is discreet and intimate, and Claridge's Bar (my personal favourite) is a brighter, more spacious spot, but just as luxe.
Claridge's is a 5-minute walk from Bond Street tube station which is on the Central and Jubilee lines. Alternatively, Oxford Circus station is a 10-minute walk away.
The footmen will be happy to hail you a taxi when you wish to leave. We took a taxi to Green Park Station (during rush hour) which cost £8.00.
If you are concerned about what to wear, aim for "classy, classic, and discreet". There is no ostentatious display of wealth at Claridge's and everyone is made to feel welcome, but do leave the training shoes at home if you can. I opted for flat riding boots - perfect for walking around London and hopping on the tube, but still smart.
Book well in advance if you can. Reservations can only be made 89 days in advance of your visit. This is a popular place for Afternoon Tea and last minute cancellations, or availability is pretty non-existent (though not rare). Be organised, and you won't be disappointed!
Visiting Claridge's for Afternoon Tea
You can book your afternoon tea at Claridge's online. Make sure to tell them if you are celebrating a special occasion when you arrive, and do not be shy in asking to take what you do not finish home with you. It extends the pleasure of the experience beyond just your time there! In fact, I'm going to enjoy my little square of Claridge's fudge with a cup of tea just after hitting publish!

Where's next? The Connaught is on my to-visit list, as well as The Savoy in London, and The Greenway (and old haunt of The Queen Mother) and Ellenborough Park in Cheltenham. Make sure to subscribe to emails to keep up with my Great British Adventures as the world opens up again. I promise it won't just be afternoon teas, but they are pretty lovely…
I hope you enjoyed coming on this adventure with me.
With love,

Claridge's at Home
If you cannot make it to Claridge's just yet, I have a few suggestions below that can bring a little bit of Art Deco afternoon tea luxury to your own home.
Make like Sian and I and enjoy a cocktail or drink to kick off your visit with The Claridge's Cocktail Book, or cook your own menu specials with The Claridge's Cookbook, then watch this lovely old documentary "Inside Claridge's" on YouTube.
Or spoil yourself with something from The Claridge's Shop! I'll take the Afternoon Tea set for four. Practically pocket change! ;)
I hope you enjoyed this article, if you like our values here at The Darling Academy and found this post useful or inspiring, would you kindly consider supporting the blog

All content and images in this article are copyright of The Darling Academy and are not to be shared or reproduced without our express permission. Main image credit to Claridge's. All other copyright belongs to The Darling Academy. Affiliate links have been used in this post.